Wondering what milk options Starbucks has? Here's a look at every type of milk you can add to your Starbucks drinks, including dairy and non-dairy milk alternatives.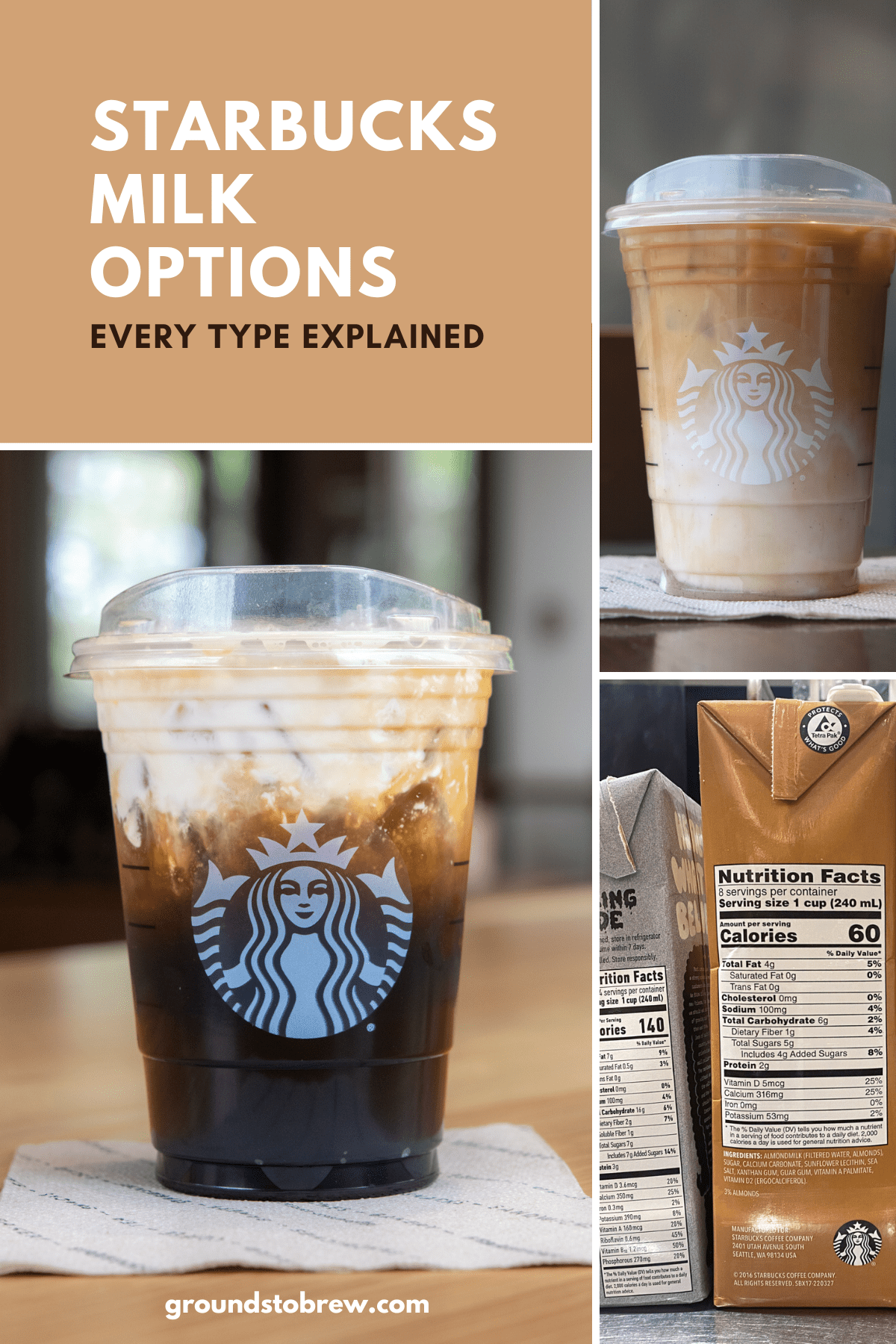 10 Milk Options at Starbucks
Milk is a key component of many Starbucks drinks. But do you know all the milk options at Starbucks?
Whether you want a splash of milk in an iced coffee or are ordering a caramel macchiato with lots of milk in it, Starbucks offers both dairy and non-dairy varieties that can be substituted into any drink.
In total, Starbucks has 10 milk options to pick from, including six dairy options ranging from non-fat milk to heavy cream. In addition, Starbucks has four plant-based, dairy alternatives, including almond, oat, soy and coconut.
Here's a look at every type of milk at Starbucks so you can customize your next drink with the milk you prefer.
RELATED: Exactly Which Milk is in Every Starbucks Drink
1. Whole Milk
Whole milk is the standard type of milk used in Starbucks frappuccinos and flat white espresso beverages.
This full-fat milk makes these drinks rich and creamy.
Since no fat is removed during milk processing, the fat content in whole milk is 3.25% by weight.
2. Reduced Fat, 2% Milk
Two-percent reduced fat milk is the standard milk in Starbucks lattes, mochas, macchiatos, cappuccinos, hot chocolates, and steamers.
In fact, 2% dairy milk is in every Starbucks espresso drink (except the flat white) and tea lattes, unless you ask for another kind.
Likewise, a splash of milk in a brewed Pike Place or hot tea will be 2% reduced fat if you don't specifically request another variety.
3. Non-fat Milk
Non-fat skim milk has less fat and fewer calories compared to all the other dairy options at Starbucks.
There was a time when non-fat was the only choice to pick from if you wanted a skinny Starbucks drink.
"Non-fat, no whip, no fun" was sort of the insider barista joke back in the day.
Now, health-aware customers looking to cut calories and those with dietary needs can choose from additional lower calorie milk alternatives, as well.
4. Heavy Cream
Starbucks mainly uses heavy cream to make whipped cream and vanilla sweet cream, but you can ask for it in a drink.
For instance, a Keto Pink Drink is a popular customized drink that has heavy cream added in.
So, does adding heavy cream cost you more? Yes and no.
There's never a charge to add a splash of dairy, including heavy cream, to any Starbucks brewed coffee or tea.
But, if you substitute heavy cream for the standard milk in a drink, there's an up-charge. Did you know you can use Rewards stars for free dairy substitutes?
5. Half & Half (Breve)
This Starbucks milk option goes by three names—half and half, cream and breve.
No matter what you call it, it's half heavy cream, half whole milk.
Have you ever noticed a "B" written in the milk square on your cup? It stands for breve.
In Italian breve means "short" and really refers to an espresso drink with half and half.
If you're familiar with Starbucks lingo, then you know Italian coffee culture is the influence behind Starbucks cup size names, too.
RELATED: What is a Breve? (and How to Order It at Starbucks)
6. Sweet Cream
Unlike all the other milk options at Starbucks, sweet cream is mixed together in-house by baristas.
Every day they prepare pitchers of sweet cream by combining heavy cream, non-fat milk and vanilla syrup. A splash is delicious in both hot and cold coffee beverages alike.
But sweet cream is special.
The barista can whip up a small amount in special blender and turn it into vanilla sweet cream cold foam.
This cold foam topping is mostly served on cold brew drinks like Vanilla Sweet Cream Cold Brew.
Other syrup flavors can be blended into the sweet cream to create drinks like Pumpkin Cream Cold Brew.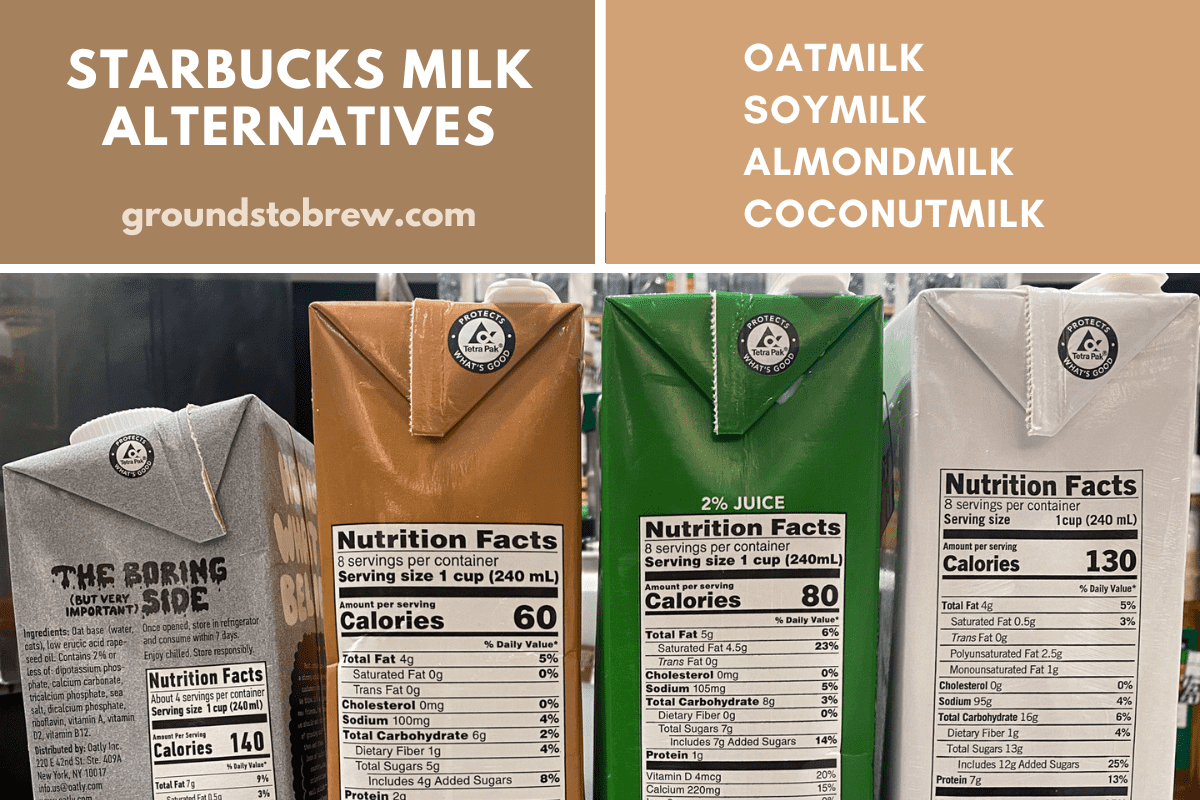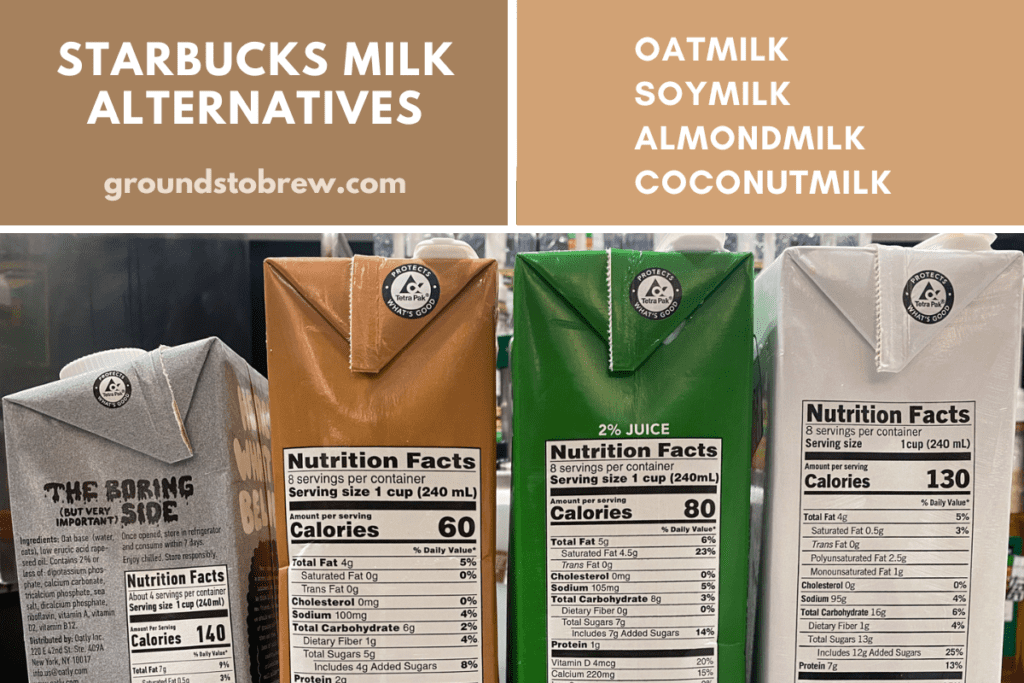 RELATED: 12 Delicious Dairy-Free Starbucks Drinks
7. Soy Milk
Soy milk was the first plant-based, milk alternative offered at Starbucks.
In fact, it was the only non-dairy option at Starbucks for many years.
It's claim to fame is that it's the only organic milk option at Starbucks. However, it has way more sugar in it compared to all the other choices.
Starbucks soy milk nutrition per cup:
Calories: 130
Fat: 4g
Carbs: 16g
Total Sugars: 13g; Added Sugars: 12g
Protein: 7g
8. Almond Milk
Starbucks has a couple drinks on the menu that are made with almondmilk: Honey Almondmilk Flat White and Iced Chocolate Almondmilk Shaken Espresso.
But you can substitute almondmilk into any drink you want.
Almondmilk is gaining in popularity so much so that Sugar Cookie Almondmilk Latte was the first non-dairy drink to debut on the Starbucks holiday drink menu.
Almond milk is considered the healthiest non-dairy milk at Starbucks since it has the least amount of calories per cup and contains the fewest grams of added sugar.
Starbucks almond milk nutrition per cup:
Calories: 60
Fat: 4g
Carbs: 6g
Total Sugars: 5g; Added Sugars: 4g
Protein: 2g
RELATED: Starbucks Almond Milk Nutrition: The Healthiest Milk Revealed
9. Coconut Milk
Coconut milk is the basis of three really popular Refreshers: Pink Drink, Paradise Drink and Dragon Drink.
As you can imagine, the coconut milk gives each drink a tropical vibe.
But coconut milk is also delicious with espresso.
One of my favorites is the Vanilla Bean Coconutmilk Latte. It's no longer listed on the menu, but it's still easy to order.
Starbucks coconut milk nutrition per cup:
Calories: 80
Fat: 5g
Carbs: 8g
Total Sugars: 7g; Added Sugars: 7g
Protein: 1g
10. Oat Milk
The newest plant-based milk offering at Starbucks is Oatly oat milk.
Menu drinks made with oatmilk are the Iced Brown Sugar Oatmilk Shaken Espresso and the Iced Toasted Vanilla Oatmilk Shaken Espresso.
Like all the other milks at Starbucks, you can add oat milk to any drink you want.
Starbucks oat milk nutrition per cup:
Calories: 140
Fat: 7g
Carbs: 16g
Total Sugars: 7g; Added Sugars: 7g
Protein: 1g
Questions You May Have
What is the standard milk at Starbucks?
The standard milk for almost every kind of coffee and tea drink at Starbucks is 2% reduced fat milk. Exceptions are frappuccinos and flat whites which are made with whole milk, and a few shaken espressos made with plant-based milk alternatives.
What non-dairy milks does Starbucks have?
Almost half of Starbucks milk options are non-dairy. Plant-based milks are soy, almond, oat and coconut. Just make note, Starbucks does not guarantee that any drinks are non-dairy because of shared equipment.
Which Starbucks milk option has the least amount of calories?
Starbucks almondmilk only has 60 calories per cup. It is the has the least amount of calories out of all the available milks. Next up is coconutmilk and non-fat milk (skim milk). Both have 80 calories per cup.
Will my Starbucks drink cost more if I switch to a non-dairy milk?
Yes, plant-based milks are more expensive so there is an extra cost if you substitute or add-in soy, oat, almond or coconutmilk.
How do I order a different kind of milk in the Starbucks app?
There are two places you can switch the type of milk in when you order with the Starbucks app. First, if the drink has milk in it already, then select a different kind in the "What's included" section. You don't need to tap customize. Second, if the drink doesn't come with milk, tap customize, and scroll to the "Add-ins" section. Tap "add creamer" to see every dairy and non-dairy option.
Does Starbucks have organic milk?
Soy milk is the only organic milk Starbucks has to add in drinks. In addition, they sell three flavors of Horizon organic milk boxes in the refrigerator section (lowfat, vanilla and chocolate).
Related