Here's a list of all dairy-free Starbucks drinks on the menu. Plus, see how to customize other non-dairy drinks and all the plant-based, non-dairy milks Starbucks offers.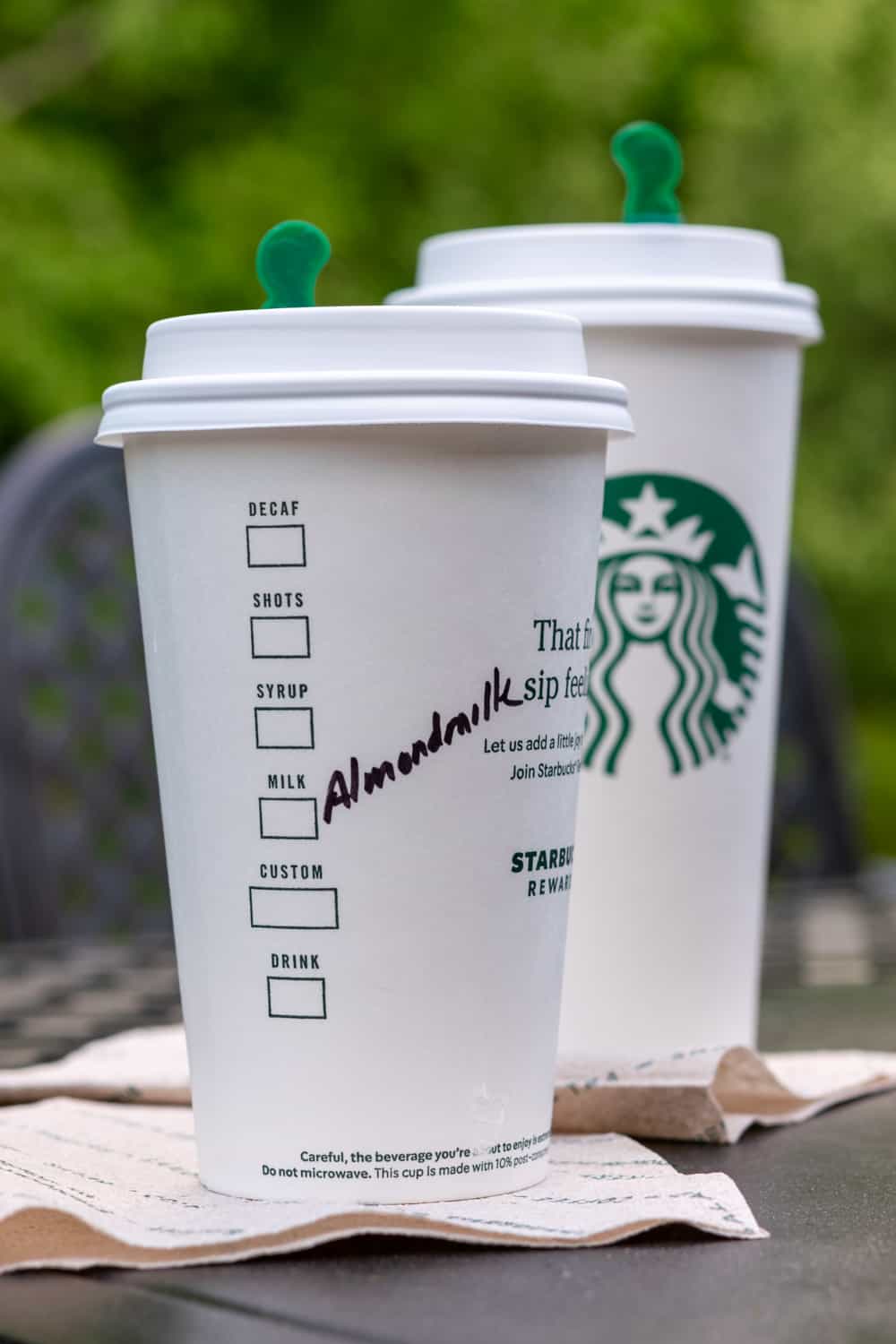 If you're looking for a dairy-free Starbucks drink, you're in luck. Starbucks has about a dozen non-dairy drinks on the menu and many other drinks that can be custom ordered as dairy-free.
In addition, Starbucks has numerous drinks that don't contain milk or cream at all to begin with. Think of beverages like hot or iced coffee; cold brew or nitro cold brew; hot or iced tea; lemonade drinks and Starbucks Refreshers.
The bottom line—if you're wondering what dairy-free Starbucks drinks has, there are plenty of options.
In this quick guide I show you all the non-dairy drinks already on the Starbucks menu and how to order most other drinks without a trace of dairy.
Additionally, see all the Starbucks ingredients (besides cow's milk) you need to steer away from to avoid dairy.
RELATED: 10 Starbucks Milk Options (Including Milk Alternatives)
Starbucks Non-Dairy Drinks: Quick Facts
Here's a few facts to help you understand what normally goes into Starbucks drinks and how they can be made non-dairy.
The standard milk used for Starbucks drinks is 2% low-fat dairy milk, unless the recipe indicates otherwise.
The standard milk used for frappuccinos is whole milk, unless the recipe indicates otherwise.
Starbucks milk options include dairy and plant-based alternatives so most drinks that contain milk can be made dairy-free. Exceptions are drinks with caramel sauce or white chocolate mocha sauce.
Other toppings like whipped cream, sweet cream and java chips also contain dairy.
Starbucks has 4 plant-based, non-dairy milk to select from: almondmilk, coconutmilk, oatmilk and soy.

There is an up-charge when customizing with more expensive non-dairy milks.

Since shared equipment is used for steaming different types of milk, Starbucks cannot guarantee that any unpackaged drink is allergen-free.
Not all types of milk froth up equally as well due to different protein structures. Dairy milk makes the best microfoam; Aerated plant milk usually isn't quite as creamy or foamy.
RELATED: Exactly Which Milk is in Every Starbucks Drink
Starbucks Ingredients that Contain Dairy
Dairy can sneak its way into Starbucks drinks in more ways than milk.
Here's a list of all Starbucks ingredients that contain milk, cream or butter. Make sure to substitute in one of the plant milks and leave off any of these buttery sauces and creamy toppings.
All Dairy Milks (Non-fat, 2%, Breve, Whole or Heavy Cream)
Whipped Cream
Sweet Cream or Vanilla Sweet Cream Cold Foam
Caramel Sauce (Regular and Dark Sauce)
White Chocolate Mocha Sauce
Frappuccino Chips or Java Chips
How to Order Dairy-free Starbucks Drinks
Almost any Starbucks drink recipe that contains milk can be made into an equally satisfying non-dairy version.
However, there are a couple of exceptions. For example, it's not possible to get an iced caramel macchiato or iced white chocolate mocha without dairy.
And it's not possible to leave dairy out of other caramel drinks like any of the yummy caramel frappuccinos. Additionally, non-dairy java chip frappuccinos just aren't possible to make.
However, for most other beverages, simply swap out the type of milk and forgo some toppings. Here are a few tips on how to customize some popular Starbucks drinks.
As a bonus, some of these customizations also reduce the calories in your Starbucks drink.
Non-dairy drink Customizations
Cappuccino, Flat White, Misto or Latte (including tea lattes): Switch to almondmilk, coconutmilk, oatmilk or soy.
Cold Brew (nitro and regular): Swap dairy milk for non-dairy and leave off any sweet cream cold foam.
Any iced drink with milk poured in like iced coffee, iced shaken espresso, iced lattes: Request a plant-based milk.
Chocolate Mocha (hot or iced) or Hot Chocolate: Opt for dark chocolate sauce (not white), switch the milk and leave off the whipped cream.
Milk Steamers: Select a non-dairy milk and skip the whipped cream (if any).
Coffee or Creme Frappuccinos: Choose a dairy-free milk, leave off whipped cream, avoid caramel sauces, white chocolate sauce and java chips.
RELATED: Starbucks Almond Milk Nutrition: The Healthiest Milk Revealed
12 Dairy-Free Starbucks Drinks on the Menu
Now that you know which Starbucks ingredients contain dairy and how to customize most drinks into a non-dairy version, let's take a look at the non-dairy drinks already on the Starbucks menu.
What I love about these non-dairy Starbucks drinks is that each recipe is tried and true. In other words, the flavor combinations work together really well.
1. Honey Almondmilk Flat White
A touch of honey and nutty steamed almondmilk pair together perfectly with Starbucks blonde roast. Made with smooth ristretto shots and the perfect dot of foam, the Honey Almondmilk Flat White is warm and toasty and delicious dairy-free drink.
2. Iced Honey Almondmilk Flat White
Need a caffeine boost while avoiding dairy? Starbucks Iced Honey Almondmilk Flat White is an excellent option. The combination of dairy-free almondmilk, a touch of honey and highly caffeinated blonde roast espresso just might be the perfect pick-me-up.
3. Honey Almondmilk Cold Brew
Lightly sweetened with honey, Starbucks Honey Almondmilk Cold Brew, is a refreshing combination of smooth, slow-steeped cold brew coffee topped with almondmilk. The perfect coffee sip over ice.
4. Honey Almondmilk Nitro Cold Brew
Just like the regular version of this drink, the Honey Almondmilk Nitro Cold Brew combines handcrafted cold brew and almondmilk—only it's even better. With an infusion of nitrogen, this non-dairy deliciousness is made even sweeter and more velvety.
5. Iced Chocolate Almondmilk Shaken Espresso
A new dairy-free drink option on the Starbucks menu, the Iced Chocolate Almondmilk Shaken Espresso is a new favorite. This handshaken, lightly sweet, coffee-forward drink has it all—chocolate, nuttiness and strong blonde espresso.
6. Iced Brown Sugar Oatmilk Shaken Espresso
Starbucks newest non-dairy milk option to all markets, Oatly oatmilk, made a big splash. In fact, the debut of the Iced Brown Sugar Oatmilk Shaken Espresso introduced Starbucks coffee drinkers simultaneously to two new flavors—brown sugar syrup and oatmilk. What's not to love about that delicious duo?
7. Iced Guava Passionfruit Drink
With a bit of a tropical twist, the Starbucks Iced Guava Passionfruit Drink is the perfect summertime, non-dairy drink. An icy, hand-shaken mix of coconut, guava juice blend, pineapple and ginger is both creamy and refreshing.
8. Iced Pineapple Matcha Drink
Starbucks matcha lovers looking for a dairy-free alternative, will want to give the Iced Pineapple Matcha drink a try. Tucked away on the Starbucks cold drink menu, this ice cold beverage is a tasty combination of sweet matcha, pineapple and coconutmilk.
9. Pink Drink
One of the best Starbucks Refreshers, the aptly named Pink Drink, is packed with both fruit and flavor. This delicious, dairy-free drink brings together a Strawberry Acai Refresher, coconut milk and strawberry fruit pieces.
10. Dragon Drink
The tropically-inspired and lightly caffeinated Dragon Drink is another creamy coconut favorite. This time ice is shaken with Mango Dragonfruit Refresher juice, coconutmilk and dragonfruit pieces.
11. Star Drink
Coconutmilk, kiwi juice and starfruit are pretty much like summer in a cup. Shaken all together with ice, this Starbucks Refreshers Star Drink is creamy and refreshing.
12. Violet Drink
The Violet Drink is a twist on the Starbucks Verry Berry Hibiscus Refresher. A frothy mix of sweet blackberries, tart hibiscus juice and coconutmilk, make a delightfully violet hued drink that's perfect for anyone wanting a refreshing non-dairy drink at Starbucks.
13. Sugar Cookie Almondmilk Latte (seasonal)
The newest drink to the Starbucks holiday drink menu is the Sugar Cookie Almondmilk Latte. It holds the distinction of being the first non-dairy drink to reach holiday status.
This festive drink, topped with red and green sprinkles, is available as an iced latte or you can get it hot. This tasty latte is a combination of blonde espresso, almond milk and sugar cookie syrup.