Here's a detailed look at how much caffeine is in Starbucks Pike Place coffee. See the caffeine content for every size cup of freshly brewed Pike, from short to venti. Also see how it compares to other roasts.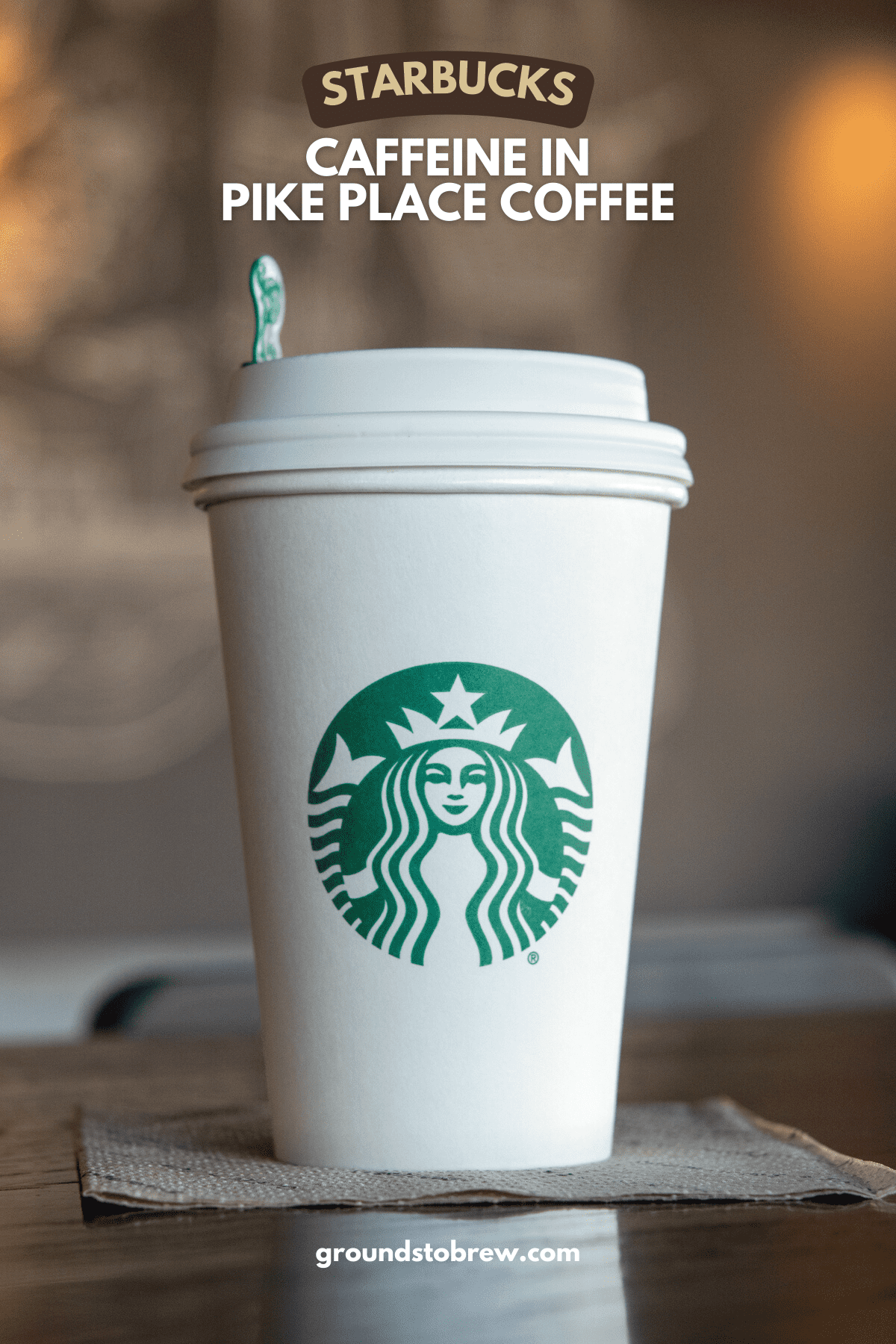 Starbucks Pike Place Coffee
Starbucks is known for its plethora of handcrafted espresso beverages, but a simple cup of hot brewed coffee is the beverage of choice for many coffee-drinking, caffeine-seeking customers.
Throughout the day, Starbucks brews a variety of blends and roasts of coffee, from light to dark. But one coffee is always on tap—Pike Place.
Starbucks Pike Place is a medium roast that's 100% Arabica coffee. On the caffeine spectrum, it falls between Veranda light roast and all the dark roast blends.
While different locations brew a variety of blends, Pike Place is like a dependable friend that's always there.
In fact, no matter which Starbucks store you go to, you can walk in and get a Pike.
Freshly brewed every 30 minutes, Pike Place is the ideal coffee for anyone looking for a regular cup of drip coffee that packs a decent amount of caffeine.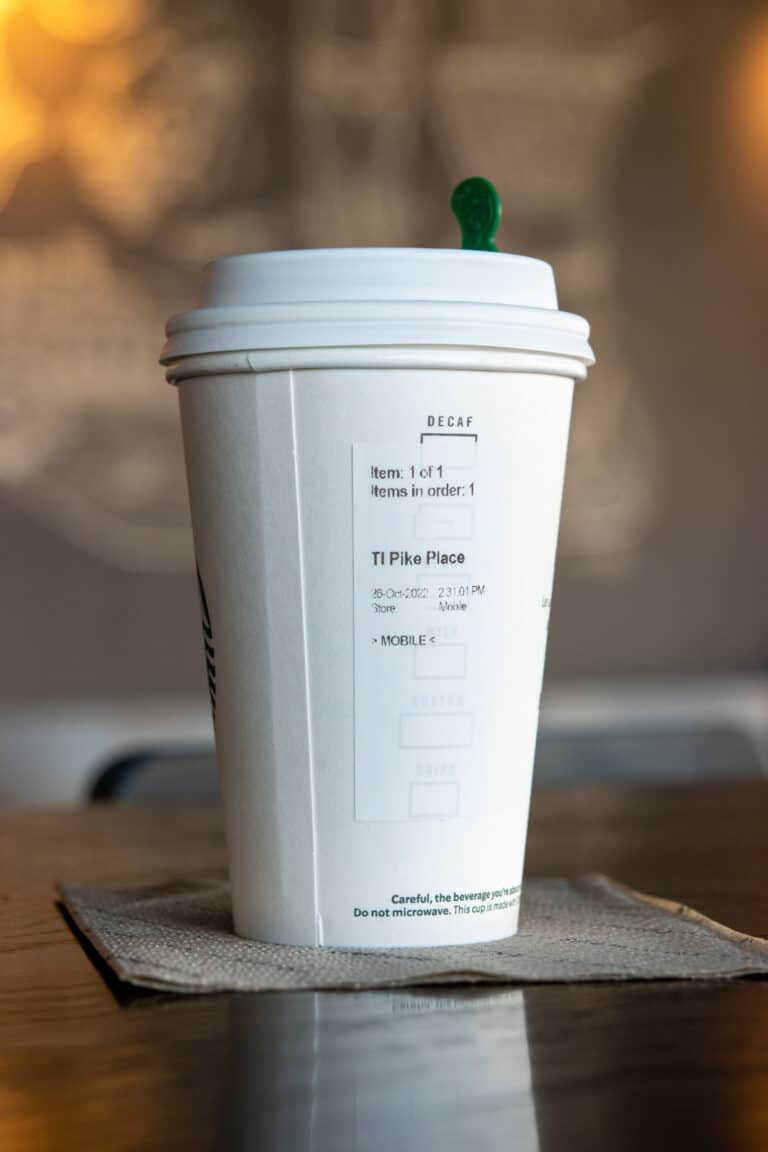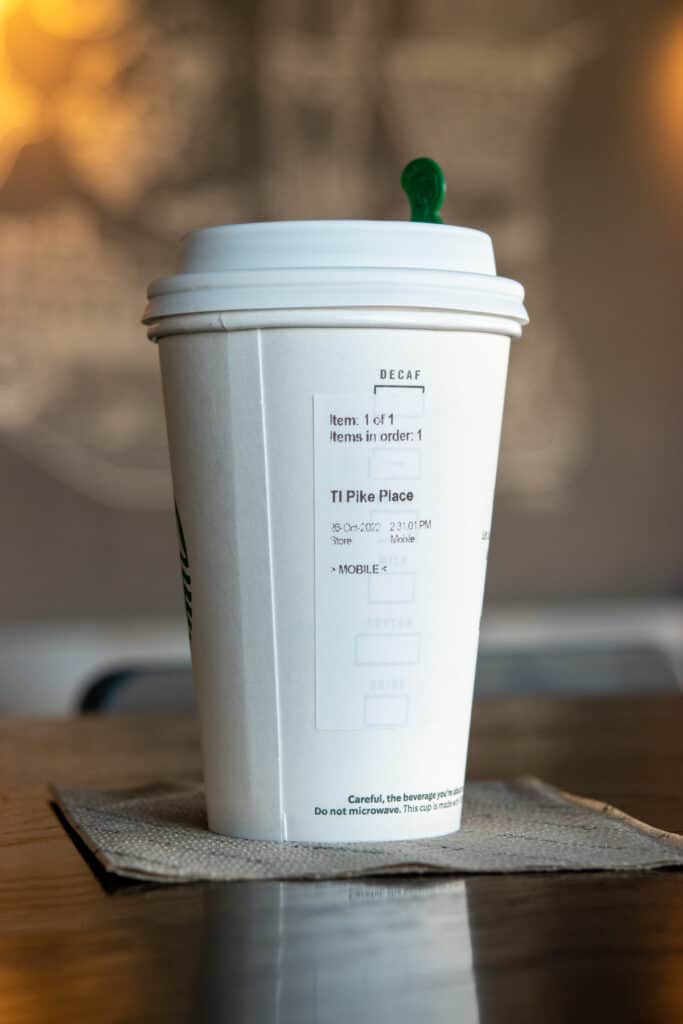 History of Pike Place at Starbucks
The Original Starbucks store opened its doors at 1912 Pike Place Street in Seattle, Washington in 1971.
Located in the historic Pike Place Market in the downtown Seattle, Pike Place coffee is not only rich in taste, but rich in heritage.
Even the packaging for at-home Starbucks Pike Place gives a subtle nod to its roots. (Look closely for the 1971 and 1912.)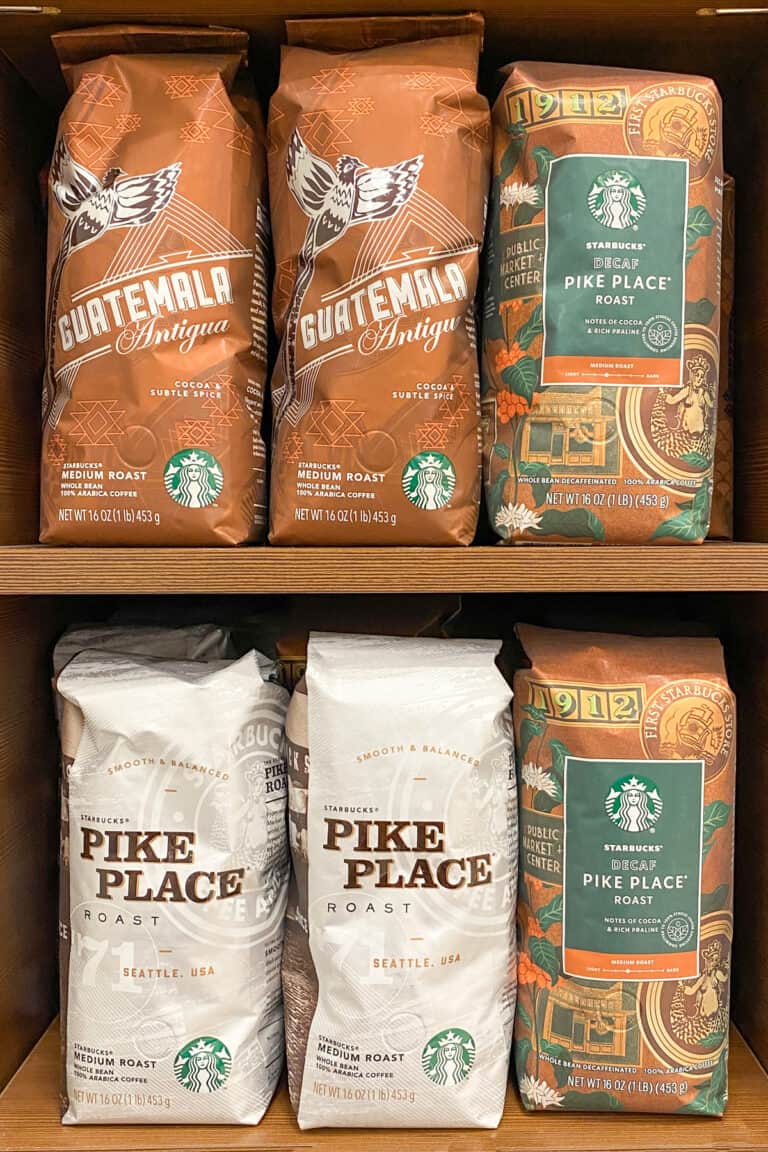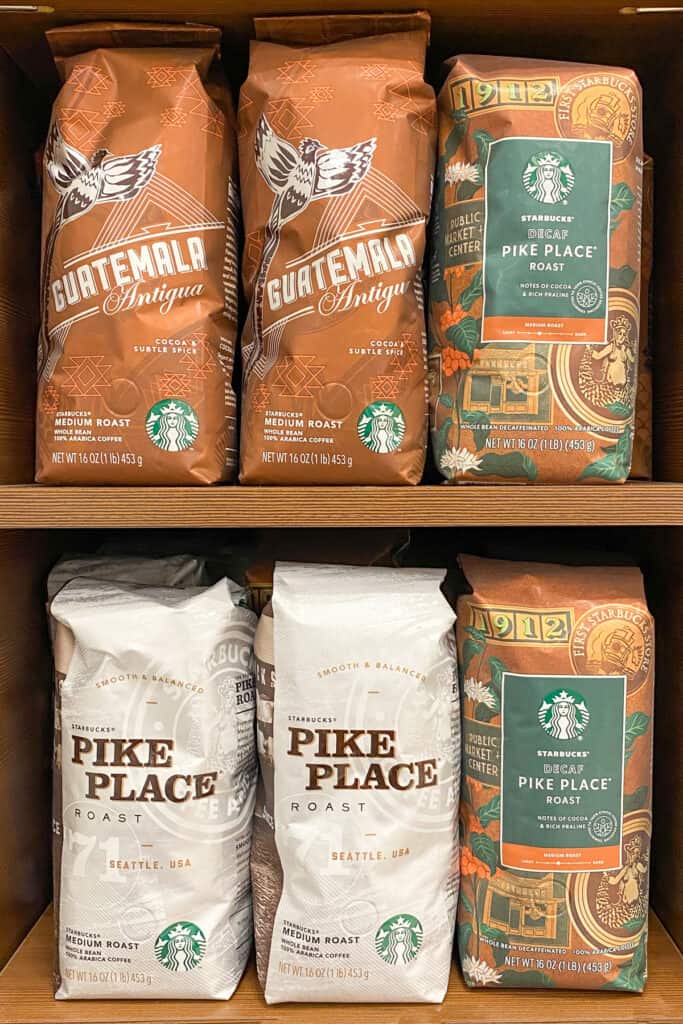 Flavor Profile
The mainstay of Starbucks freshly-brewed coffees, Pike has been served since 2008 and provides a consistent coffee experience from location to location.
Starbucks describes its flavor as notes of cocoa and toasted nuts. If you love praline, then this may be the blend for you.
In 2008 our master blenders and roasters created [Pike Place] for you—a smooth, well-rounded blend of Latin American coffees with subtly rich flavors of chocolate and toasted nuts, [that's] served fresh every day at a Starbucks® store near you.

starbucks.com
Starbucks Pike Place Caffeine Content
According to Starbucks, an 8-ounce short Pike Place Roast brewed coffee contains 155 milligrams of caffeine.
A 20-ounce venti Pike Place Roast, the largest size you can get, serves up a whopping 410 milligrams of caffeine.
Overall, the caffeine content for Starbucks Pike Place brewed coffee is approximately 19.5 milligrams per fluid ounce.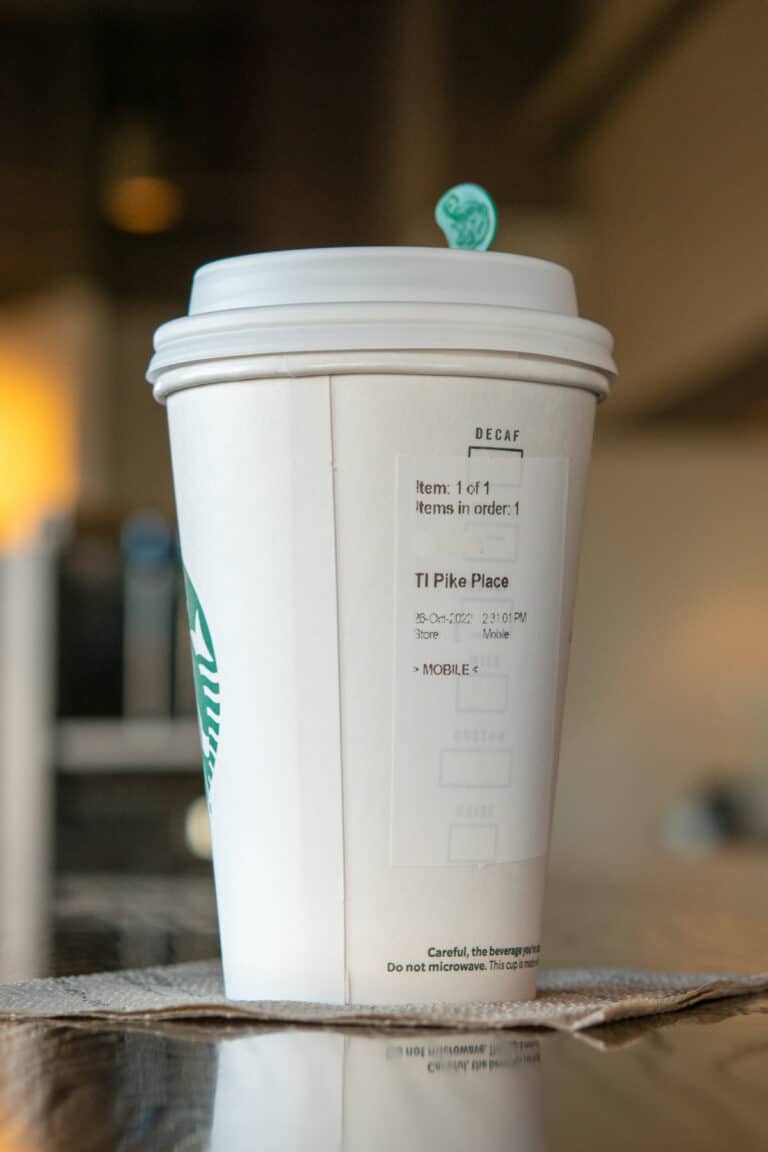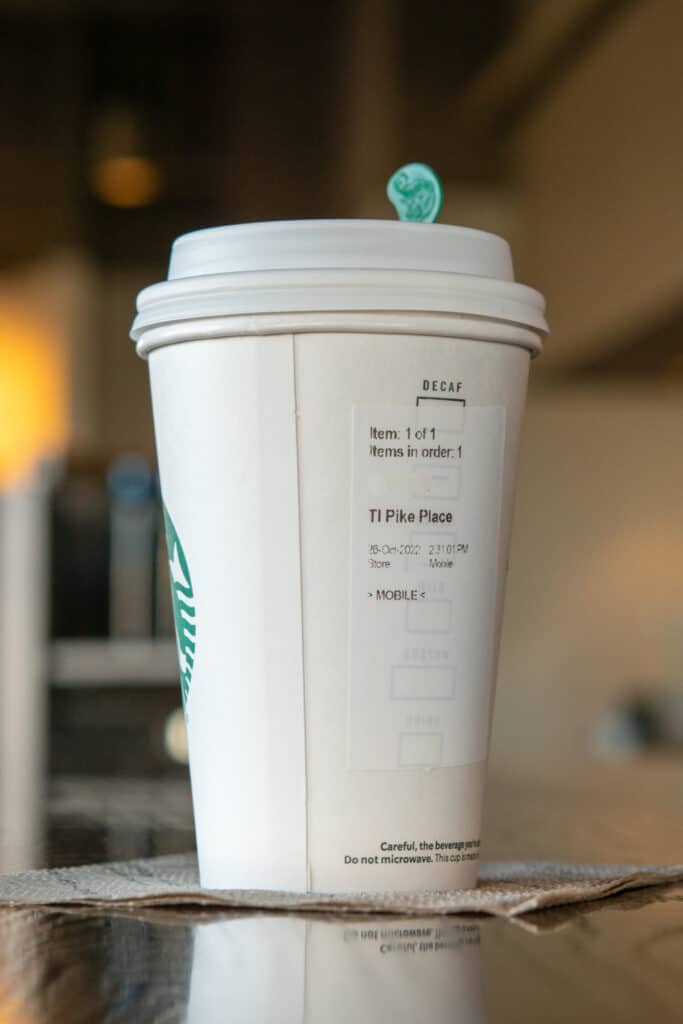 This means, the amount of caffeine depends on which Starbucks drink size you order—short, tall, grande or venti.
In other words, the larger the drink, the more caffeine.
If you've ever looked at the caffeine content for all Starbucks coffee drinks, you know larger size espresso drinks don't necessarily follow that logic.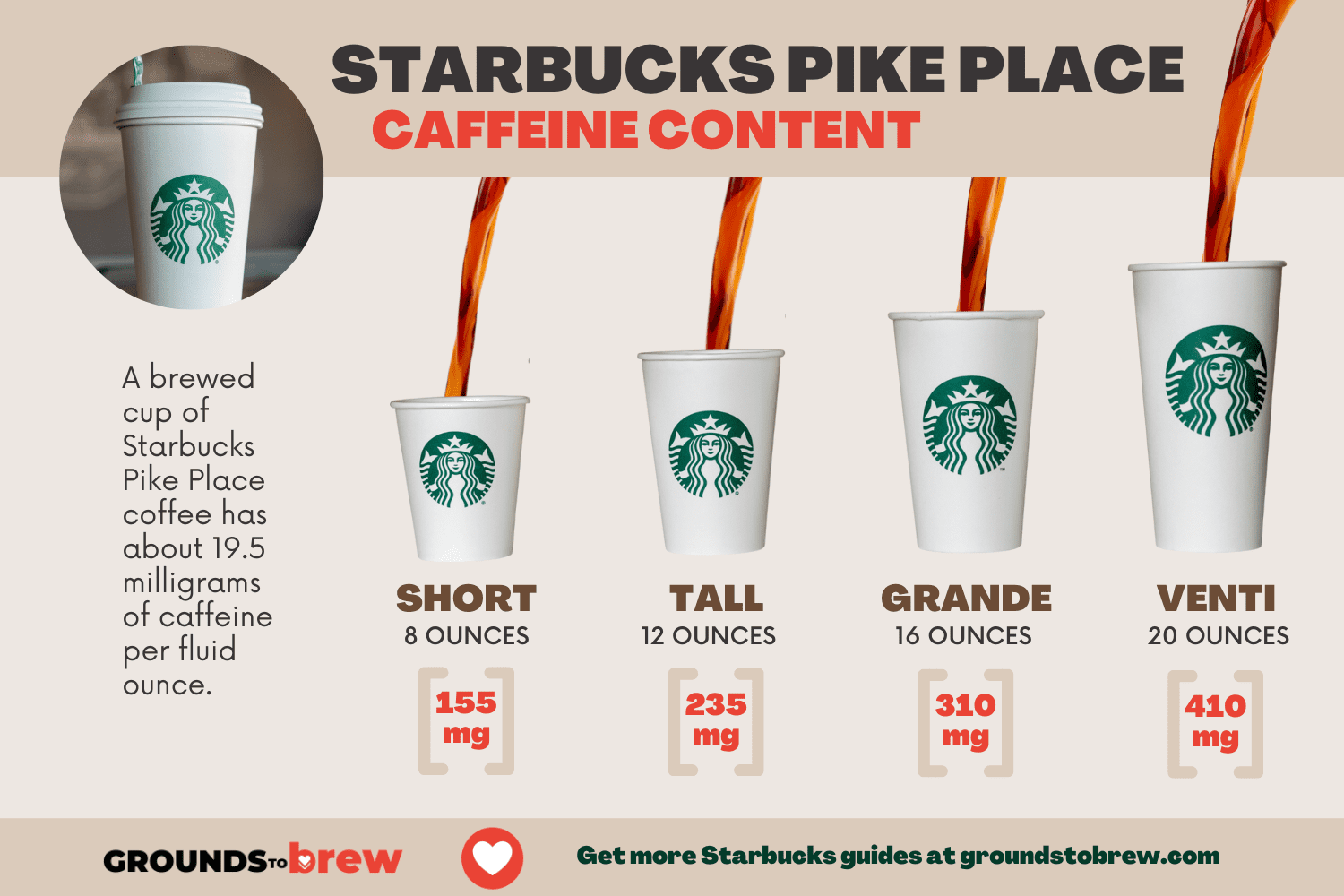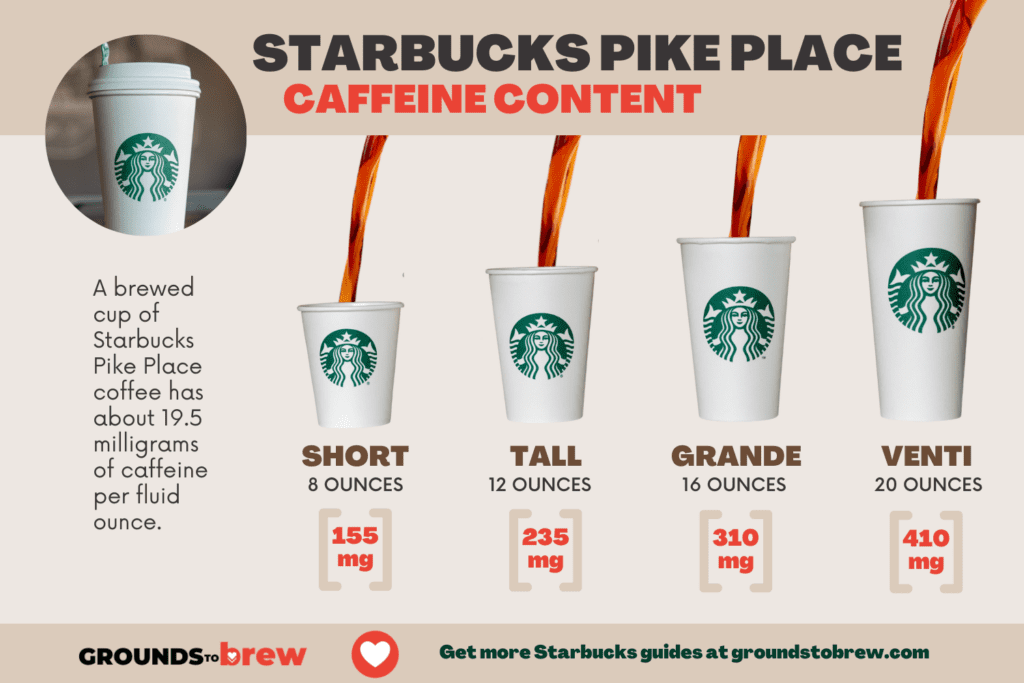 For reference, depending on the size hot drink you order, Pike has about two to three times as much caffeine as the caffeine in Starbucks lattes.
RELATED: The Ultimate Guide to Caffeine in Starbucks Coffee
Caffeine in Pike Place Compared to Other Brewed Coffees
As mentioned earlier, Pike Place is a medium roast and so it has less caffeine than lighter roasts and more than darker coffees.
In fact, out of all drinks on the Starbucks menu, a venti Pike has the second highest amount of caffeine.
A venti Veranda hot coffee takes first place honors at 475 milligrams!
For comparison, a venti dark roast has the least caffeine of the drip coffees at around 340 milligrams.
RELATED: 19 Most Caffeinated Starbucks Drinks: Highest to Lowest
Decaf Pike Place
Starbucks also has decaf Pike Place.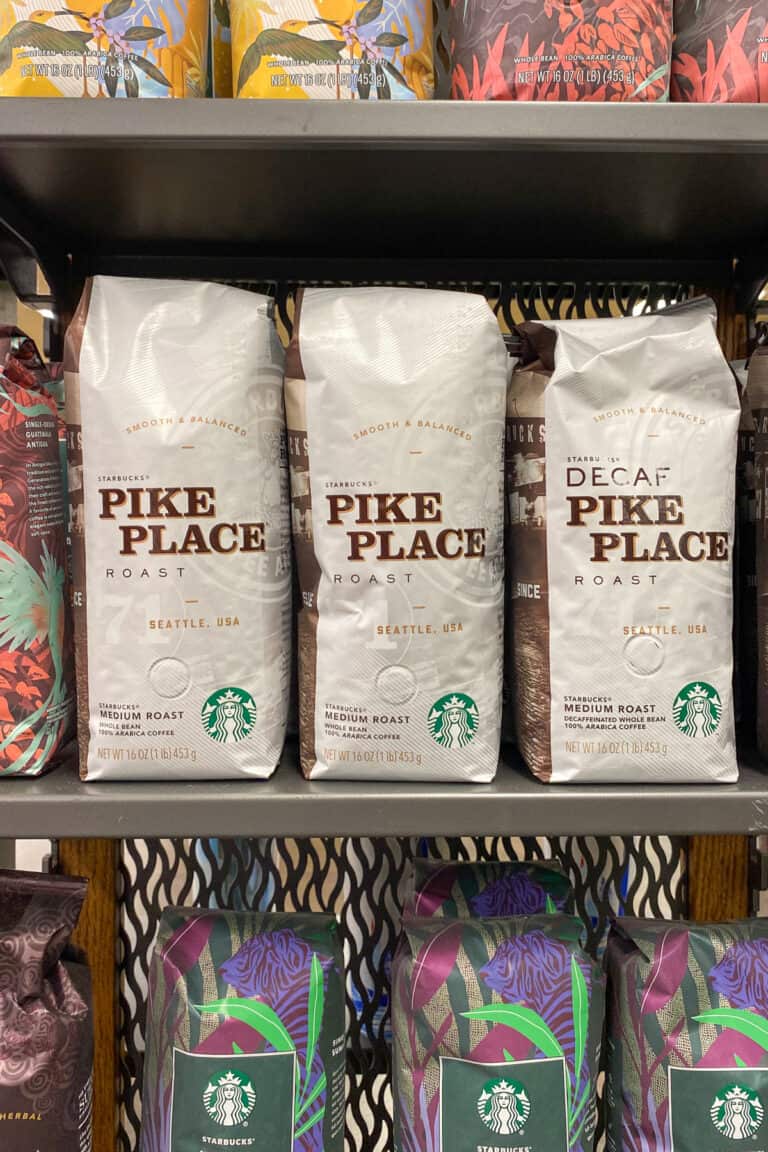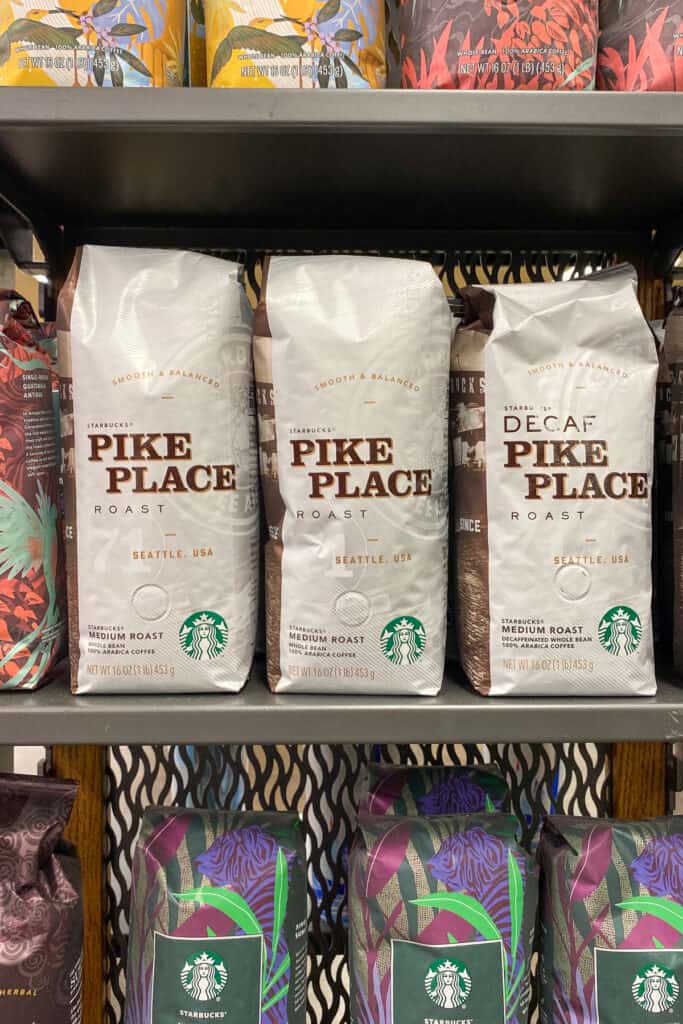 It's mostly available during the morning hours when demand for a cup of decaf is at a peak. This can vary by location since local demand impacts which coffees are brewed when.
But no matter the time of day, you can always get a steaming hot cup of decaf Pike.
If there's not an urn-full ready and waiting, the barista can prepare it as an individual pour-over.
There are a few ways to order decaf coffee at Starbucks, and a decaf Americano is a great alternative if you don't have a few minutes to wait for a pour-over.
At-Home Pike Place Coffee
When it comes to Pike Place, you're not limited to getting a cup at Starbucks.
It's just as easy to enjoy a cup at home.
No matter your coffee brewing method, Starbucks sells Pike in a variety of forms—whether you prefer to make a quick cup with an instant Via pack or grind whole beans.
It's also available in k-cups for Keurig machines, as well as Nespresso pods and capsules.
Here's a tip.
If you're buying a bag of ground or whole bean Pike Place, buy it from a Starbucks location using the app. This way you can earn Starbucks rewards for free coffee.
Note: The caffeine content in Pike Place prepared at home is not the same as getting a cup from Starbucks.
Questions You May Have
Is Pike Place strong?
Pike Place is a bold-tasting cup of coffee that packs quite a punch when it comes to caffeine. At roughly 19 milligrams per ounce, Pike is not quite as strong as Starbucks Veranda roast. The light roast has about 15% more caffeine than the medium roast Pike.
How much caffeine is in a tall Pike Place?
According to Starbucks, a 12-ounce tall brewed Pike Place contains approximately 235 milligrams of caffeine.
Does Starbucks have decaf Pike Place coffee.
Starbucks always has freshly brewed Pike Place coffee ready to serve. While they also have decaf Pike available, it may not be currently brewed. In this case, the barista can make a decaf Pike Place pour-over coffee.
Related