Vanilla Sweet Cream Cold Brew
If you love Starbucks Vanilla Sweet Cream Cold Brew more than you care to admit, then you've really got to try making your own at home. It's quick, easy, and most importantly, delicious. Plus, this copycat cold brew recipe may help you save on your Starbucks budget.
Starbucks line-up of cold brew drinks hit their menu a few years ago and sky-rocketed to popularity. Now it seems, Starbucks regulars can't live without this smooth and sweet ice cold coffee drink.
So while I still love to get a barista-made cold brew, knowing how to make this drink at home means I can have it that much more often. Sort of like a win-win kind of thing.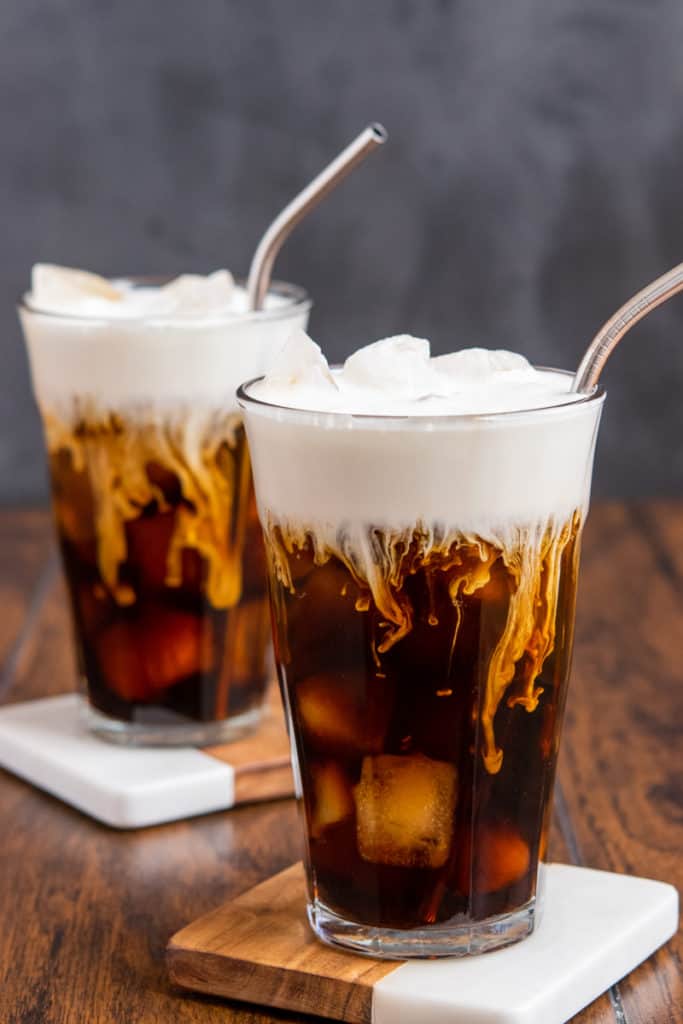 How to Make Vanilla Sweet Cream Cold Brew Like Starbucks
Making a copycat Starbucks Vanilla Sweet Cream Cold Brew at home is super simple. As matter of fact, you only need four ingredients.
Ingredients
Vanilla Syrup

Vanilla Sweet Cream

Cold Brew Coffee
Ice
Vanilla Syrup
Vanilla coffee syrup is easy to find at the grocery store. Stores near me carry brands like Torani and Monin.
But since I make a lot of Starbucks copycat drinks I like to either buy a bottle of Starbucks vanilla syrup online or from a barista. This may be a little known secret, but if your Starbucks has enough in stock, they'll sell you a bottle.
Otherwise, I make homemade vanilla syrup. Trust me, it's easy to make and all you need is sugar, water and vanilla extract.
What's nice is, you can use the vanilla syrup for other drinks or even to make Starbucks whipped cream at home.
To make a copycat vanilla sweet cream cold brew, you need vanilla syrup to add to the drink and some to make the sweet cream.
Vanilla Sweet Cream
Vanilla sweet cream is super simple to make. It's simply a mixture of vanilla syrup, 2% milk and heavy cream. Take a look at my vanilla sweet cream recipe here.
Just like Starbucks, you can add the sweet cream to the cold brew as a creamer and let it cascade throughout the drink.
Or you can blend up a little bit of the cream to turn it into sweet cream cold foam. This is what creates that nice cloud of cream that sits on top of the cold brew.
Related Recipes: Starbucks Pumpkin Cream Cold Brew Drink Recipe & Pumpkin Cream Cold Foam Topping Recipe
Cold Brew Coffee
A quick way to put together cold brew coffee drinks at home is to buy a bottle of cold brew coffee from the grocery store. Can you guess my favorite brand? Seriously, I think Starbucks bottled cold brew is smooth and delicious.
Starbucks actually sells several types of cold brew products in the grocery store.
In addition, to the refrigerated, ready-to-drink bottle (pictured below), they also sell cold brew concentrate. You can either buy a bottle of cold brew concentrate or a box of individual, pre-measured packs.
To make a cup of cold brew coffee from concentrate, simply add water.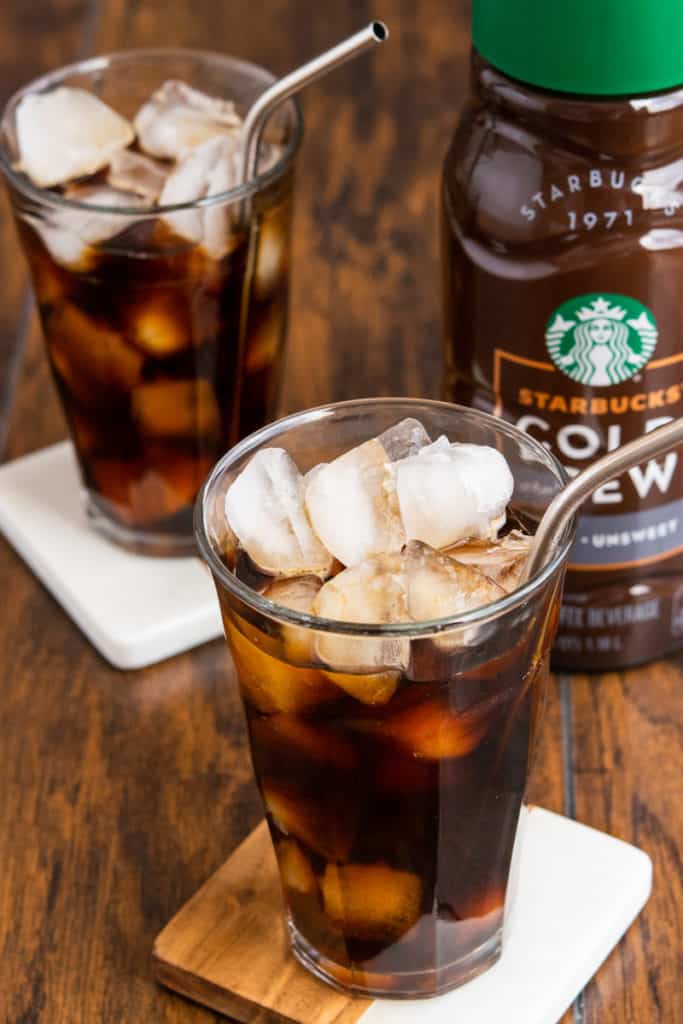 Of course, you can make cold brew coffee from scratch, as well.
The only thing is, you have to remember to do it ahead of time. It needs to brew for 12-24 hours.
The process is simple. Grind some coffee on a course setting, add it to a jar with room temperature, filtered water. Next, stir it up and let it brew on the counter. Finally, filter the grounds from the cold brew. Here you can see the details on how to make cold brew coffee at home.
Ice
If you want a true Starbucks experience at home, then even the ice matters.
If you think I'm joking, I'm not.
Ice and melting ice have a big impact on the drink's flavor. So, just like Starbucks, you should only use ice made with filtered water. And actually, you should use filtered water for all your coffee and tea drinks. It makes a huge difference.
If you don't have filtered water, you can make ice with bottled water, buy a bag of ice, of get a Brita filter pitcher.
Assembling the Vanilla Sweet Cream Cold Brew Drink
To make a copycat Starbucks Vanilla Sweet Cream Cold Brew, follow these simple steps.
Add vanilla syrup to cup. For reference, Starbucks puts 2 pumps (1tablespoon) of vanilla syrup in a grande, 16 ounce drink.
Fill cup with ice. I like to add enough ice to almost fill the cup.
Pour cold brew into cup. You want to fill it almost to the top leaving about an inch of space.
Add vanilla sweet cream or vanilla sweet cream cold foam. If you like to watch the swirls of cream, pour the cream slowly onto an ice cube.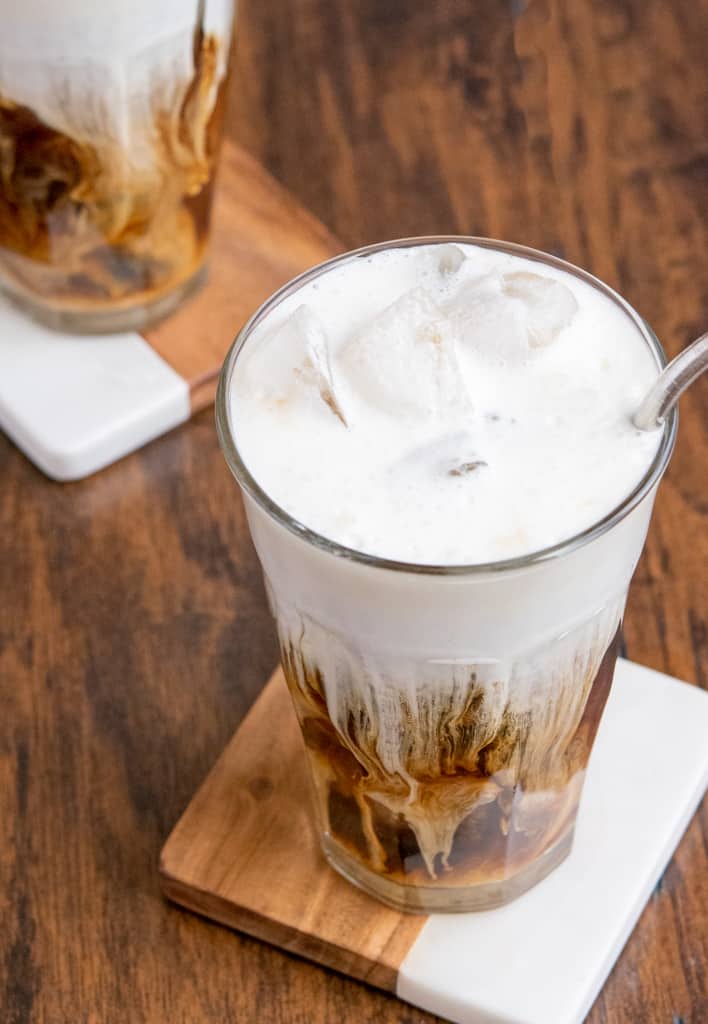 Questions You May Have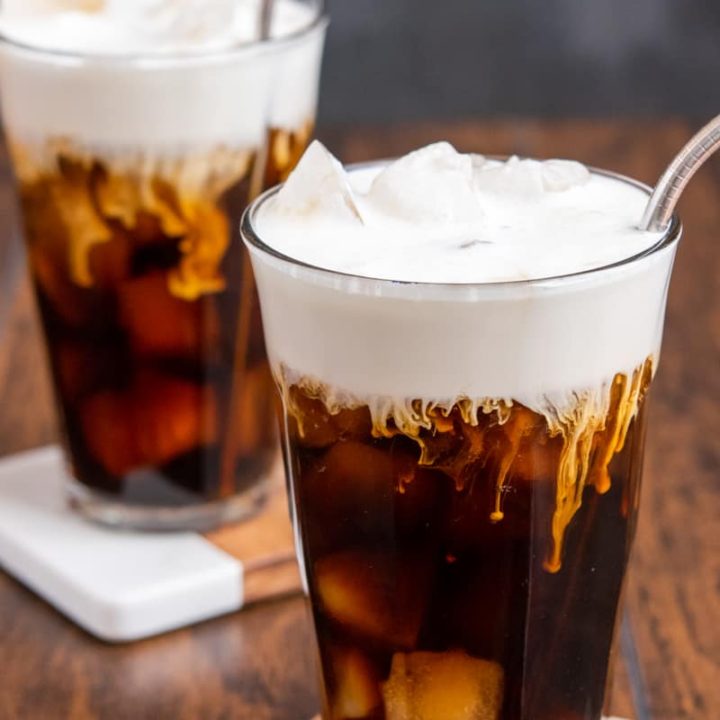 Starbucks Vanilla Sweet Cream Cold Brew
Starbucks Vanilla Sweet Cream Cold Brew is easy to make at home with this copycat recipe.