Quick and easy Starbucks whipped cream recipe so you can top your at-home coffee drinks and desserts with whipped cream as sweet and delicious as Starbucks.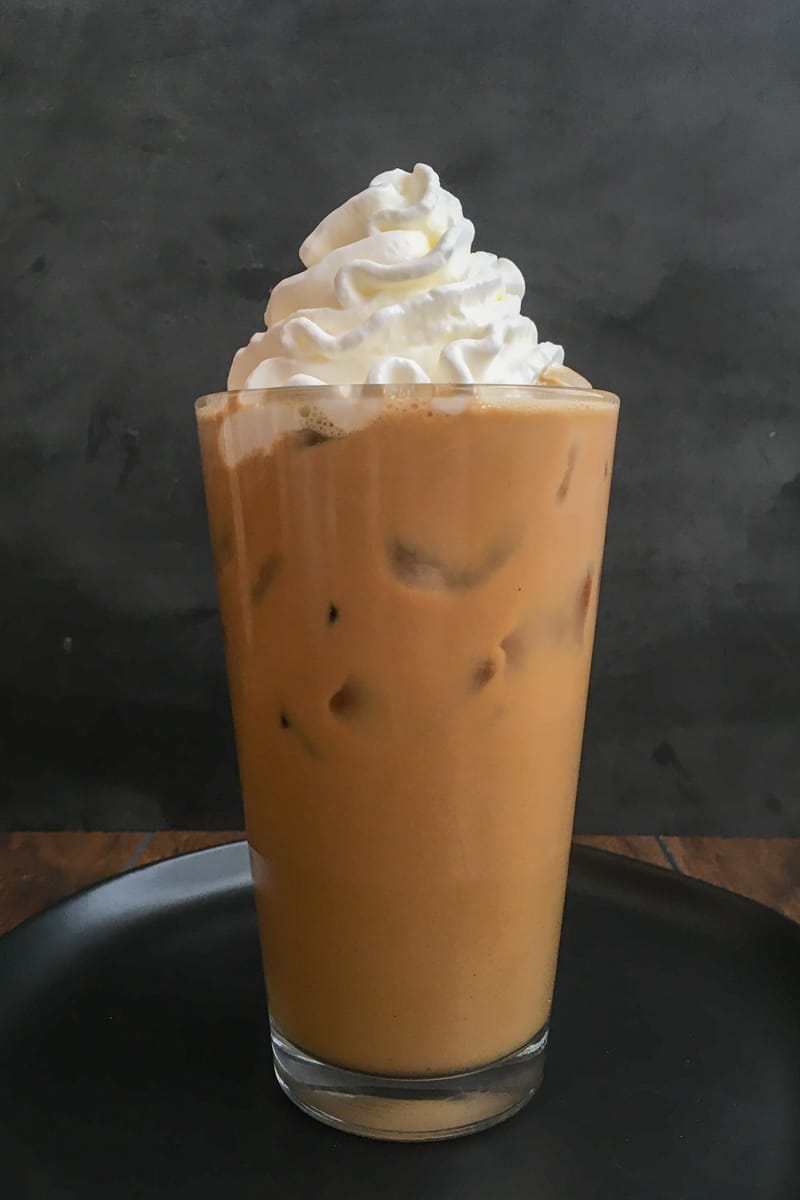 Starbucks Whipped Cream
Have you ever wondered what makes Starbucks whipped cream so delicious? I mean, that big dollop of perfectly swirled whipped cream really does take some Starbucks drinks from delicious to irresistible.
It's sweet, creamy and makes the perfect sip.
Starbucks whipped cream tops off most of their frappuccinos, mochas and hot chocolates.
And it's even the finale for several lattes like Caramel Brulée, Chestnut Praline, and Cinnamon Dolce.
They even can put a small dollop of whipped cream on a shot of espresso to make an Espresso con Panna; it's so good.
But, back to my original question—How does Starbucks make their sweetened whipped cream?
So, if you've been trying to figure out what whipped cream Starbucks uses, the answer is, they make it in-house.
And honestly, their whipped cream recipe is a no-brainer. As a matter of fact, you only need two ingredients: heavy cream and vanilla syrup.
This is great because anyone can easily make it and top their at-home espresso drinks and desserts with Starbucks-style whipped cream, too.
However, to make "professional" whipped cream, you need the right tools.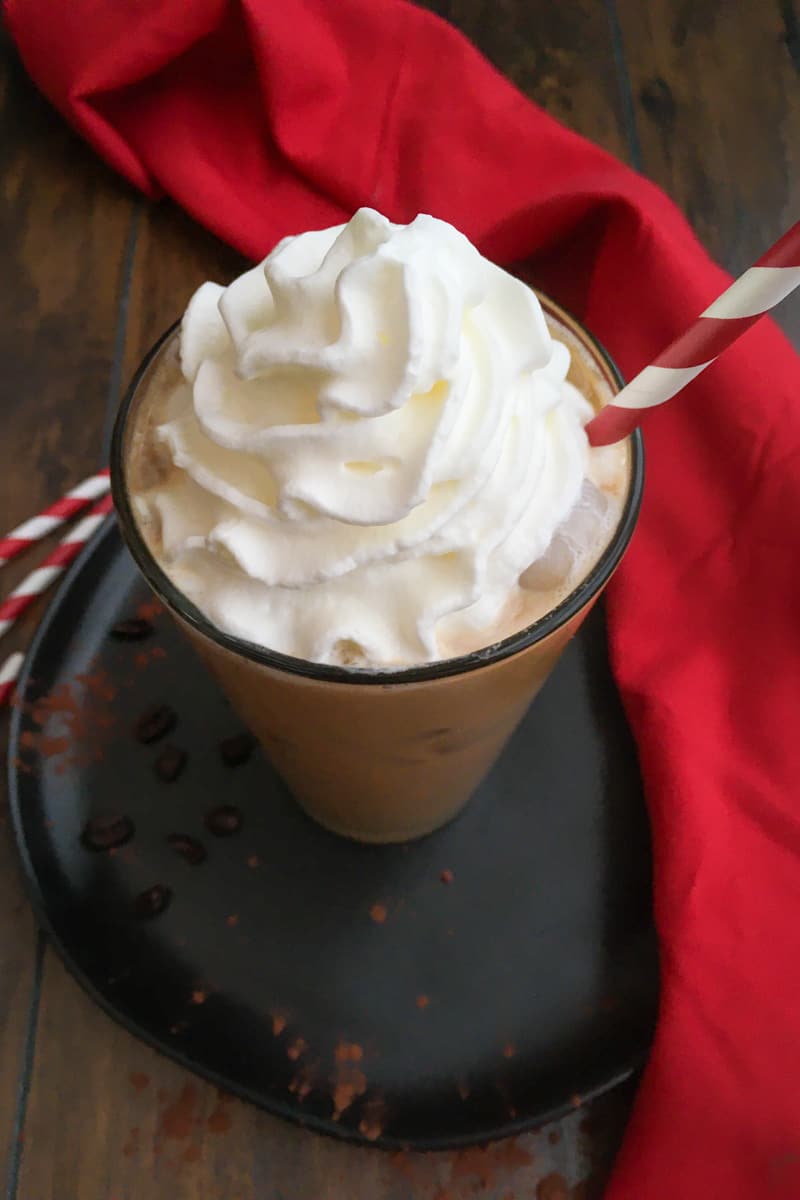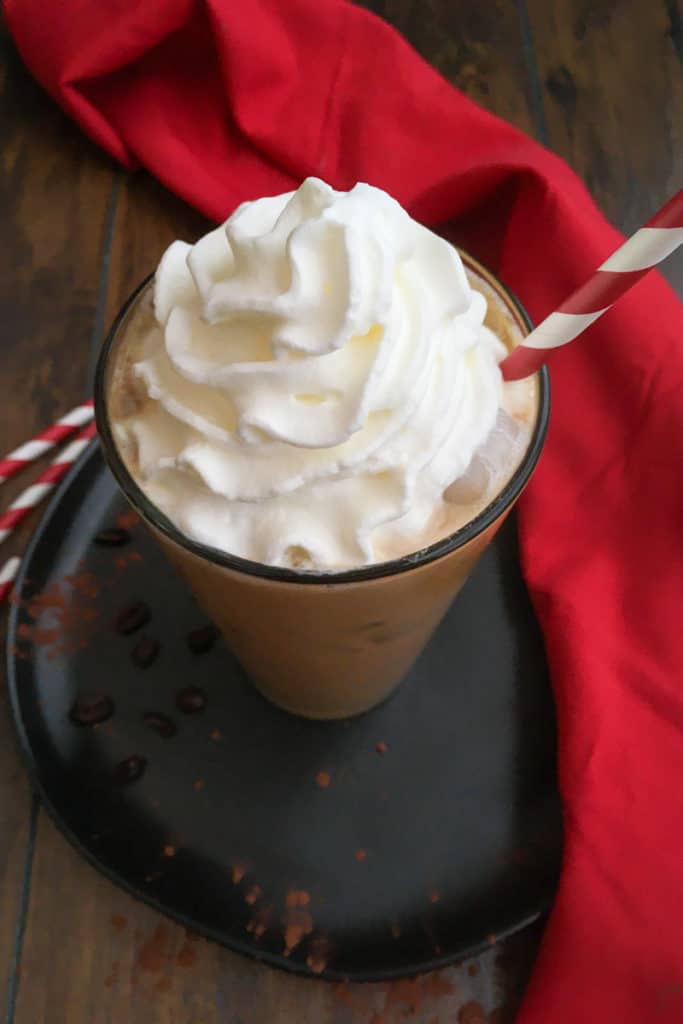 Starbucks Whipped Cream Canister
To make whipped cream at home like Starbucks, a professional whipped cream dispenser is a must. Specifically, Starbucks uses iSi brand whippers with a max filling capacity of .5L (1 pint). Additionally, you need whipped cream chargers that contain nitrous oxide.
If this is starting to sound complicated or too much like Science class, trust me, it's really easy.
All you have to do to make the whipped cream is pour the cream and syrup into the canister. Then you screw on a charger tightly to release the nitrous oxide into the canister. The nitrous oxide creates tiny bubbles.
Finally, shake it up a few times, let it rest on its side for a minute, and you've got nice and fluffy whipped cream.
I promise you, once you make homemade whipped cream this way, you'll never go back to buying those cans in the store.
Not to mention, making whipped cream this way produces more cream than other at-home whipping methods.
You'll find that it's perfect for topping drinks, ice cream, desserts and anything else you can think of. For instance, I love this vanilla-sweetened whipped cream on top of a bowl of strawberries.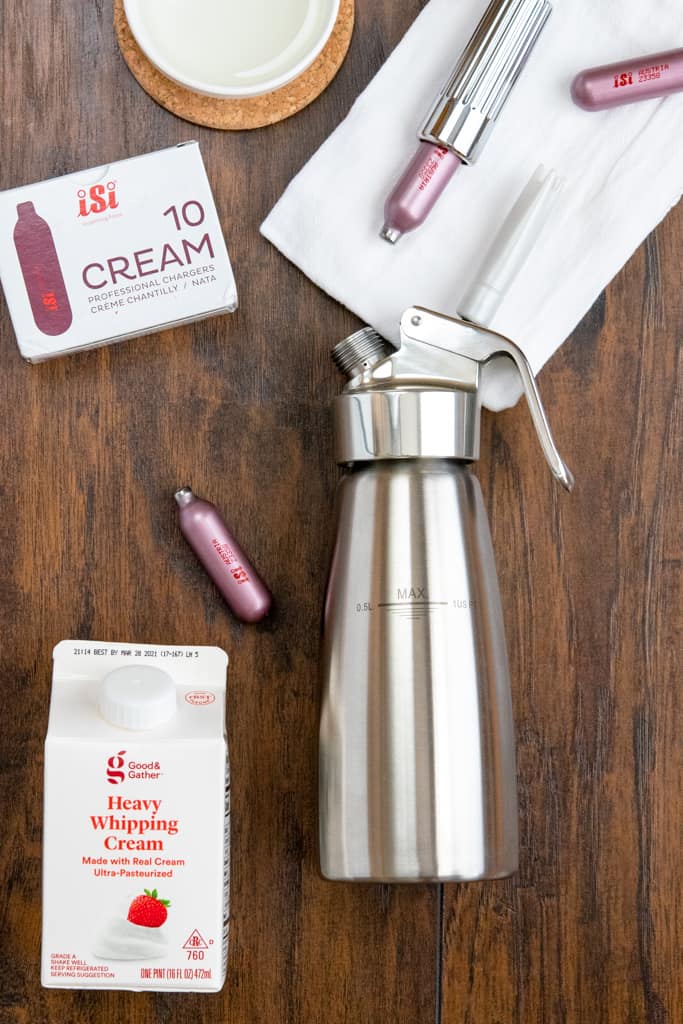 Starbucks Whipped Cream Ingredients
Starbucks whipped cream recipe itself is really simple.
The only two ingredients you need to make whipped cream like Starbucks are heavy whipping cream and vanilla syrup. You also need a whipped cream dispenser and N2O charger.
If you're not sure where to buy vanilla syrup it's usually in the same grocery store aisle as coffee. Vanilla is a common flavor that's usually stocked.
Some stores even sell those small bottles of Starbucks brand syrup.
But if you want to be real exact, you can buy the same bottle of vanilla syrup your Starbucks baristas uses. You can either get a bottle of vanilla syrup on Amazon or if your barista has a bottle to spare, they may sell one to you.
It's also really easy to make homemade vanilla syrup. Here's my Starbucks copycat vanilla syrup recipe over on my tea blog. I've used this vanilla recipe to make the whipped cream and it's really good.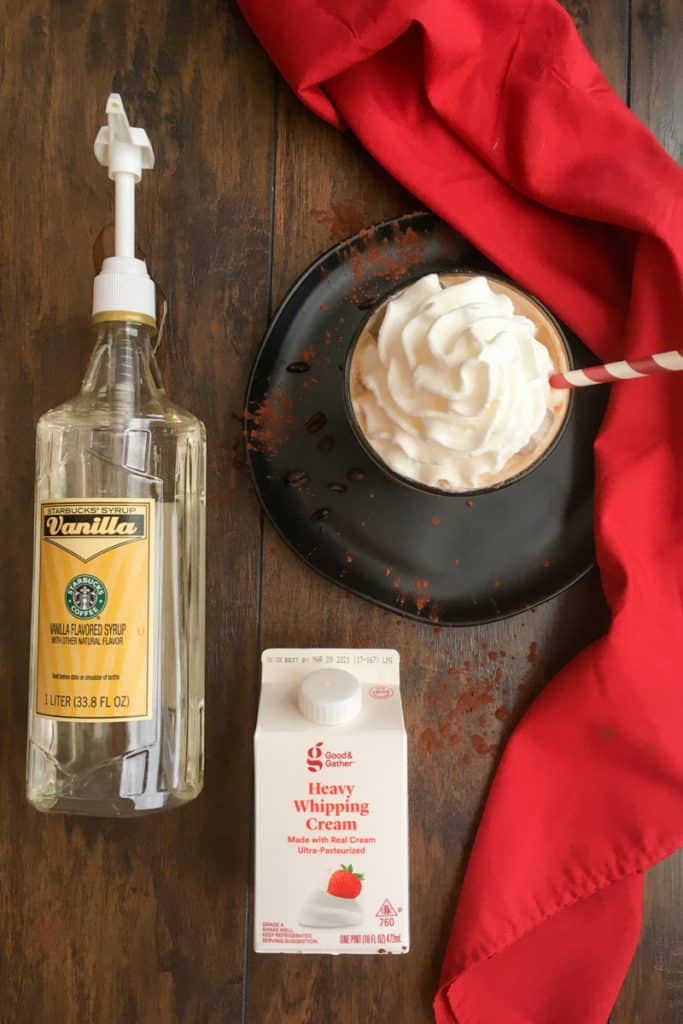 How to Make Whipped Cream like Starbucks
Making whipped cream like Starbucks and other professionals is really simple once you see how it's done. Here are the steps to make it.
Step 1: Put syrup and whipping cream into dispenser. Screw the lid on and shake to combine.
Step 2: Screw on N2O charger. The best way to do this is to first drop the charger into the cap that came with the dispenser. Then, screw the charger on, but just to the point where it's screwed on all the way but is not tightened. Then, give it one final, big turn to tighten the charger completely and release the gas.
Step 3: Give the whipped cream dispenser about 10 good shakes. Then, lay it on its side for about a minute. This gives the the heavy cream and N2O a chance to combine.
Step 4: The whipped cream is ready to use. At this point, I like to remove the spent charger. To do so, simply unscrew the charger and cap. You'll hear a little hiss as some gas is released. This is to be expected.
How to Dispense Whipped Cream
To dispense the whipped cream, hold the canister with the nozzle/decorating tip pointing downward. Additionally, I find it most comfortable to have the trigger on the outside away from my body. Then, squeeze the trigger fully with your hand to put whipped cream on your favorite dessert or drink.
To top drinks with this sweet whipped cream like Starbucks, put the whipped cream on in a circular motion. It's easiest to start by making a large circle around the drink's outer edge. Continue to circle the whipped cream around, moving towards the center. The result will be a nice big poof of decadent whipped cream.
You can even elevate your drinks another notch with caramel sauce, other drizzles, or crunchy toppings. I mean, what would an Iced Caramel Macchiato be without sweetened whipped cream and caramel sauce.
And I love whipped cream on top of a hot white chocolate mocha.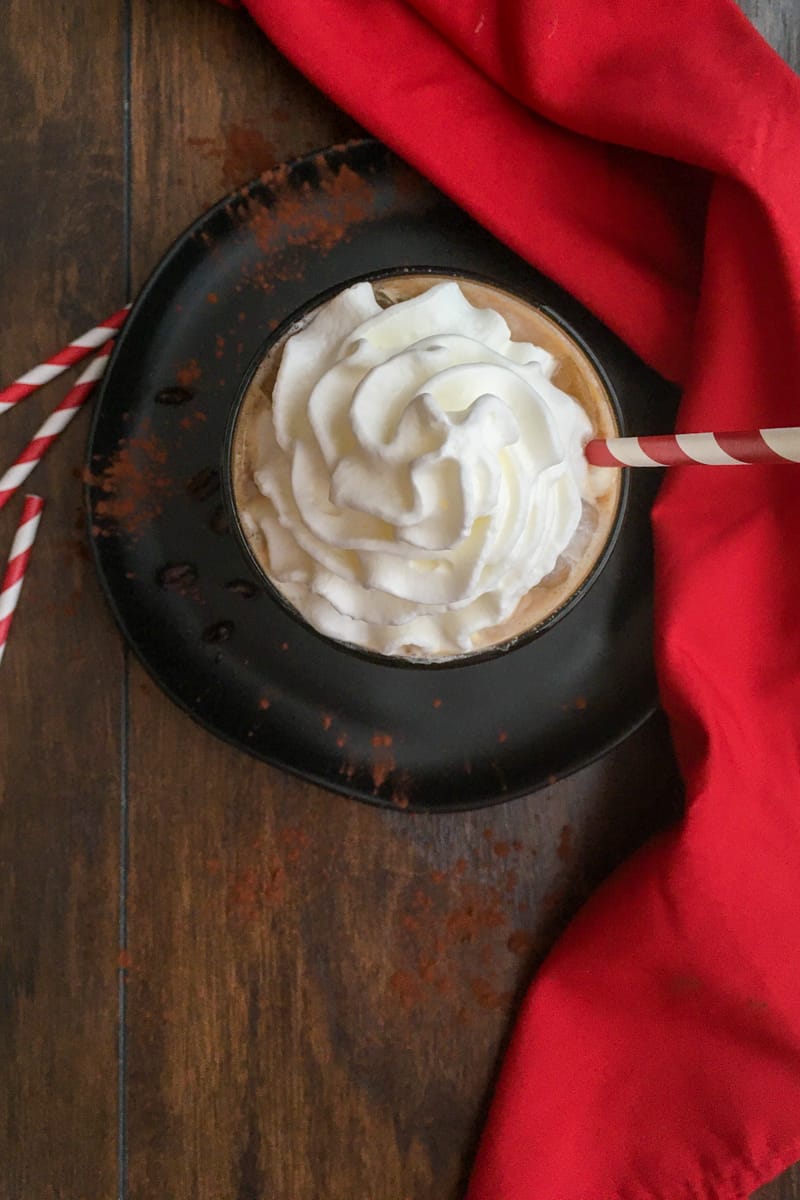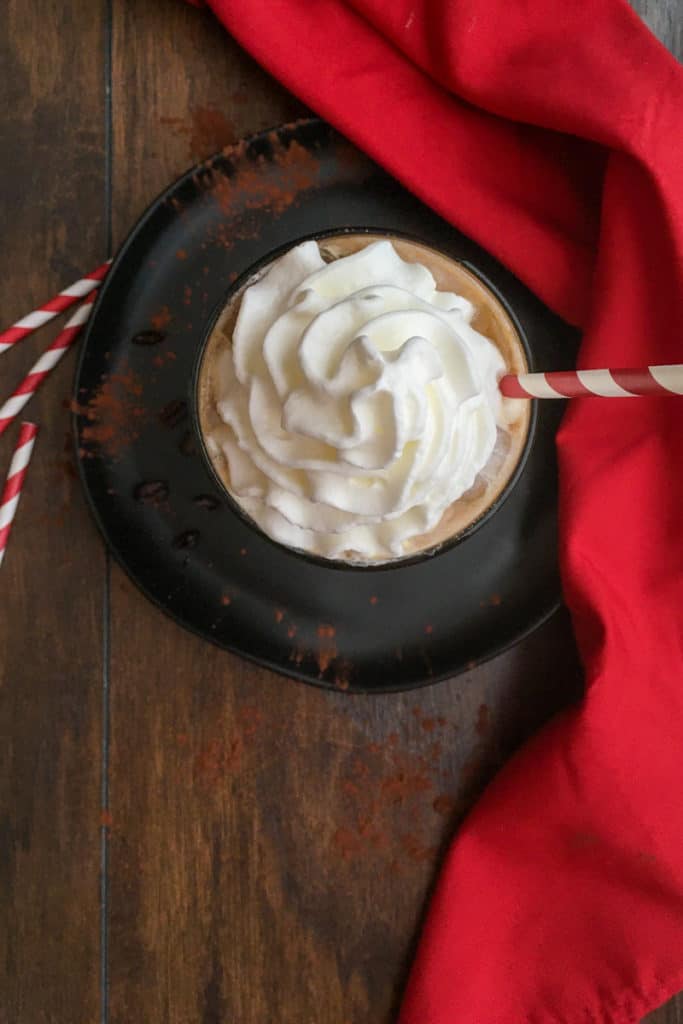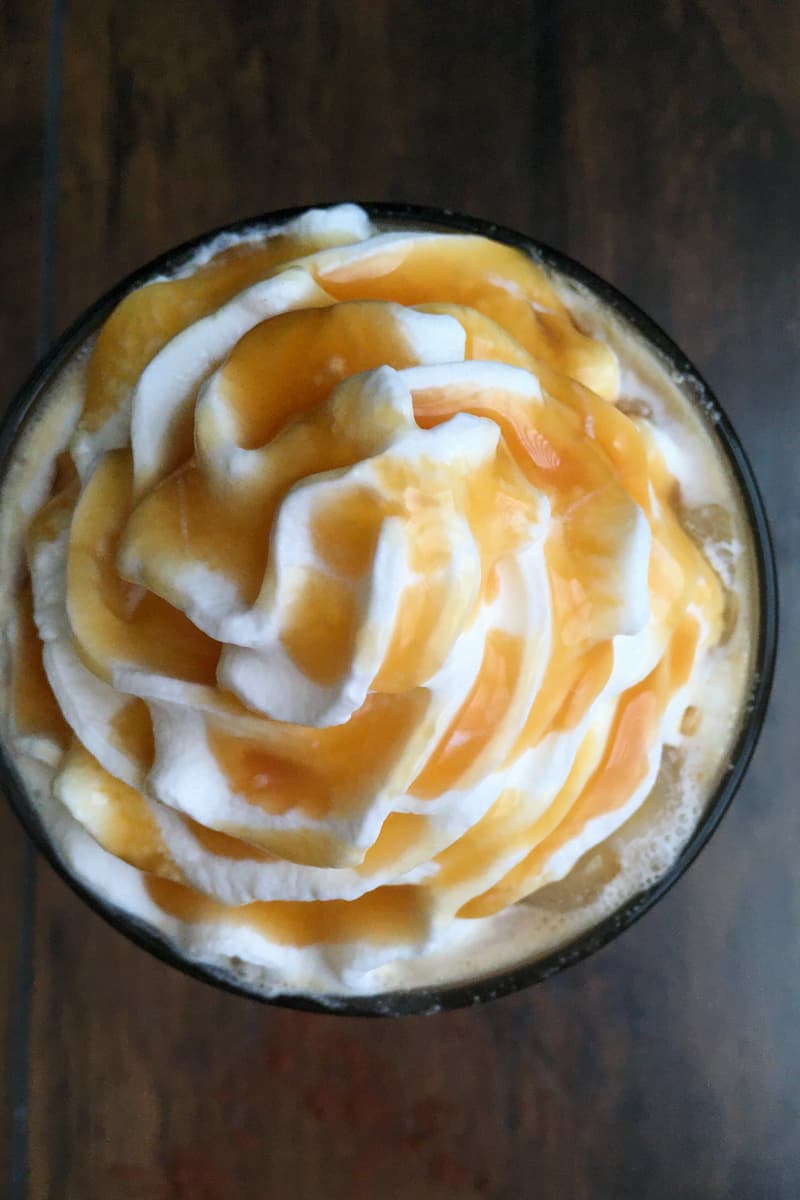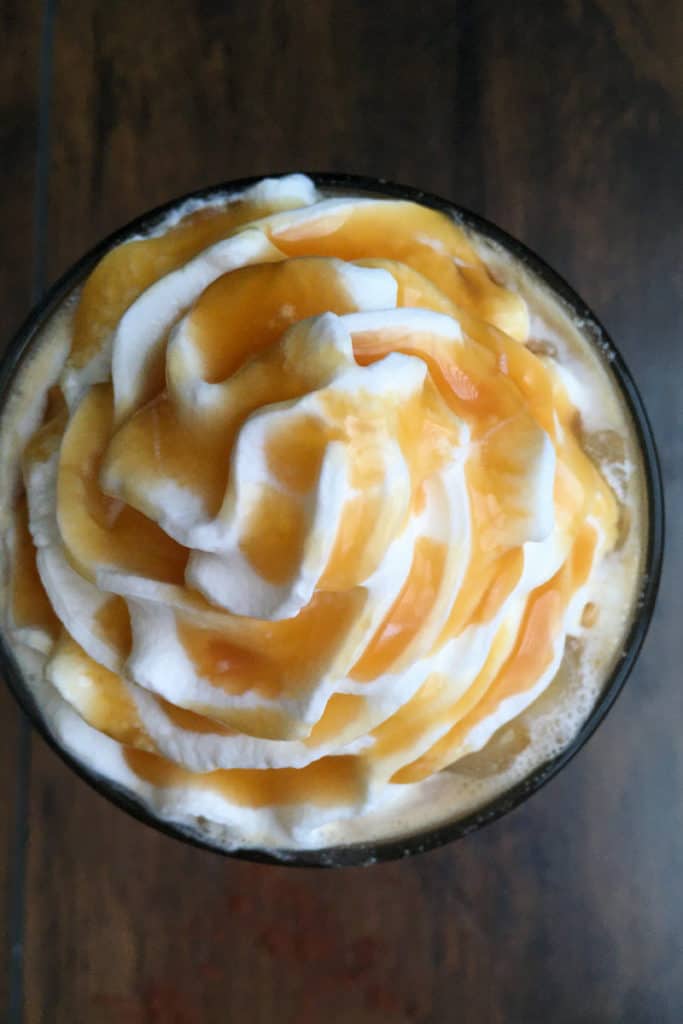 Tips for Making & Storing Whipped Cream
Homemade whipped made in a professional dispenser is good to use for several days. But as time passes, it may become more runny.
You might even notice little pockets in the whipped cream ribbon.
For best results, do these things:
Make the whipped cream using a cold ingredients and a cold canister.
Keep the whipped cream cold in between uses.
Store the whipped cream dispenser in the refrigerator on its side.
Give it 1 or 2 shakes each time you use it.
Use the whipped cream by the expiration date of the heavy cream used to make it.
More Starbucks Drink Topping Recipes
Starbucks Whipped Cream Recipe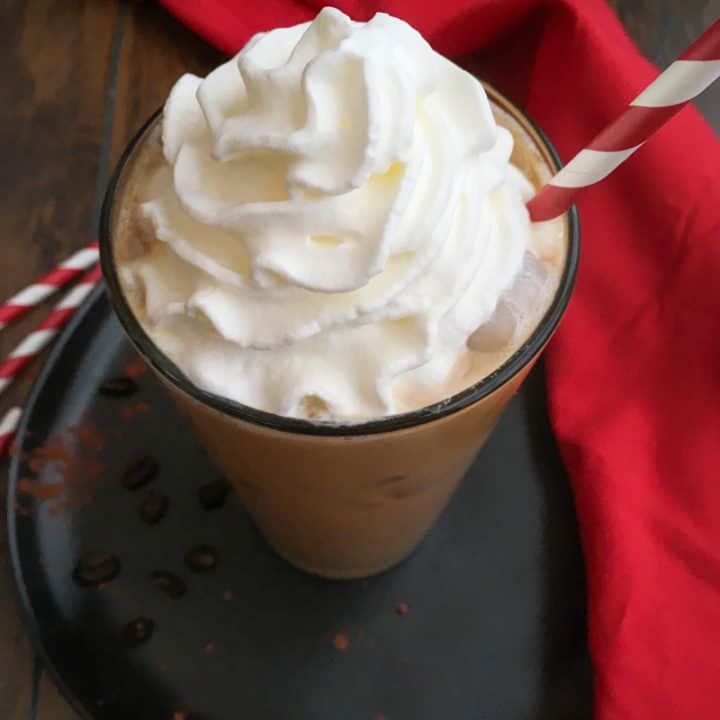 Starbucks Whipped Cream
Easy Starbucks whipped cream recipe for topping coffee drinks, ice cream and desserts.
Ingredients
2 cups heavy whipping cream
1/4 cup vanilla syrup
Instructions
Combine heavy cream and vanilla syrup in a container. I use a glass measuring cup with a spout.
Pour mixture into whipped cream dispenser. Do not exceed "max fill" line.
Put the lid on and screw on a whipped cream charger.
Shake the whipped cream canister 8-10 times vigorously, then lay it on its side for about 15 seconds.
To dispense whipped cream, hold the canister with the decorating tip pointing downward and the trigger away from your body.
Store the whipped cream in the refrigerator on its side. Shake lightly before each use.
Notes
For best results, use a chilled whipped cream dispenser, ingredients and tools.
Recommended Products
As an Amazon Associate and member of other affiliate programs, I earn from qualifying purchases.