Here's a list of all Starbucks holiday drinks and syrups, including popular classics like Peppermint Mocha, as well as new holiday flavors & toppings. Red Cup Day details included.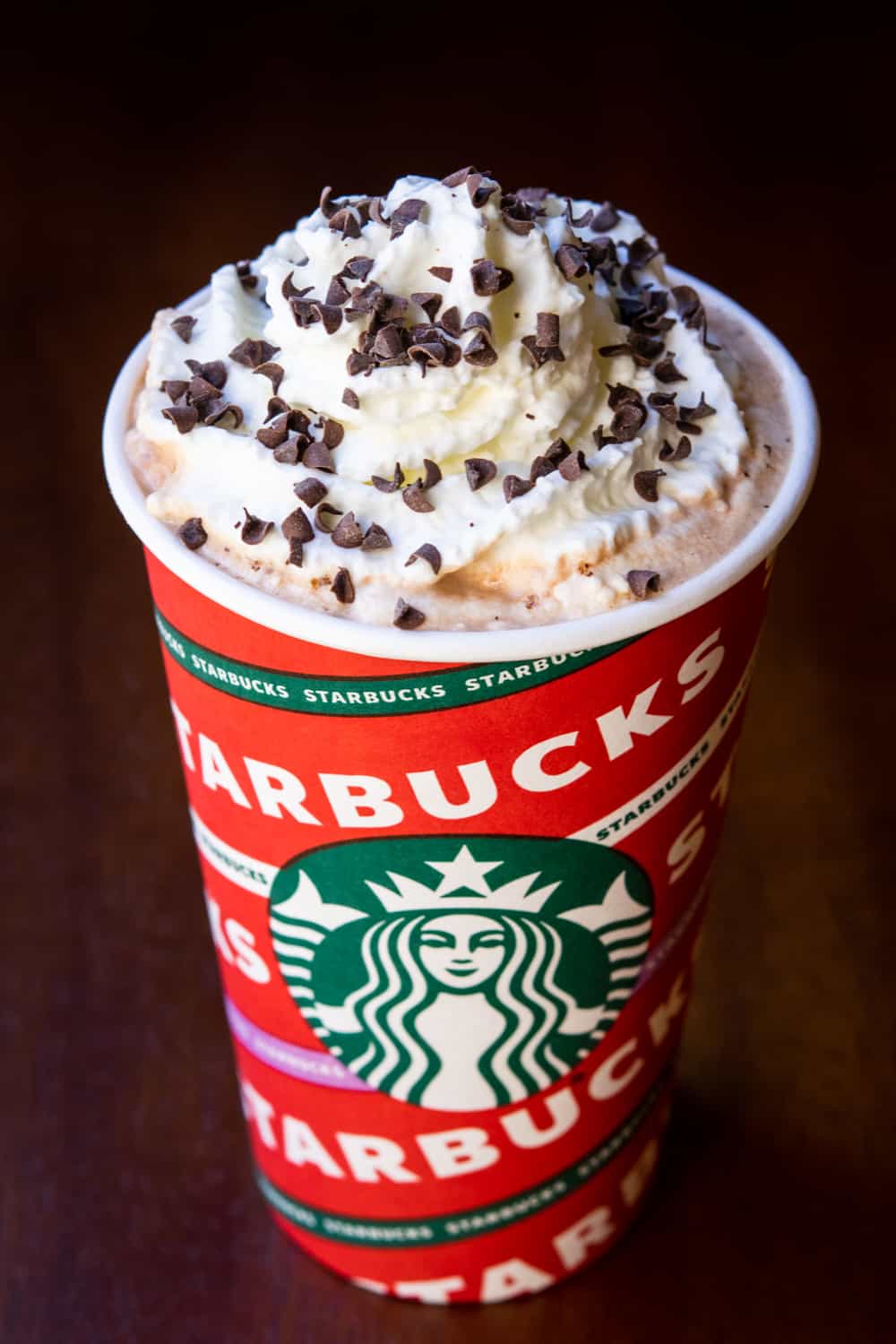 Holiday Drinks at Starbucks
From festive frappuccinos to lattes, mochas, hot chocolate and steamers, Starbucks holiday drinks are the perfect way to enjoy the winter season.
These cheery whipped cream-topped holiday drinks, adorned with sprinkles, sparkles and bits, are as delicious as they are enticing.
Here's a look at each seasonal drink on the Starbucks holiday menu. See the new flavor and find out which holiday drinks are a thing of the past.
And of course, see all the best holiday drinks at Starbucks. There's almost 30 delicious options on the menu.
Every Starbucks Holiday Drink on the Menu
What are the holiday drinks at Starbucks for 2022?
Sugar Cookie Almondmilk Latte (Non-dairy Starbucks Holiday Drink)
Iced Sugar Cookie Almondmilk Latte
Sugar Cookie Frappuccino
Sugar Cookie Crème Frappuccino
Iced Chestnut Praline Latte
Chestnut Praline Frappuccino
Chestnut Praline Crème Frappuccino
Iced Caramel Brulée Latte
Caramel Brulée Frappuccino
Caramel Brulée Crème Frappuccino
Toasted White Chocolate Mocha
Iced Toasted White Chocolate Mocha
Toasted White Mocha Frappuccino
Toasted White Mocha Crème Frappuccino
Toasted White Hot Chocolate
Peppermint Mocha
Iced Peppermint Mocha
Peppermint Mocha Crème Frappuccino
Peppermint Hot Chocolate
Peppermint White Chocolate Mocha
Iced Peppermint White Chocolate Mocha
Peppermint White Chocolate Mocha Frappuccino
Peppermint White Chocolate Mocha Crème Frappuccino
Peppermint White Hot Chocolate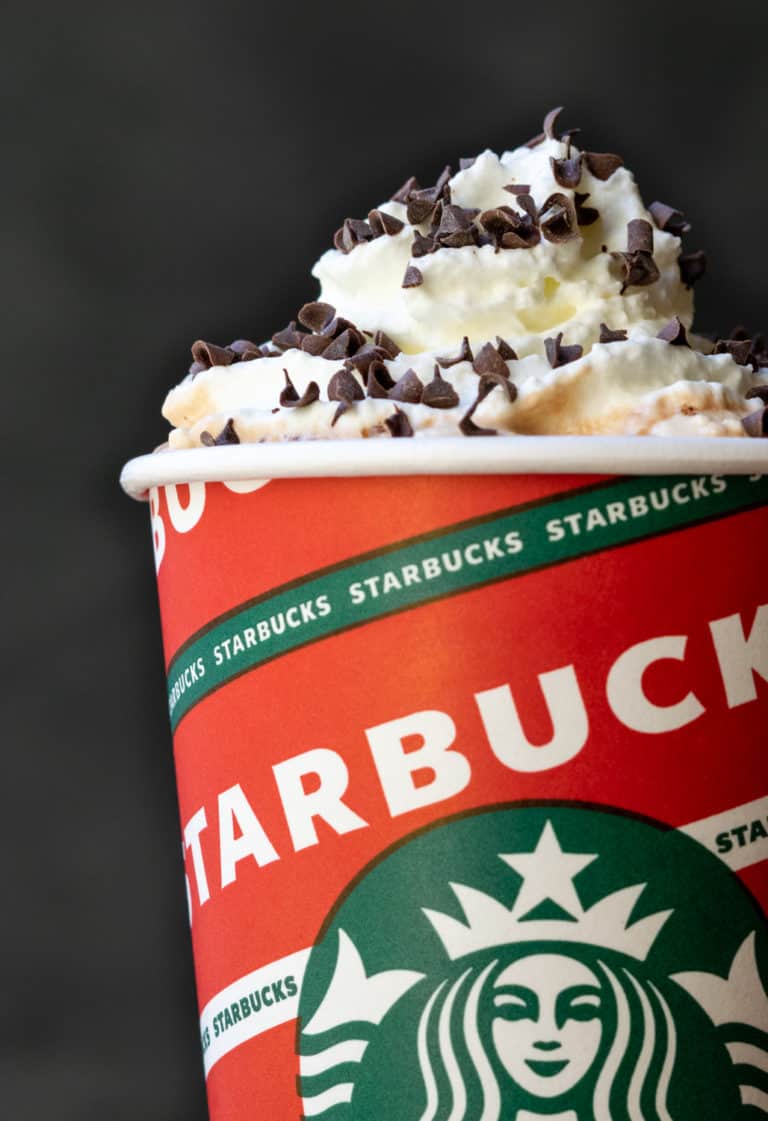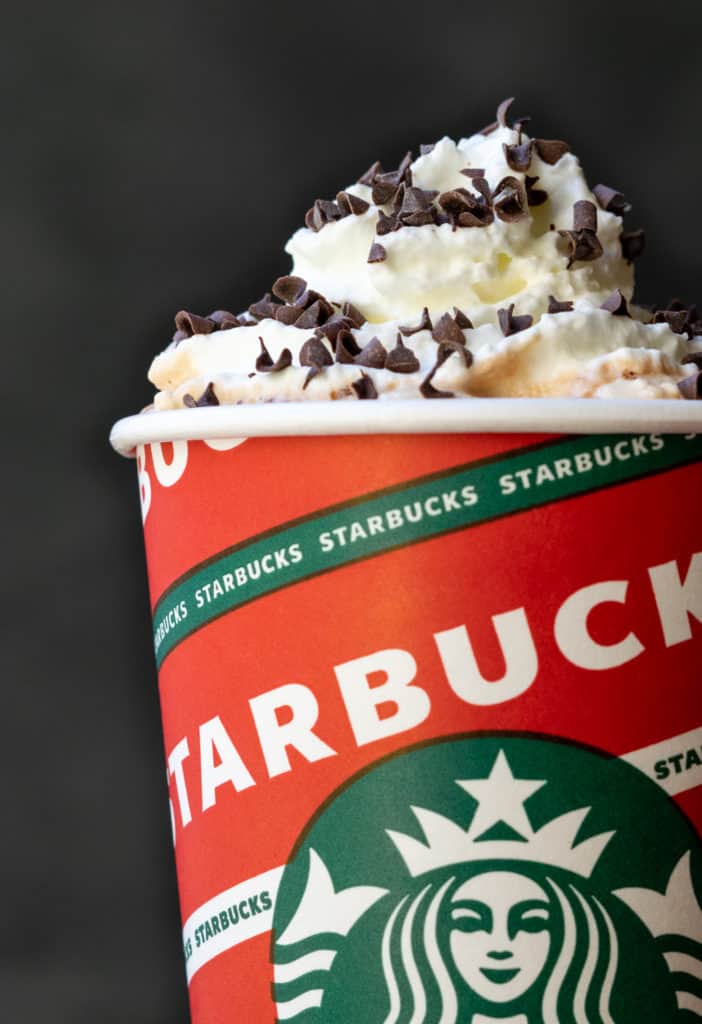 RELATED: Best Peppermint Drinks at Starbucks and 21 Starbucks Chocolate Drinks
New Holiday Drink Flavor
Starbucks did not introduce any new seasonal flavors for 2022, but sugar cookie returns for a second year.
Sugar Cookie Almondmilk Latte: This festive drink combines Starbucks blonde espresso, almond milk and sugar cookie syrup. Each latte is topped with red and green sprinkles—just like a real sugar cookie.
Inspired by home-baked holiday spritz cookies, according to Starbucks, the line-up of sugar cookie drinks includes hot and iced lattes, and both coffee-based and creme frappuccinos.
The debut of the Sugar Cookie Almondmilk Latte was a success and marked the first time a non-dairy beverage appeared on the coffee chain's holiday menu.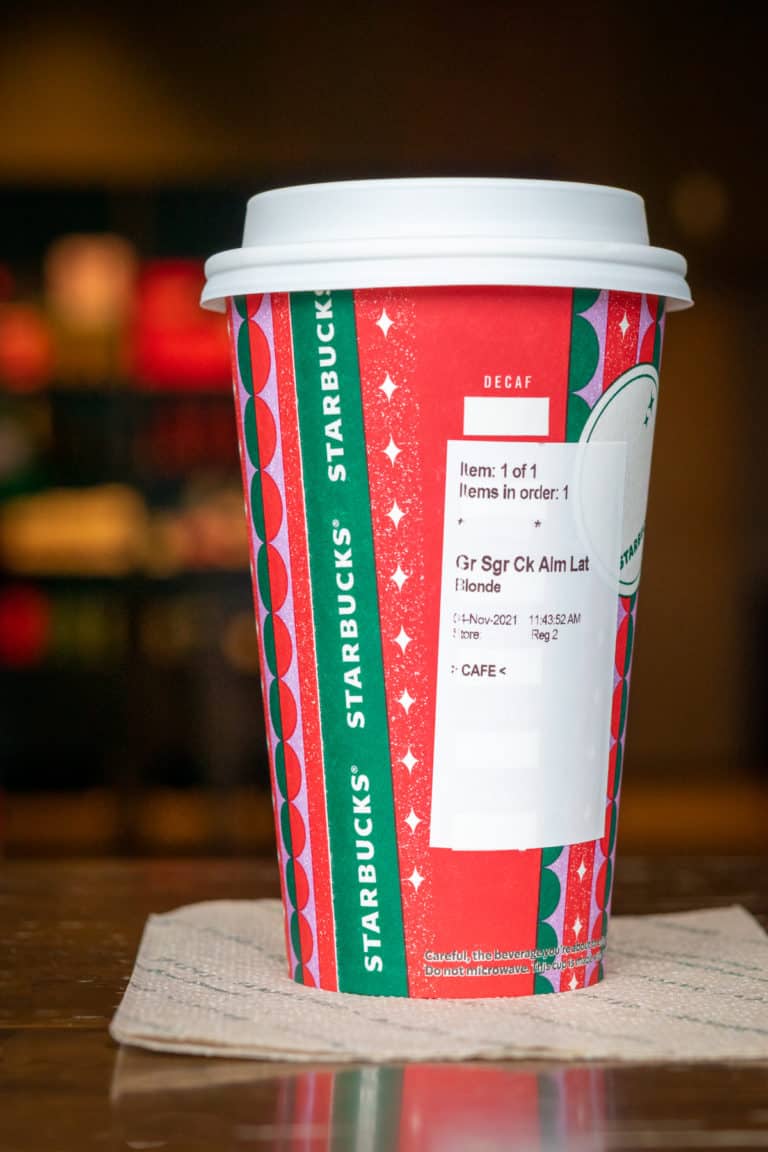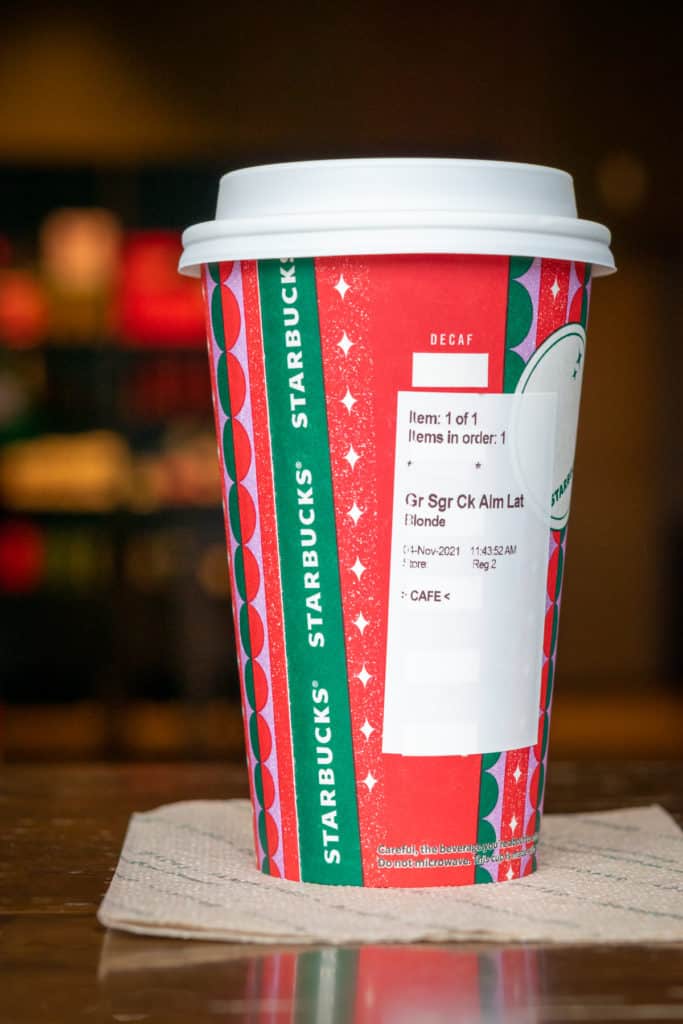 Wondering what drinks didn't make the cut for the 2022 winter menu? Here's a short list of drinks that aren't returning.
Eggnog Beverages: Eggnog fans will be disappointed to learn that eggnog lattes are no longer available at Starbucks. As Starbucks puts it, "Adjusting our menu…is one way we can continue to innovate…and inspire new seasonal traditions."
Gingerbread Lattes: This is the fourth consecutive year gingerbread lattes are not on the menu.
Salted Caramel Mocha: This drink normally makes its annual appearance on the fall seasonal menu along with Starbucks pumpkin drinks. However, it didn't come back in 2021 and so far it hasn't for 2022. While you can still order the toffee nut mocha and caramel-drizzled whipped cream portion of the drink, the sea salt topping is unavailable.
Holiday Syrups, Sauces & Toppings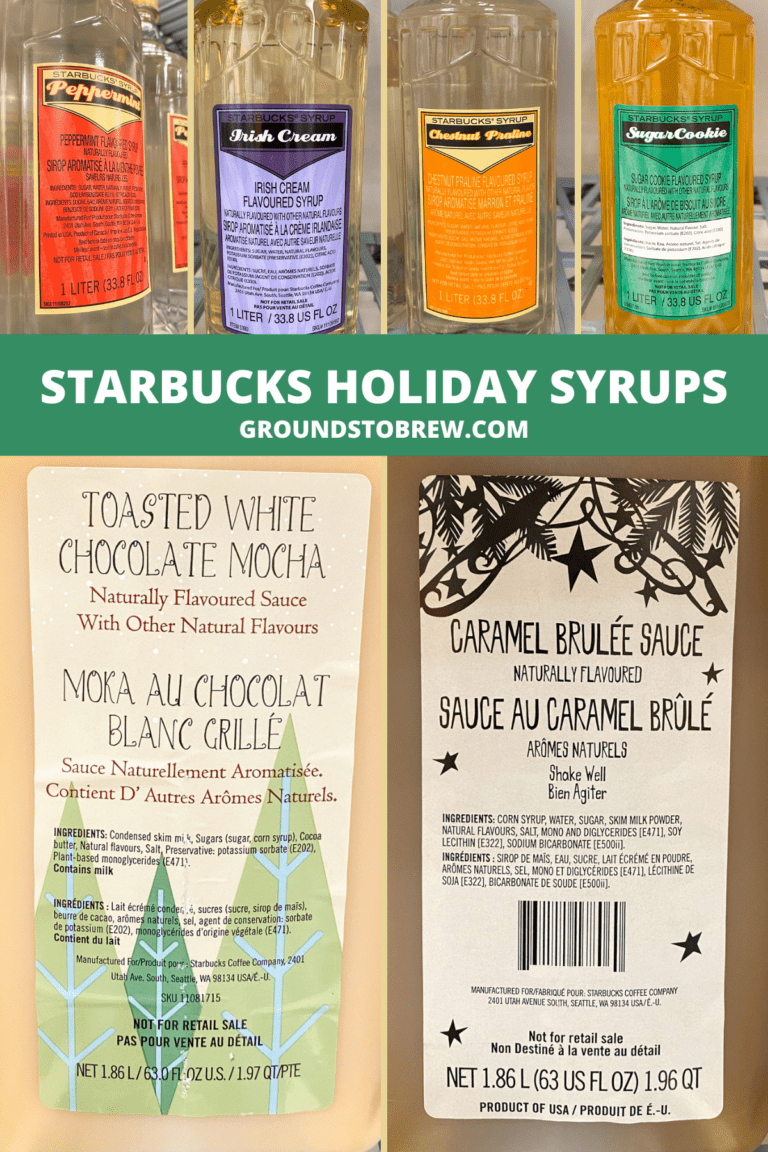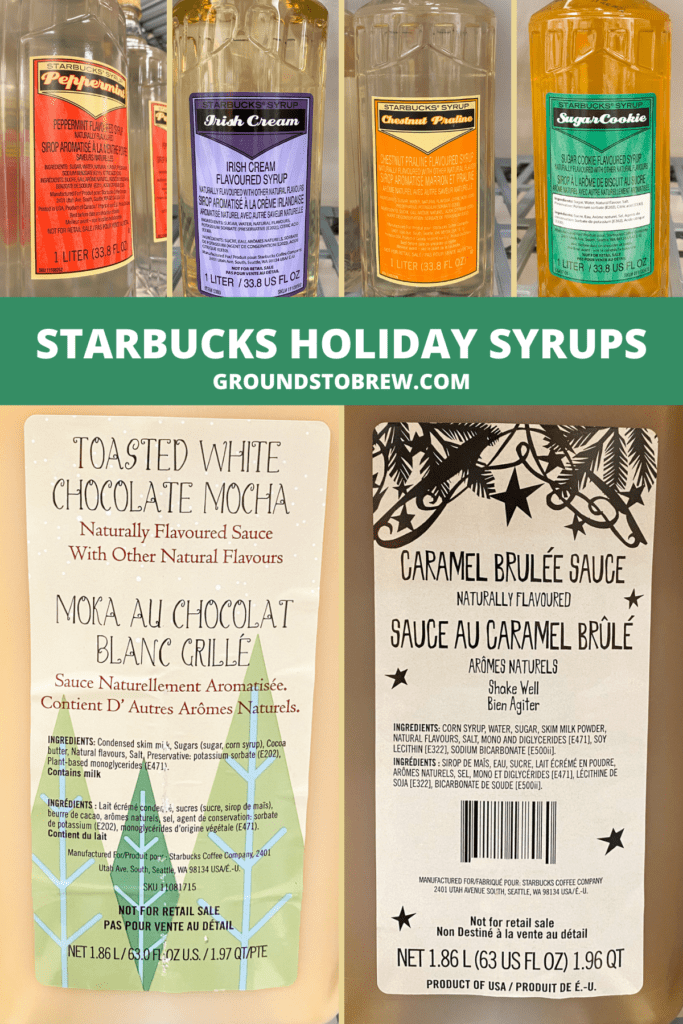 Starbucks has six holiday syrups and sauces to flavor and sweeten every drink on the holiday menu and each drink is garnished with its own seasonal topping
Sugar Cookie Syrup: [sugar-based/non-dairy] Inspired by spritz cookies, the newest Starbucks holiday syrup has an almond flavor. It's used for making lattes and frappuccinos.
Peppermint Syrup: [sugar-based/non-dairy] This syrup has a strong peppermint flavor and is used to make peppermint mochas, hot chocolate and frappuccinos. This "holiday" syrup is available all year.
Chestnut Praline Syrup: [sugar-based/non-dairy] This popular Starbucks holiday syrup has a nutty flavor and tastes of carmelized chestnuts and spices. It's used to make chestnut praline lattes and frappuccinos.
Irish Cream Syrup: [sugar-based/non-dairy] This classic syrup with flavors of chocolate and vanilla, but without any alcohol, is used to make Irish Cream cold brew beverages.
Caramel Brulée Sauce: [contains milk products] This creamy sauce has a smokey caramel flavor and is used for caramel brulée lattes, frappuccinos and steamers.
Toasted White Mocha Sauce: [contains milk products] This much-loved Starbucks sauce tastes of toasted marshmallows. It's used for toasted white chocolate mochas, frappuccinos and steamers.
Red & Green Holiday Sprinkles: Just like sprinkles on a traditional holiday sugar cookie, this Starbucks topping is paired with all drinks flavored with Sugar Cookie syrup.
Dark Chocolate Curls: Real pieces of dark chocolate top all seasonal Starbucks drinks made with peppermint syrup.
Spiced Praline Crumbs: A delightful mix of toffee and cane sugar crumbs coated with cinnamon, ginger and clove top all Starbucks holiday drinks flavored with Chestnut Praline syrup.
Cocoa Powder: A strike of cocoa powder adorns every Irish Cream cold brew beverage.
Caramel Brulee Bits: These shimmery bits of caramelized sugar are the final touch on all holiday beverages flavored with caramel brulee sauce.
Holiday Sugar Sparkles with Crispy White Pearls: Perhaps the most aesthetic Starbucks holiday topping, these pretty sparkles pair with all toasted white mocha drinks.
Related: How to Make Starbucks Whipped Cream
Starbucks Holiday Cups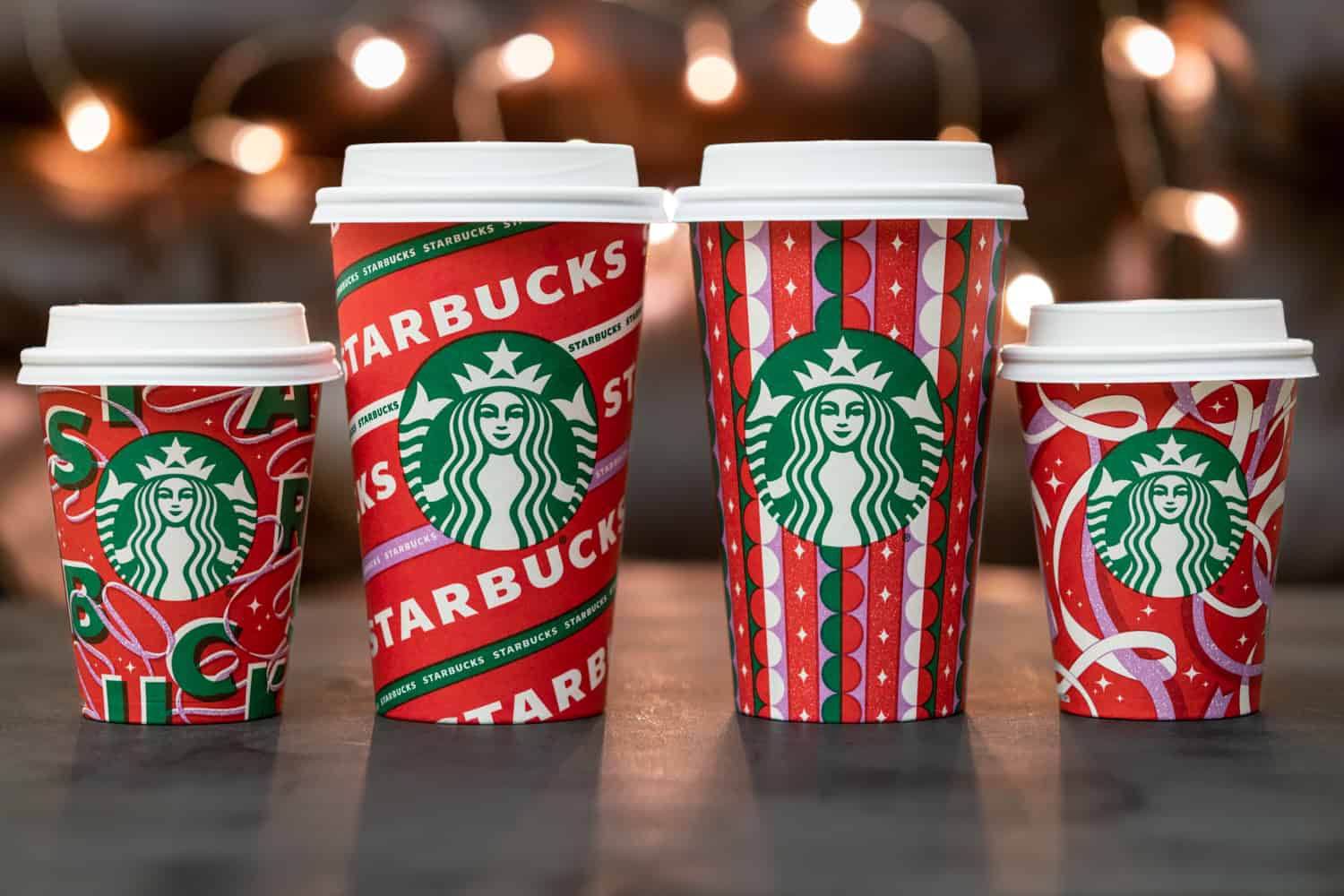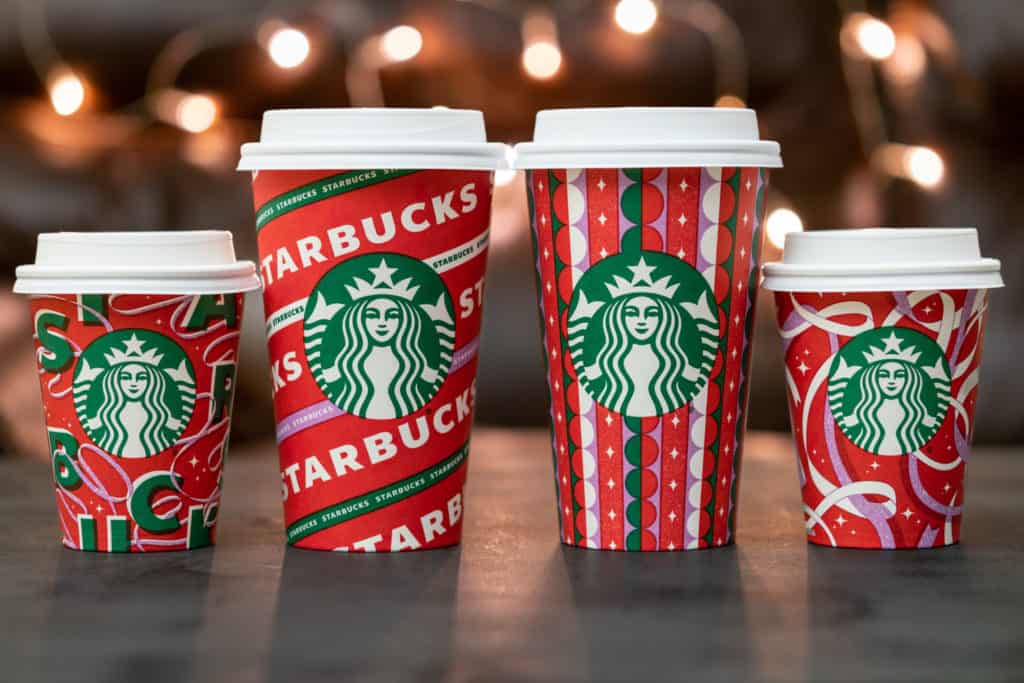 What would a decadent holiday drink from Starbucks be without a festive cup to go with it?
This year's hot cup series features four designs inspired by gift wrapping paper, all red, green and white with a touch of lilac, . Each cup even features a gift tag for writing a merry message or your name.
Unfortunately, due to supply issues, there isn't a holiday cold cup this year. But that's ok; it's the delicious drink inside that matters.
Related: The Ultimate Guide to Starbucks Drink Sizes
Free Red Cup Day 2022
To celebrate the season, Starbucks offers free reusable red cups (while supplies last) on Red Cup Day with the purchase of a handcrafted holiday menu beverage.
Make note, each location has a limited supply of red cups, the purchased drink must come from the fall or winter seasonal menus, and brewed coffee is not a handcrafted beverage.
When is Red Cup Day 2022? Red Cup Day is rumored to be Thursday, November 17, 2021 for customers in the U.S. and Canada. Starbucks has not officially announced the date, but insiders have let it slip.
Kid-friendly Holiday Drinks
Starbucks has several kid-friendly, holiday drink options that aren't jam-packed with caffeine.
The best kid-friendly holiday drinks are Crème Frappuccinos, hot chocolates and steamers. Avoid espresso-based mochas and coffee-based frappuccinos.
Make note, if you order a kid-size drink, it will come in a Starbucks tall cup (12 fl. ounces).
Related: A Complete Guide to Caffeine in Starbucks Frappuccinos
Questions You May Have
When does the Starbucks holiday menu begin?
Starbucks launches their holiday menu the first week of November every year. On the first day, a limited quantity of collectible red cups are given for free with the purchase of a handcrafted holiday beverage. This year the free red cup day is delayed.
Are there any dairy-free holiday drinks at Starbucks?
All Starbucks holiday drinks contain dairy except the Sugar Cookie Almondmilk lattes. To order the other holiday drinks dairy-free, leave off the whipped cream, substitute in a plant-based milk, and avoid caramel brulee sauce and toasted white mocha sauce.
Are there any caffeine-free Starbucks holiday drinks?
Starbucks caffeine-free holiday beverages include creme frappuccinos and white hot chocolates and steamers. Just avoid the ones made with regular mocha sauce (not white chocolate or toasted white chocolate) since it contains a little bit of caffeine. Additionally, lattes and mochas can be ordered with decaf espresso.
Are Starbucks winter drinks the same thing as holiday drinks?
Practically speaking, Starbucks holiday drinks and winter drinks are the same thing. The only difference is that all holiday drinks appear on the "winter 1 menu" and additional drinks may be added on the "winter 2 menu."
More Starbucks Drink Guides