Iced Chocolate Almond Milk Shaken Espresso
Have you tried the new Starbucks Iced Chocolate Almondmilk Shaken Espresso? It's a simple recipe that brings together chocolate, espresso and almondmilk.
What makes this cold espresso drink so special is, it's shaken together with ice to create a creamy, chocolaty espresso, that's topped with tasty almond milk.
And who doesn't love the combination of chocolate and almonds? Yum!
In the case of this drink, the chocolate really complements the nutty almond milk.
I have to say, this iced espresso is a real treat for true coffee lovers since it's not overly sweet compared to drinks like an iced caramel macchiato.
As a matter of fact, each of the three shaken espresso flavors (Iced Shaken Espresso, Chocolate Almondmilk and Brown Sugar Oatmilk) contain less than half the carbs of most other iced espresso drinks of the same size.
Now, if you want this drink to be sweeter, all you have to do is ask the barista for extra syrup. Or in the case of the Chocolate Almondmilk Shaken Espresso, maybe add in a little Classic syrup or another type of sweetener.
But that's what I love about making this iced espresso drink at home. I can control all the ingredients myself and make it just the way I want. Not to mention, it's a lot cheaper than what this plant-based milk drink costs at Starbucks.
So let's get started.
Here's everything you need to know to make my Starbucks copycat recipe for an Iced Chocolate Almond Milk Shaken Espresso at home.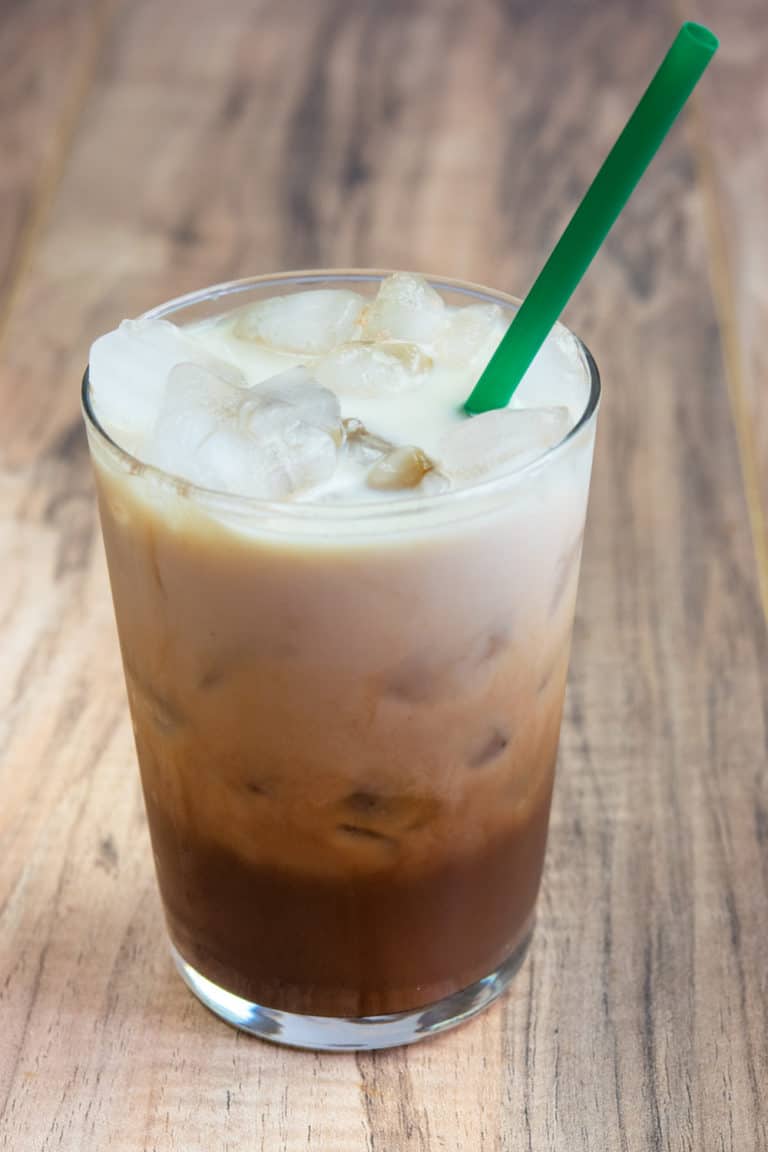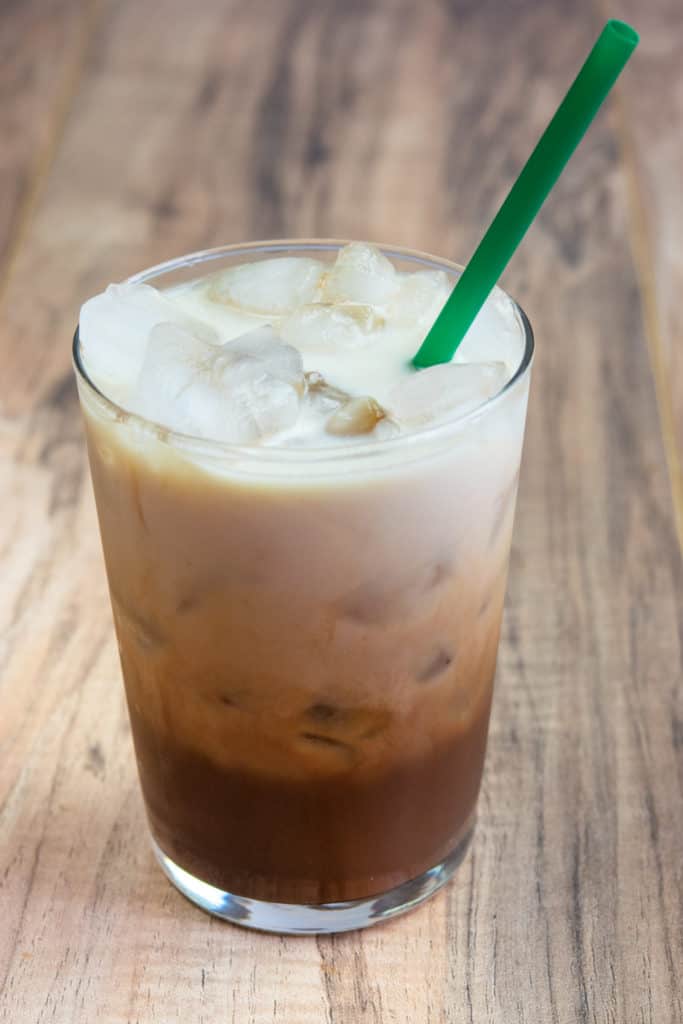 Starbucks Recipe Notes
The Iced Chocolate Almondmilk Shaken Espresso uses a new Starbucks ingredient—chocolate malt powder.
Starbucks chocolate malt powder is a combination of cane sugar, cocoa powder and malt flavor from barley.
If you want the drink sweeter, it's best to add-in a sweetener like classic syrup. (More chocolate powder will make it too chocolatey and overpower the espresso.)
All other Starbucks chocolate-flavored drinks like mochas, frappuccinos and hot chocolate, are made with mocha sauce.
The Chocolate Almondmilk Shaken Espresso recipe calls for blonde roast espresso.
Not all Starbucks locations (like licensed stores inside Target or a grocery store) carry blonde espresso. In this case, the drink is made with Starbucks Signature Espresso.
This drink contains almond milk, but you can substitute it with another plant-based milk like soy or oat, or a dairy milk.
Starbucks almond milk is sweetened.
Here are the exact ingredients Starbucks uses to make an Iced Chocolate Almondmilk Shaken Espresso:
Starbucks Ingredients
Chocolate Malt Powder
Starbucks Blonde Roast Espresso
Sweetened Almond Milk
Ice
Starbucks describes the Iced Chocolate Almondmilk Shaken Espresso like this:
Starbucks® Blonde espresso meets cocoa and notes of malt, shaken together and topped with almondmilk and ice for an invigorating treat to power you through your day.

starbucks.com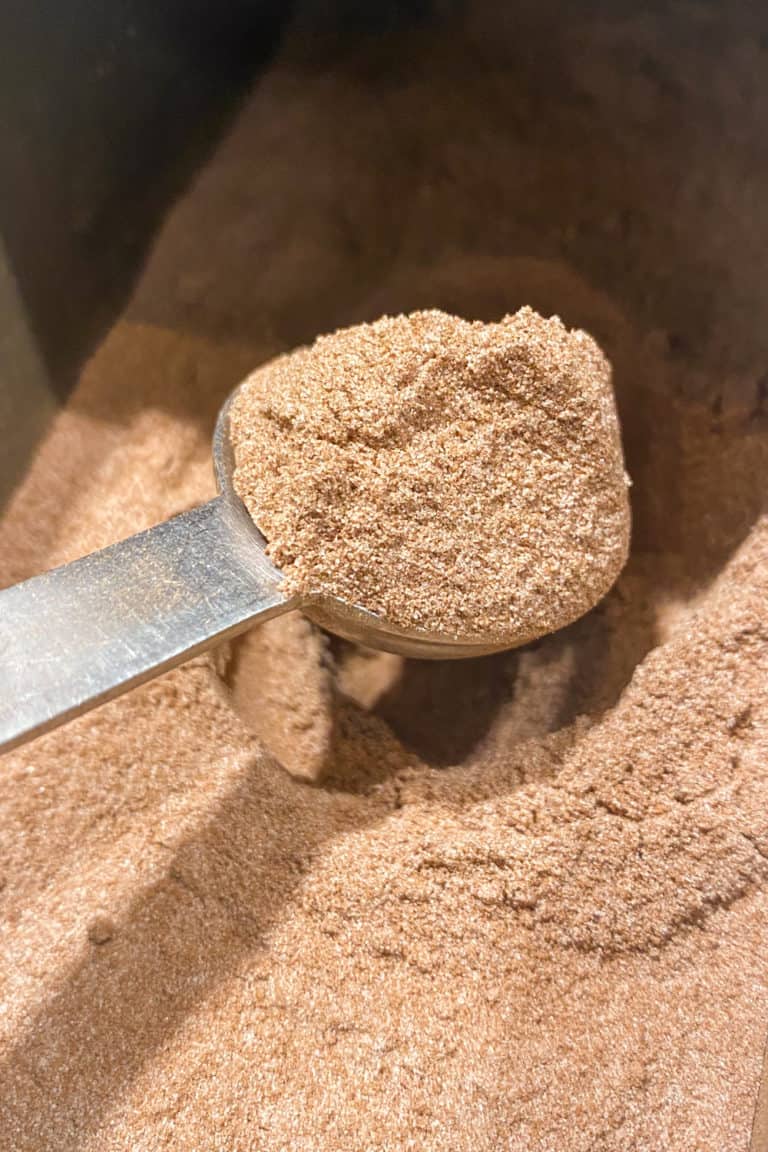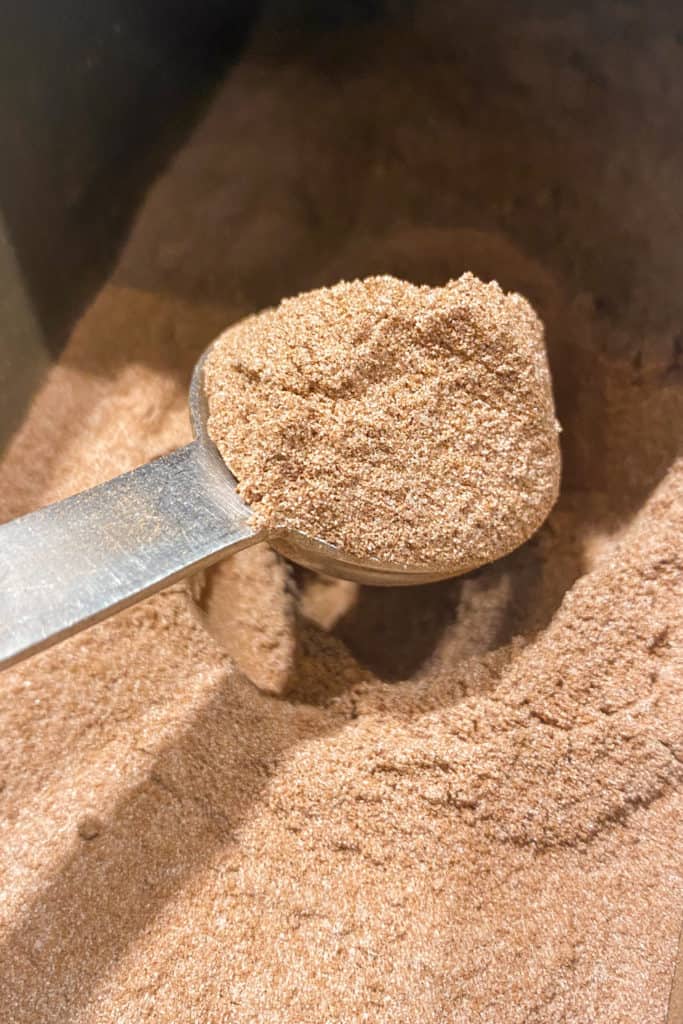 How to Make a Homemade Iced Chocolate Almond Milk Shaken Espresso
What I love about making this particular iced shaken espresso drink at home is that it's possible to make an almost-identical version as Starbucks.
Just like Starbucks, the ingredients you need to make this drink are chocolate malt powder, espresso and almond milk.
Ingredients You Need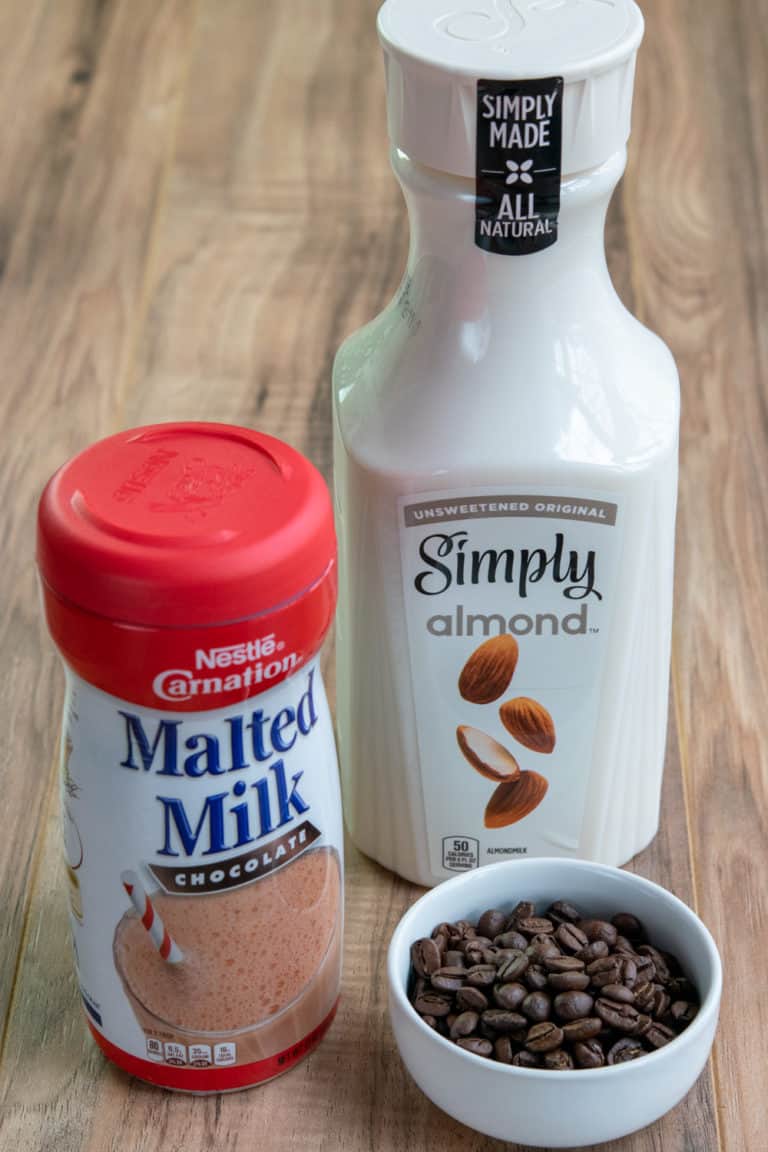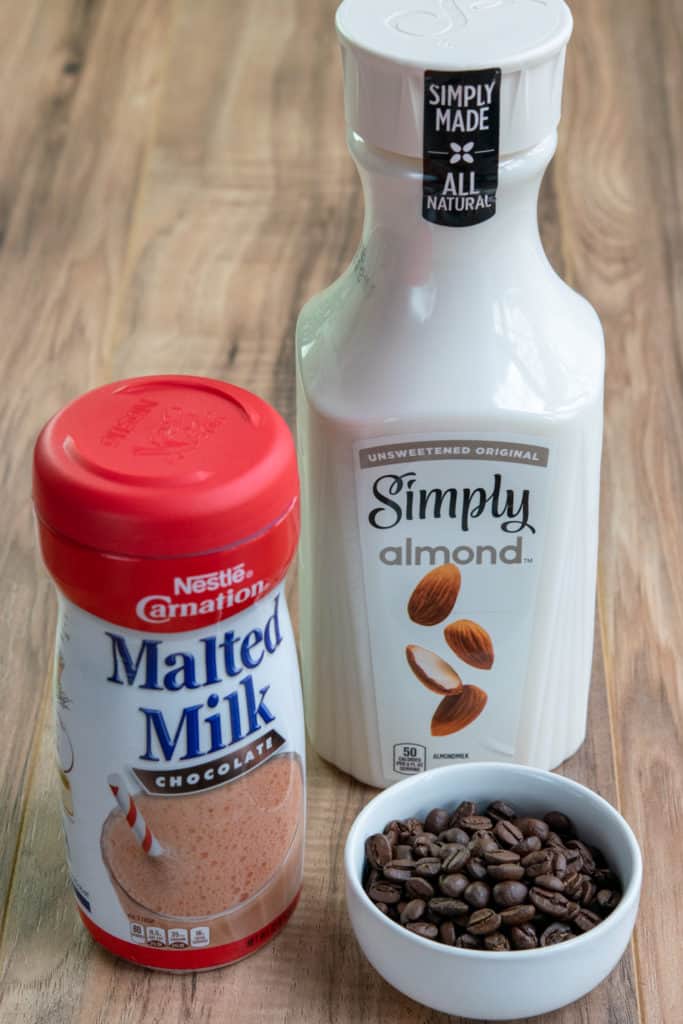 How to Shake the Espresso
Besides the ingredients, the technique to make a shaken espresso is key.
This means, you also need something to shake the drink in. For instance, a cocktail shaker or a large mason jar with lid works perfectly.
If you take a look at the pictures in my Iced Shaken Espresso recipe, you can see how I made a makeshift drink shaker. I simply put a larger cup over a smaller one.
Here are a few other quick recipe notes.
Chocolate Malt Powder
For the chocolate malted milk ingredient all you have to do is pick up a container of Carnation Chocolate Malted Milk. Ovaltine also has a chocolate malt powder, but it contains other ingredients, as well.
Just be sure to get malted milk powder, not powdered milk. It's not the same thing at all.
By the way, you can also use the chocolate malted milk to make other things like milkshakes, smoothies and even baked goods.
Espresso or Espresso Substitute
The recipe for Chocolate Almondmilk Shaken Espresso calls for blonde espresso, but you can use any roast you prefer.
But if you want to make this copycat drink as close to the real thing as possible, you can easily buy a bag of Starbucks blonde roast coffee at the store.
If you have an espresso machine like my Breville Barista Express, get Starbucks blonde roast whole coffee beans. Or use ground blonde roast espresso for other types of machines.
If you have a Nespresso Vertuo, use Starbucks Veranda Blend capsules. If you own an original type of Nespresso, then make sure to get these Starbucks blonde roast capsules.
On the other hand, if you don't have an espresso machine at all, you can make espresso-like coffee with a stovetop espresso moka pot. Another option is to make extra-strong coffee.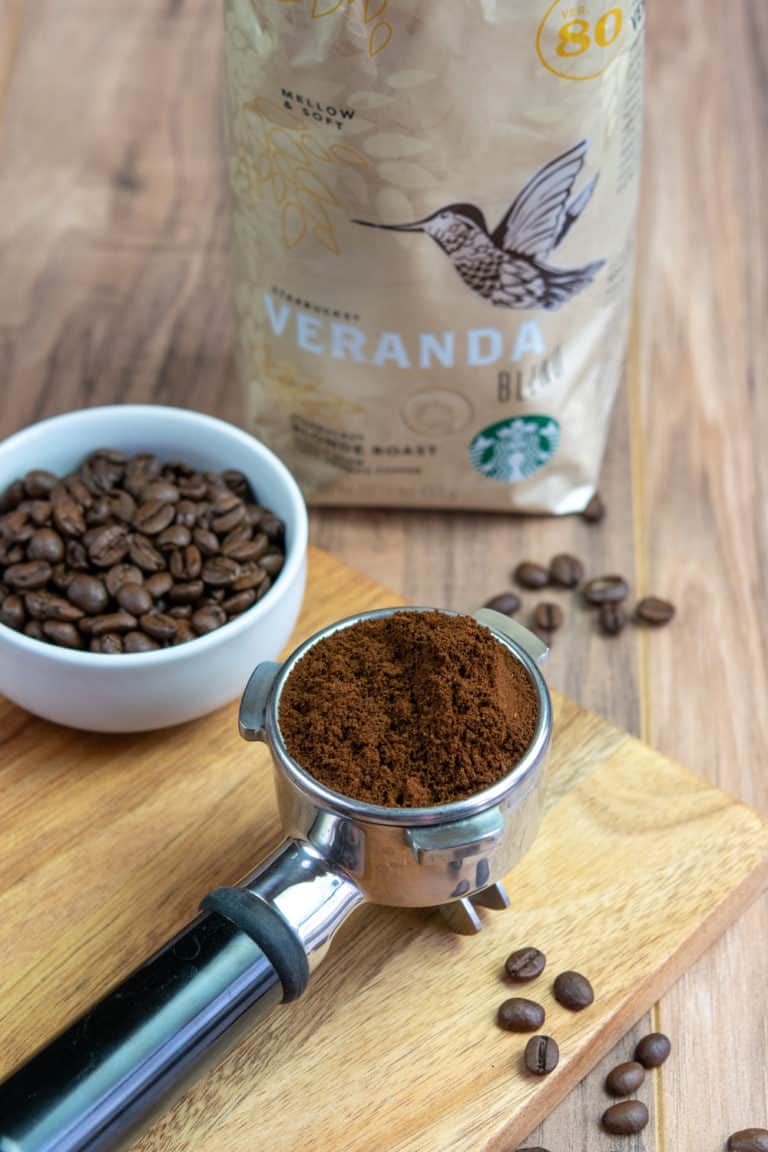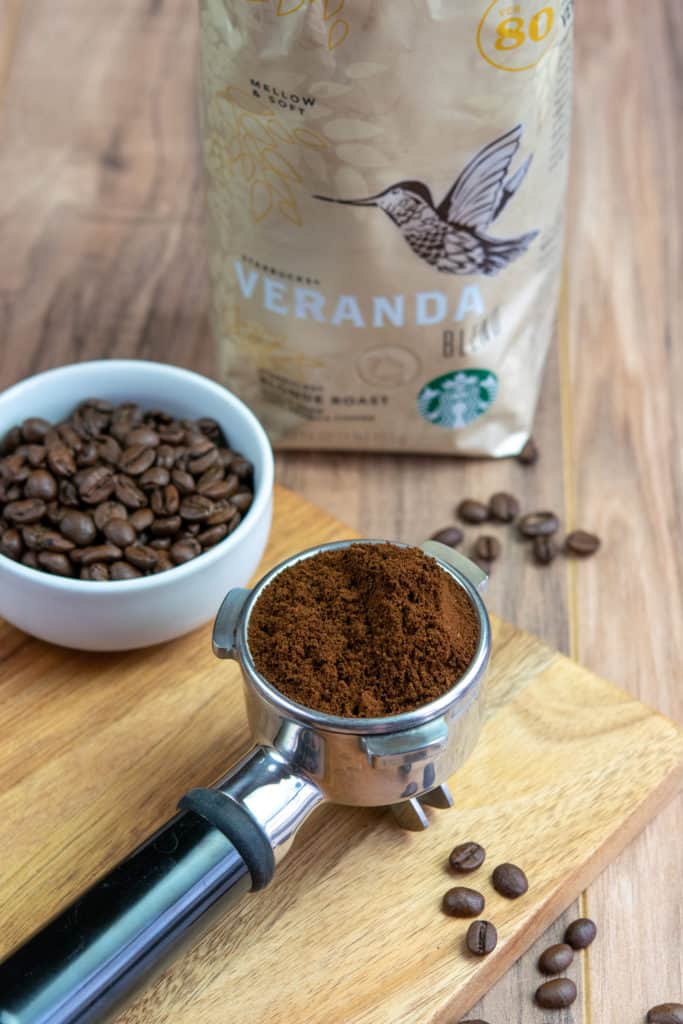 Steps to Make an Iced Chocolate Almondmilk Shaken Espresso
Now that you have all the ingredients and a cocktail shaker or some sort of jar with lid, here's all you have to do.
To make an Iced Chocolate Almondmilk Shaken Espresso like Starbucks, simply combine the ice, chocolate malted milk powder and espresso in a shaker. Then shake the mixture vigorously about ten times. Finally, pour the iced espresso into a drinking cup and top it off with almond milk.
Here's a look at each step of the process.
Step 1: Measure the ice.
To measure the ice, fill up a 16-ounce drinking glass with ice, then pour all the ice into the shaker.
Make sure to fill the cup all the way with ice. A lot of the ice will melt when it's mixed with the hot espresso.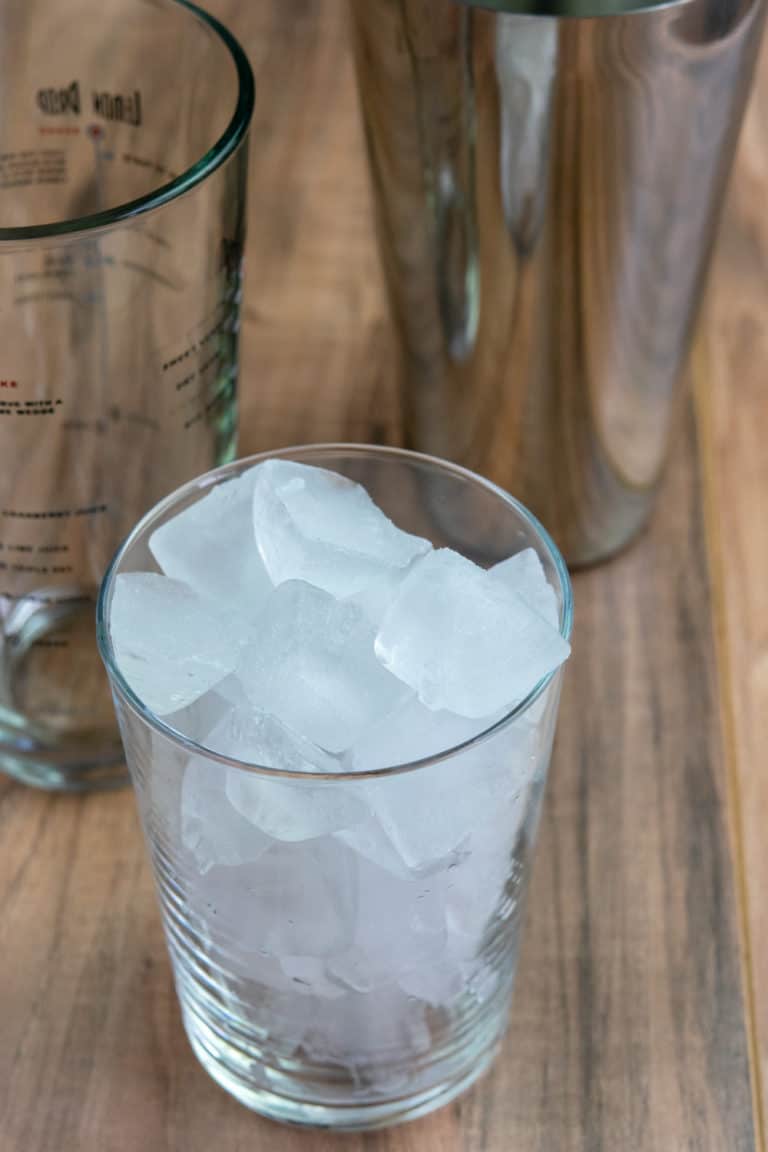 Step 2: Scoop chocolate malted milk on top of the ice.
I like to put the powder on top of the ice, so none of it gets stuck to the bottom of the cup.
The goal is to get it all dissolved.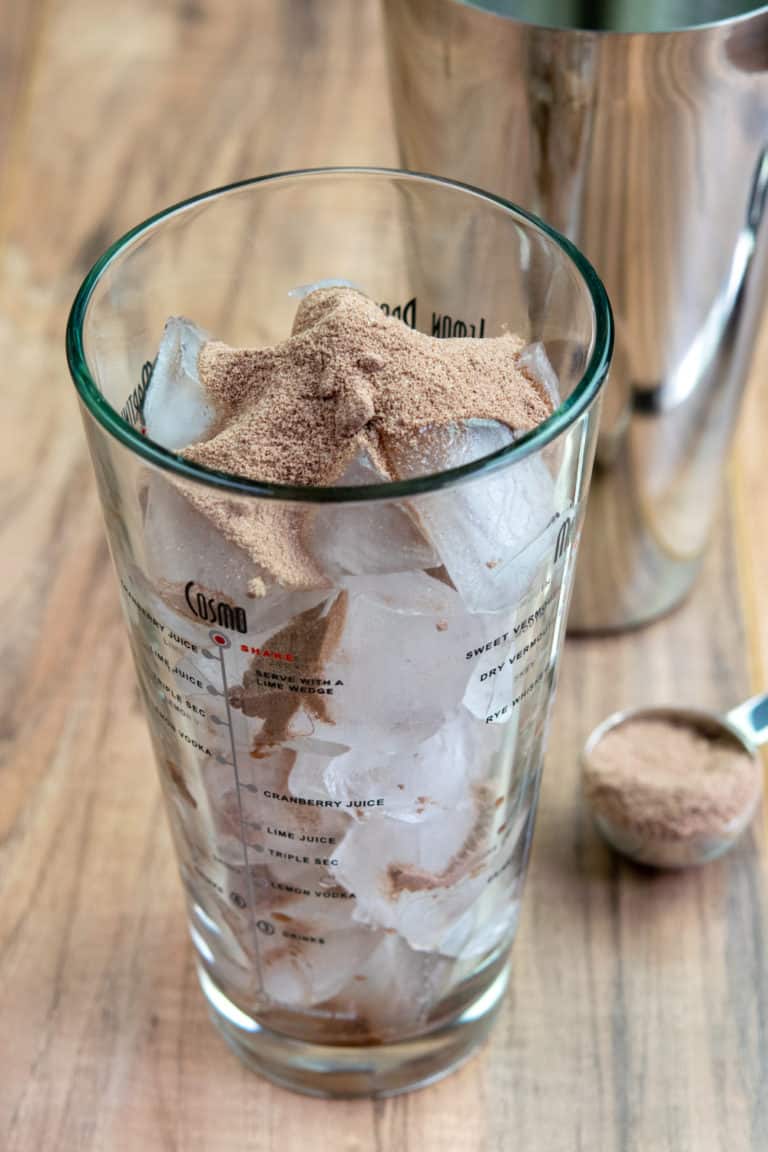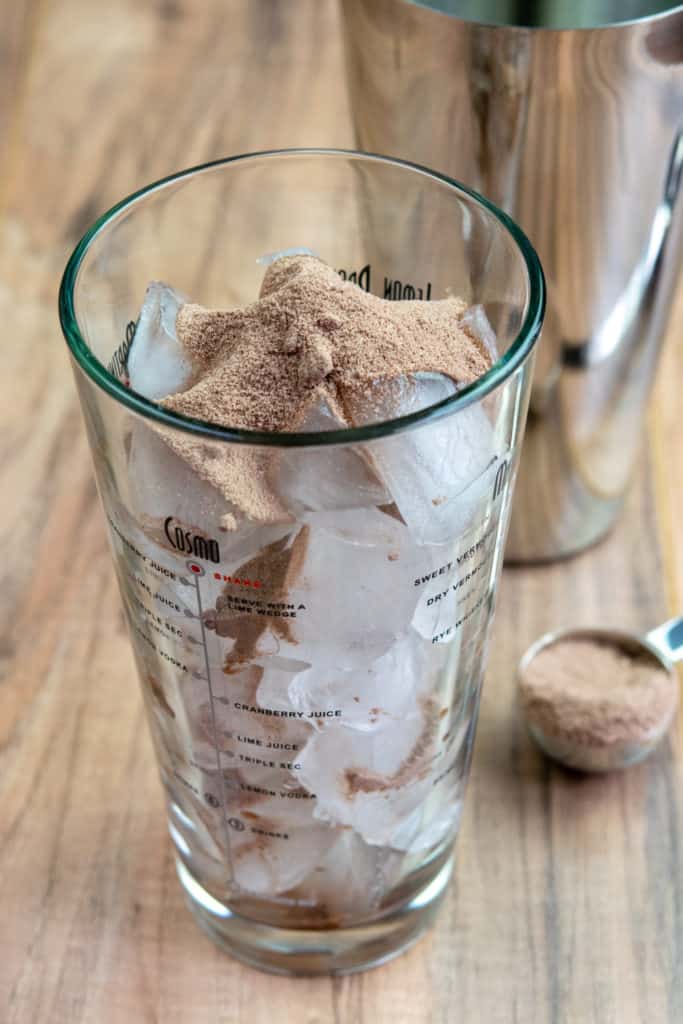 Step 3: Add espresso shots.
Now it's time to add the espresso to the shaker. All you have to do is pour espresso over the chocolate and ice. Again, some of the ice will melt. That's perfectly okay.
Keep in mind, the amount of espresso you use depends on the size of the drink you want to make. But for a homemade 16-ounce drink, you need two shots or 2 ounces.
Starbucks Insider Tip A triple shot of espresso at Starbucks equals 2.25 ounces (not 3oz). Therefore, when copying a grande size (16 oz) Starbucks espresso drink at home, a 2 oz doubleshot is all you need.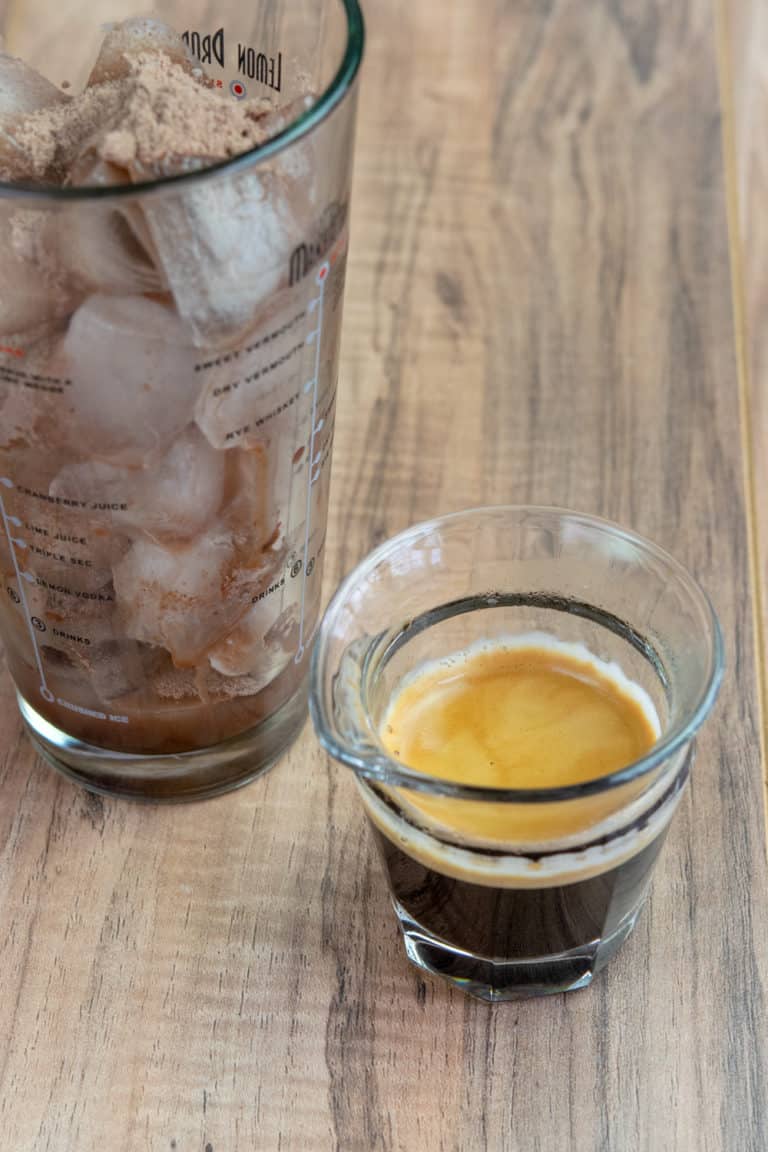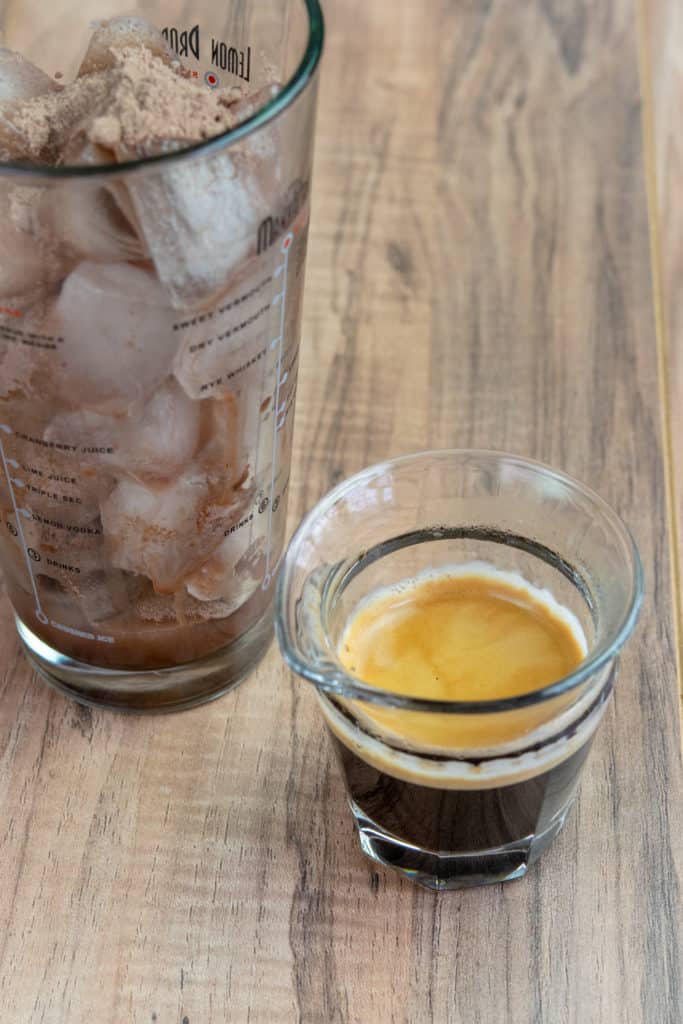 Step 4: Shake the ice, chocolate & espresso.
Now, it's time to shake it altogether—my favorite step. So go ahead and put the lid on and shake it really well. About 10 shakes gets the job done.
For the Chocolate Almondmilk Shaken Espresso, it's especially important to shake long enough so that the chocolate powder dissolves.
Once the drink is all shaken, pour it into the drinking cup you used to measure the ice.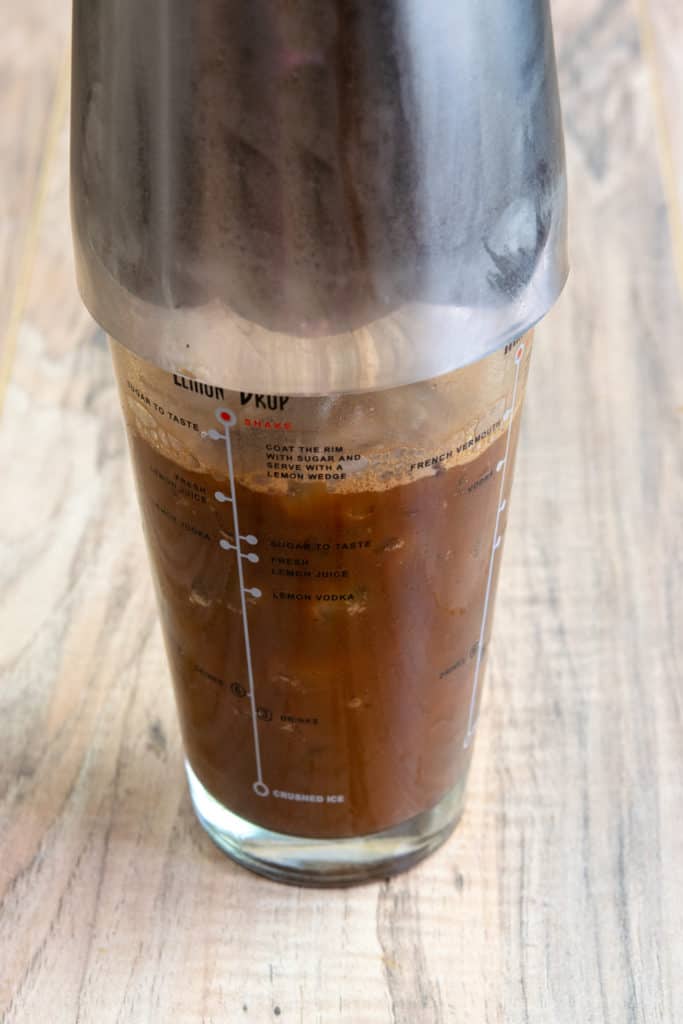 Step 5: Pour in almond milk.
And now, the final step—pouring in the almond milk.
I just love to watch all the delicious ribbons of milk make their way through the ice and mix into the chocolaty espresso.
See below for the complete recipe and I hope you enjoy making Starbucks new Iced Chocolate Almondmilk Shaken Espresso at home as much as I do.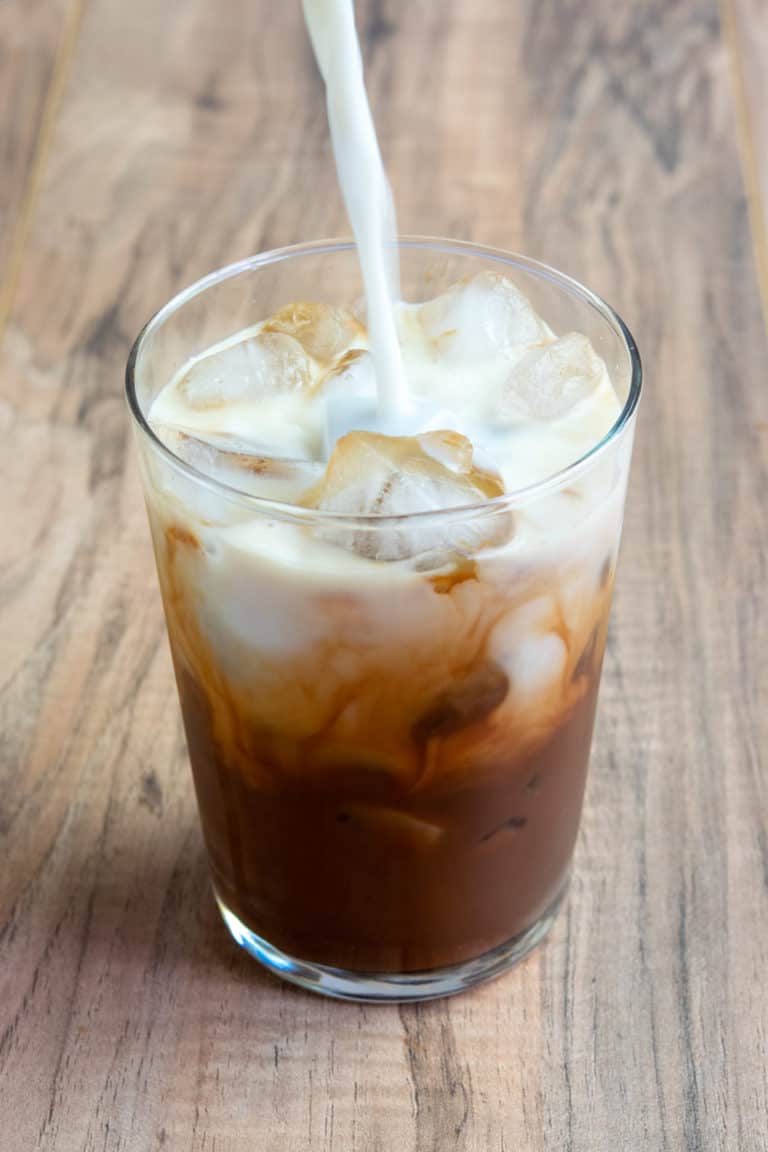 Related Starbucks Recipes & Information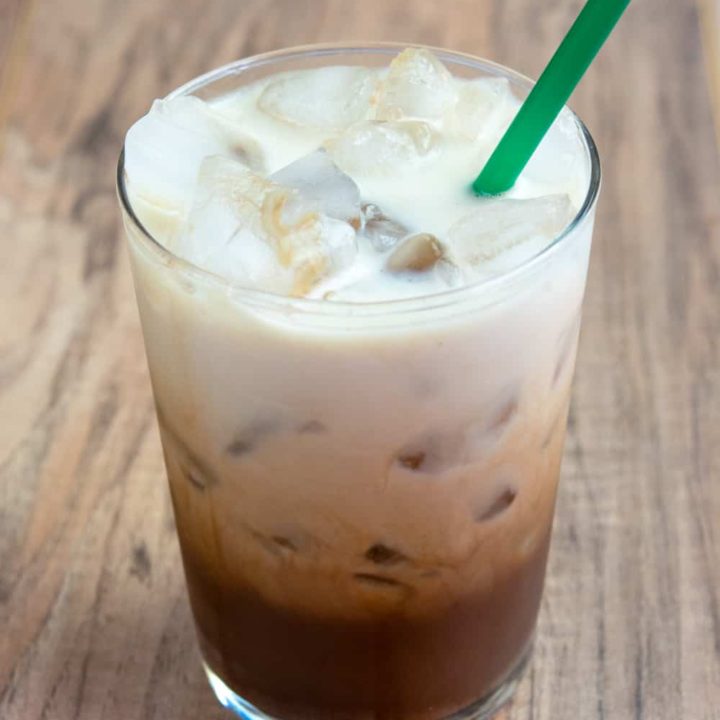 Starbucks Iced Chocolate Almondmilk Shaken Espresso
Quick and easy Starbucks Iced Chocolate Almondmilk Shaken Espresso copycat recipe. All you need are 3 ingredients plus ice to make this new Starbucks iced chocolate espresso drink at home.
Ingredients
2 cups ice, preferably filtered
3 tablespoons chocolate malt powder
2 shots espresso, blonde
1/2 cup almond milk
Instructions
Make the Espresso
Pull 2 shots of espresso made with blonde roast coffee beans or preferred beans.
If you do not have an espresso machine, make espresso-like coffee with a moka pot or brew extra-strong coffee.
You can also make espresso with a Nespresso machine and Starbucks Veranda (blonde) capsules.
Make the Iced Chocolate Almond Milk Shaken Espresso
Measure ice using a 16-ounce drinking cup. Fill it to the top with ice and then transfer ice to a cocktail shaker or jar with lid.
Scoop chocolate malted milk powder on top of ice.
Pour espresso over chocolate and ice.
Put lid on shaker or jar and shake vigorously until chocolate powder is dissolved.
Pour the iced chocolate shaken espresso back into drinking cup.
Top the shaken espresso drink with almond milk. Stir and enjoy.
Notes
The Starbucks chocolate almondmilk shaken espresso recipe calls for blonde roast espresso, but you can substitute it with dark or medium roast if preferred.
Starbucks blonde espresso roast is sold in grocery stores and inside Starbucks stores. It's available in whole beans, ground coffee and capsules. Look for Veranda roast.
Two shots (2 oz) of espresso from a home espresso machine is roughly equivalent to a Starbucks triple shot, which is actually 2.25 oz of espresso, not 3 oz. A triple shot (2.25 oz) is the amount of espresso Starbucks puts in 16 oz, grande espresso drinks.
Feel free to substitute almond milk with your favorite milk or cold foam. Copycat vanilla sweet cream cold foam is really good on top of this chocolate espresso drink.
Recommended Products
As an Amazon Associate and member of other affiliate programs, I earn from qualifying purchases.
Nutrition Information:
Yield:

1
Serving Size:

16 ounces
Amount Per Serving:
Calories:

119
Total Fat:

3g
Cholesterol:

0mg
Sodium:

78mg
Carbohydrates:

21g
Sugar:

16g
Protein:

3.3g