This Starbucks Mocha guide is perfect for chocolate lovers and coffee drinkers. Learn all about Starbucks mocha drinks including what's in a mocha and how to custom order this popular drink.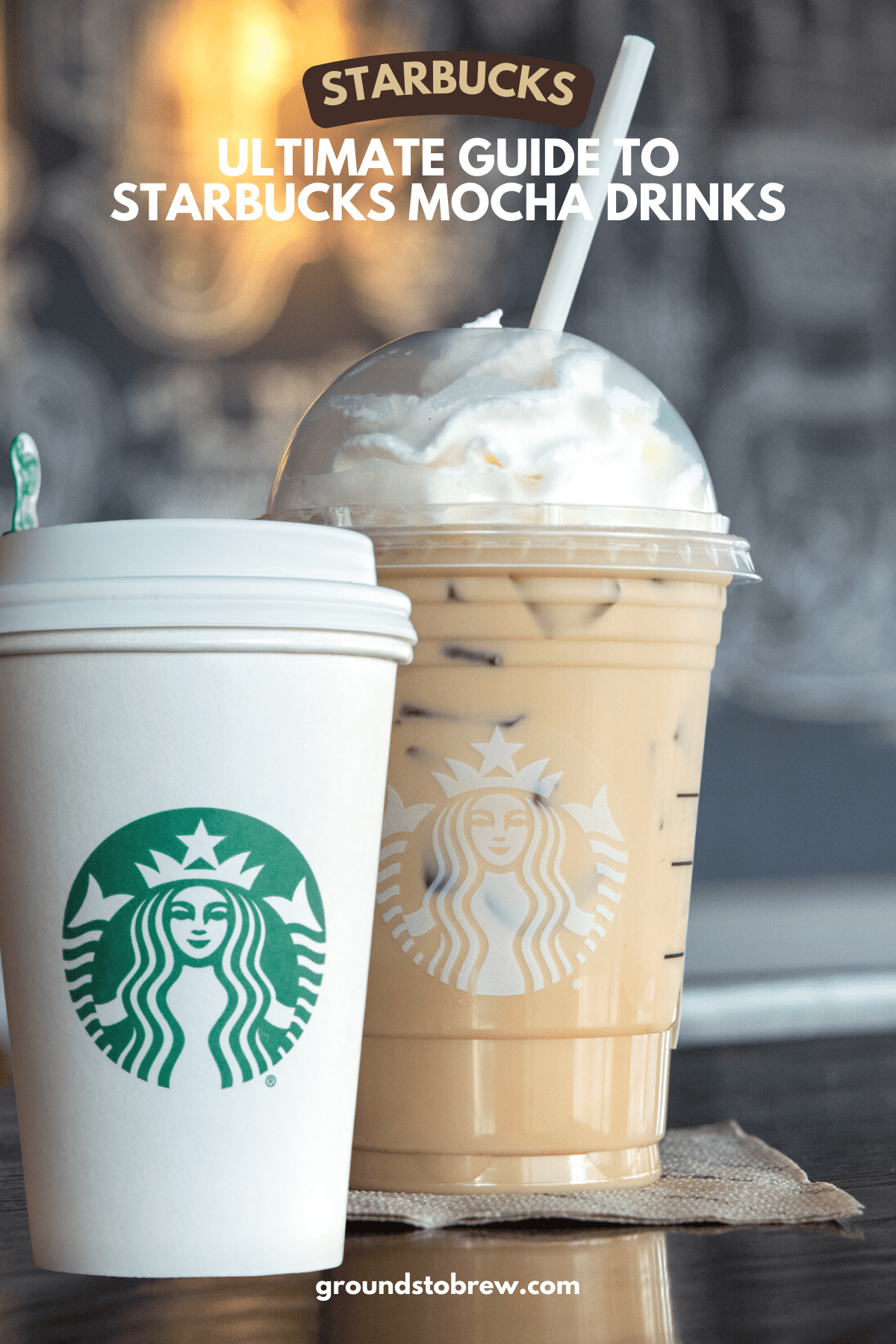 Starbucks Mochas
Starbucks mochas are a favorite among all types of coffee drinkers.
As a matter of fact, mochas are one of the best options for people new to Starbucks coffee.
Seasoned coffee drinkers love Starbucks line-up of mochas too.
What is a mocha at Starbucks?
Starbucks mochas are a type of espresso beverage that bring together full-bodied brewed espresso, bittersweet mocha sauce and milk.
Every mocha drink gets a nice fluffy topping of Starbucks sweetened whipped cream.
As you can imagine, the robust flavor of dark roast espresso paired with creamy chocolate and milk makes this popular chocolate Starbucks drink like a marriage made in heaven.
In my opinion, the sweetness of chocolate and whipped cream balances the coffee in a magical way.
This is why mochas are an excellent option for new Starbucks customers trying espresso for the first time.
Are mochas hot or cold?
Mocha drinks at Starbucks can be enjoyed hot or cold.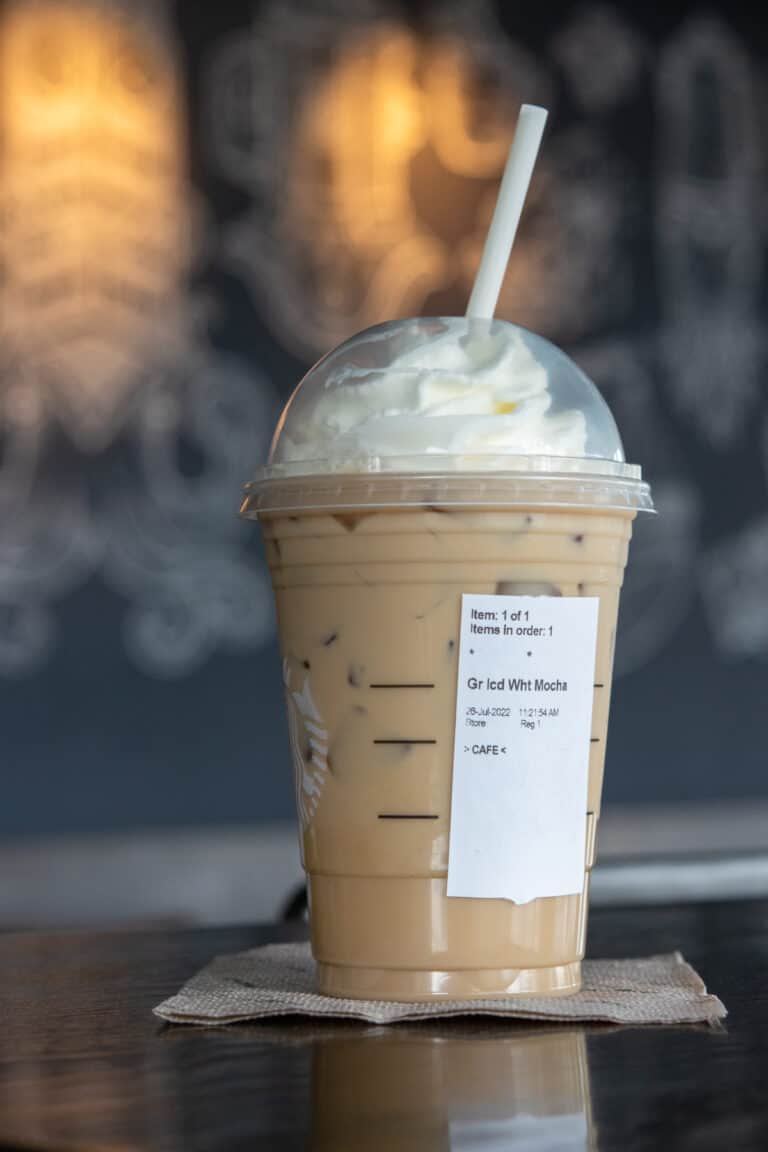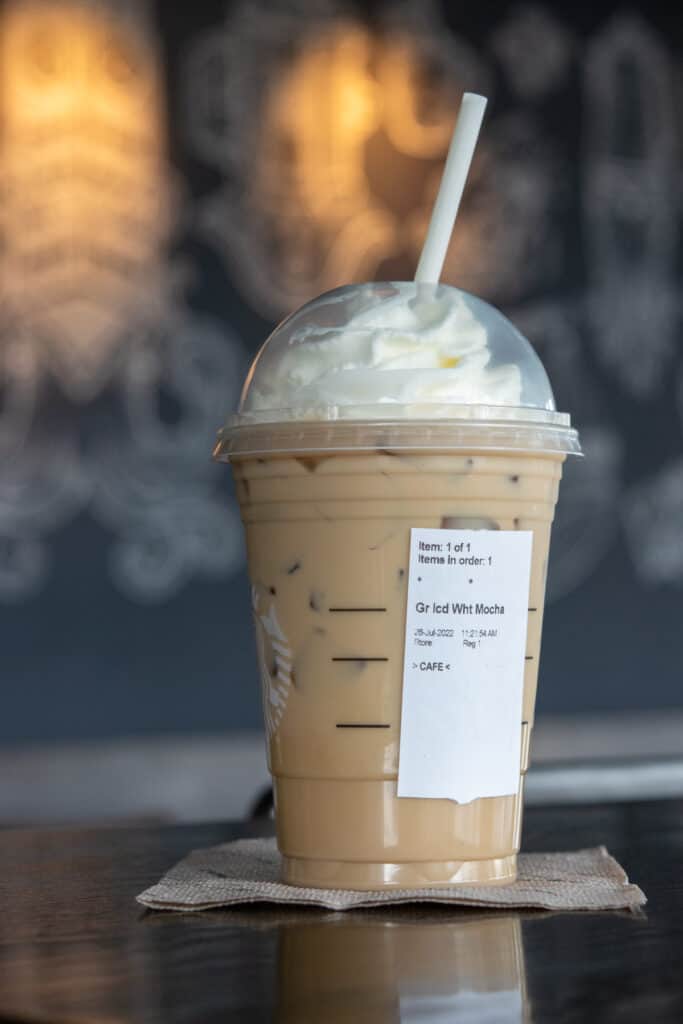 A warm and toasty hot mocha combines freshly brewed shots of Starbucks signature roast espresso with chocolate sauce and steamed milk.
The milk is steamed to a standard 160℉ and is velvety smooth.
The steaming process even brings out some of the milk's natural sweetness. If desired, you can order an extra hot mocha, steamed to 180℉.
On the other hand, an iced mocha at Starbucks replaces steamed milk with cold milk, and is served over ice.
How Starbucks Makes Mochas
No matter if you're in the mood for a warm and cozy Caffè Mocha or an iced version, all mochas begin with the same basic ingredients: espresso, chocolate sauce, milk and whipped cream.
Then you can build up from there to create lots of delicious flavors.
What's in a Starbucks Mocha
Espresso
Chocolate Mocha Sauce
Milk
Whipped Cream
Flavored Syrup (optional)
Toppings (optional)
Ice (for iced mochas)
Starbucks Mocha Sauce Flavors
The regular Starbucks menu features two types of mocha sauce:
Dark chocolate sauce
White chocolate sauce
In addition, the Starbucks holiday menu almost always includes toasted white chocolate mocha drinks.
This limited-time sauce tastes a bit like toasted marshmallows, making it the perfect wintertime sip.
Does mocha sauce have caffeine?
According to my Starbucks barista daughter, one question they get asked a lot is if mocha sauce has caffeine in it.
While mocha drinks are caffeinated from the espresso, not all flavors of mocha sauce contain caffeine.
Mocha sauce is simply chocolate sauce and only the dark chocolate variety contains small amounts of caffeine.
Both white chocolate sauces are caffeine-free.
RELATED: The Ultimate Guide to Caffeine in Starbucks Coffee
What is mocha drizzle?
Mocha drizzle is a topping option at Starbucks. It's often on chocolate frappuccinos or hot chocolate. But what is it?
Mocha drizzle at Starbucks is exactly the same thing as mocha sauce.
It's simply called sauce when it's added into the beverage and drizzle when it's used as a topping.
Starbucks Mocha Drinks on the Menu
Caffè Mocha

White Chocolate Mocha

Starbucks Reserve Dark Chocolate Mocha
Iced Caffè Mocha
Iced White Chocolate Mocha
Iced Peppermint Mocha
Peppermint White Chocolate Mocha
Iced Peppermint White Chocolate Mocha
Toasted White Chocolate Mocha (seasonal)
Iced Toasted White Chocolate Mocha (seasonal)
One of the most popular Starbucks iced coffee drinks is an Iced White Chocolate Mocha.
This detailed drink description for a Starbucks Iced White Chocolate Mocha shows just how delicious it is and includes the caffeine content for every size.
A secret menu variation popularized on TikTok is to get it with sweet cream cold foam and caramel drizzle.
Here's how to order the TikTok White Mocha Drink.
Peppermint mochas are a holiday classic.
But did you know, that even though they are only listed on the holiday menu, you can order one all year-long? You just won't be able to get the limited-time chocolate curls topping.
How to Order a Mocha at Starbucks
At Starbucks, you can order any flavor mocha you want by mixing and matching flavored syrups and chocolate sauces.
You can even switch the espresso roast.
Here's how to custom order a mocha drink at Starbucks.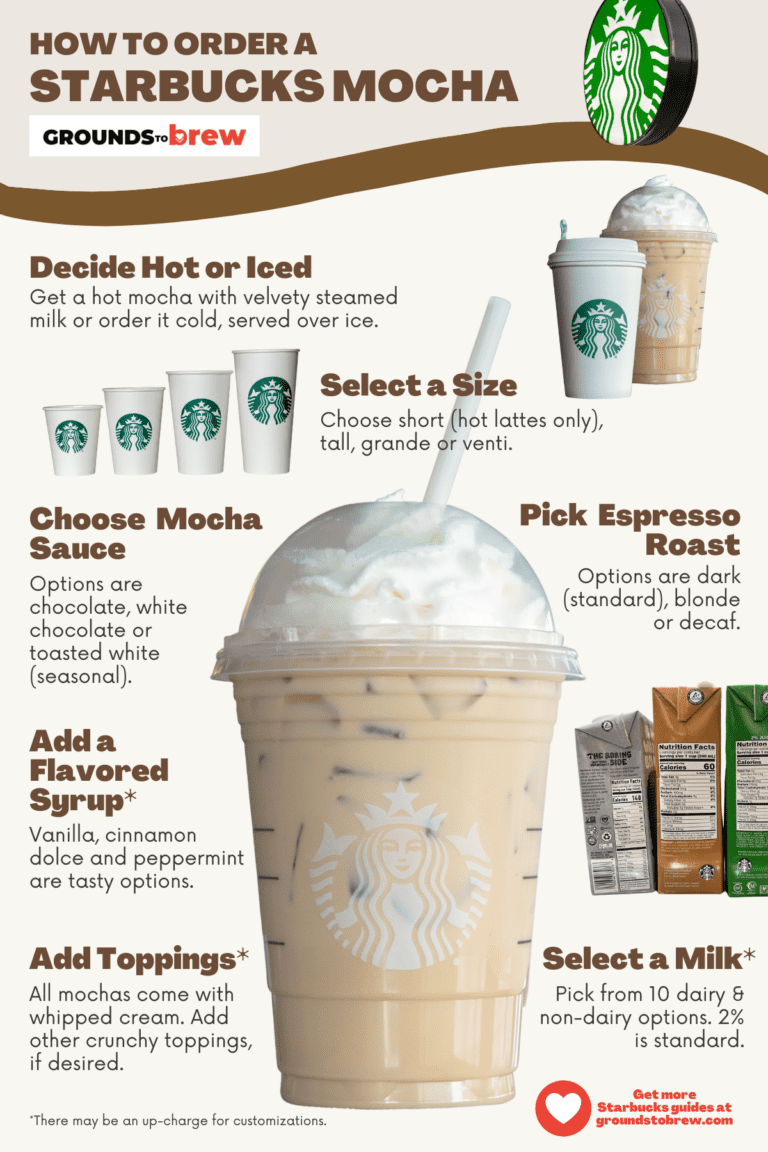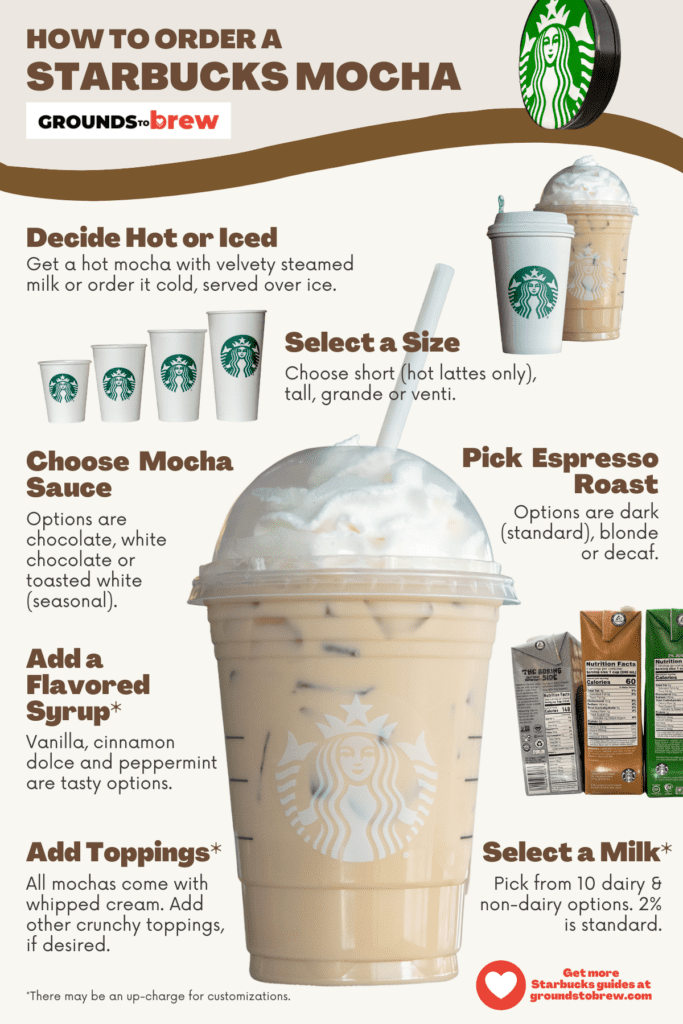 1. Decide if you want a hot or iced mocha.
When ordering a mocha the first thing you need to do is decide if you want it hot or iced.
The same flavors are available for both hot and iced.
The only real difference is that obviously the cold mocha has ice and the milk isn't steamed.
2. Select a drink size.
The next thing you need to do is select from one of Starbucks drink sizes.
Hot mochas are available in four sizes beginning with short and iced mochas come in three sizes beginning with tall.
Keep in mind, the cup size determines how many shots of espresso Starbucks puts in drinks.
One thing to note is that iced venti mochas contain 1 more shot of espresso than hot venti mochas. This is because an iced venti drink is actually four fluid ounces larger.
Number of Espresso Shots in Mochas at Starbucks
Short (8 fl oz): 1 shot (only available for hot mochas)
Tall (12 fl oz): 1 shot
Grande (16 fl oz): 2 shots
Venti Hot (20 fl oz): 2 shots
Venti Iced (24 fl oz cold): 3 shots
3. Choose a Mocha Sauce
When it comes to Starbucks mocha drinks, don't think dark chocolate sauce is the only option.
Mocha Sauce Options at Starbucks
Mocha Sauce
White Chocolate Mocha Sauce
Toasted White Chocolate Mocha Sauce (seasonal)
Amount of Mocha Sauce per Starbucks Cup Size
Short 2 pumps (only available for hot mochas)
Tall 3 pumps
Grande 4 pumps
Venti Hot 5 pumps
Venti Iced 6 pumps
4. Pick an espresso roast.
The standard brewed espresso in Starbucks mochas is their robust dark signature roast.
Espresso Roast Options at Starbucks
Dark Roast
Blonde Roast
Decaf Roast
For a more caffeinated mocha, select blonde roast or try these other caffeine-boosting tips.
Many of the strongest Starbucks drinks are made with a light roast coffee.
RELATED: 6 Ways to Order Starbucks Decaf Coffee Drinks
5. Select a milk option.
Reduced fat (2%) dairy milk is the standard milk in mochas and most types of espresso drinks at Starbucks.
If you're a Starbucks regular you know they have a whole bunch of milk choices to pick from.
Here's a list of every milk option at Starbucks, including non-dairy, plant-based alternatives.
Just keep in mind, the type of milk you choose may change the creaminess of the mocha.
6. Add a flavored syrup.
A basic Caffè Mocha does not have any flavored syrup in it.
But a little syrup transforms a simple mocha into something special. That's why peppermint mochas are so popular.
Even though the regular menu does not list flavored mochas, feel free to add-in a syrup if you want.
Vanilla, sugar-free vanilla and cinnamon dolce are delicious options.
Number of Pumps of Syrup in Starbucks Flavored Mochas
Short 2 pumps (hot mochas only)
Tall 3 pumps
Grande 4 pumps
Venti Hot 5 pumps
Venti Iced 6 pumps
Keep in mind, customizations like extra syrup and toppings can add to the the drink's price.
Here's how to earn Starbucks rewards for free customizations and free drinks.
7. Sprinkle on a topping.
All mochas come topped with a big dollop of Starbucks sweet whipped cream.
But peppermint mochas have a little something more: chocolate curls.
Additionally, the seasonal Toasted White Chocolate Mocha comes with holiday sugar sprinkles.
But nothing is to stop you from adding any available topping, like cookie crumbles, to your mocha.
More Ways to Customize Starbucks Mochas
The Starbucks menu has their best and most popular drinks listed.
Sometimes, it's not worth messing with a good thing, like adding six pumps of syrup when the recipe calls for two.
Customizations like that can turn a mocha or any drink into a sugary glop.
But customizations are the name of the game at Starbucks, especially if you just want to switch up flavors or meet some diet or nutritional needs.
And the baristas always seem happy to help or make suggestions.
Make a note, add-ins like more espresso, extra flavors, or selecting milk alternatives, changes the price of the drink.
Here are a few ways to customize mochas.
Add an Extra Shot of Espresso: There are two ways to get more espresso and caffeine in a Starbucks mocha.
The first way is to order a drink size that's made with more shots of espresso.
Otherwise, you can order any size drink with additional shots of espresso.
Make it Skinny: Skinny at Starbucks means no sugar, non-fat milk, no whipped cream.
Since all Starbucks mocha sauces contain sugar it's not possible to get a skinny mocha.
However, you can order it with non-fat milk and request for the whipped cream to be left off.
Additionally, you can ask for less mocha sauce to reduce the amount of sugar. Here a few more ways to cut calories at Starbucks.
Starbucks Mocha FAQs
What flavor is mocha sauce?
Mocha sauce itself does not have coffee in it and is simply chocolate sauce. Flavors of mocha sauce at Starbucks include chocolate, white chocolate and toasted white chocolate.
What mocha sauce does Starbucks use?
The mocha sauce Starbucks uses is made for Starbucks and has their brand on the package. Some people say it is the same as the Fontana brand.
Does Starbucks have sugar-free mocha sauce?
Starbucks does not have sugar-free mocha sauce so it's not possible to order a sugar-free mocha.
What is the best mocha to get at Starbucks?
In my opinion, the best mocha to get at Starbucks is either the Caffe Mocha, Iced Caffe Mocha or hot Peppermint Mocha. One of my favorite ways to order a Starbucks mocha is substitute peppermint syrup with vanilla.
Is a mocha at Starbucks stronger than a latte?
Starbucks mochas and latte drinks contain the same amount of espresso. However, dark chocolate sauce has some caffeine in it so mochas with it are a little stronger and more caffeinated compared to lattes and white chocolate mocha drinks.
Starbucks Copycat Mocha Drink Recipes