See how to make a Starbucks Iced Brown Sugar Oat Milk Shaken Espresso that's almost identical to the real drink. This delicious brown sugar shaken espresso recipe only has four ingredients and is easy to make with my insider barista tips.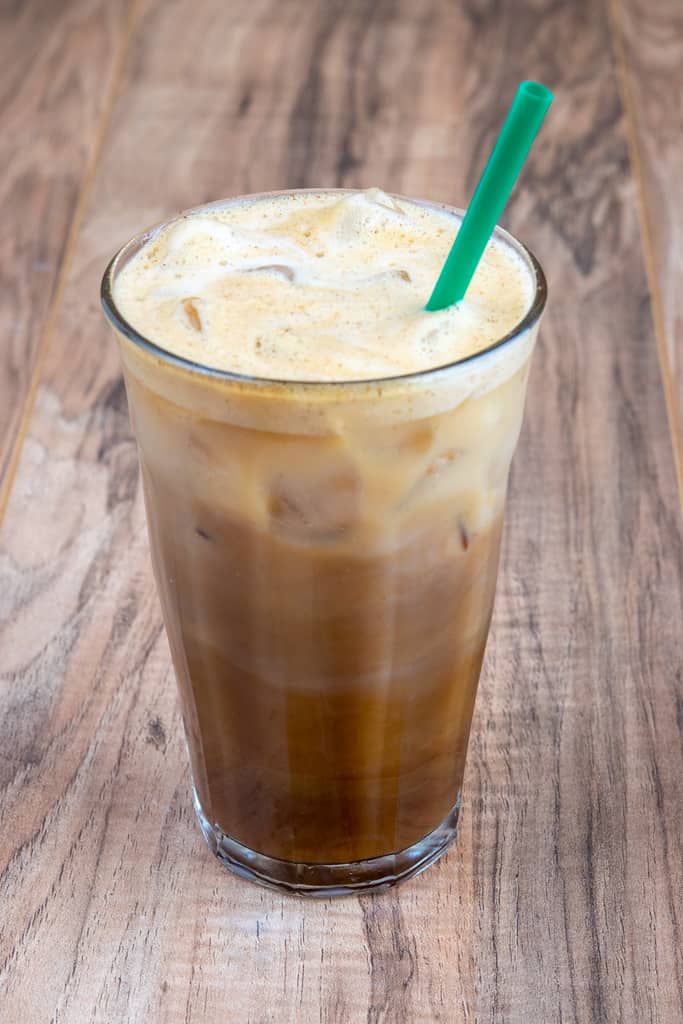 Iced Brown Sugar Oat Milk Shaken Espresso
I can already tell, Starbucks Iced Brown Sugar Oat Milk Shaken Espresso is going to become one of my new favorite Starbucks cold coffee drinks.
For starters, it's absolutely delicious and I just love that its name reminds me of a homemade cookie. But what's really great is, it's super simple to make this ice-cold, brown sugar coffee drink at home.
As much as I love going to my neighborhood Starbucks, I also enjoy making Starbucks copycat drinks in my own kitchen. And the Iced Shaken Espresso line-up of drinks gives me a new reason (as if I needed one) to use my espresso machine all summer-long.
Of course, I'll still be making one of my favorite go-to iced espressos, the iced caramel macchiato.
Now, don't think you need an espresso machine to make this drink. If you don't have one, you can certainly brew a really strong cup of blonde roast coffee.
Did you catch that? The Iced Brown Sugar Oat Milk Shaken Espresso is made with Starbucks blonde roast coffee beans. Starbucks Iced Chocolate Almondmilk Shaken Espresso is also blonde-roast-based.
Keep in mind, the lighter the roast, the more caffeine it contains. That means both the brown sugar oatmilk and chocolate almondmilk varieties of this drink land on the list of Starbucks most caffeinated drinks.
What really excites me about my copycat recipe for this drink is, you can practically make an identical version yourself.
Don't get me wrong, I love going to Starbucks to have a barista-made drink. But if you want to make this drink at home you can even save a little money.
Before I show you how to make it, let's first take a look at how Starbucks shakes one up.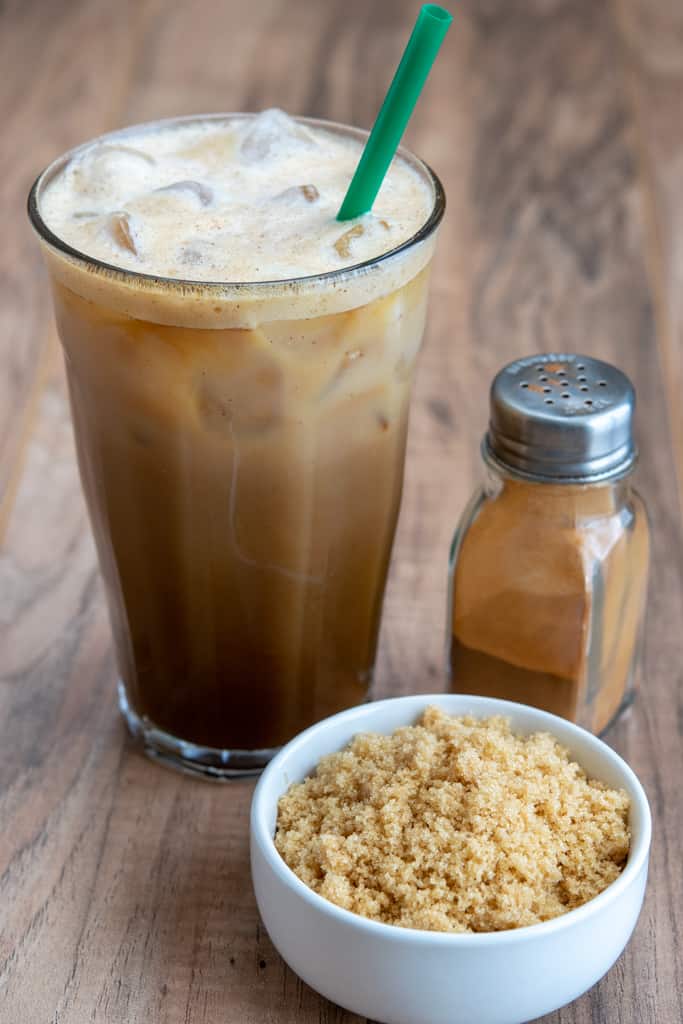 Starbucks Recipe Highlights
The Iced Brown Sugar Oatmilk Shaken Espresso is made with the new Starbucks brown sugar syrup.
This drink is topped off with oat milk (oatmilk, according to Starbucks), which is now available at all Starbucks nationwide cafes.
The recipe for this particular drink calls for blonde espresso, but can be made with any roast.
Starbucks can make this drink with their normal Signature Espresso beans or even make it decaf, if you prefer.
The brown sugar shaken espresso contains less syrup than other espresso drinks. If you want it sweeter, just ask for extra pumps of brown sugar syrup.
RELATED: A Guide to Iced Shaken Espresso Drinks at Starbucks
Starbucks Drink Ingredients
Here's exactly what goes into an Iced Brown Sugar Oatmilk Shaken Espresso at Starbucks.
Starbucks Brown Sugar Syrup
Starbucks Blonde Espresso
Oatly Oat Milk
Cinnamon
Ice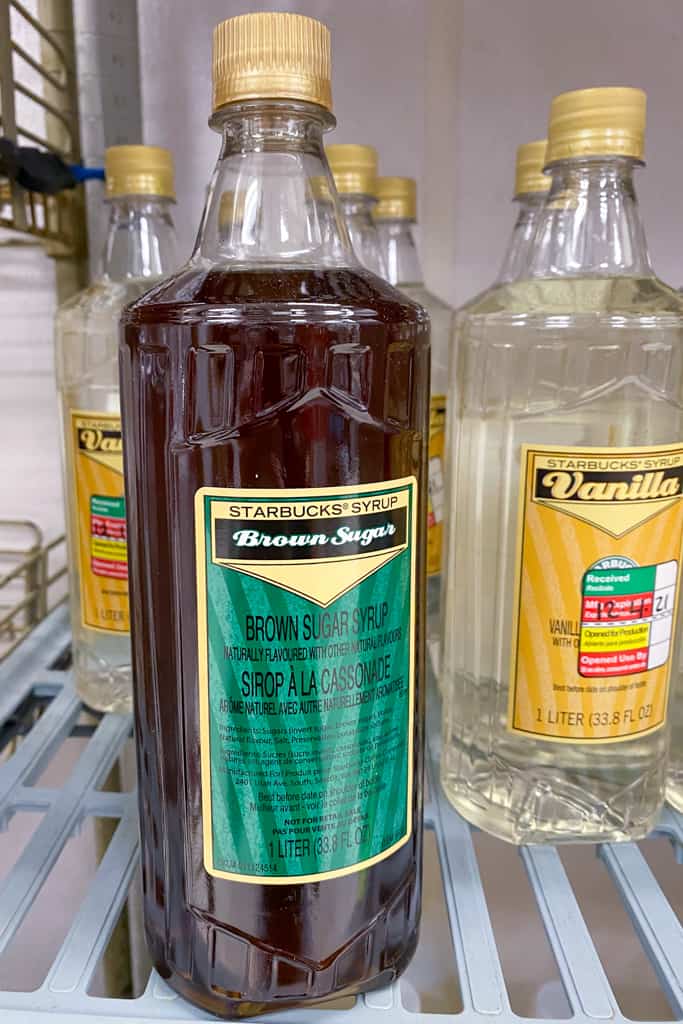 Here's how a barista makes a 16-ounce grande size Brown Sugar Oatmilk Shaken Espresso:
First, the barista adds ice, 4 half-size pumps of brown sugar syrup and cinnamon into a shaker. Then, two shots of blonde espresso are poured on top.
Next, there's a lot of shaking, about ten good shakes or around 15 seconds.
The shaken espresso, ice and all, is poured into a drinking cup and topped off with oat milk.
Most importantly, you're probably wondering how this drink tastes.
Starbucks describes the Iced Brown Sugar Oatmilk Shaken Espresso as having the taste of cinnamon and brown sugar and the aroma of cinnamon and roasty espresso.
Sounds good to me!
How to Make an Iced Brown Sugar Oat Milk Shaken Espresso at Home
Here's what you need to make this drink
Brown Sugar Syrup (brown sugar simple syrup recipe)
Blonde Espresso Coffee Beans (I prefer Starbucks Veranda blend.)
Oat Milk (Oatly Barista Edition is what Starbucks uses and I recommend.)
Cinnamon Powder
Ice
In addition to the ingredients, you also need a cocktail shaker or a jar with a lid that has enough space for ice, syrup and espresso. A mason jar will do the trick.
Also, if you don't have an espresso machine and have been thinking about getting one, the Breville Barista Express is my pick. I love that this all-in-one machine has a coffee bean hopper, grinder and steam wand.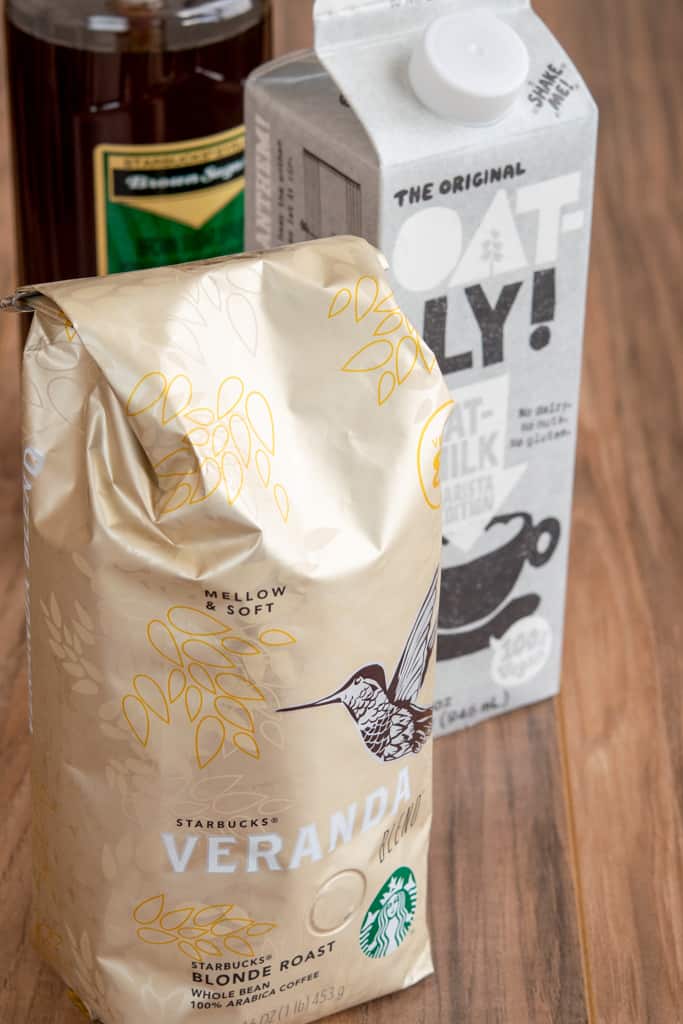 Steps to Make an Iced Brown Sugar Oatmilk Shaken Espresso
Not only is it easy to make this drink, but it's fun, too. Here are the steps to make it.
Step 1: Scoop ice into shaker.
Did you know all Starbucks drinks are made with filtered water and filtered ice? I imagine that's why they always so taste fresh and crisp.
If you don't already have filtered water, I highly recommend getting a Brita filter pitcher. This way you can use it to make filtered ice in trays.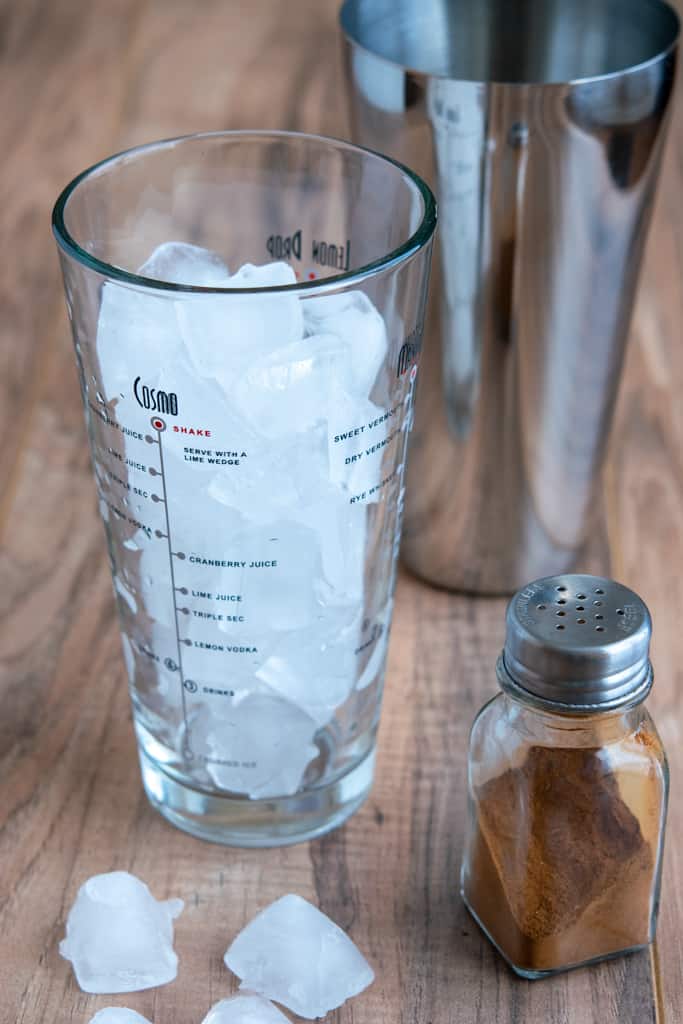 Step 2: Add brown sugar syrup.
If you don't have a bottle of brown sugar syrup you've got two options.
Make a batch of homemade brown sugar simple syrup. All you need is brown sugar and water. As a bonus, you can use it to sweeten other coffee and tea drinks.
Or you can add a little brown sugar and warm water to the cocktail shaker and stir until the sugar is dissolved. Do this before you add the ice, though.
Starbucks Insider Tip Starbucks makes this coffee-forward drink with half the volume of syrup compared to other drinks. The recipe for a grande actually calls for 4 half-dose pumps of syrup, not 4 full-size pumps.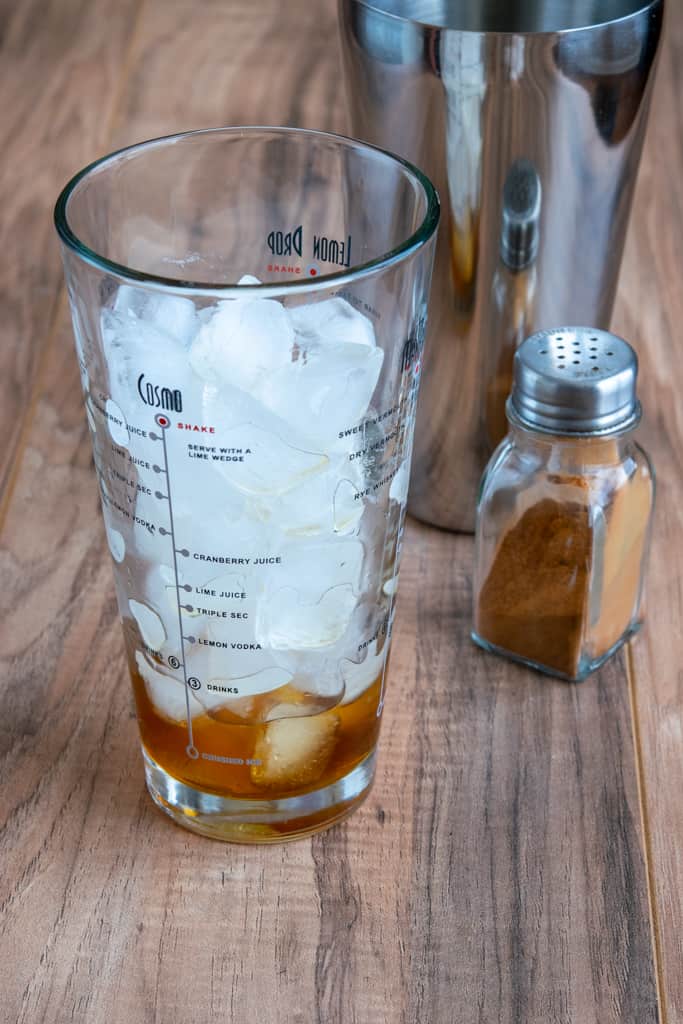 Step 3: Pour espresso shots over ice and shake in some cinnamon.
Pull fresh espresso shots and pour them into the shaker over the ice. Then, sprinkle on some ground cinnamon powder.
You can also use very strong coffee if you don't have an espresso machine.
Another option is to buy a cold bottle of Starbucks blonde roast iced coffee from your grocery store. It's a 64-ounce bottle.
Just keep in mind, this bottled coffee isn't nearly as strong as espresso so you may want to play around with the amount you use. But, the overall drink will still have the same flavors of cinnamon, brown sugar and blonde roast.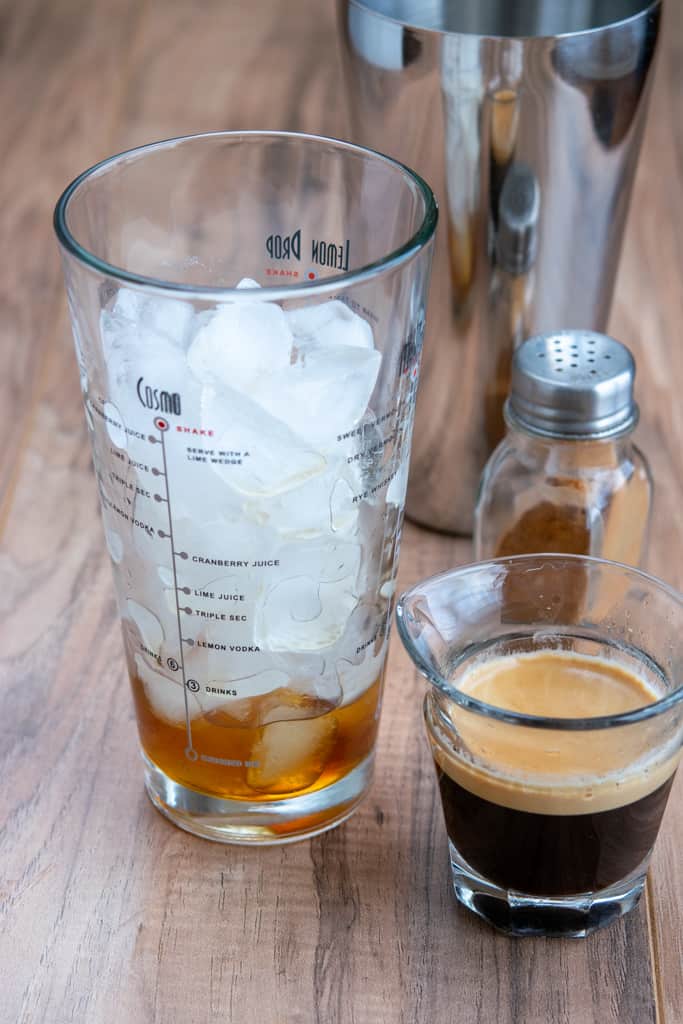 Step 4: Shake the iced espresso, then pour into drinking cup.
Now, the fun part. Shake the drink for about 15 seconds. Not only does this cool down the espresso shots, but it makes the drink nice and frothy.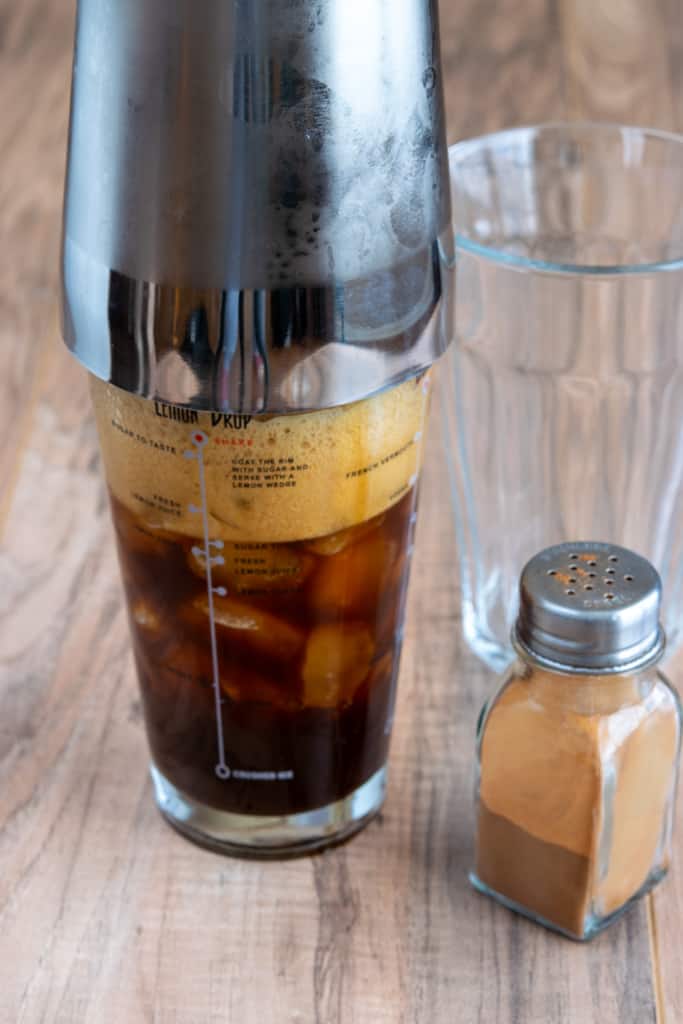 Step 5: Top off the drink with oat milk.
Actually, this is a fun part, too. I love pouring milk into ice cold coffee drinks and watching all the swirls. I mean, take a look at how pretty vanilla sweet cream cold foam looks especially when you make sweet cream cold foam cold brew.
Anyway, go ahead and pour some oat milk on top of the drink. To get a really good swirl effect (if that matters to you), pour a slow stream of milk directly onto one ice cube.
If you're like me, Starbucks Iced Brown Sugar Oatmilk Shaken Espresso will go onto your list of favorite coffee drinks, whether a barista makes it or you make it with this copycat recipe.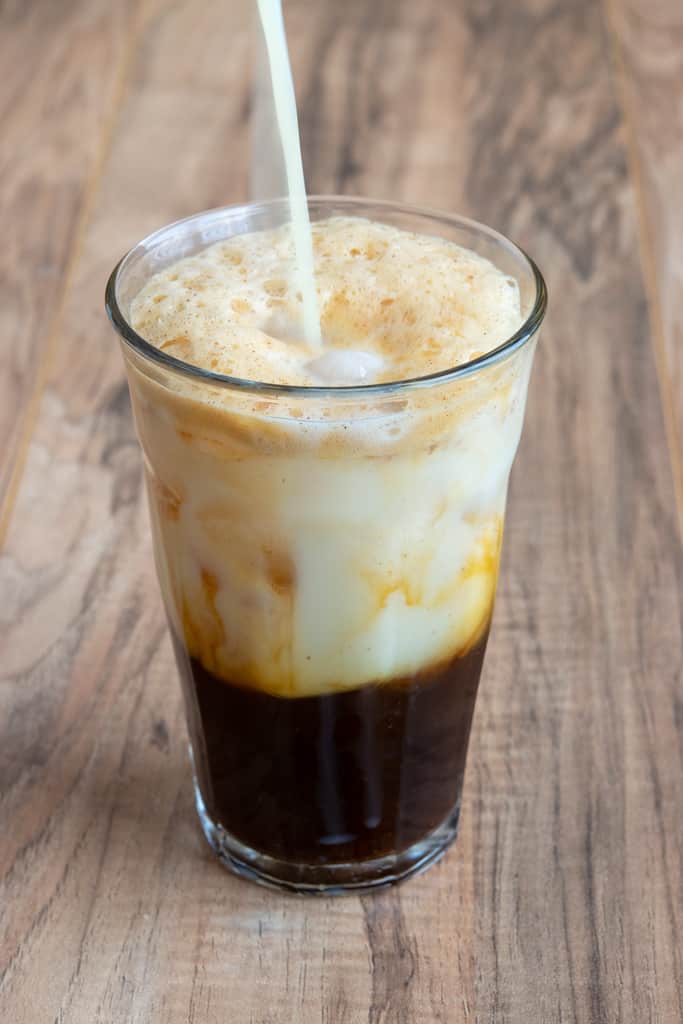 Related Starbucks Recipes You'll Enjoy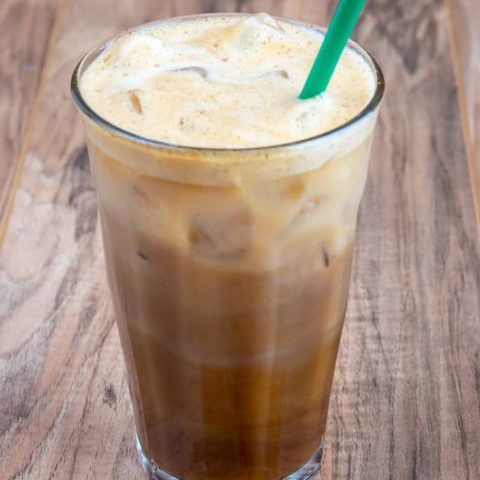 Starbucks Iced Brown Sugar Oatmilk Shaken Espresso
This is the exact recipe used at Starbucks for a grande (16 oz) iced brown sugar oat milk shaken espresso.
Ingredients
Brown Sugar Syrup
1/2 cup brown sugar
1/2 cup water, preferably filtered
pinch of salt (optional)
Iced Brown Sugar Oatmilk Shaken Espresso
2 cups ice, preferably filtered
1 tablespoon brown sugar syrup
2 ounces espresso, blonde
1/8 teaspoon ground cinnamon
1/2 cup oat milk
Instructions
Make Brown Sugar Syrup
To make brown sugar syrup, combine equal parts of brown sugar and filtered water in a saucepan on the stove. Bring to a simmer and stir until brown sugar is dissolved.
Let it cool and thicken. Store extra in an airtight bottle in refrigerator. Homemade Starbucks Brown Sugar Syrup Recipe
Make the Espresso
Make espresso with an espresso machine using blonde roast coffee beans or your preferred roast. If you have an espresso maker like a Nespresso that uses coffee capsules, select the espresso size button. Otherwise, you can use double-strength coffee or make espresso-like coffee with a moka pot.
Make the Iced Brown Sugar Oat Milk Shaken Espresso
To make iced shaken espresso drink, combine ice, brown sugar syrup, espresso shots and cinnamon in a cocktail shaker or large jar with lid.
Shake the iced espresso until cold and foamy, about 15 seconds.
Pour iced shaken espresso into a 16-ounce drinking glass.
Top drink off with oat milk. Stir to combine.
Notes
Espresso Roast
This Starbucks copycat recipe calls for blonde espresso like the real recipe. But you can substitute blonde for any roast.
Brown Sugar Simple Syrup
You can use store-bought brown sugar coffee syrup for this recipe if desired. Or you can make homemade brown sugar simple syrup with this recipe.
Another option is make a quick syrup by mixing 1 tablespoon of brown sugar and 1 tablespoon of water to the shaker prior to adding the other ingredients to the shaker. Stir until the sugar is dissolved. This method makes just enough syrup for the drink.
Recommended Products
As an Amazon Associate and member of other affiliate programs, I earn from qualifying purchases.
Nutrition Information:
Yield:

1
Serving Size:

16 ounce
Amount Per Serving:
Calories:

125
Total Fat:

3.5g
Cholesterol:

0mg
Sodium:

50mg
Carbohydrates:

20g
Fiber:

1.5g
Sugar:

13g
Protein:

3g