Starbucks Peppermint Mocha Frappuccino is a seasonal blended beverage that's bursting with peppermint and chocolate. Here's an overview of this popular holiday frappuccino, including caffeine, calories and more.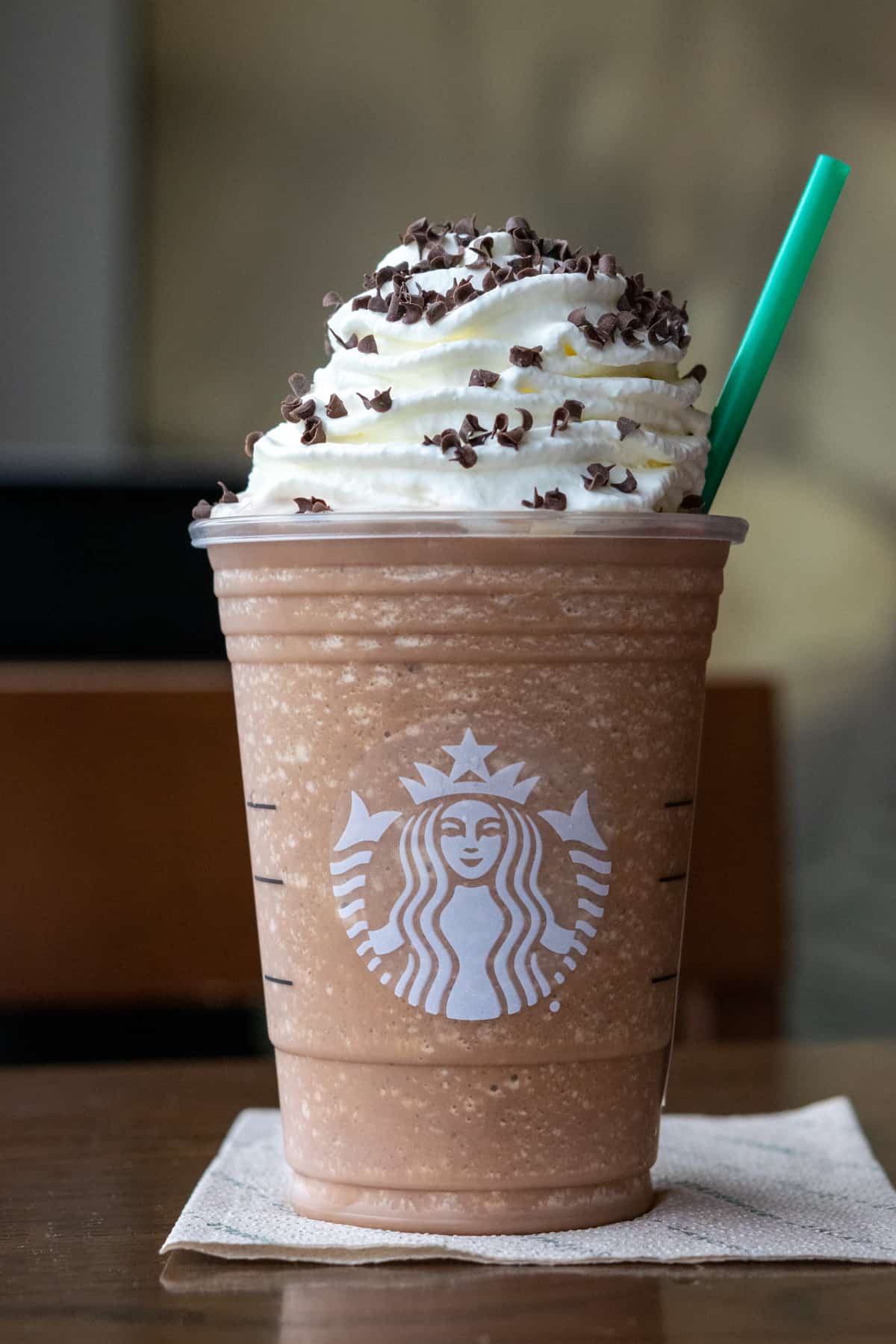 Starbucks Peppermint Mocha Frappuccino
Starbucks Peppermint Mocha Frappuccino is a holiday drink that's a blend of peppermint, chocolate, coffee and milk. It's topped with whipped cream and dark chocolate curls.
The Peppermint Mocha Frappuccino comes two ways, coffee-based or creme-based.
Additionally, it can be made with white mocha sauce or even toasted white mocha sauce during the holiday season.
Starbucks describes the Peppermint Mocha Frappuccino like this:
A delectable blend of chocolate-pepperminty perfection in every cool sip—Frappuccino® Roast coffee, mocha sauce, peppermint-flavored syrup, milk and ice, topped with whipped cream and dark chocolate curls.

starbucks.com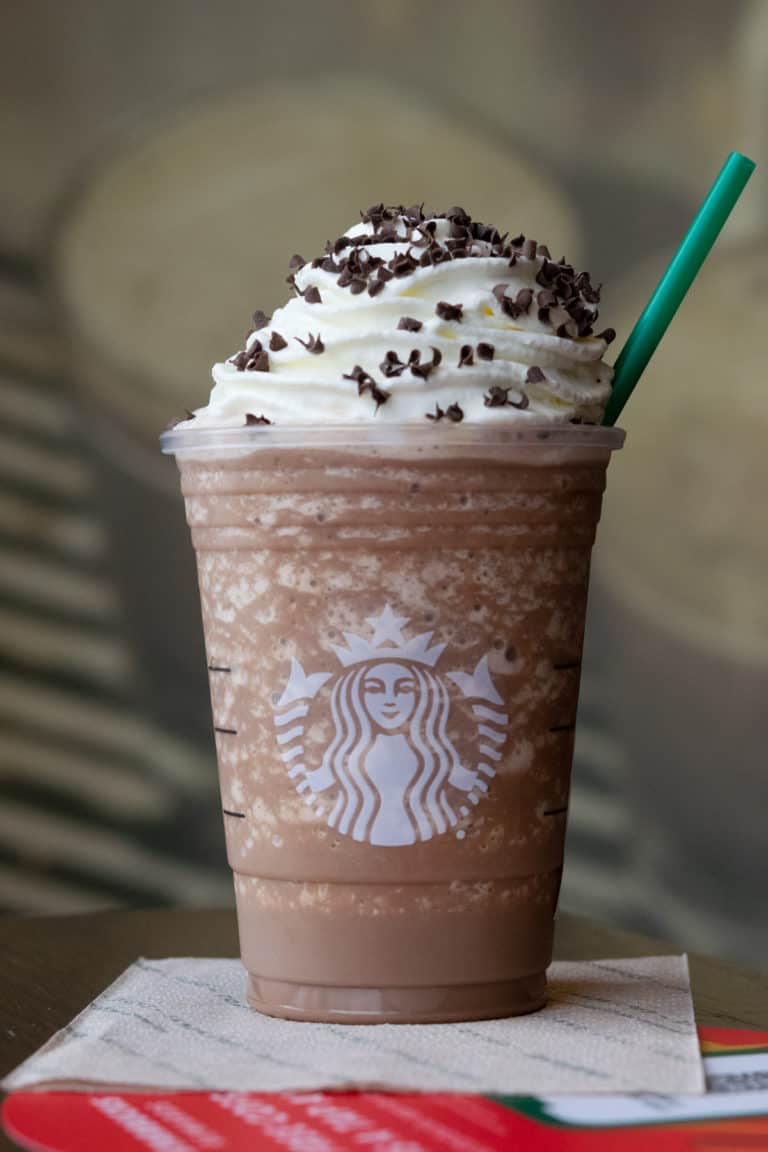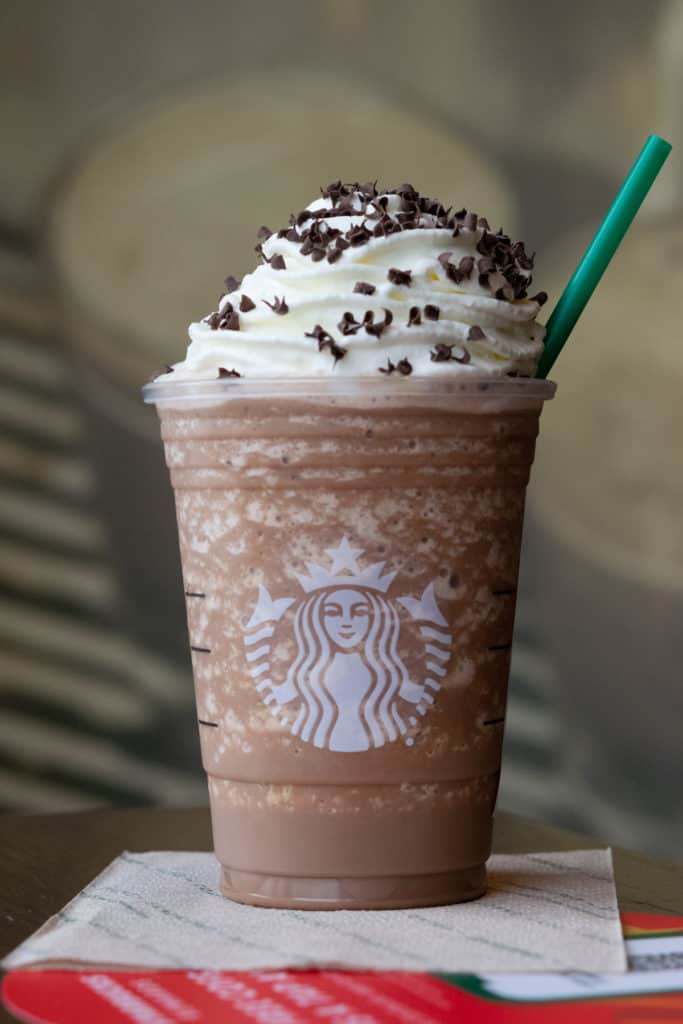 Peppermint Mochas on the Starbucks Holiday Menu
This flavorful trio of peppermint, chocolate and coffee is a holiday classic at Starbucks.
In fact, peppermint mocha drinks at Starbucks have been on every Starbucks holiday menu since 2002.
In other words, baristas have been brewing and blending handcrafted peppermint mocha beverages longer than any other holiday drink. It's just that good!
In addition to frappuccinos, Starbucks has espresso-based peppermint mocha drinks.
You can also switch the dark chocolate sauce to white chocolate sauce.
If a Peppermint Mocha Frappuccino is your go-to holiday beverage of choice, you may be surprised to know you can actually order it all year-long.
That's right, peppermint syrup is always on tap at Starbucks. You just won't get the seasonal dark chocolate curls.
For me, I prefer to keep it as a festive holiday treat.
RELATED: Starbucks Holiday Drinks & Syrups: Every Festive Flavor
What's in a Starbucks Peppermint Mocha Frappuccino
Peppermint Syrup + Mocha Sauce + Frappuccino Coffee Roast + Whole Milk + Ice + Whipped Cream + Dark Chocolate Curls Holiday Topping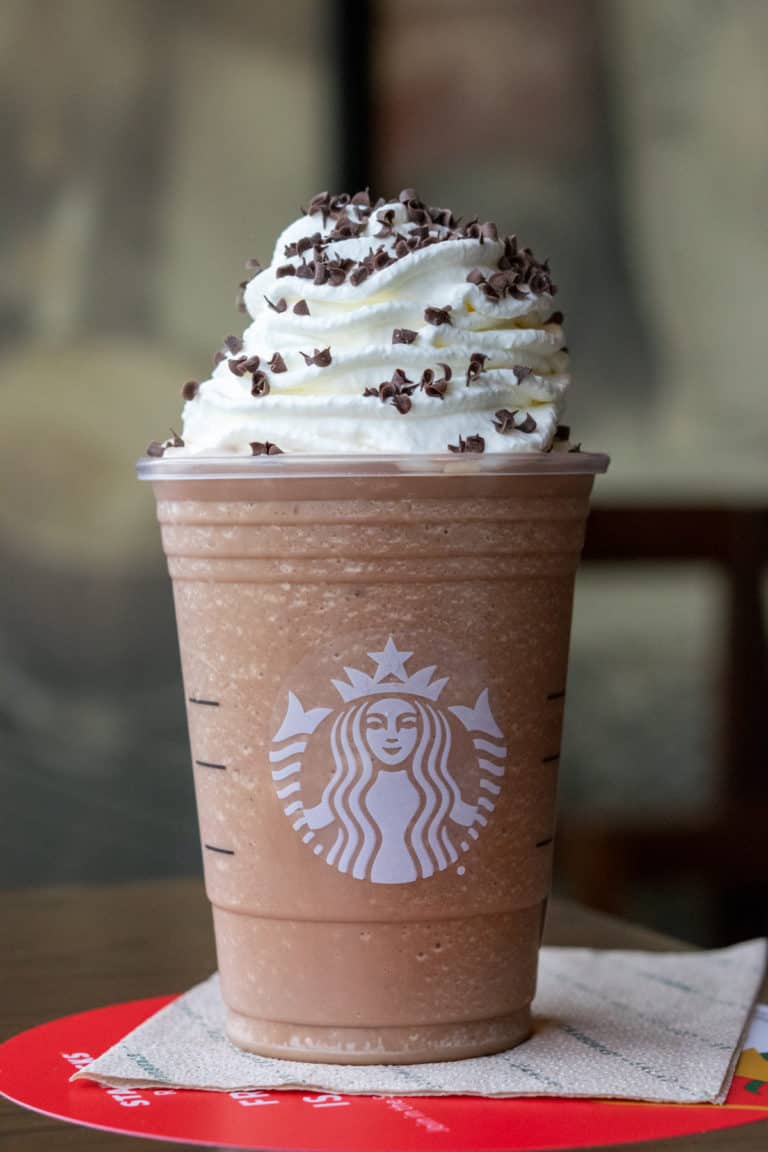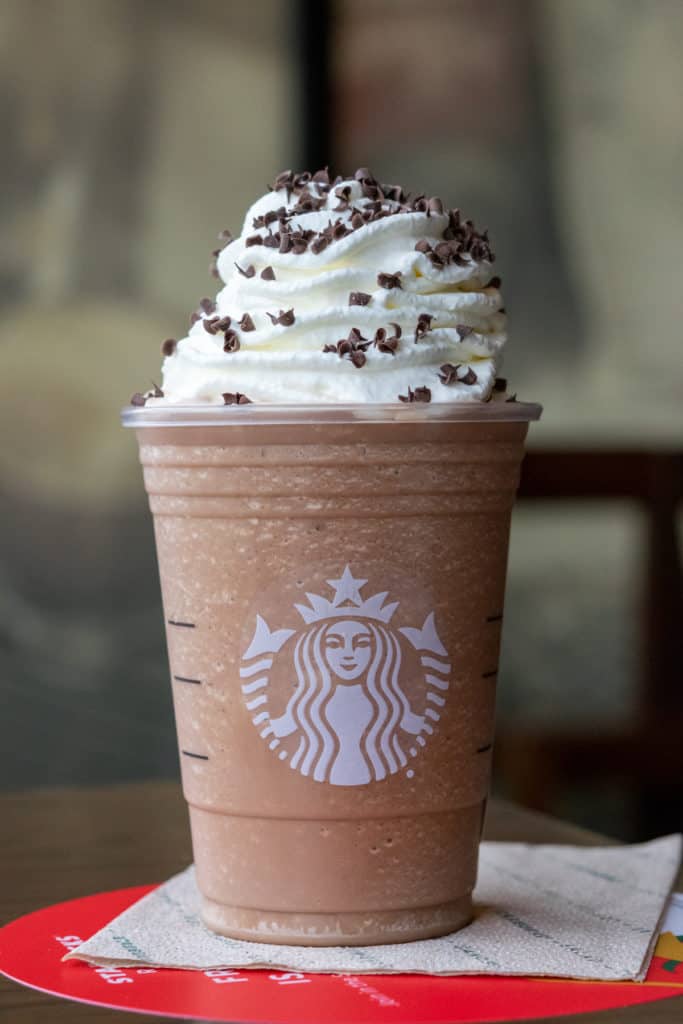 Like all Starbucks peppermint drinks, peppermint mocha frappuccinos get all their minty flavor from peppermint flavored syrup.
And the rich chocolate comes from mocha sauce.
Coffee frappuccino syrup—or frapp roast, as the baristas call it, is where all the coffee flavor comes from.
Frapp roast is simply a mix of a water and a special powdered coffee blend made specifically for frappuccinos.
Peppermint Mocha Frappuccino Drink Ingredients
The drink portion of a Peppermint Mocha Frappuccino has peppermint syrup, mocha sauce, coffee frappuccino syrup, whole milk and ice.
It's blended until it's thickened.
The crème version of this drink uses crème frappuccino syrup in place of coffee frappuccino syrup.
Peppermint Mocha Toppings
This seasonal frappuccino is topped with a Starbucks-size swirl of whipped cream.
Dark chocolate curls are the final touch.
After the holidays, when the chocolate curls have run out, ask for chocolate drizzle instead.
RELATED: 21 Starbucks Chocolate Drinks: Hot, Iced & Frappuccinos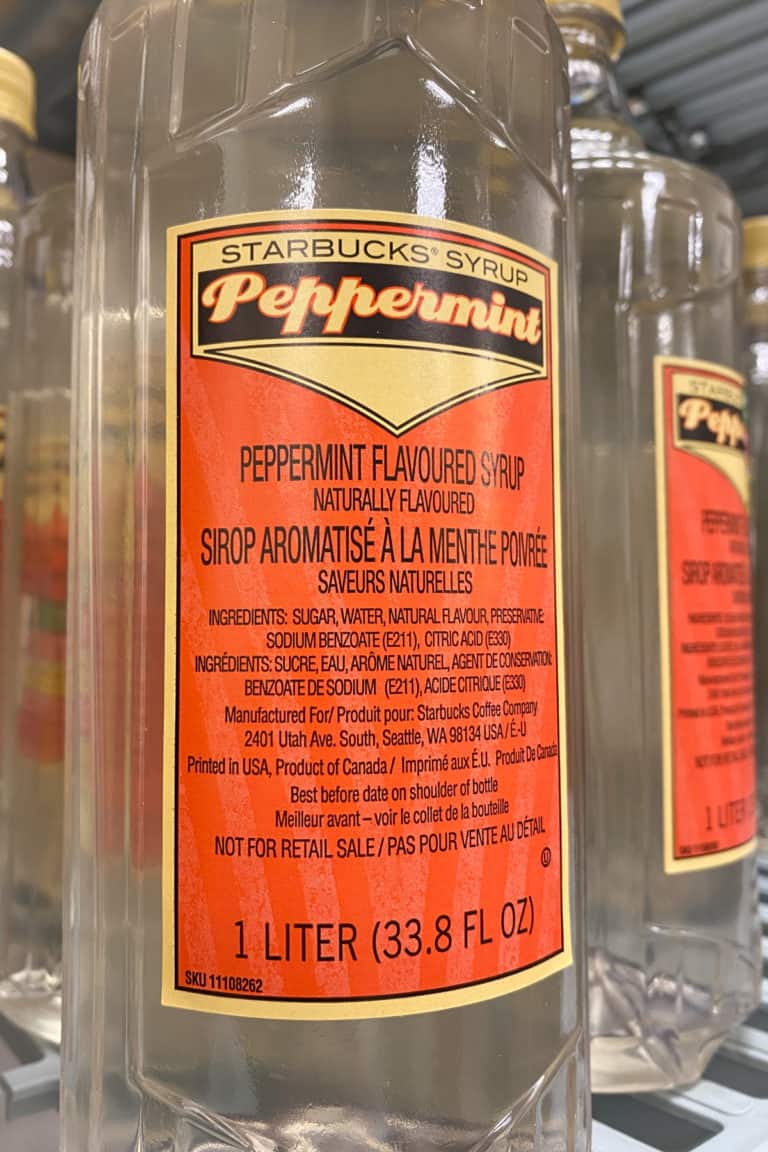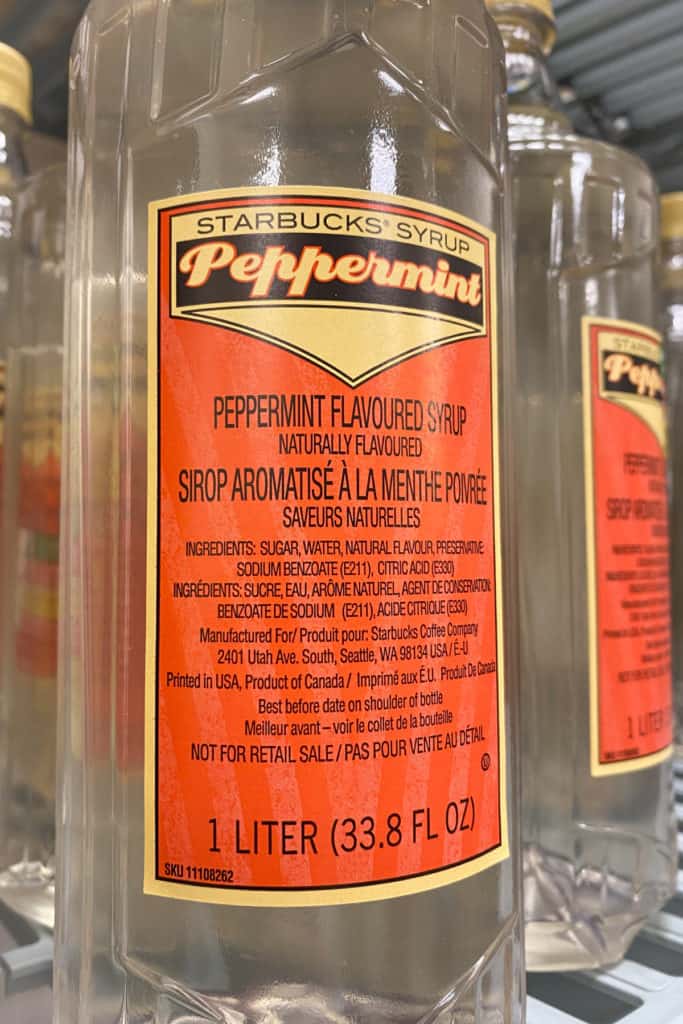 Peppermint Mocha Frappuccino: Sizes, Caffeine & Calories
All Starbucks peppermint mocha drinks contain caffeine which comes from either the espresso or coffee frappuccino roast.
In addition, there is a little bit of caffeine in the chocolate mocha sauce.

Specifically, a grande peppermint mocha made with espresso has 175 mg of caffeine, whereas a grande Peppermint Mocha Frappuccino made with frapp roast contains110 mg.
The crème version of the frappuccino does not have coffee in it.

Overall, espresso-based peppermint mocha drinks have more caffeine than peppermint mocha frappuccinos, but the frappuccinos still provide a nice pick-me-up.
Peppermint Mocha Frappuccino Calories & Caffeine Chart
This chart shows the calorie and caffeine content for every size peppermint mocha frappuccino available at Starbucks.
The small amount of caffeine in the crème frappuccinos comes from the chocolate topping.
| | | |
| --- | --- | --- |
| Peppermint Mocha Frappuccino Sizes | Calories | Caffeine |
| Tall | 300 | 75 mg |
| Tall (Crème) | 270 | 5 mg |
| Grande | 430 | 110 mg |
| Grande (Crème) | 390 | 10 mg |
| Venti | 530 | 140 mg |
| Venti (Crème) | 480 | 15 mg |
Starbucks Peppermint Mocha Frappuccino Sizes, Caffeine and Calories from starbucks.com
RELATED: A Complete Guide to Caffeine in Starbucks Frappuccinos
Ways to Customize a Peppermint Mocha Frappuccino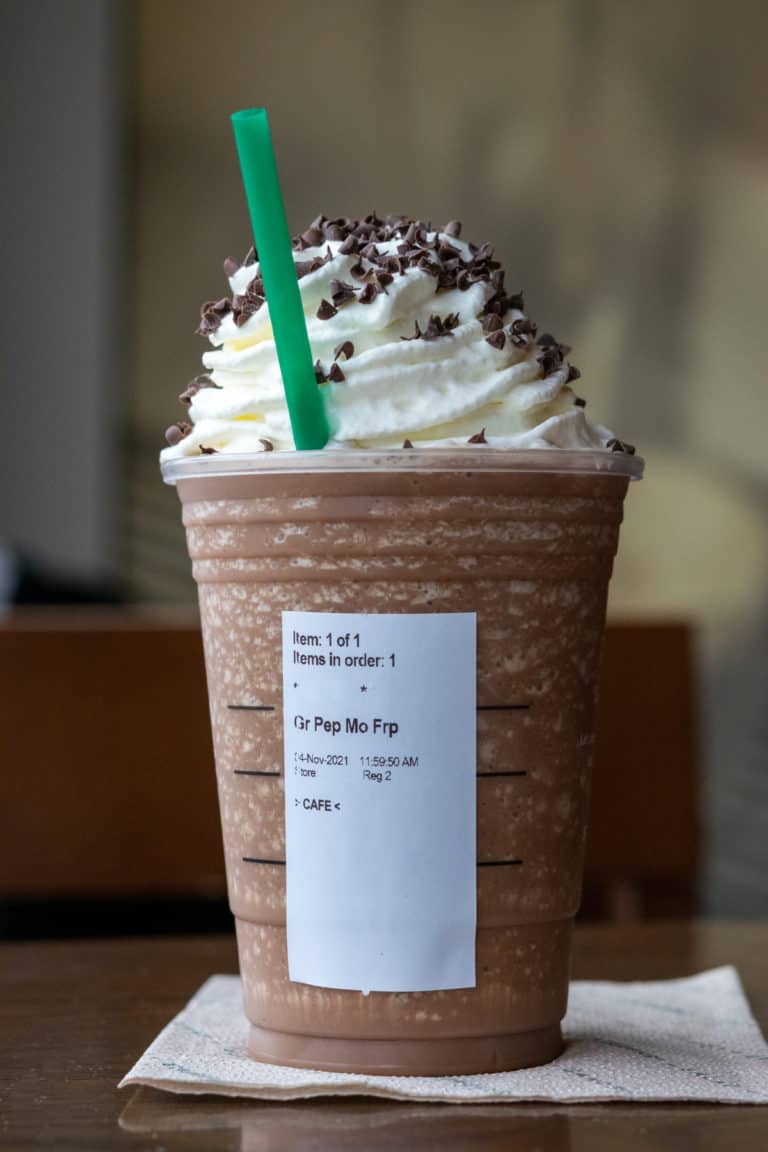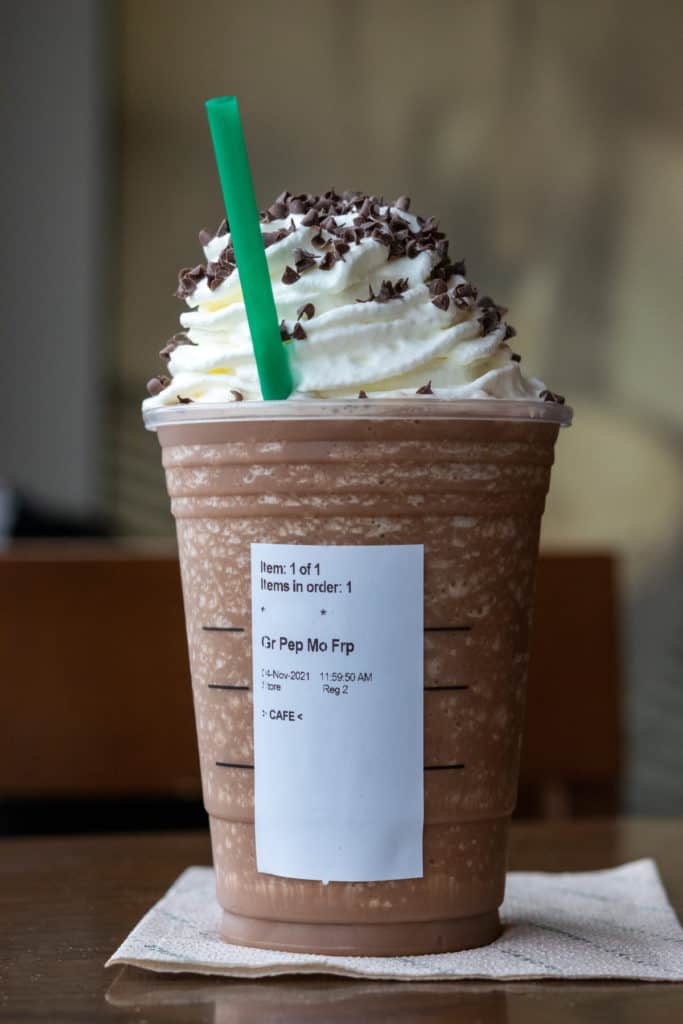 Order it Decaf: If you want a coffee-flavored peppermint frappuccino but don't want much caffeine, order it decaf.
The barista will add-in decaf shots of espresso instead of coffee frappuccino syrup.
Keep in mind, the consistency of the frappuccino won't be quite the same.
Order it Affogato Style: If you want a boost of caffeine in your frappuccino, order it affogato.
Similar to an espresso affogato (espresso on top of ice cream), a shot of espresso is poured over the top of the frappuccino.
RELATED: 6 Ways to Order Starbucks Decaf Coffee Drinks
Questions You May Have
What does Starbucks Peppermint Mocha Frappuccino taste like?
Peppermint mocha frappuccinos are a delicious combination of three flavors: peppermint, chocolate and coffee. This tasty frappuccino is perfect with fluffy whipped cream on top.
Are peppermint mocha frappuccinos seasonal at Starbucks?
Peppermint Mocha drinks at Starbucks, including the frappuccino, are seasonal drinks that are on the holiday menu for a limited time every year. However, since peppermint syrup is available any time of year at Starbucks, you can order peppermint mocha whenever you want. The dark chocolate curls topping is just for the holidays, though.
Does a Peppermint Mocha Frappuccino have coffee in it?
Peppermint Mocha Frappuccino blended beverages contain coffee. The coffee comes from the coffee frappuccino syrup which is blended into the frappuccino. Order a Peppermint Mocha Creme Frappuccino if you want it without coffee.
More Starbucks Holiday Drinks
Related Starbucks Drinks & Guides