Starbucks Iced White Chocolate Mocha
If you're trying to figure out how to make a Starbucks Iced White Chocolate Mocha, look no further. In this recipe I show you exactly how Starbucks makes this drink and how you can make an almost identical iced white mocha at home.
If you're not familiar with what an iced white chocolate mocha is, it's a chocolate, espresso-based beverage. This white chocolate and dark espresso combo is delicious served hot or over ice.
If you prefer dark chocolate to white, you're in luck. Starbucks Caffè Mocha is the dark chocolate version of this drink.
One really popular variation of this coffeehouse classic, is the Peppermint Mocha. Each holiday season you can count on it to reappear on the Starbucks menu.
Now, let me show you how Starbucks makes an Iced White Chocolate Mocha, and how you can make this copycat recipe at home.
Iced White Chocolate Mocha: Recipe Overview
Starbucks Iced White Chocolate Mocha is a decadent mixture of white chocolate mocha sauce, espresso, milk and sweetened whipped cream.
Starbucks standard recipe for this drink calls for Signature Espresso Roast (dark) and 2% milk.
A 16 oz grande size Iced White Chocolate Mocha has 150 mg of caffeine. However, you can make it a decaf iced coffee by requesting decaf espresso.
A grande contains 420 calories. To make this drink skinnier order it with non-fat milk and no whipped cream. Sugar-free mocha sauce is not available.
The iced version of this drink is available in 3 sizes (tall, grande and venti), while a hot white chocolate mocha comes in 4 sizes (short, tall, grande and venti)
A popular secret menu version of this drink is the TikTok Iced White Mocha with caramel drizzle and vanilla sweet cream cold foam.
Starbucks Ingredients
Starbucks White Chocolate Mocha Sauce
Signature Espresso Roast
2% Milk
Ice
Sweetened Whipped Cream
To make this drink, the barista starts off by adding white chocolate mocha sauce to the cup. Mocha sauce is measured by the number of pumps that go into a cup. For instance, a grande gets 4 pumps of sauce.
Next, the espresso is poured on top of the sauce, followed by milk. This is the opposite of an iced caramel macchiato where the milk precedes the espresso.
Additionally, each cup size up, gets one more shot of espresso. So if you want a more caffeinated beverage, either go up a drink size or add-in an extra shot of espresso.
This chart compares the exact number of pumps and shots of espresso that Starbucks baristas use to make an Iced White Chocolate Mocha.
| | | |
| --- | --- | --- |
| Starbucks Iced White Mocha | Sauce (pumps) | Espresso (shots) |
| Tall (12 oz) | 3 | 1 |
| Grande (16 oz) | 4 | 2 |
| Venti (24 oz) | 6 | 3 |
How much sauce and espresso in a Starbucks Iced White Chocolate Mocha by drink size
Copycat Recipe Ingredients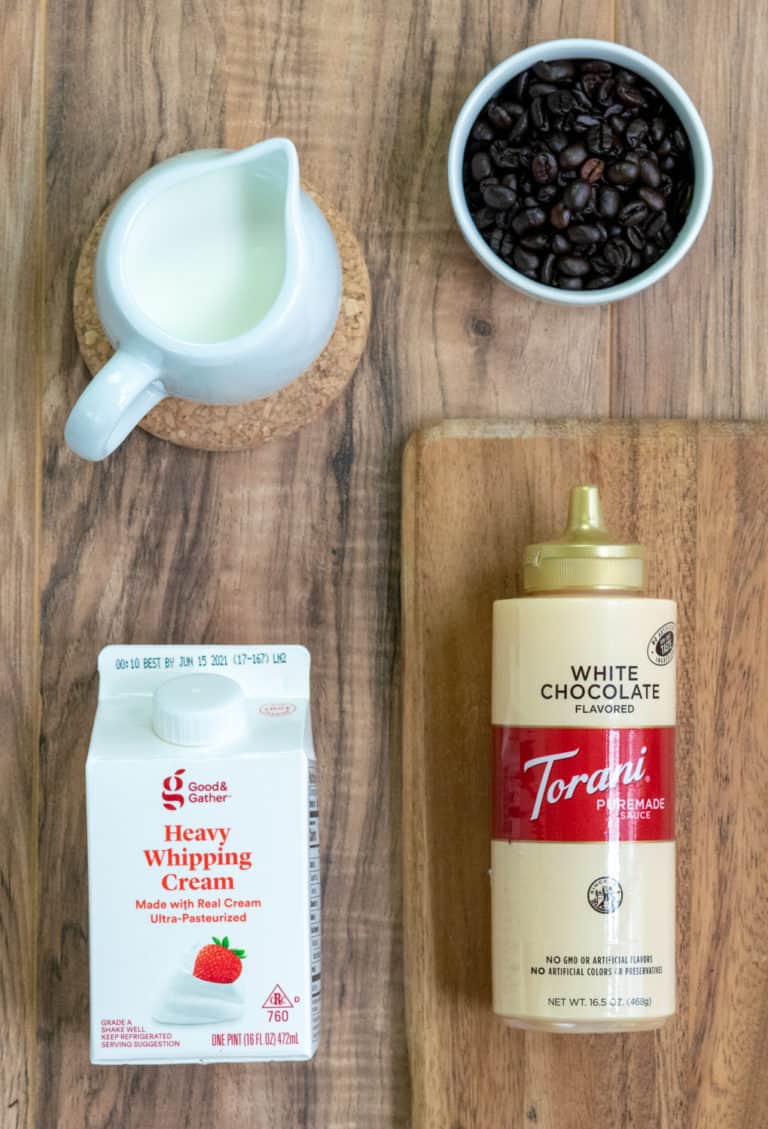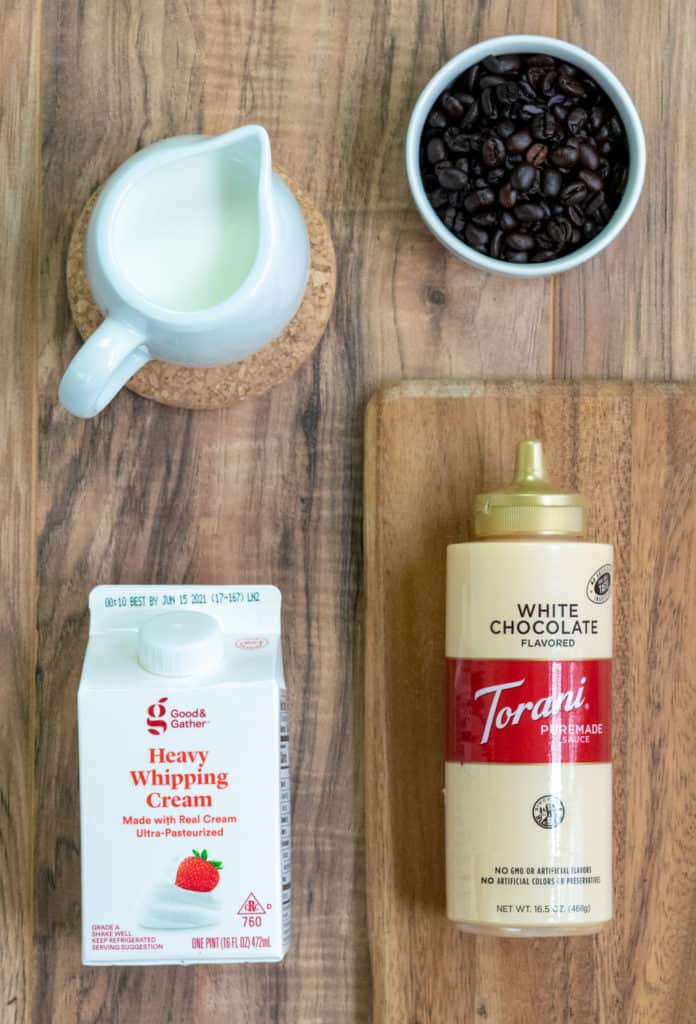 White Chocolate Sauce
For the white chocolate sauce, I find it easiest to buy a bottle of Ghirardelli or Torani white chocolate sauce. In my store, it's located in the ice cream toppings sections.
You can also melt white chocolate chips in the microwave or on the stove. This method takes a little more time and mess and is better suited for making a hot White Chocolate mocha. That's why I prefer to buy a bottle of sauce.
If you plan on making white chocolate mocha drinks a lot, consider buying a big pump bottle of Fontana white mocha sauce. I've read that this is the company that makes Starbucks mocha sauce, though I haven't been able to verify that.
Espresso
To make a true copycat Starbucks drink, use Starbucks dark roast espresso beans. You can buy them in the grocery store or at an actual Starbucks store.
You can also make an iced white mocha with Nespresso capsules for the Vertuo or for the original machine.
Milk
Low-fat, 2% dairy milk is the standard milk Starbucks uses to make this drink. However, you can substitute it with your favorite type of milk.
Ice
If at all possible, make this drink (and all drinks) with filtered water ice cubes. I have a filter in my refrigerator, but a Brita filter pitcher works perfectly and is very convenient.
Whipped Cream
If you want your homemade white mocha to taste just like Starbucks, including the whipped cream, be sure to check out my Starbucks whipped cream recipe. You'll need heavy cream, vanilla syrup and a professional whipped cream dispenser.
If you don't have a whipper with chargers like Starbucks, just make the recipe using a mixer.
A final option is to buy store-bought whipped cream. While it won't taste exactly like Starbucks, it's still creamy and delicious.
Recipe Instructions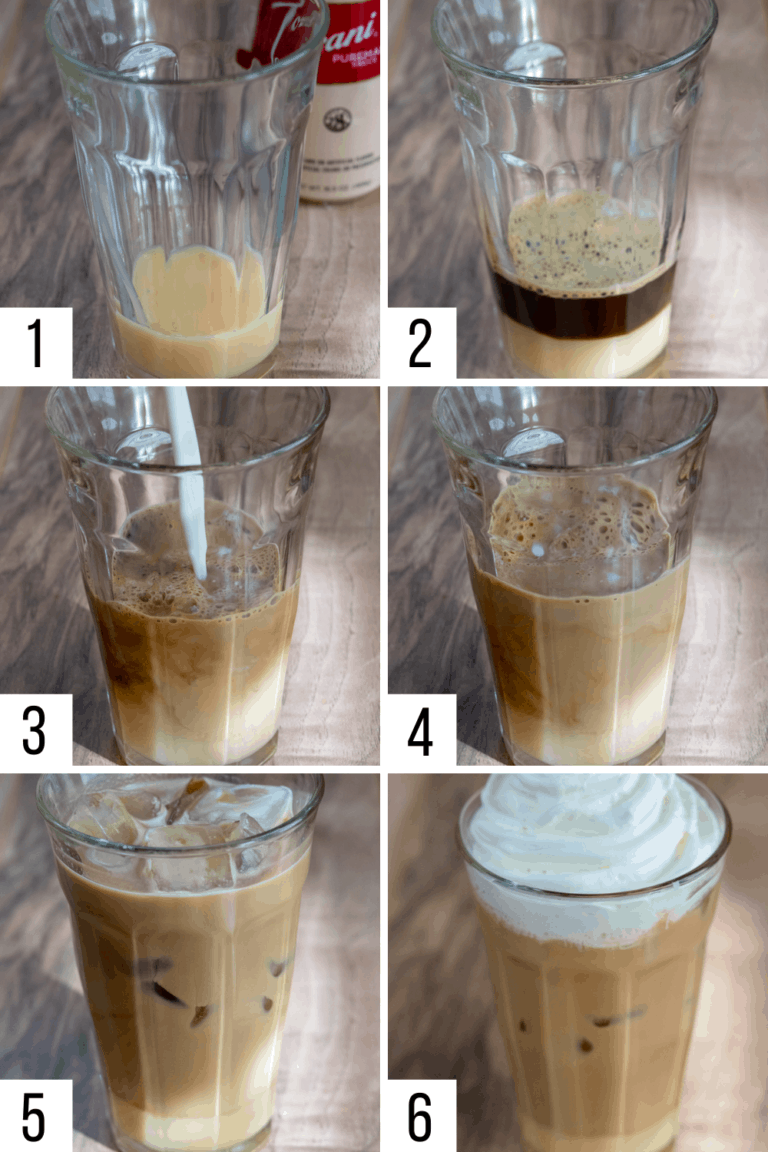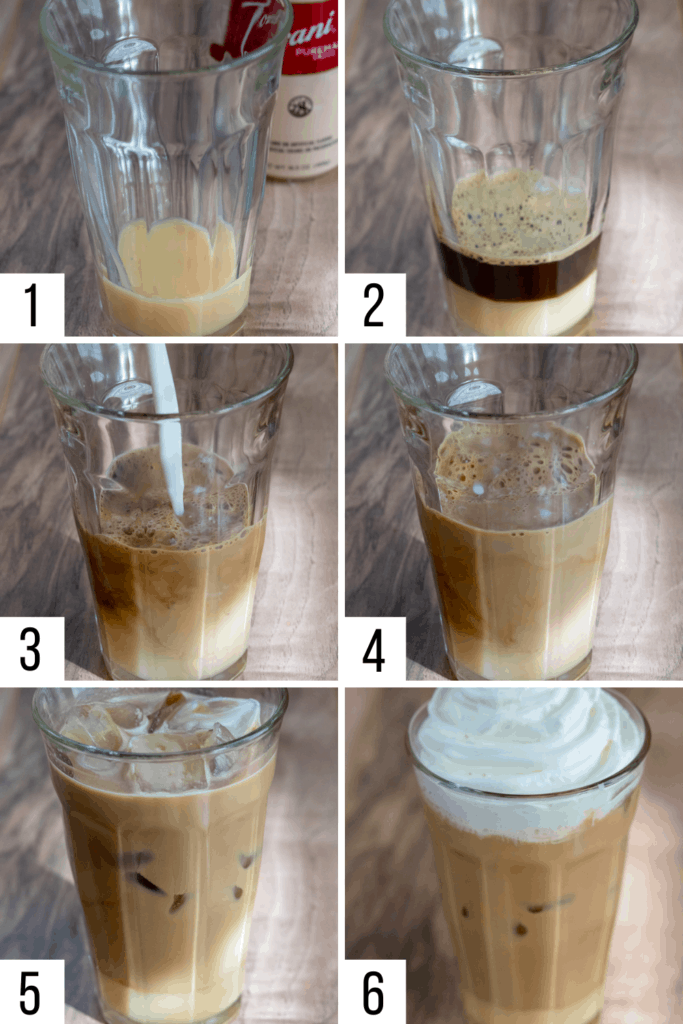 Making a Starbucks Iced White Chocolate Mocha at home is really easy to do. If you can fit a 16 ounce cup in your espresso machine, you don't even have to dirty up a shot glass.
To make a homemade Iced White Chocolate Mocha simply add white chocolate sauce to a 16 oz cup. To the cup add espresso shots, milk and ice. Finally, top the mocha with homemade vanilla whipped cream.
Here's a look at each step of the process.
Step 1: Add White Chocolate Sauce to Cup
The detailed recipe below is for a 16 oz drink, so squeeze or pump the white chocolate sauce into your drinking cup. For comparison, Starbucks puts in 4 pumps of sauce which is roughly 4 tablespoons.
Step 2: Pour Espresso Over Sauce
If your tall glass fits in your espresso machine, pull the espresso shots directly into the cup on top of the white chocolate sauce.
Otherwise, pull 2 shots of espresso into a shot glass and then pour it on top of the sauce.
Step 3: Add Milk and Ice
If you happen to have a Starbucks grande reusable cup, pour milk up to the top black line on the side of the cup. If not, measure the milk and pour it on top of the espresso and chocolate sauce.
Now is a good time to stir the ingredients together if that's your preference.
Next, scoop ice into the drink to fill the glass.
Starbucks Insider Tip Did you know baristas use the black lines on the side of the cup to measure some ingredients. This is why ice is usually added last.
Step 4: Top with Whipped Cream
The final step is to top off your homemade iced white chocolate mocha with a generous helping of whipped cream. And, of course, sip and enjoy.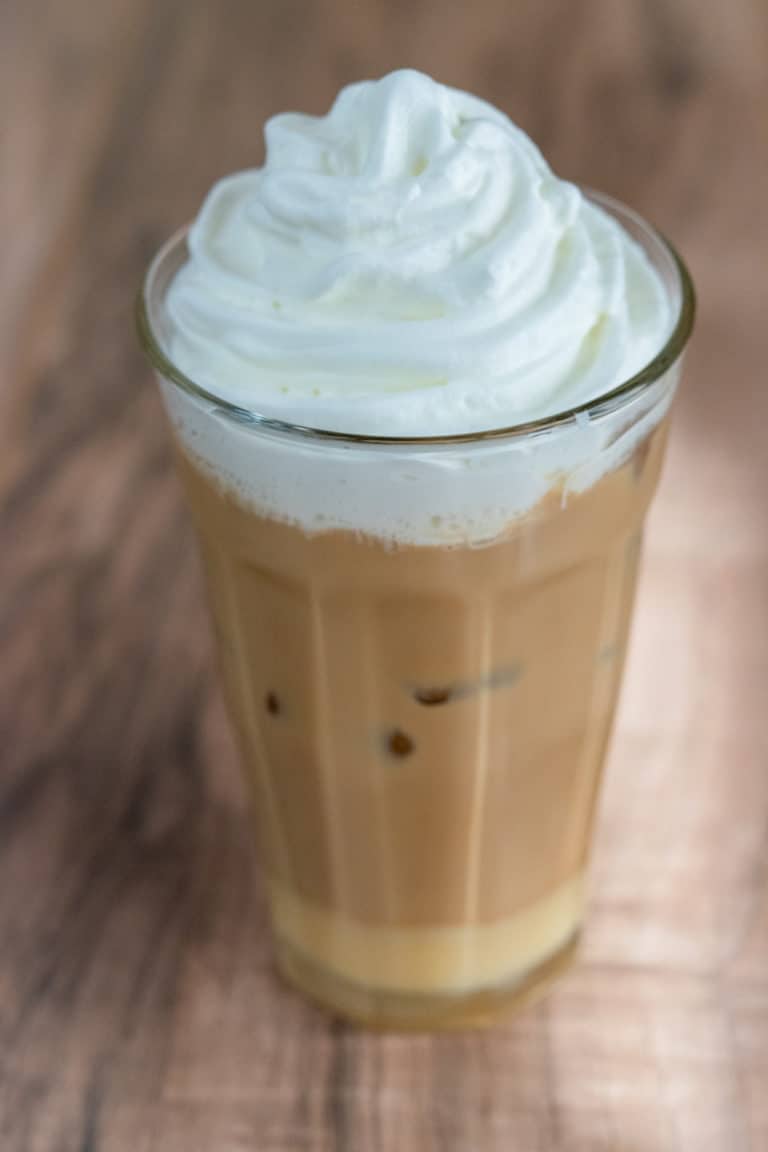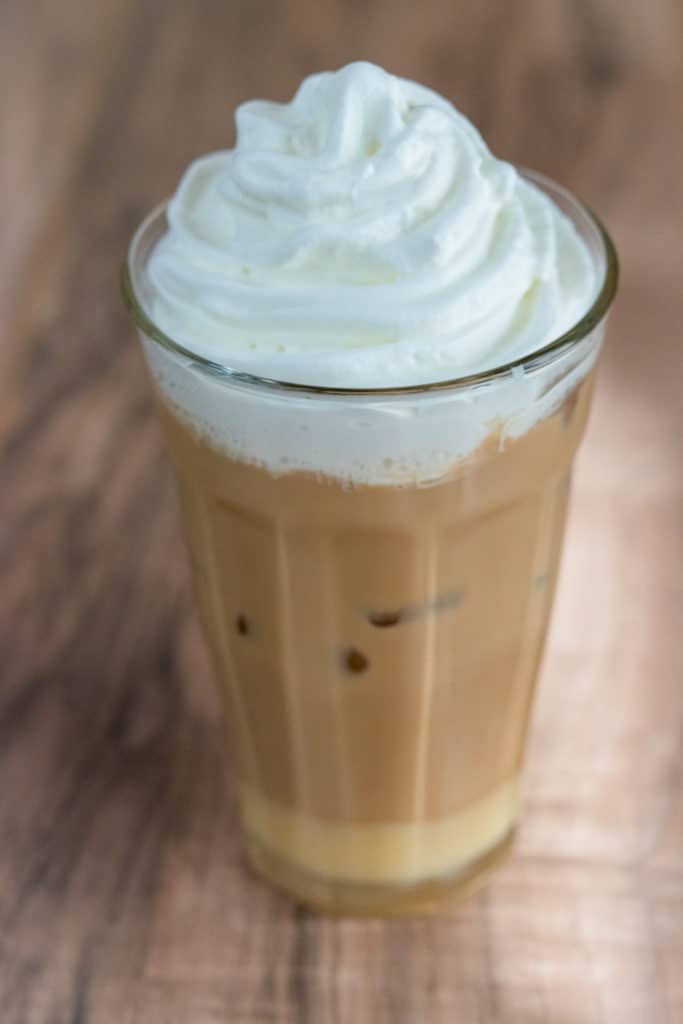 Questions You May Have
Is an Iced White Mocha sweet?
Starbucks Iced White Chocolate Mocha is a sweet drink since its ingredients include chocolate sauce and sweetened whipped cream. For example, a Starbucks Grande 16 oz drink contains 48 g of sugar.
Is Iced White Mocha coffee?
People often ask if a mocha contains coffee. In fact, yes, all mocha drinks are espresso-based, coffee beverages mixed with chocolate sauce. The mocha sauce, however, is simply chocolate sauce (white or dark) and does not have coffee in it.
What can I add to an Iced White Chocolate Mocha?
The most popular variation of an Iced White Mocha is the Peppermint White Chocolate Mocha. This drink has peppermint syrup added to it. Another favorite customization is to get an iced white mocha with caramel drizzle. In this case, the barista adds caramel sauce around the inside of the cup and on top of the whipped cream, too.
More Starbucks Copycat Recipes You're Sure to Love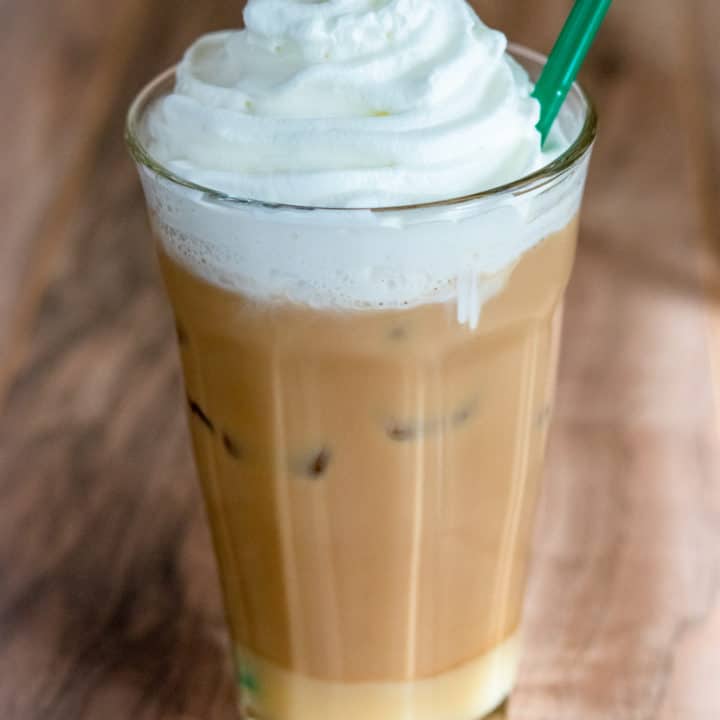 Starbucks Iced White Chocolate Mocha
Easy and delicious Starbucks Iced White Chocolate Mocha recipe to make at home. You only need a few ingredients, including white chocolate sauce, to make this Starbucks-style drink.