Wondering what the TikTok Starbucks iced white mocha drink is? Here's everything you need to know about this popular espresso drink, including what's in it and how to order it.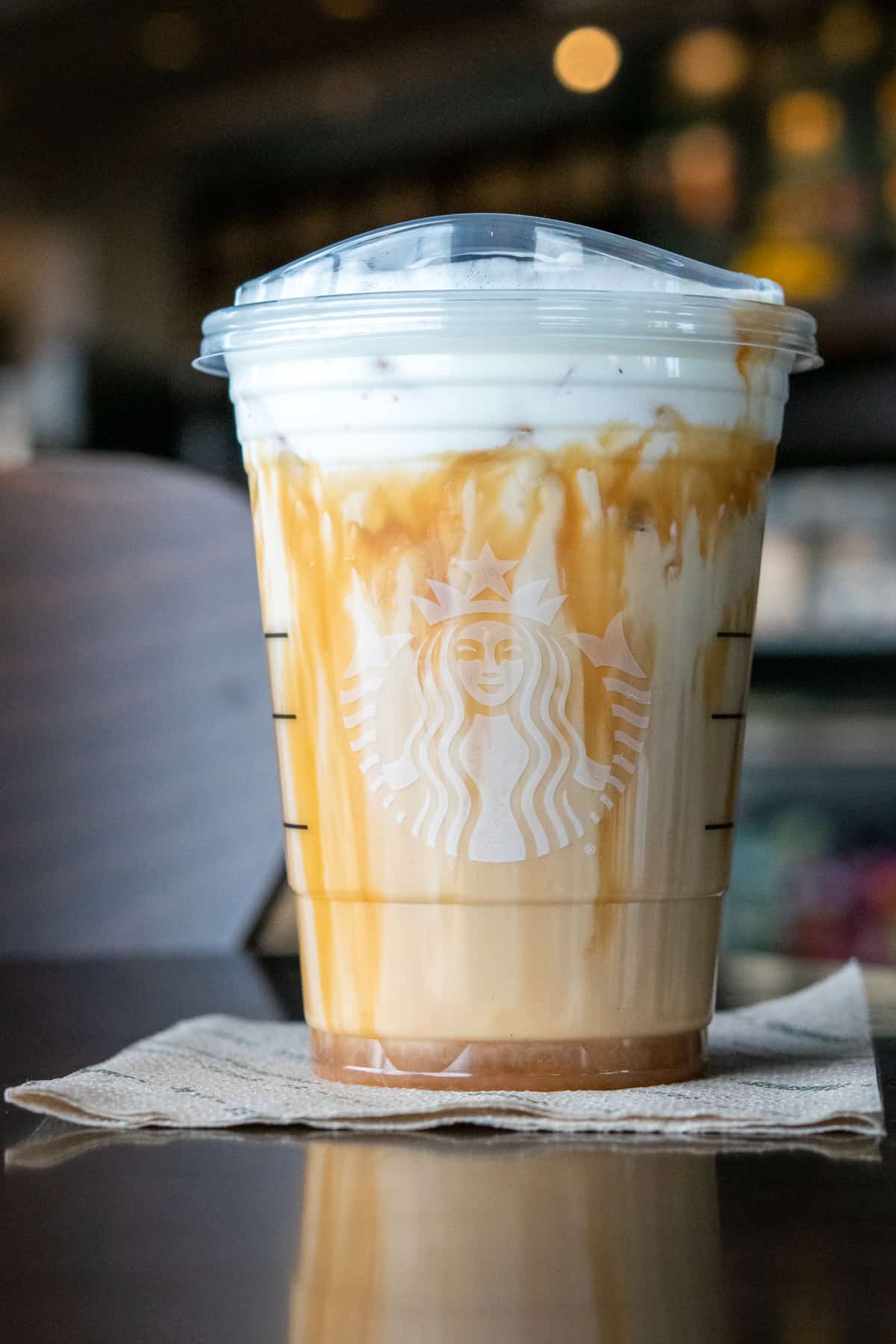 TikTok Iced White Mocha from Starbucks
A TikTok Starbucks Iced White Mocha is a customized espresso drink that combines two much-loved Starbucks flavors: white chocolate and caramel.
In addition, this popular creamy and caffeinated beverage is topped with a layer of vanilla sweet cream cold foam that cascades into the drink.
This viral social media-inspired drink is certainly sweet and decadent, not to mention, eye-catching.
You'll definitely want to skip the straw for this beverage.
This way, each sip of your TikTok Iced White Mocha is the perfect blend of caramel, cream, coffee and white chocolate.
RELATED RECIPE: DIY Iced White Mocha with Sweet Cream Foam & Caramel Drizzle
What's in a TikTok Iced White Mocha
Wondering exactly what's in this popular social media drink?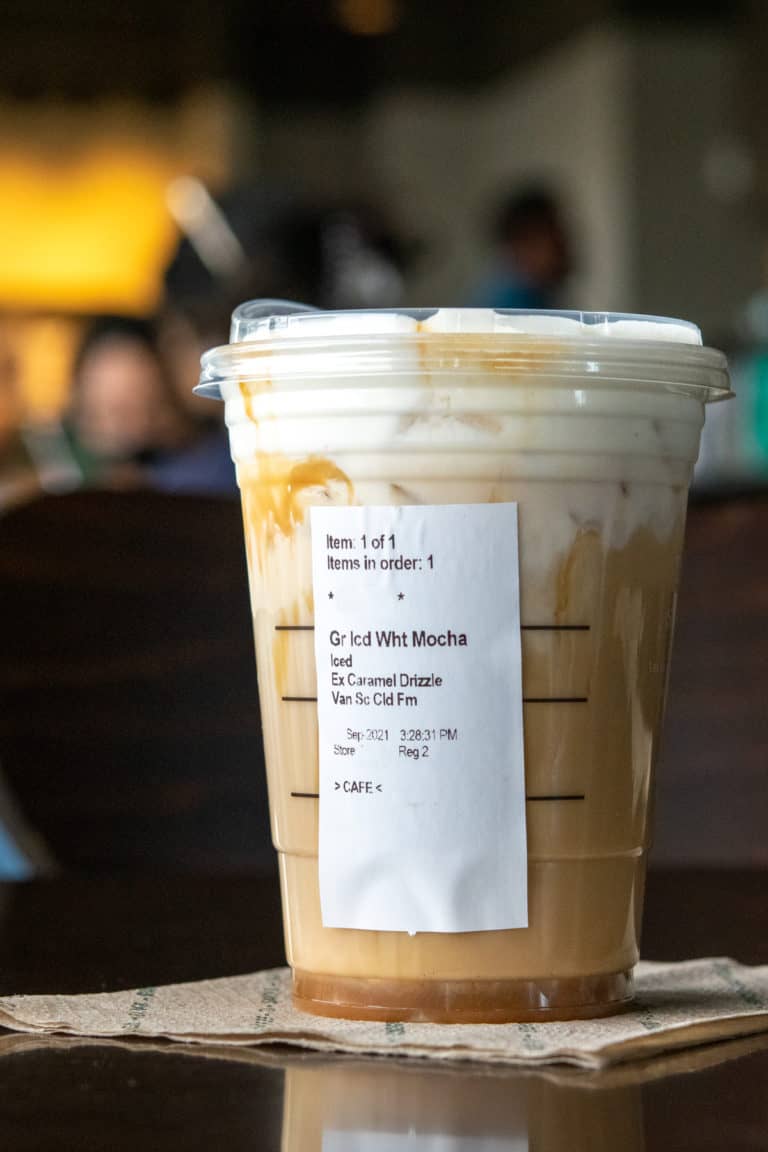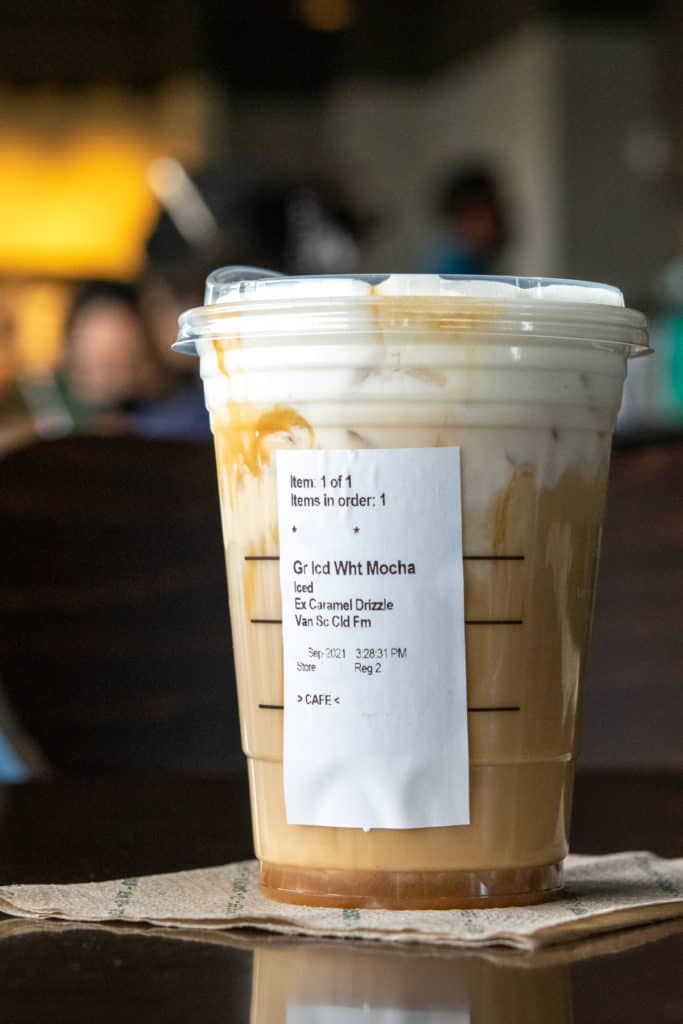 The TikTok Starbucks Iced White Mocha has white chocolate mocha sauce, espresso, milk, ice, and a topping of vanilla sweet cream cold foam with caramel drizzle.
Here's exactly what's in the TikTok Starbucks Iced White Chocolate Mocha drink:
White Chocolate Mocha Sauce

Starbucks Signature Dark Roast Espresso
2% Milk
Filtered Ice
Vanilla Sweet Cream Cold Foam (a blend of vanilla syrup and heavy cream)
Caramel Drizzle
How to Order this Secret Menu Drink
A TikTok Iced White Mocha is a standard Starbucks Iced White Mocha that has two customizations.
Whipped cream is substituted with a topping of vanilla sweet cream cold foam.
Caramel drizzle is added on top (and lining the cup if desired).
You can order this secret menu drink from the barista or with the Starbucks app.
Here's how.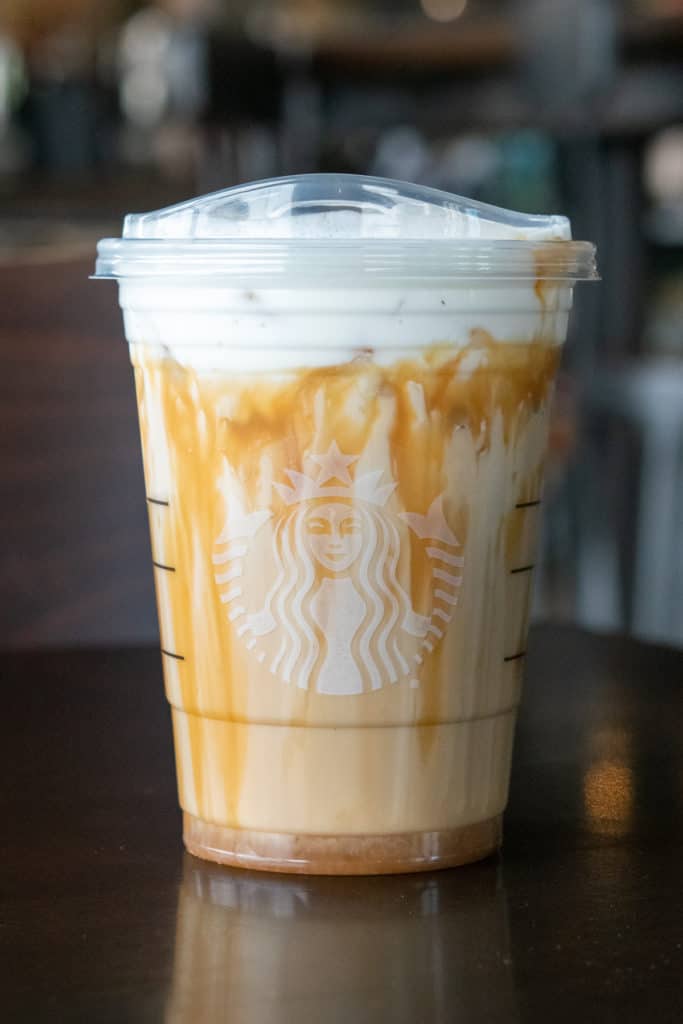 How to order a TikTok White Mocha from the barista
Starbucks baristas are not required to know all the social media drinks by name.
So be prepared tell the barista exactly what you want.
To get the TikTok drink ask for an Iced White Mocha topped with vanilla sweet cream cold foam and extra caramel drizzle.
Let them know if you want the drizzle lining the cup, as well as on top.
How to order a TikTok White Mocha from the Starbucks app
To order with the app, first choose an iced white chocolate mocha, then tap customize to make selections.
Here are the exact steps.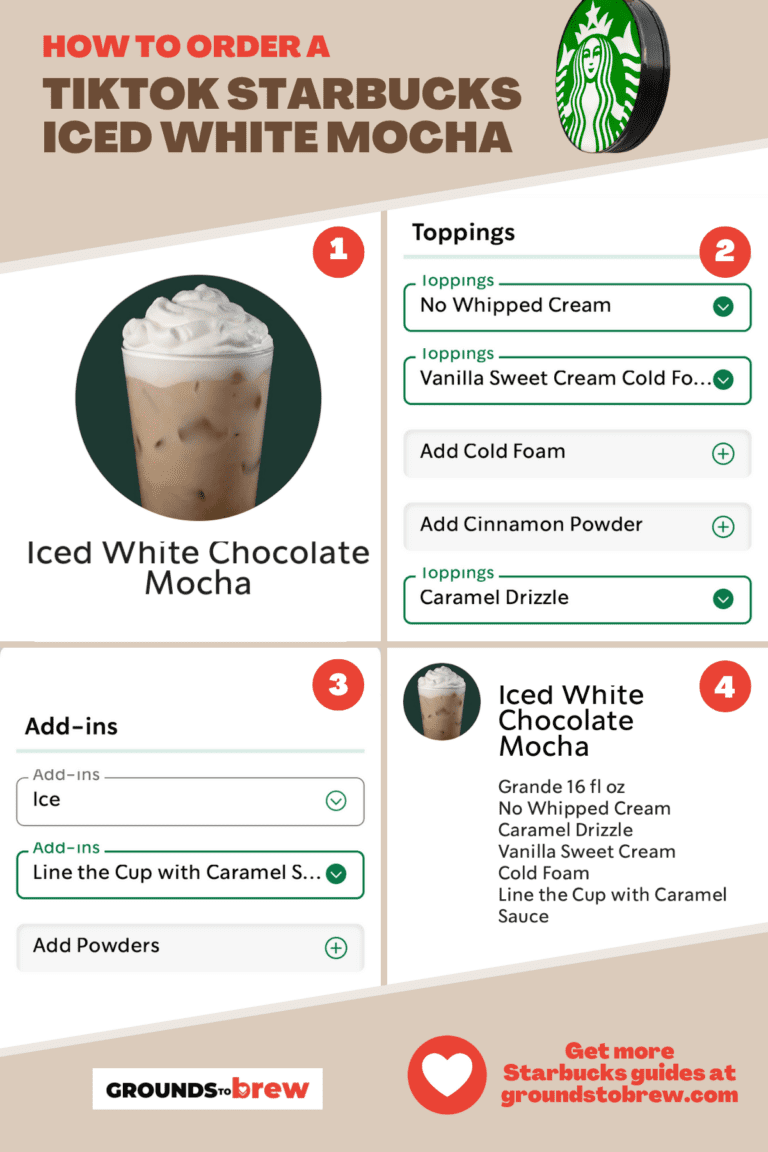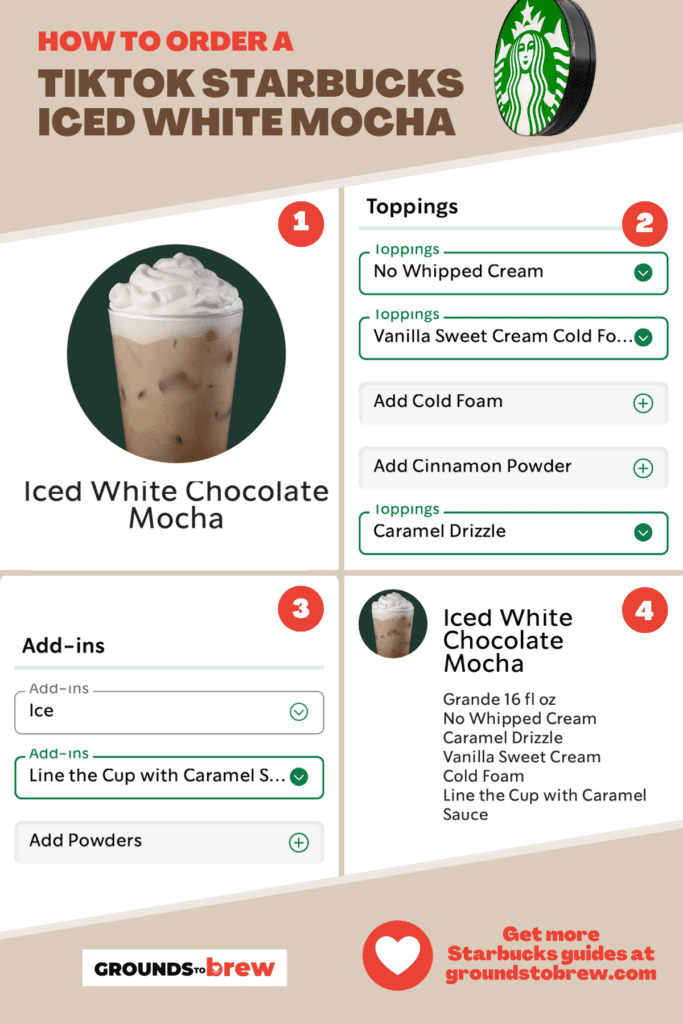 Step 1: Select Standard Menu Drink
Go to: Cold Coffees > Iced Mochas > Iced White Chocolate Mocha.
Step 2: Customize Toppings
First, change whipped cream to no whipped cream.
Then, in the add cold foam section, select vanilla sweet cream cold foam.
Finally, in the add drizzle section, choose caramel drizzle.
Step 3: Customize Add-Ins
To get extra caramel sauce in the cup, select the option to line the cup with caramel sauce.
Step 4: Place Order
Before placing the order, check over the drink and make sure all the customizations are correct.
RELATED: TikTok Starbucks Drinks: How to Order like a Pro
Expert Barista Tips
Here are a few suggestions from a coffee-master level barista whose made more TikTok Iced White Mochas than she can begin to count.
Make it less sweet.
A grande iced white mocha comes with 4 pumps of white mocha sauce.
The TikTok customization adds even more sugar and sweetness from the caramel drizzle and sweet cream cold foam.
For a little less sugar in this drink, get 1 or 2 less pumps of mocha sauce. Additionally, only get caramel drizzle on top.
Don't confuse caramel drizzle and caramel sauce.
When ordering this customized drink from the app, be sure to select caramel drizzle from the Toppings menu and not caramel sauce from the Flavors menu.
While caramel sauce and caramel drizzle are the same ingredient at Starbucks, sauce means that it gets mixed in the actual drink and drizzle indicates that it goes on top or is layered in.
RELATED: 19 Starbucks Caramel Drinks: Menu Favorites & More
Cut the cost.
Adding on a topping of vanilla sweet cream cold foam adds around $1.25 to the price of the drink.
To save a buck or more, skip the cold foam and keep the standard whipped cream topping.
Be sure to use Starbucks Rewards for free customizations and drinks.
Questions You May Have
Does the TikTok white mocha drink from Starbucks have caffeine?
All mocha drinks at Starbucks, including the TikTok version, have dark roast espresso in them and contain caffeine. Specifically, a grande TikTok Iced White Mocha has 150 mg of caffeine. This drink can be ordered with decaf espresso, if desired.
What sizes does a TikTok Iced White Mocha come in from Starbucks?
The popular TikTok iced white mocha drink is an espresso-based beverage at Starbucks and iced espresso drinks come in three sizes: tall, grande and venti.
Related