Espresso and creamy white chocolate come together to create a classic coffeehouse favorite—white chocolate mocha. This Starbucks copycat white chocolate mocha recipe is easy to make and ready in minutes.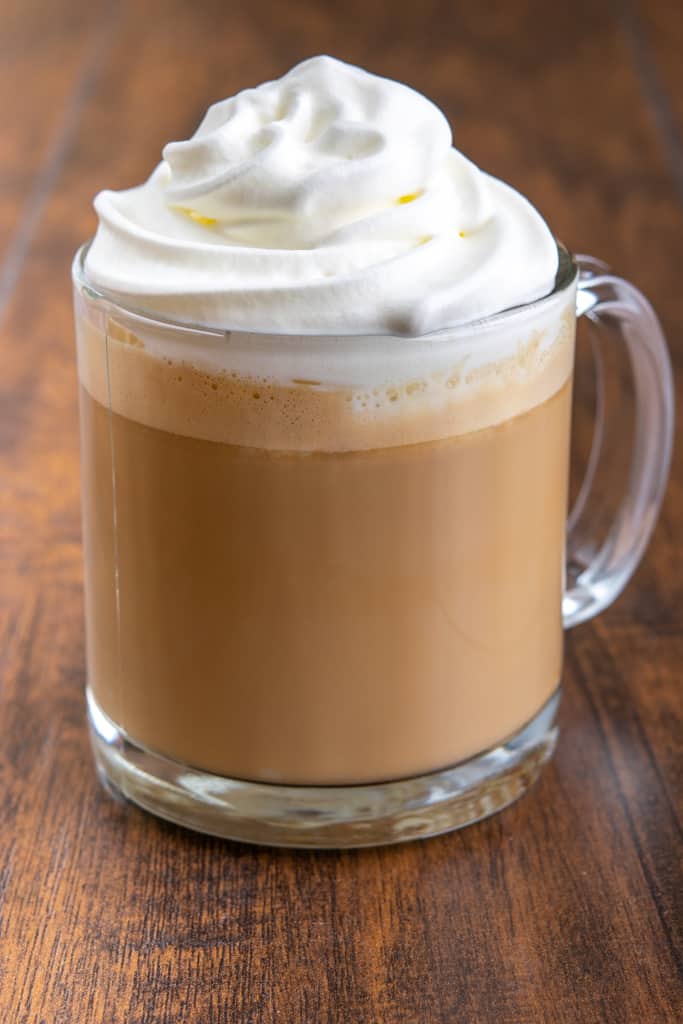 White Chocolate Mocha
Rich dark espresso and smooth, melted white chocolate pair together perfectly to create a white chocolate mocha. To make this white chocolate mocha recipe even more indulgent, a big dollop of sweetened whipped cream on top is a must.
What's great about this recipe, besides being over-the-top delicious, is that it's really easy to make at home.
Of course, there's nothing I love more than sitting in a warm and cozy Starbucks sipping on a hot mocha or hot tea. But let's face it, we can't go to Starbucks every day. (Or can we?)
That's why I set out to create a copycat recipe for this Starbucks classic. This way I can enjoy it in my pajamas right at home. And you can too.
Before I show you my at-home recipe, let's take a look at what Starbucks uses to make a white chocolate mocha and how a barista puts it together.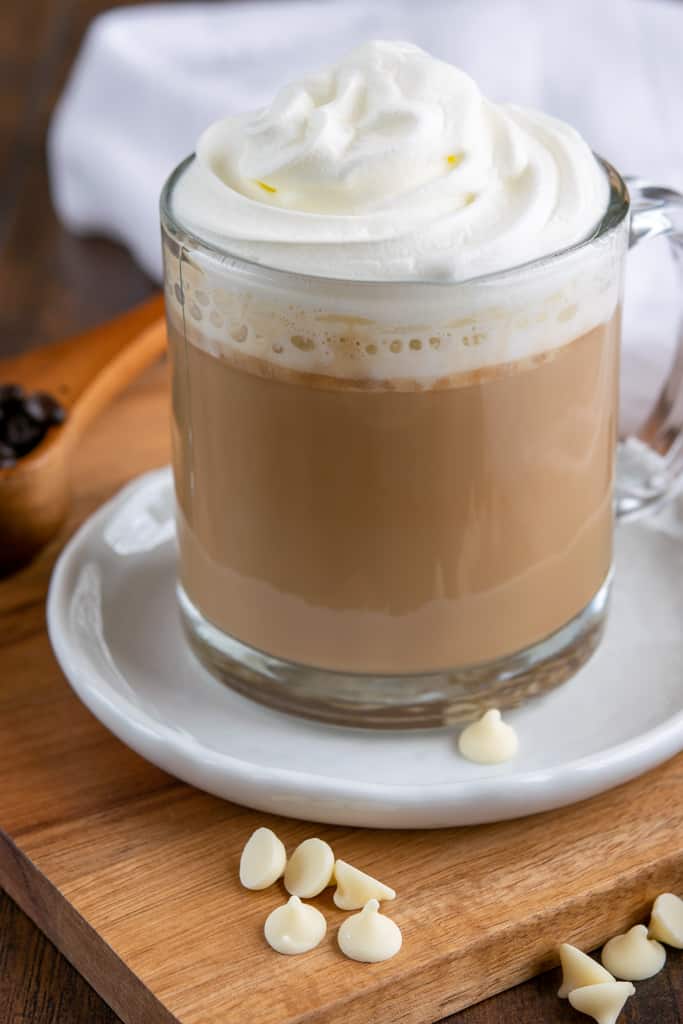 Starbucks White Chocolate Mocha Recipe
Here are the exact ingredients a Starbucks barista uses to make a 12-ounce white chocolate mocha. This is also the order the ingredients go into the cup.
Starbucks White Mocha Sauce (3 pumps)
Signature Espresso Roast (1 shot)
Steamed 2% Milk (8 ounces)
Sweetened Whipped Cream
Starbucks room-temperature, white mocha sauce is in a container that has a big pump on top.
To put the drink together, the barista simply pumps the mocha sauce into an empty cup. Then, a shot of freshly-pulled, hot espresso is poured on top of the sauce.
Make note, for a more caffeinated Starbucks drink, grande (16 oz) and venti (20 oz) sizes get two pumps of espresso.
Next, steamed milk that's around 140°F is added to the cup.
And what would a hot espresso mocha be without whipped cream? As a final step, the barista tops the mocha with a generous swirl of sweet whipped cream.
Of course, if you're trying to cut calories on your Starbucks drink, you can leave off the whipped cream.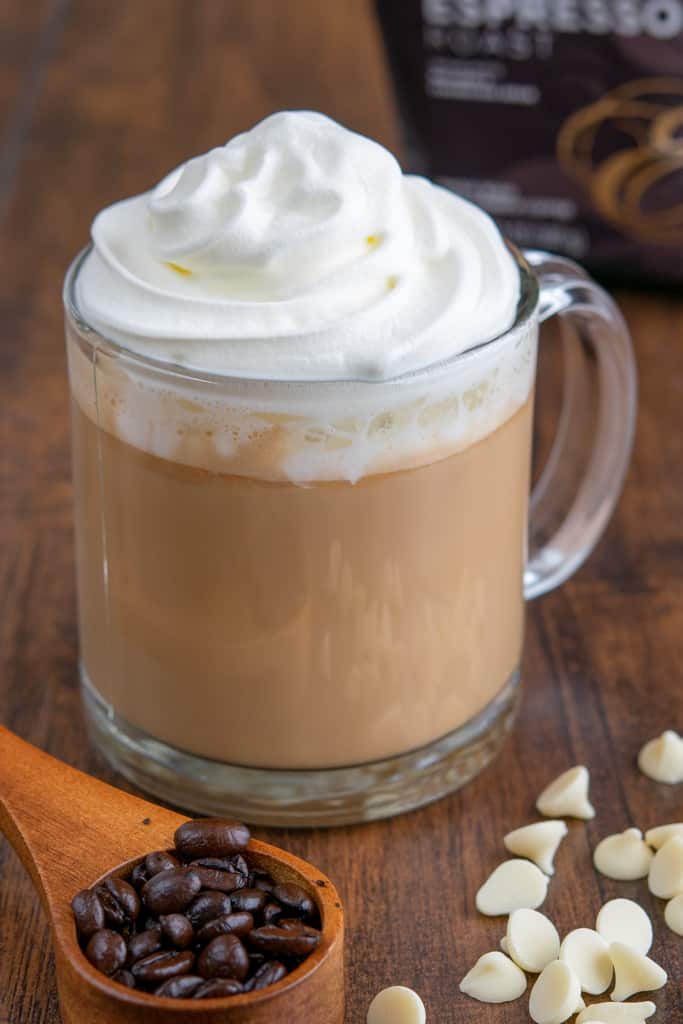 Homemade Recipe
Usually, the trickiest thing about making a coffeehouse drink at home, is finding the best substitute ingredients.
In this case, you can either buy Ghirardelli or Torani white mocha sauce. Otherwise, you can combine white chocolate chips and heavy cream in your mug. This is what I like to do.
To make a white chocolate mocha at home, gather up these ingredients.
White Chocolate Chips or White Chocolate Sauce
Heavy Cream (optional)

Espresso or Strong Coffee

2% Milk
Whipped Cream
How to Make a White Chocolate Mocha at Home
This recipe is very similar to Starbucks, In fact, the only difference between this copycat recipe and the real thing is the mocha sauce. But the combination of white chocolate chips and heavy cream melted together is a close substitute.
Here are the simple steps I take to make a white chocolate mocha in my kitchen.
Put white chocolate chips and heavy cream in a mug and warm it up in the microwave until it begins to melt. Otherwise, add some already-made mocha sauce to the cup.
Pour a shot of espresso on top of the melted white chocolate and give it a stir to melt the chips all the way.
Steam milk using an espresso machine steam wand or electric milk frother. Or warm the milk on the stove or microwave and use a handheld milk frother. Pour steamed milk on top of espresso.
Finish off the white chocolate mocha with sweetened whipped cream just like Starbucks.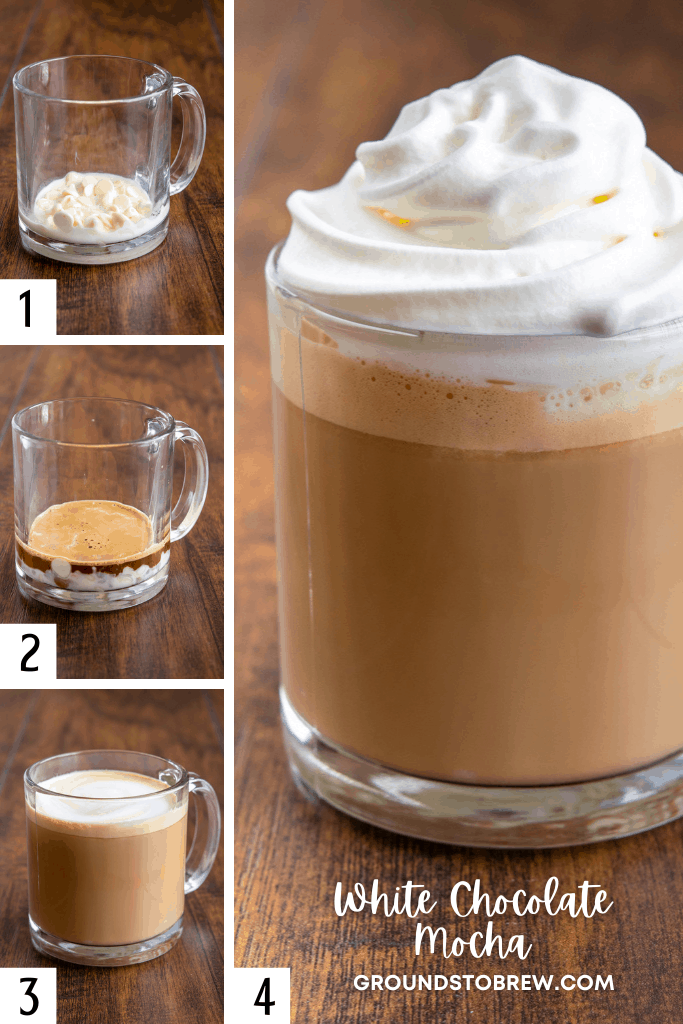 Recipe Notes and Tips
White Chocolate Mocha Sauce
Like I said before, you can just buy a bottle of white mocha sauce, I find it just as simple to drop some white chocolate chips in a mug and pop it in the microwave. Plus, the hot espresso and steamed milk melt the chips even more.
I've noticed the quality of white chocolate chips varies a lot by brand, so be sure and get a more premium brand like Ghirardelli.
Espresso
Starbucks makes most of their espresso drinks with dark roast coffee beans. At home I use Starbucks brand dark roast espresso beans, but feel free to use a medium or blonde roast is that's what you prefer.
As far as making the espresso goes, I have a Breville Barista Express machine. But you can also use an espresso maker like a Nespresso that brews pods.
On the other hand, it's simple to make espresso-like coffee with an inexpensive moka pot.
Steamed Milk
The standard milk Starbucks uses for espresso drinks is 2% dairy. But you can use whatever type of milk you want. Just keep in mind, when milk is steamed it brings out sweetness. Therefore, other kinds of milk like almond, soy or oat, will not turn out as sweet and creamy.
Whipped Cream
I absolutely love Starbucks whipped cream. Not only is it the perfect final touch on top of a mocha, but each sip is sweet and creamy.
Of course you can buy whipped cream at the store, but luckily, it's super simple to make homemade whipped cream.
And even luckier for us, I know exactly how Starbucks makes their whipped cream so sweet and delicious. Vanilla syrup, that's the secret.
Here's the exact recipe for Starbucks whipped cream to finish off your homemade white chocolate mocha.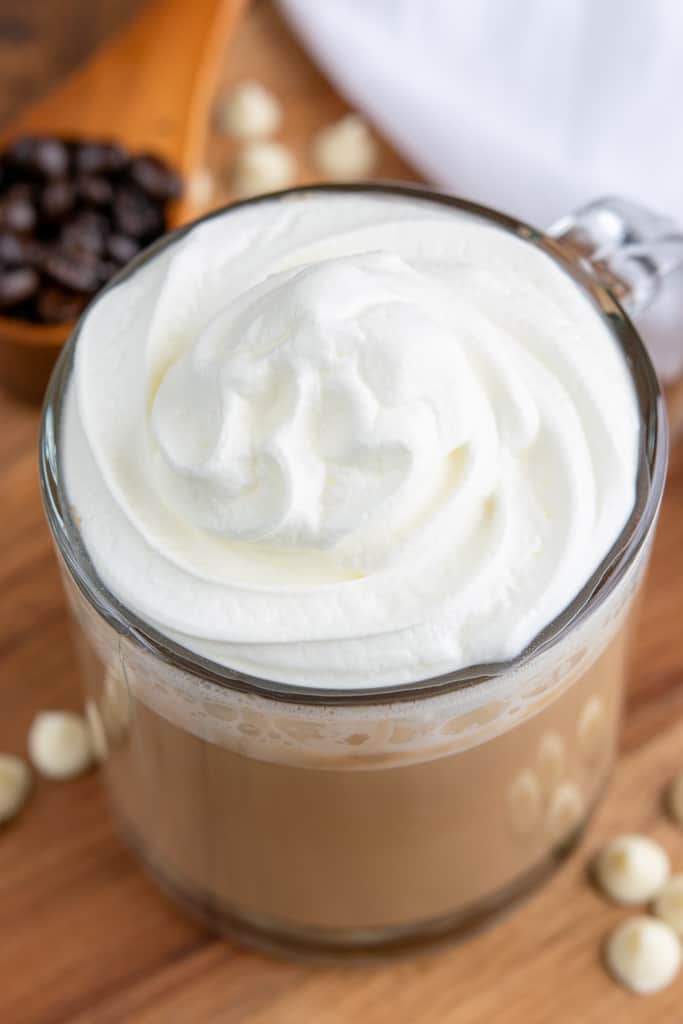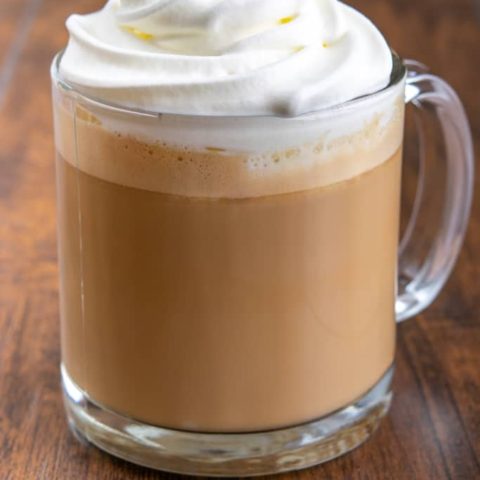 White Chocolate Mocha like Starbucks
See how to make a hot white chocolate mocha with this easy Starbucks copycat recipe.
Ingredients
3 tablespoons white chocolate chips or white chocolate sauce
1 tablespoon heavy cream
1 shot espresso
1 cup 2% milk, steamed
sweetened whipped cream (optional)
Instructions
Put white chocolate chips and heavy cream in 12-ounce mug or larger. Heat in microwave to melt chips. Alternately, add white mocha sauce to mug.
Pour hot espresso on top of white chocolate. Stir to melt chips all the way, if necessary.
Steam milk and pour into cup.
Top white chocolate mocha with whipped cream.
Notes
Steamed and aerated milk expands in volume so be sure and use a 12 ounce mug or larger. Leave room for whipped cream, as well.
Recommended Products
As an Amazon Associate and member of other affiliate programs, I earn from qualifying purchases.
Related