This Starbucks Latte guide shows you everything you need to know about this popular espresso drink. See all the flavors of lattes at Starbucks and how to order them.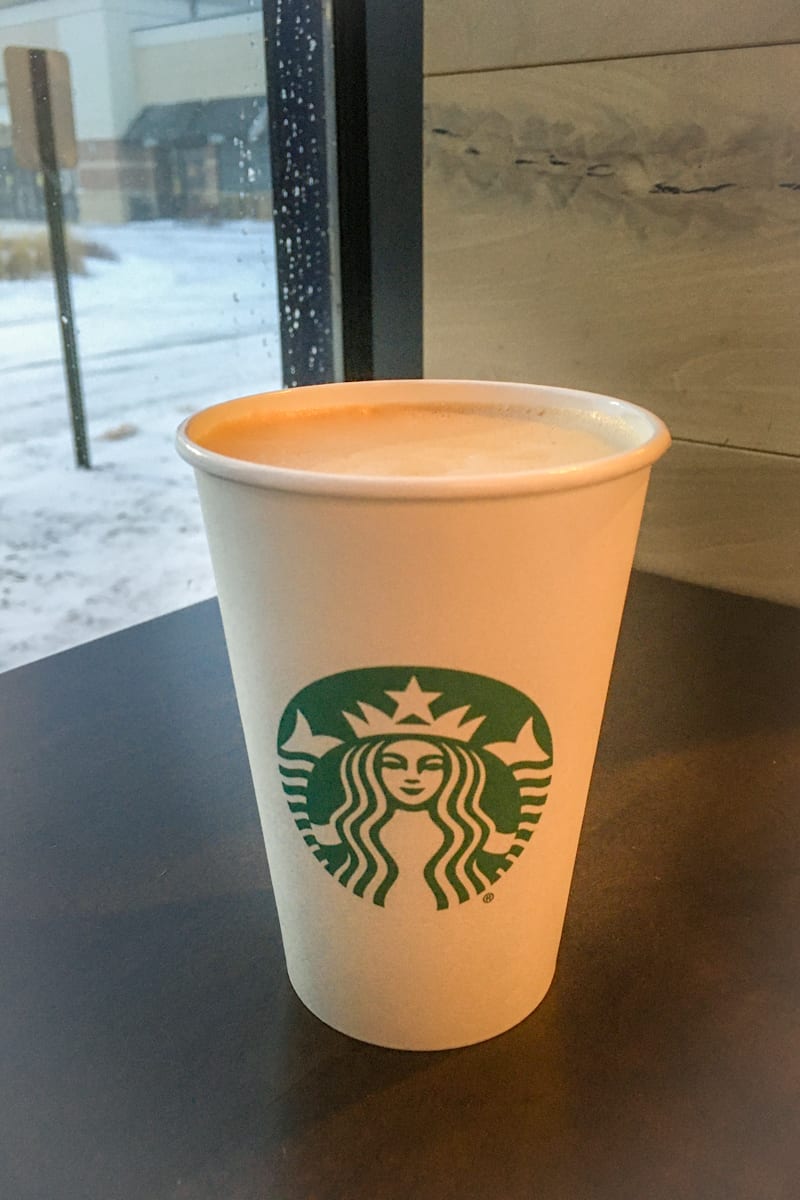 Starbucks Lattes
Starbucks lattes are one of their most popular hot espresso beverages. Of course, Starbucks customers love iced lattes, too.
As far as I'm concerned, if you want a creamy coffee drink, then a latte is the way to go.
Honestly, rich espresso combined with steamed milk is the perfect way to warm-up and start the day.
Obviously, you can take your latte up a notch at Starbucks with syrups, sauces and toppings.
Perhaps the most famous of all Starbucks lattes is the Pumpkin Spice Latte—PSL, for short. Every fall, coffee drinkers can't get enough of this pumpkin drink at Starbucks.
But day-in and day-out, Starbucks Blonde Vanilla Latte is a customer-favorite.
The thing is, it's Starbucks, and options and customizations abound, even for lattes.
In this Starbucks Latte Guide I show you all there is to know about ordering a latte.
For instance, see all the lattes on the menu, plus ways to customize this drink and make it your very own.
In a nutshell, here's everything you need to know about Starbucks lattes.
RELATED: Espresso Drinks at Starbucks: Every Type Explained
What is a Latte at Starbucks?
A latte is an espresso beverage made with shots of espresso and milk. It can be made hot with steamed milk or cold over ice.
At Starbucks, a basic, two-ingredient latte is called a Caffè Latte and the amount of espresso and caffeine in it depends on the drink size ordered.
To make a latte, the Starbucks barista first pours espresso shots into a cup. Steamed milk is then poured on top. A scoop of milk foam finishes it off.
The frothy steamed milk makes the latte super creamy and even adds a touch of sweetness. Some lattes even come with whipped cream.
For an Iced Caffè Latte, cold milk and ice replace the steamed milk.
And flavored lattes have syrup added in.
Keep in mind, if you add in syrup or ask for less ice, the amount of milk (not espresso) is adjusted.
What's in a Latte
Espresso
Milk
Flavored Syrup (optional)
Whipped Cream (optional)
Drizzles & Toppings (optional)
Ice (for iced lattes)
Lattes with chocolate sauce added in are called mochas. Check out this Complete Guide to Starbucks Mocha Drinks for more information.
Amount of Espresso and Syrup in Starbucks Lattes
The amount of caffeine in a Starbucks latte depends on the size drink you order and the number of shots of brewed espresso in it.
| | | |
| --- | --- | --- |
| Starbucks Cup Size | Shots of Espresso | Pumps of Syrup |
| Short (hot only) | 1 | 2 |
| Tall | 1 | 3 |
| Grande | 2 | 4 |
| Venti (hot) | 2 | 5 |
| Venti (iced) | 3 | 6 |
Shots of espresso and pumps of syrup in lattes at Starbucks.
Starbucks Latte Flavors
Starbucks has a lot of the best latte flavor combinations listed on the coffee menu and each is available hot or iced.
If you're a tea drinker, here's a look at all Starbucks tea lattes.
RELATED: Starbucks Holiday Drinks & Syrups: Every Festive Flavor
How to Order a Starbucks Latte
At Starbucks, you can create your own signature latte from the flavors you love the most.
Any espresso roast, type of milk and flavored syrup is fair game.
When it comes to ordering a Starbucks espresso-based latte, there are a few options to select. Here's how to order a latte.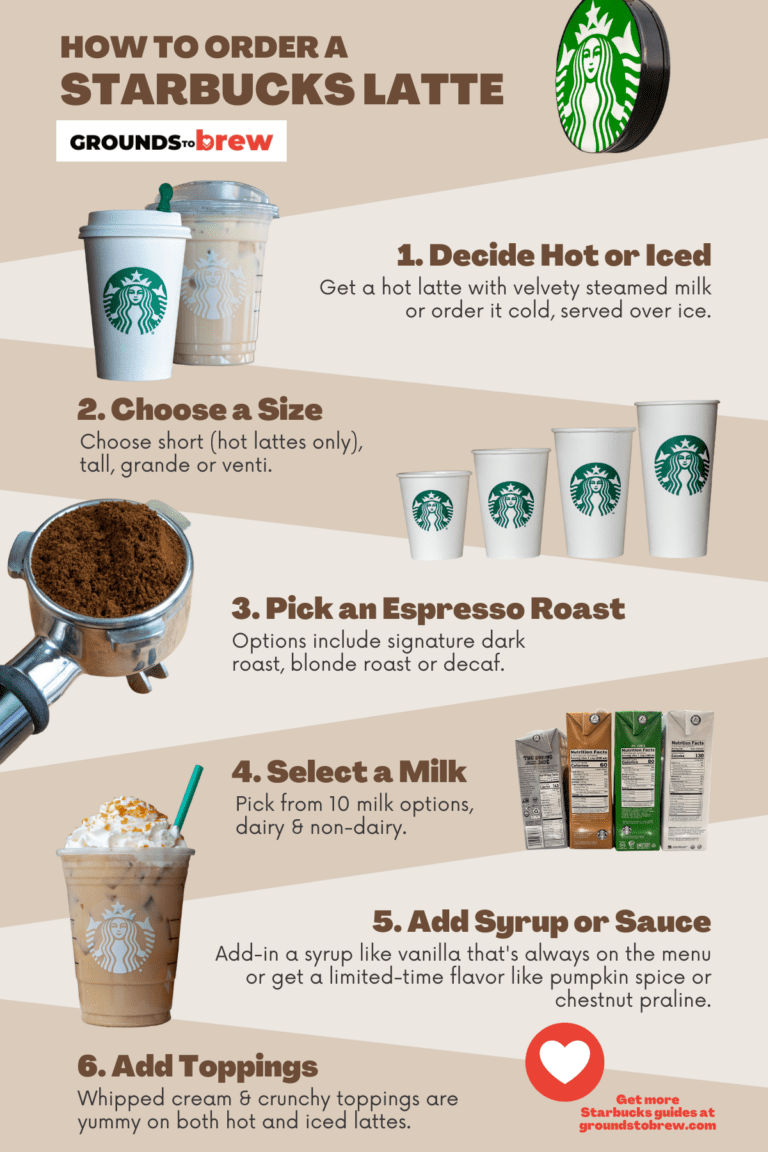 1. Decide if you want a hot or iced latte.
Starbucks hot and iced lattes are both delicious ways to enjoy this espresso classic.
It really all depends on whether you want something to warm you up or cool and refreshing.
2. Choose a drink size.
If you look at the chart above, notice hot cups sizes range from short (8 oz) up to a venti hot cup (20 oz).
On the other hand, cold cups begin at the tall size (12 oz) and go up to a venti cold cup (24 oz).
One thing to consider when selecting a cup size, is the amount of espresso in it. If you're trying to amp up the caffeine, notice that a hot venti latte has the same number of shots of espresso as a grande, for example.
Here are all the available drink sizes at Starbucks.
3. Pick an espresso roast.
Most Starbucks stores have dark and blonde roast espresso beans.
Dark roast is the standard espresso used for all Starbucks espresso-based drinks including lattes.
Most locations have decaf espresso, as well.
What this means is, if you prefer blonde roast or decaf over dark, be sure to ask for it specifically.
By the way, did you know blonde roast has more caffeine than dark? If you're after a whole lot of caffeine, here's a list of Starbucks most-caffeinated coffee drinks.
4. Select a type of milk.
Starbucks standard milk option for lattes is 2% dairy milk.
However, there are quite a few other milk options at Starbucks, including dairy and plant-based.
Keep in mind, lattes are milk-forward drinks, so the milk you select definitely has a big impact on flavor and creaminess.
For a latte with half & half instead of milk, order a Breve Caffè Latte.
RELATED: What is a Breve? (and How to Order It at Starbucks)
5. Add a flavored syrup or sauce.
Remember, a Caffè Latte is simply espresso and milk, no syrup.
However, if you want a sweeter and more flavorful latte, then ask the barista to put in some syrup or sauce.
There certainly are plenty of options, with vanilla being a favorite of many.
Also, make note, sauces like pistachio or caramel brulee add more calories to a drink compared to flavored simple syrups.
Did you know, the pump size for sauces puts out twice the volume as syrup?
For example, one pump of syrup is equal to 1/2 tablespoon. Whereas, one pump of sauce equals 1 tablespoon.
6. Select latte toppings.
Hot lattes are either topped with a scoop of milk foam or whipped cream depending on what you order.
Iced lattes are either plain or come with whipped cream.
Additionally, some lattes like Cinnamon Dolce or Chestnut Praline have crunchy toppings sprinkled on the whipped cream.
The thing is, you can get these toppings, or any topping Starbucks has available, on any flavor of latte. So many options, I know!
RELATED RECIPE: Starbucks Iced Blonde Vanilla Latte Copycat
Skinny Starbucks Lattes
Skinny at Starbucks simply means the drink has no sugar or whipped cream and only uses non-fat milk.
This means it's entirely possible to get a skinny latte from Starbucks.
Skinny Caffè Latte
To get a skinny latte at Starbucks all you have to do is order a Caffè Latte with non-fat milk.
As it is, this latte does not come with added sugar or whipped cream. So, no worries there.
Skinny Vanilla Latte
A lot of people wonder if you can get a skinny vanilla latte.
And the answer is, yes, you absolutely can get a skinny vanilla latte at Starbucks since they have sugar-free vanilla syrup.
Soy Latte
To get a soy latte at Starbucks, simply swap out the regular 2% milk for soy milk
Additional plant-based milks at Starbucks include almond, coconut and oat.
RELATED: 8 Ways to Cut Calories at Starbucks & 41 Lowest-Calorie Starbucks Drinks on the Menu (No Hacks)
Starbucks Latte FAQs
Does Starbucks have a caramel latte?
To get a caramel latte at Starbucks order the Caramel Brulée Latte. It's made with caramel brulée sauce and is topped with whipped cream and a crunchy caramel brulée topping.
What is the best latte to get at Starbucks?
In my opinion, the best Starbucks latte is either the Caffe Latte or Vanilla Latte. Both are available in skinny versions, as well. Of course, Starbucks Pumpkin Spice Latte is a fan favorite every fall season beginning in August.
Related