Love Starbucks pumpkin spice lattes, but want to try something new? Here are 10 tips for ordering delicious customized pumpkin drinks at Starbucks.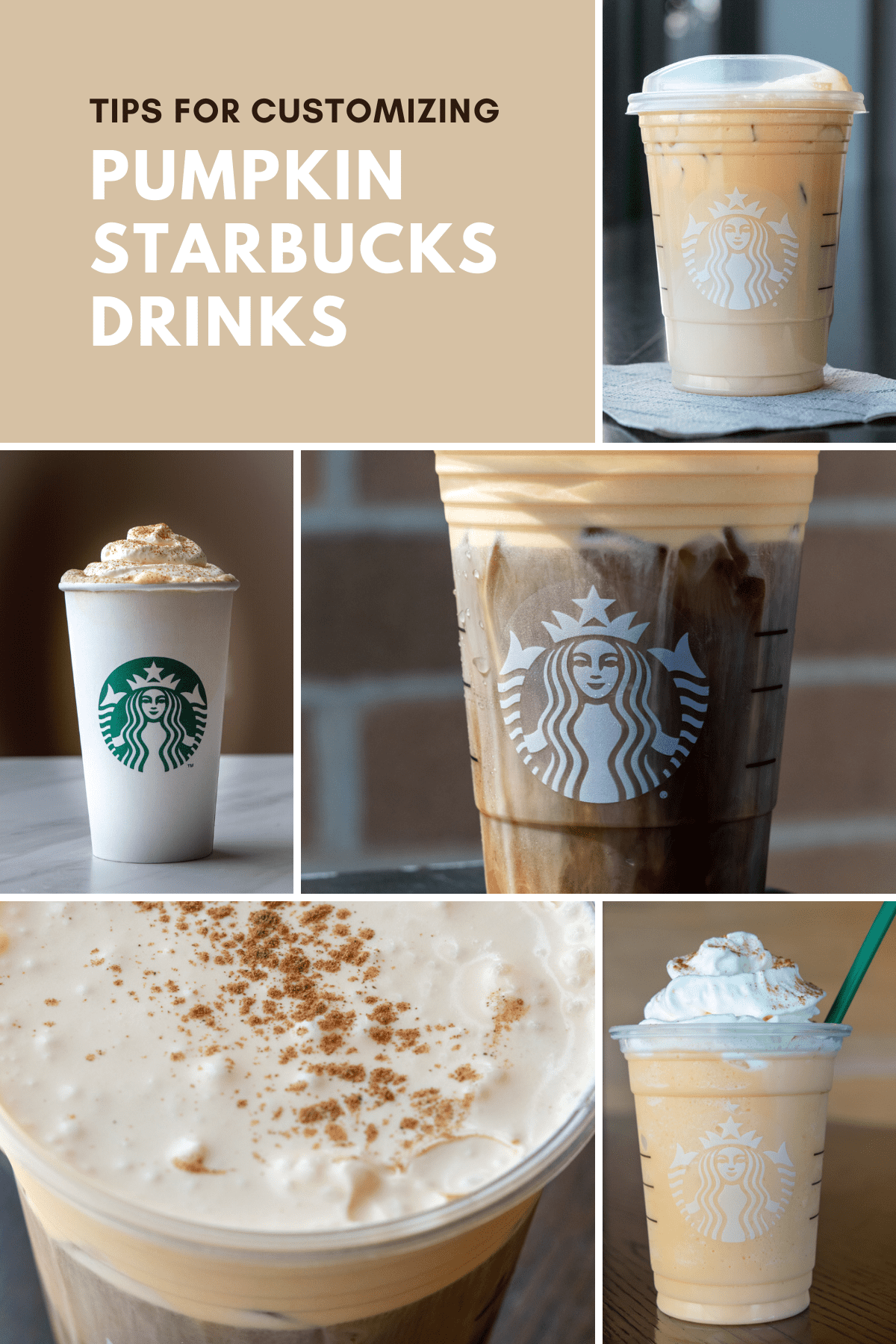 Do you anticipate that first sip of Starbucks pumpkin spice every year? Do cool crisp days make you crave a warm and toasty pumpkin spice latte?
If you love all-things pumpkin spice, then you know Starbucks has a solid line-up of pumpkin drinks on the menu.
You certainly can't go wrong getting the original pumpkin spice latte, pumpkin cream cold brew or a decadent fall-flavored frappuccino.
But your Starbucks order isn't limited to what's listed on the official menu. In fact, there are numerous ways to customize your own pumpkin drink creation.
Whether you order a pumpkin spice drink off the menu or go for a customized secret menu option, here are some barista tips to help you order a pumpkin spice beverage that tastes good.
1. Combine pumpkin and chai.
All the pumpkin drinks on the Starbucks menu combine pumpkin spice sauce with espresso or coffee.
But pumpkin spice sauce can be added to any drink and is especially delicious with chai tea.
Starbucks chai is a tasty blend of black tea infused with cinnamon, cardamom, ginger and nutmeg. It has all the flavors of fall.
As I'm sure you can imagine, the pumpkin chai combo is like a match made in heaven and definitely worth a try!
My favorite way to combine pumpkin and chai is really simple. Get an iced chai tea latte topped with pumpkin cream cold foam.
Another option is to add-in a few pumps of pumpkin spice sauce to a hot or iced chai tea latte. Yum!
2. Add pumpkin spice to any espresso drink.
Pumpkin Spice Latte is the original drink that began the entire pumpkin craze. But pumpkin spice isn't just for lattes.
You can add it to lots of other kinds of Starbucks espresso drinks, like a flat white, caffe mocha or even a caramel macchiato.
3. Customize a white chocolate mocha with pumpkin.
If you can't wait to get your hands on your favorite Starbucks holiday drink, then I'm sure you're very familiar with a peppermint white mocha. It's been around since the beginning of holiday drinks at Starbucks!
But have you ever tried a pumpkin white mocha? This treat in a cup brings together spicy pumpkin, sweet white chocolate mocha, espresso, milk, whipped cream and a dusting of pumpkin spice topping.
It certainly is a decadent option if you want a little variety in your pumpkin drinks.
4. Pair pumpkin with a complementary syrup.
Starbucks pumpkin spice sauce sweetens and flavors any drink it's added to. It's enough all on its own.
But if you just want a little something extra, Starbucks has a few syrup flavors that pair well with pumpkin.
Vanilla or Sugar-free Vanilla Syrup
Caramel Syrup
Cinnamon Dolce Syrup
For example, you can order a pumpkin cream cold brew and substitute the vanilla syrup that's already in the drink with another tasty flavor.
Or you can add some syrup to a pumpkin spice latte and make a drink like a vanilla iced pumpkin spice latte.
5. Make it decadent with a drizzle.
Who doesn't love a slice of pumpkin pie with a big dollop of whipped cream on top and caramel drizzle everywhere?
Now imagine that in drink form. All you have to do is ask for caramel drizzle on top of any pumpkin drink.
Caramel is equally delicious drizzled all over a whipped-cream topped pumpkin spice latte or frappuccino, or on top of a pumpkin cream cold brew.
If you prefer, ask for drizzle lining the inside of the cup. This way every sip has caramel mixed in.
Other drizzle options that taste good with pumpkin are chocolate mocha sauce or caramel brulee (available when the fall and holiday seasons overlap).
6. Don't go overboard with extra pumps of syrup and sauce.
Sometimes too much of a good thing isn't good at all. I mean, you don't want to order something that sounds heavenly but turns out to be a big glop of sugar.
To avoid this, customize your pumpkin drink with the normal number of pumps of syrup or sauce for each size. For example, tall, grande and venti iced drinks always get 3, 4 and 6 pumps respectively.
So, if you want to custom order a venti iced pumpkin white chocolate mocha, ask for 3 pumps of mocha sauce and 3 pumps of pumpkin spice sauce. Or do 4 pumps of one and 2 of the other. Just don't exceed a total of 6 pumps for an iced venti.
7. Order a caffeine-free or decaf pumpkin drink.
So you can't resist getting a pumpkin drink from Starbucks, but really don't want all the caffeine. What to do?
In fact, the Starbucks fall menu boasts two caffeine-free pumpkin drinks—Pumpkin Spice Creme Frappuccino and Pumpkin Spice Steamer. Neither drink has coffee in it.
If you still want a pumpkin coffee, get a hot or iced pumpkin spice latte made with decaf espresso.
8. Reduce the dairy.
Starbucks pumpkin spice sauce contains condensed milk so there's no way to order a completely dairy-free pumpkin drink from Starbucks.
But there are ways to reduce the amount of dairy in that pumpkin spice latte you've been craving.
First, swap the 2% reduced-fat milk for a milk alternative. Starbucks milk options include soy, coconut, almond and oat. Second, ask for no whipped cream.
Can't have dairy at all? Here are some completely dairy-free drinks at Starbucks.
9. Keep an eye on the calories.
Starbucks has lots of low-calorie drinks on the menu that are 100 calories or less. Pumpkin drinks don't make the cut.
In fact, grande size, standard pumpkin drinks from the menu range from 250-420 calories. Pumpkin Cream Cold Brew has the least calories and the Pumpkin Spice Frappuccino has the most.
As you can guess, with every additional pump of syrup, drizzle of sauce, dollop of whipped cream or extra crunchy topping, comes additional calories.
To keep the calorie count within reason when you customize your drink, keep an eye on all the extras.
To limit calories further, you can order your pumpkin drink without whipped cream, ask for less pumps of sauce or swap the type of milk.
Here are some more tips for cutting calories on Starbucks drinks.
10. Watch the cost.
Add-in customizations don't just cause calorie bloat. They may also increase the drink's cost.
Starbucks has some cheaper drinks, but heavily customized drinks almost always cost more.
One thing to note, there's not an up-charge for adding more pumpkin spice sauce to a drink that already has it in it. Additionally, spice toppings like cinnamon or pumpkin spice are free.
And remember you can use Starbucks Rewards for free drinks or towards customizations. Here are some more helpful tips for customizing drinks at Starbucks.
Questions You May Have
Does it cost more to add pumpkin sauce to a Starbucks drink?
If you add more pumps of pumpkin spice sauce to a Starbucks drink that already has pumpkin spice in it, then there is no up-charge. However, if you add pumpkin spice sauce to a non-pumpkin drink recipe, then there is cost for the customization.
When is pumpkin spice available at Starbucks?
Starbucks pumpkin spice drinks are available for a limited time on the fall menu beginning near the end of every August. You can order a pumpkin drink as long as your Starbucks location still has syrup available.
What pumpkin bakery items does Starbucks have?
Starbucks has pumpkin bakery items like pumpkin loaf, pumpkin cream cheese muffins, pumpkin scones and even a spicy pumpkin fox cake pop.
Related