See how easy it is to make brown sugar simple syrup like Starbucks with this two-ingredient recipe. It's perfect for sweetening coffee, tea and drinks like the new Starbucks Iced Brown Sugar Shaken Espresso.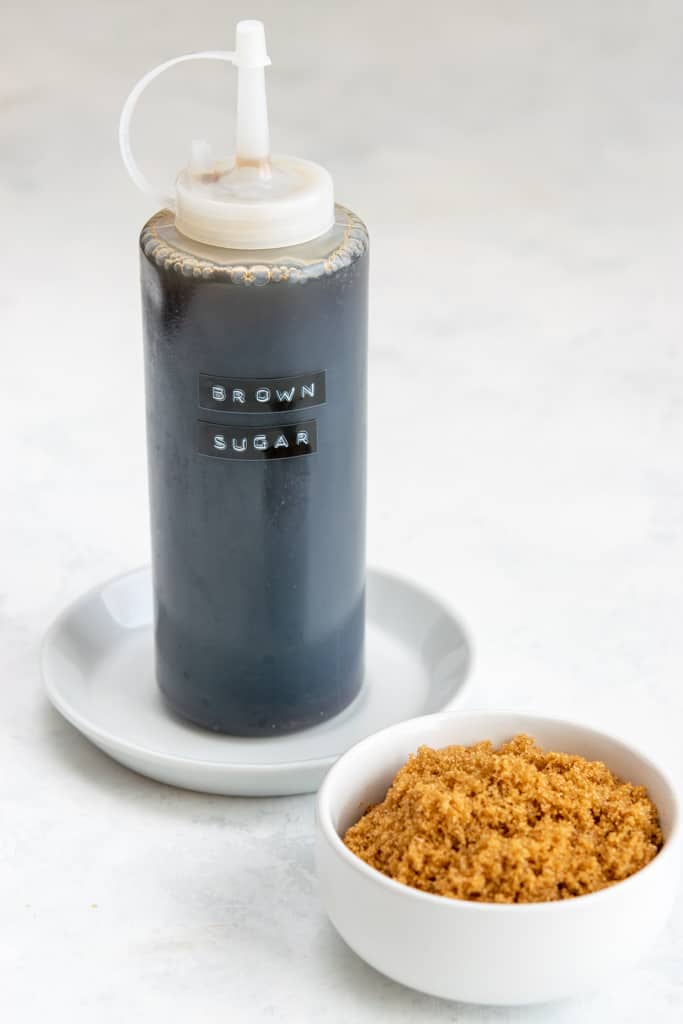 Homemade Brown Sugar Simple Syrup Recipe
This DIY Starbucks brown sugar simple syrup recipe is incredibly easy to make and adds a rich, sweet flavor to coffee, tea and many other drinks.
Since the brown sugar is already dissolved, this simple syrup mixes perfectly into both cold and hot drinks.
For example, I use this syrup to make the new Starbucks drink, Iced Brown Sugar Oatmilk Shaken Espresso at home.
What I love about brown sugar syrup is that since the sugar contains molasses, the syrup has a bit of a caramel flavor.
In other words, brown sugar syrup adds flavor as well as sweetness.
On the other hand, syrups like Starbucks Classic have one job—sweeten the drink.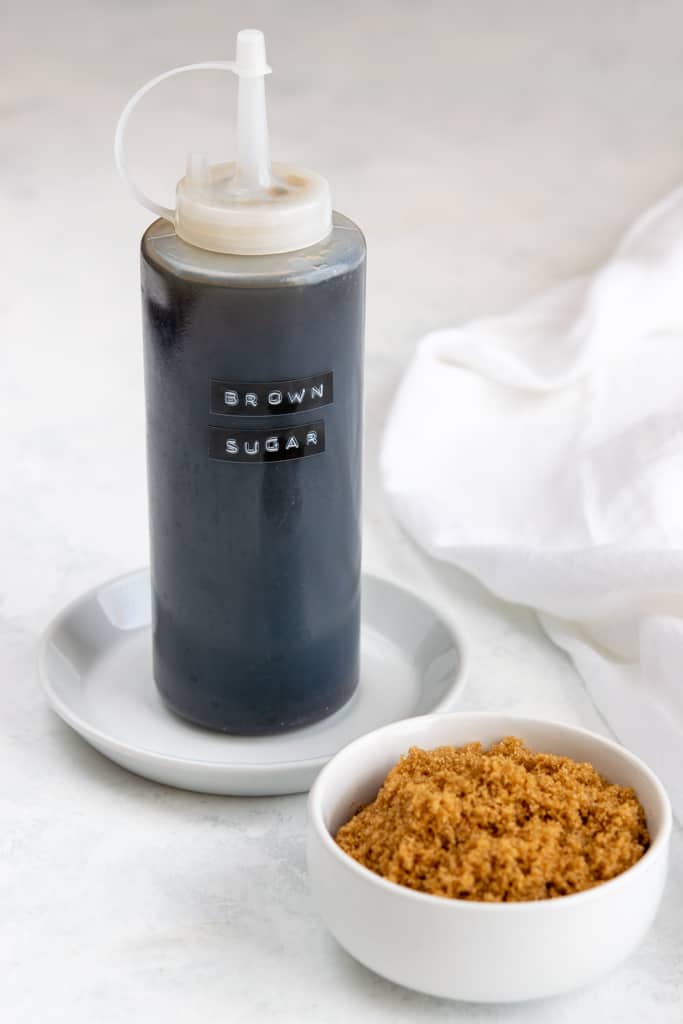 How to Make Simple Syrup
If you've never made your own homemade simple syrup before, you definitely should give it a try.
Here are a few reasons why I like to stock my refrigerator with a collection of homemade simple syrups.
Simple syrup is easy to make since most recipes only have two to three ingredients.
It's inexpensive to make since its main ingredients are sugar and water.
Homemade simple syrup is a lot cheaper than buying bottles of coffee syrup from the store.
You can keep a variety of flavors on-hand to make all sorts of drinks. For instance, I always have a bottle of homemade Starbucks vanilla syrup in my fridge. I use it for homemade iced caramel macchiatos. I also use it to make these other Starbucks copycat recipes: vanilla sweet cream cold foam and Starbucks whipped cream.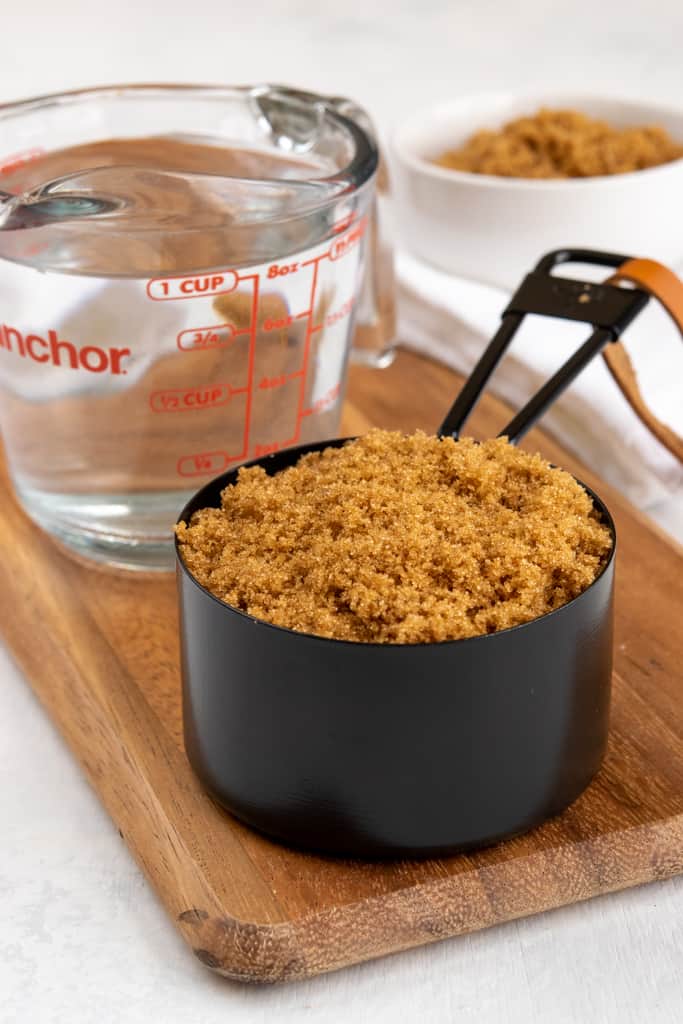 In general, most simple syrup recipes are a one-to-one ratio of sugar to water. That's it; two ingredients.
Of course, you can make the syrup sweeter with additional sugar or lighten it up a touch by using less.
And making flavored simple syrups is a no-brainer, too.
All you have to do is add a little extract or infuse flavor with things like citrus peels, mint leaves, vanilla beans or cinnamon sticks.
For instance, it's a snap to make peppermint syrup with a few drops of peppermint extract. This syrup is delicious in fun holiday drinks like peppermint iced coffee.
Anyway, I think you get the point. Making simple syrup is…simple.
So, let's make some brown sugar syrup.
Brown Sugar Syrup Recipe
To make brown sugar syrup, combine equal parts of water and sugar in a saucepan. Bring the mixture to a simmer and stir until the sugar is dissolved. Remove from heat, cool the syrup, and pour into a bottle. The syrup thickens as it cools.
Store the syrup in the refrigerator.
Since sugar is a preservative, it will be good for 4-6 weeks. However, don't be surprised if you use it up before it "expires."
What I love about making this simple syrup is that it's easy to adapt the recipe to however much you want to make.
All you have to do is use equal parts of brown sugar and water.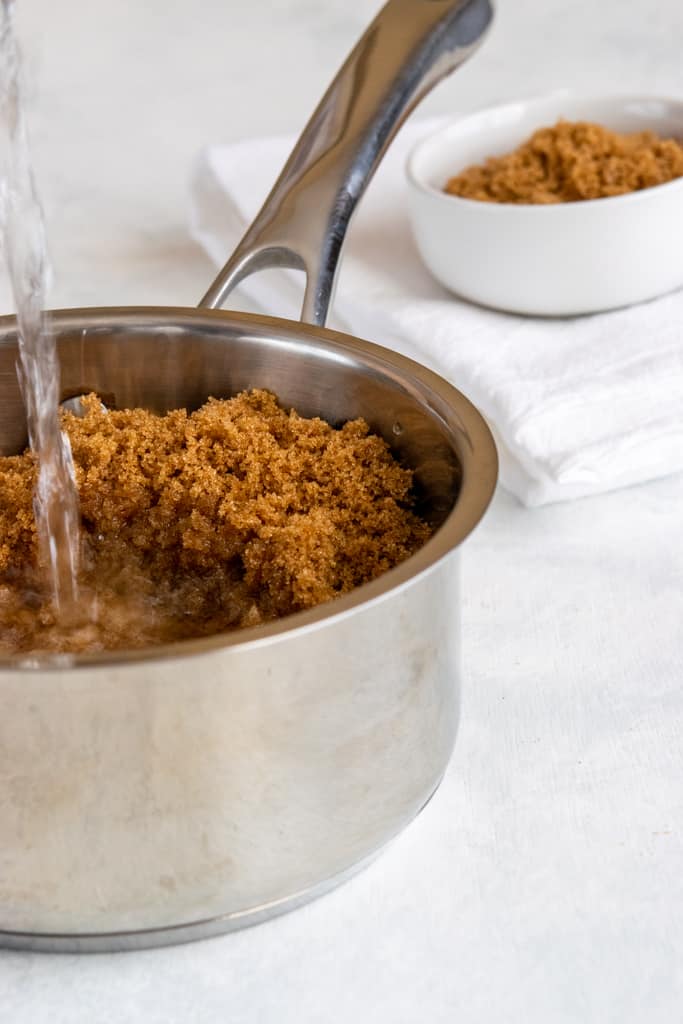 Light vs Dark Brown Sugar
By now, you may be wondering if you should make syrup with light brown or dark brown sugar.
And the answer is, it's a matter of taste.
Refined brown sugar is simply white sugar combined with molasses. And the difference between light and dark brown sugar is the amount of molasses in each. Overall, dark brown sugar contains almost twice as much molasses as light.
So what does this mean as far as brown sugar syrup goes?
Basically, syrup made with dark brown sugar has a richer caramel flavor compared to light brown.
Just keep in mind, while the type of brown sugar is interchangeable for syrup, this isn't always the case for baking.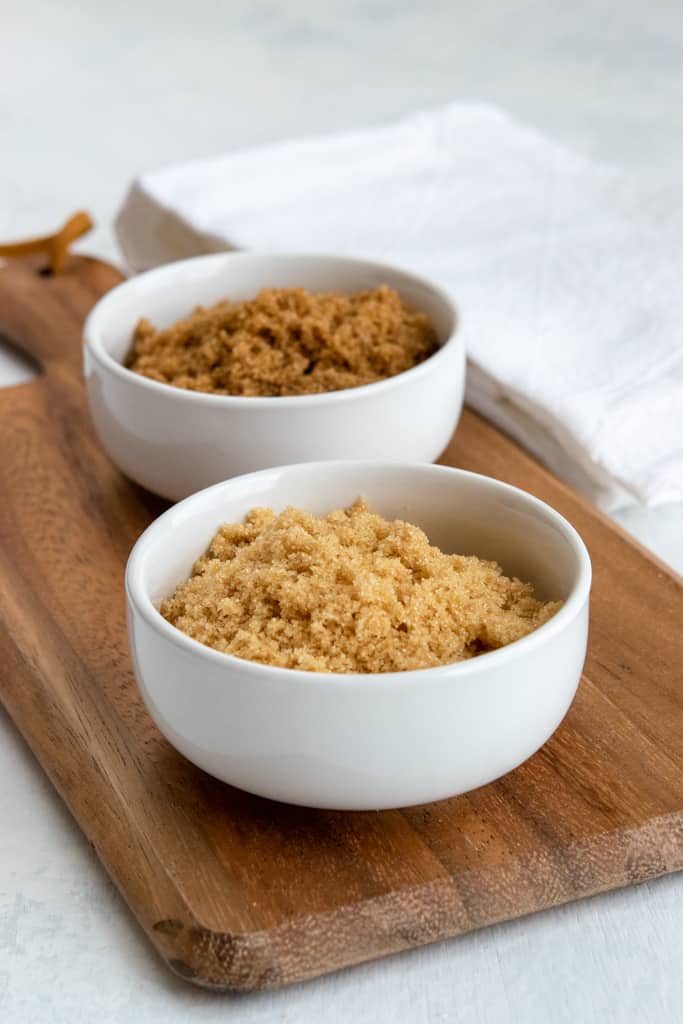 Equipment for Making Simple Syrup
Luckily, you don't need any fancy or pricey kitchen tools to make simple syrup at home. Really, all you need is a a saucepan and stove.
However, I strongly recommend making simple syrup with filtered water.
Therefore, if you don't have a water filtration system, a Brita filter pitcher is practically a must-have. Not to mention, you can also use it to make better-tasting coffee, tea, lemonade and ice cubes.
Starbucks Brown Sugar Syrup
Starbucks brown sugar syrup is basically brown sugar simple syrup, although it has a few more ingredients.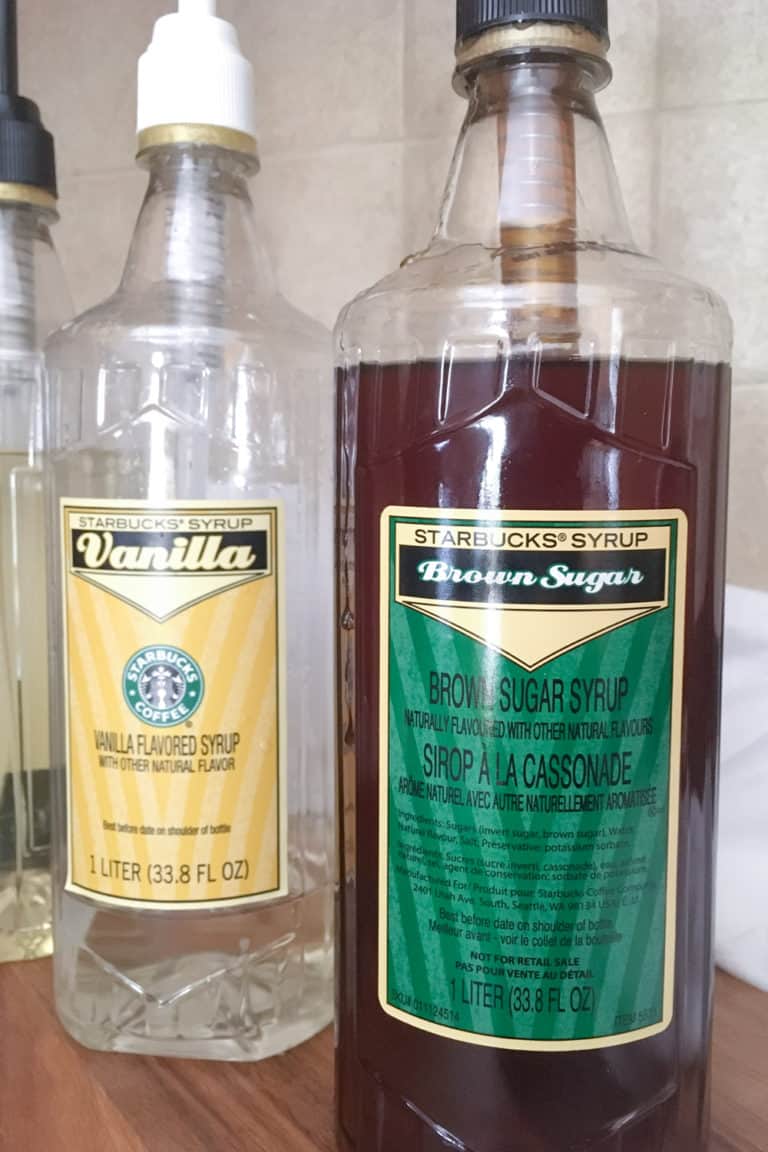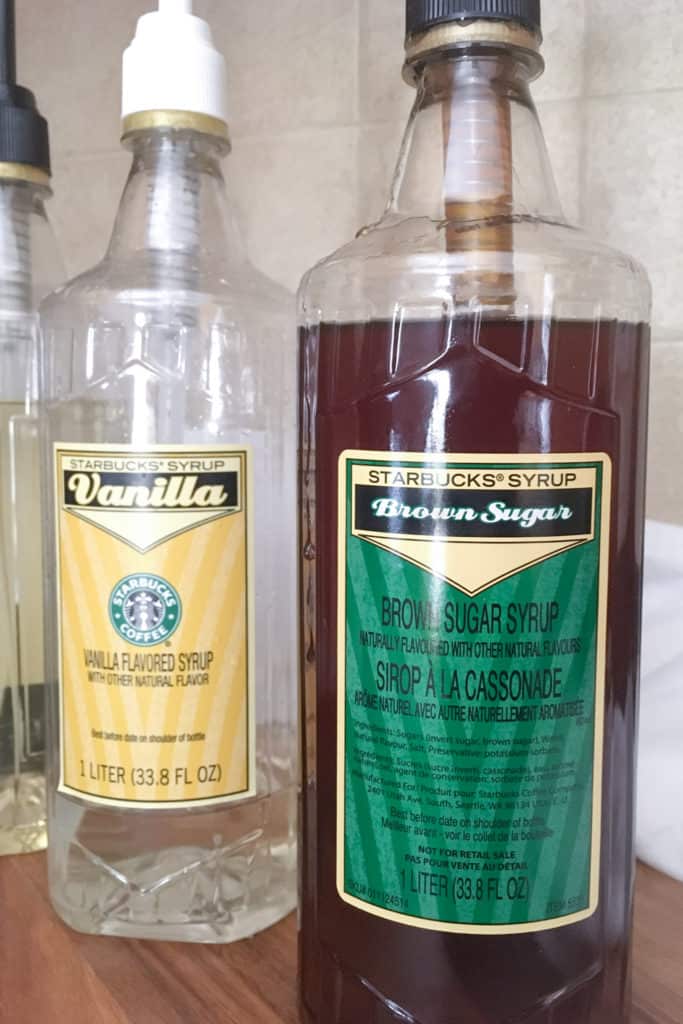 Take a look at the Starbucks Brown Sugar Syrup label. Notice the ingredients include:
Invert Sugar and Brown Sugar
Water
Natural Flavors
Salt
Preservatives
Therefore, to make brown sugar like Starbucks I like to add a touch of salt, as well.
Salt brings down bitterness and increases perceived sweetness, making it ideal for coffee.
Love Brown Sugar Syrup? Then give my recipe for cookie butter syrup a try!
More Starbucks Syrup & Topping Recipes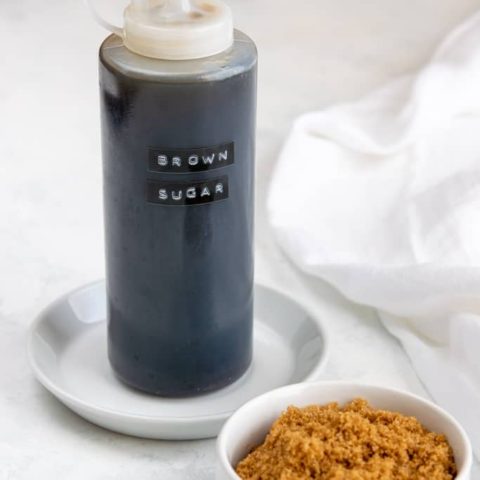 Starbucks Brown Sugar Simple Syrup Copycat
Easy copycat Starbucks brown sugar simple syrup recipe for coffee, tea and drinks like Starbucks Brown Sugar Oatmilk Shaken Espresso.
Ingredients
1 cup brown sugar, light or dark
1 1/4 cup water, divided
3/4 teaspoon salt (optional)
Instructions

To Make Salt Solution (optional)
Combine 1/4 cup warm water and salt.
Stir until dissolved.
To Make Brown Sugar Syrup
Combine 1 cup water and brown sugar in saucepan over medium-low heat.
Bring to a simmer, stirring until sugar is dissolved.
Optionally, stir in 1/4 teaspoon of salt water. (The rest of the salt solution can be discarded.)
Remove from heat and cool. Then bottle in an airtight container.
Store brown sugar syrup in refrigerator.
Notes
This brown sugar recipe is perfect for making Starbucks new drink, Iced Brown Sugar Oatmilk Shaken Espresso.
Dark brown sugar makes a stronger molasses flavored simple syrup compared to light brown.
Variations include adding 1 teaspoon of vanilla extract or steeping a cinnamon stick in syrup while it simmers and cools.
Nutrition Information:
Yield:

20
Serving Size:

1 tablespoon
Amount Per Serving:
Calories:

36
Carbohydrates:

10g
Sugar:

10g