Quick and easy recipe for Starbucks pumpkin cream cold foam. This pumpkin cold foam topping is perfect for making your favorite Starbucks fall drinks at home, like pumpkin cream cold brew or a pumpkin cream iced chai latte.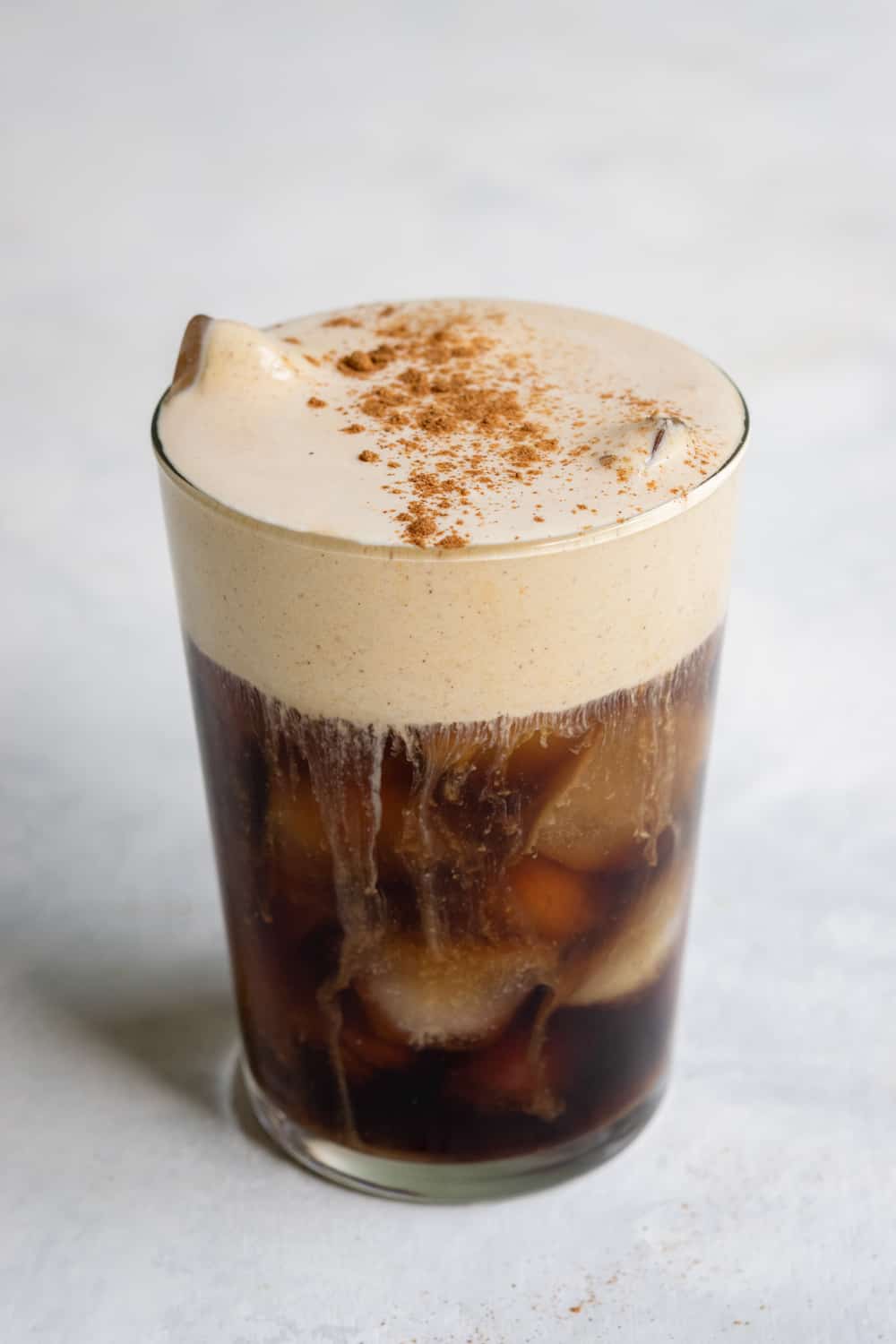 Starbucks Pumpkin Cold Foam
Starbucks Pumpkin Cream Cold Foam is a seasonal topping option typically served on cold brew coffee.
This tasty pumpkin cream is simply a mixture of vanilla sweet cream and pumpkin spice sauce.
The pumpkin cream is whipped into a foamy consistency with a special blender and is used to top drinks like the popular Pumpkin Cream Cold Brew or Pumpkin Cream Iced Chai.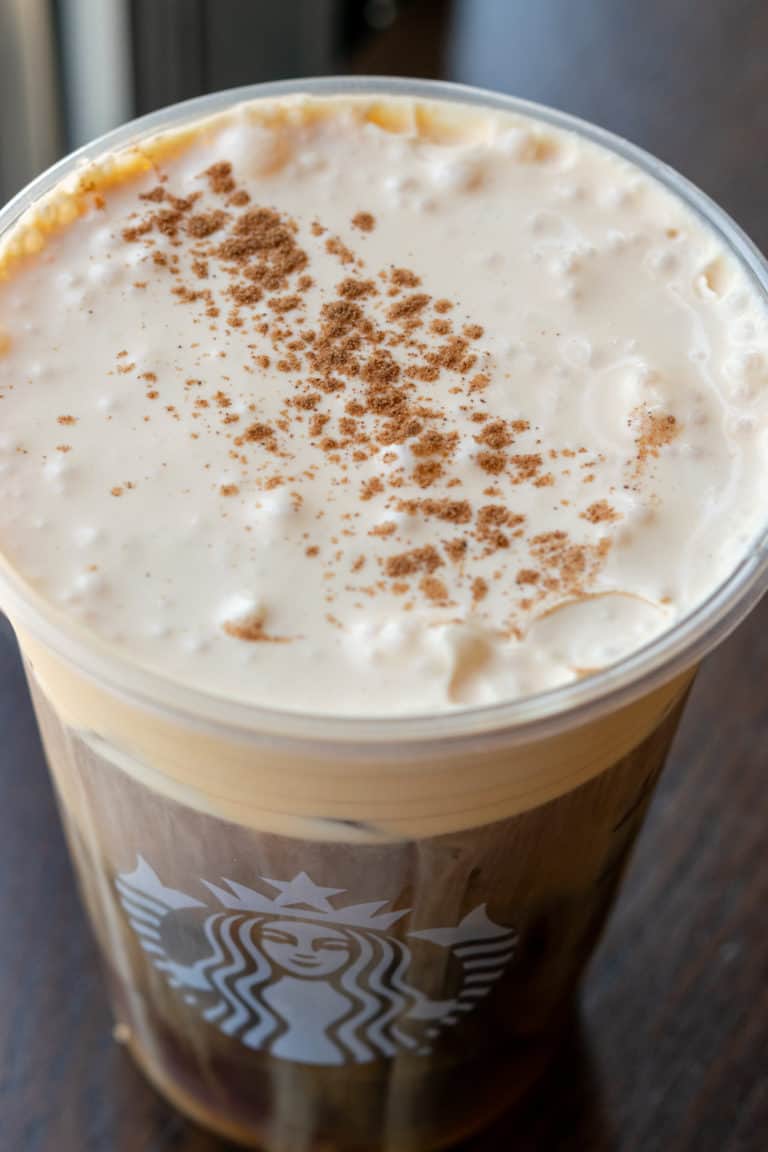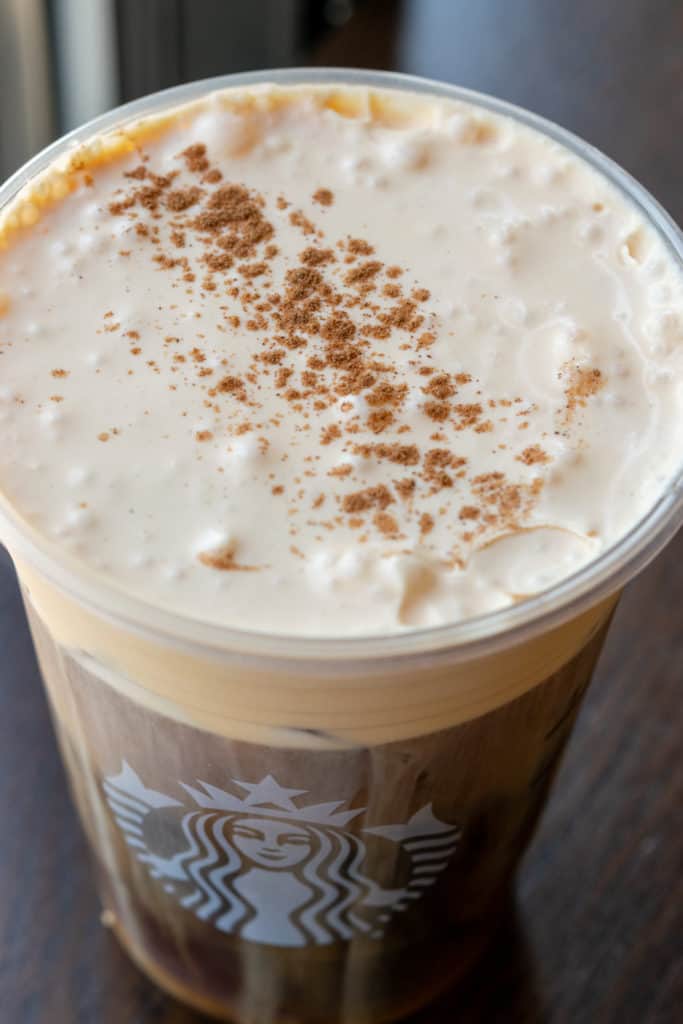 RELATED RECIPE: Homemade Brown Sugar Shaken Espresso with Pumpkin Cold Foam
Recipe Highlights
What I love about this copycat recipe for Starbucks pumpkin cream cold foam is that it's super simple to make and only has a few ingredients.
What's also great about this recipe is that it makes a large jar of pumpkin creamer to keep on-hand in the fridge.
Then, when you're ready to make your favorite fall drink, simply froth up just enough of the pumpkin creamer to make a topping of pumpkin cold foam.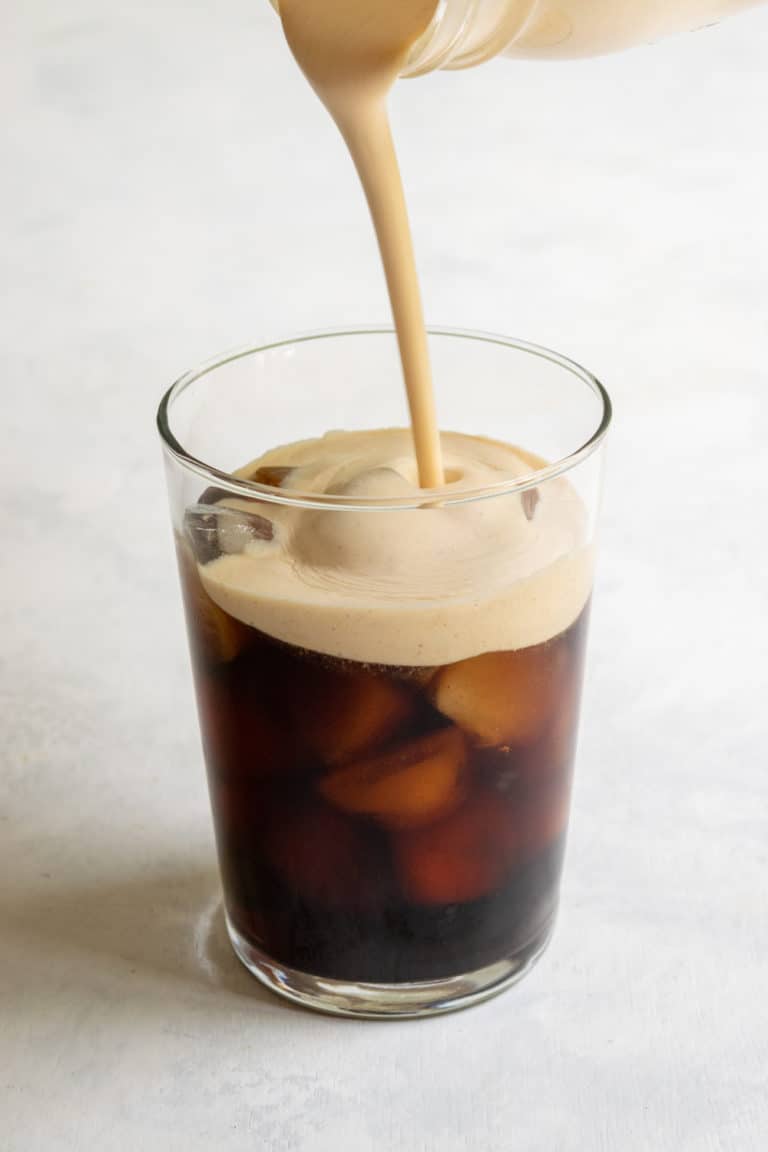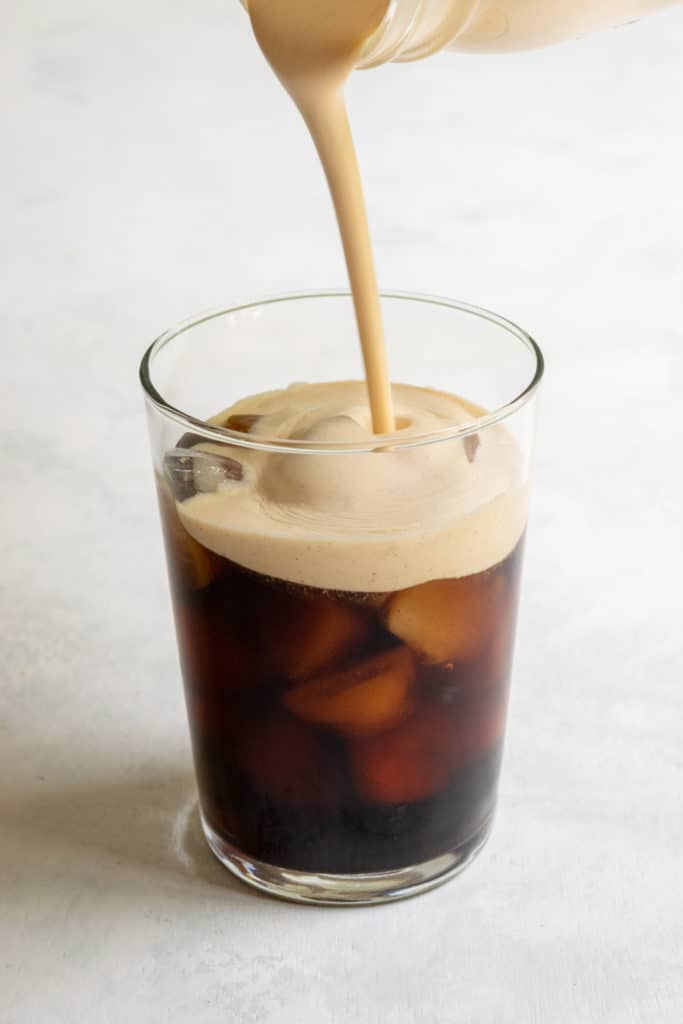 This copycat Starbucks pumpkin cold foam recipe is based on the real recipe with tips from a barista.
The recipe yields about 16 ounces of pumpkin creamer, enough to top four or more drinks.
To make pumpkin cold foam, only foam up as much creamer as you need per drink.
There are several ways to thicken up the pumpkin cold foam: shake it vigorously in a cold jar, use a handheld or electric milk frother, whisk or blend.
This recipe has been tested so it tastes as close as possible to Starbucks pumpkin cold foam and "whips" up into the foamy consistency we love.
RELATED RECIPE: How to Make Vanilla Sweet Cream Cold Foam
Ingredients & Notes
The ingredients Starbucks makes pumpkin cream cold foam with are cream, milk, vanilla syrup and pumpkin spice sauce. Just four ingredients, that's it, which makes it really easy to recreate at home.
Heavy Cream. This is what gives the cold foam its signature creaminess.
2% Milk. A small amount of milk thins out the cream so the cold foam isn't as thick as whipped cream.
Vanilla Syrup. The vanilla syrup adds flavor and sweetness. You can buy Starbucks vanilla syrup online or make this homemade vanilla syrup recipe with just 3 ingredients.
Pumpkin Spice Sauce. Starbucks turns vanilla sweet cream into pumpkin cold foam by combining it with pumpkin spice sauce. At home, the pumpkin spice sauce can be substituted with pumpkin puree, cinnamon and nutmeg.
Tip: Use cold ingredients, a cold bowl or jar, and cold utensils for the best cold foam.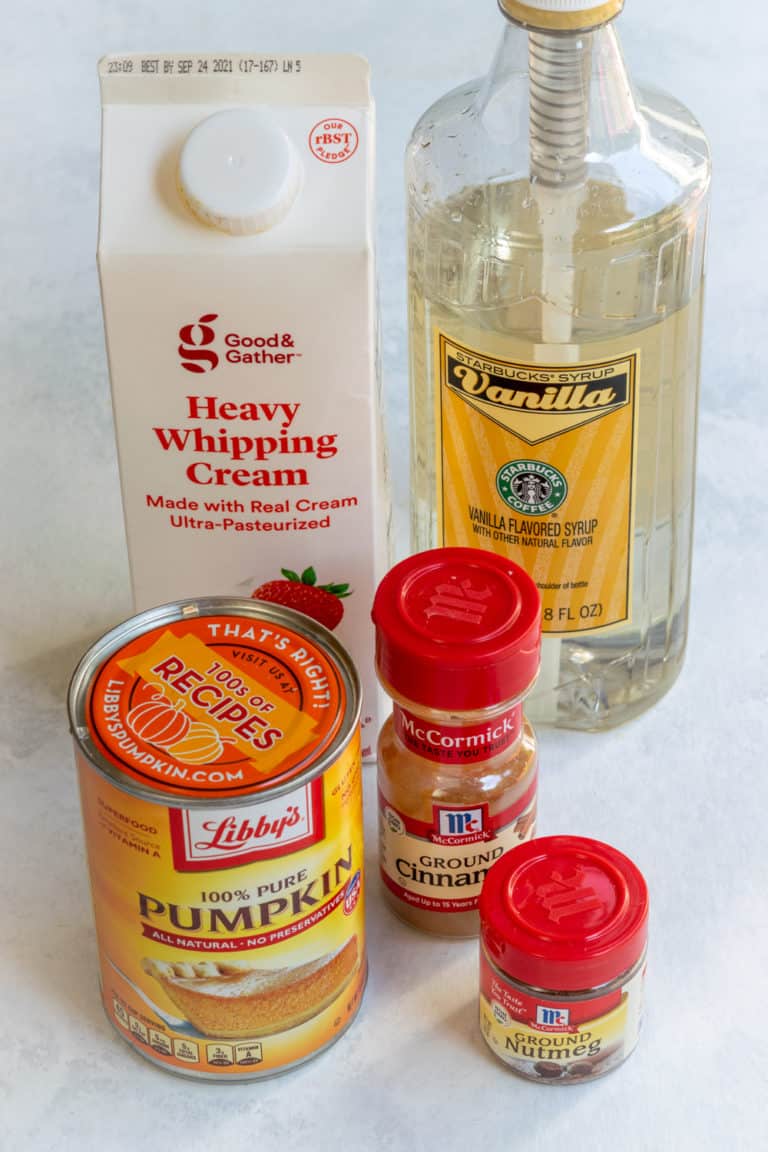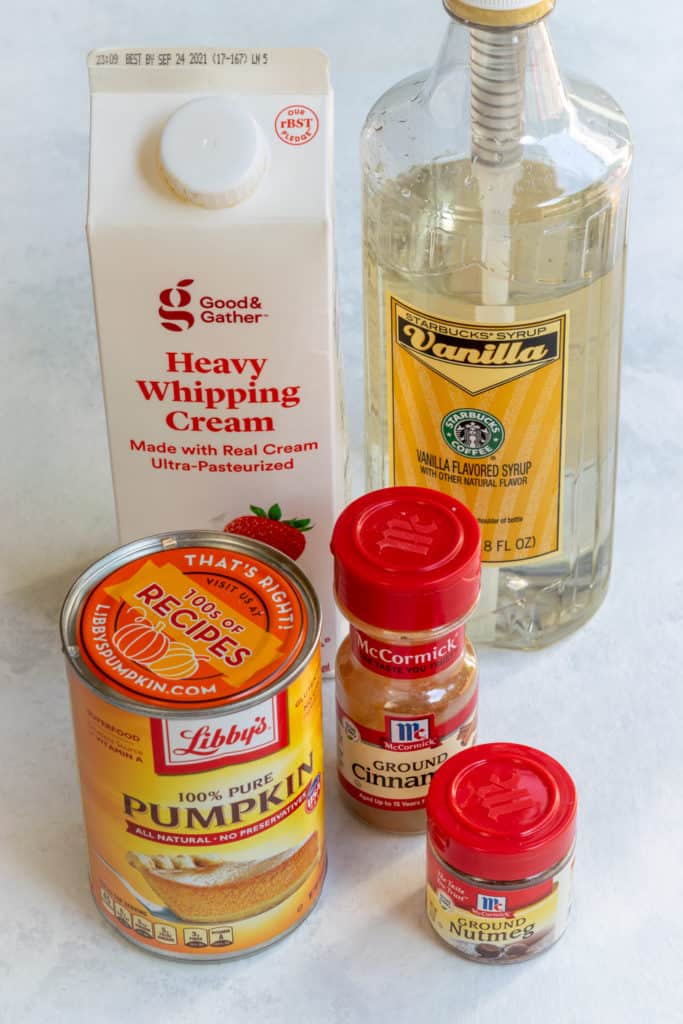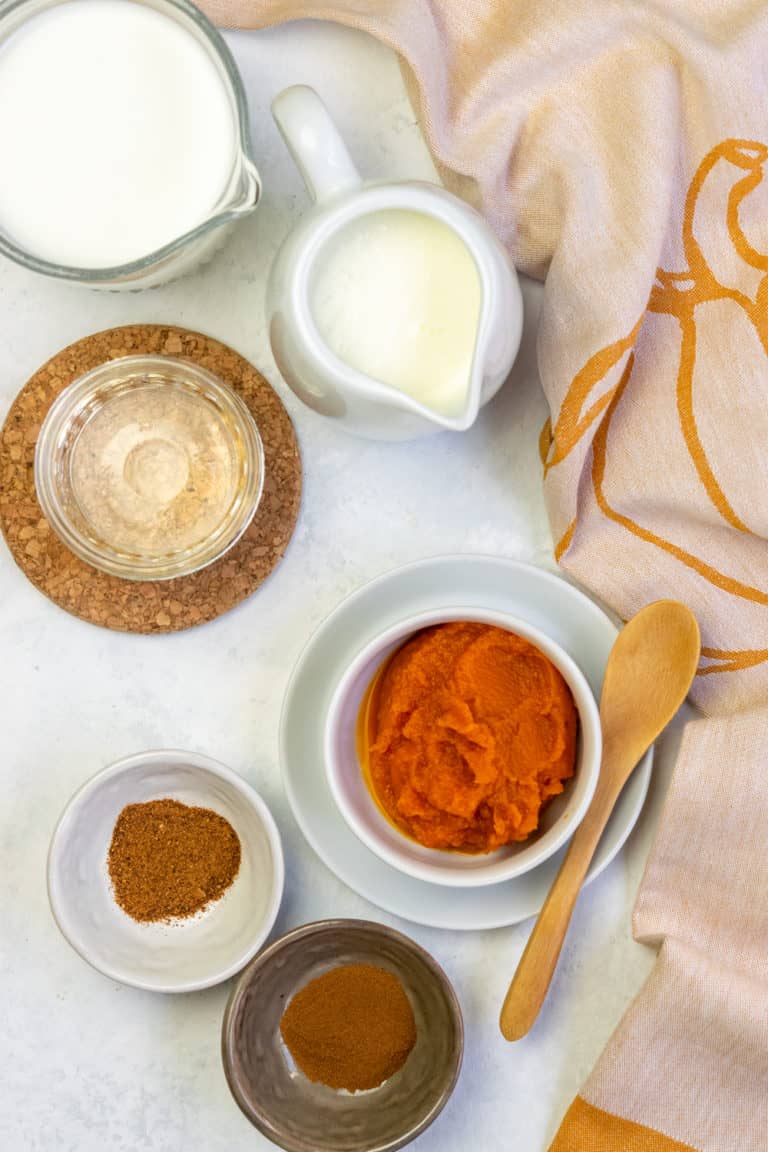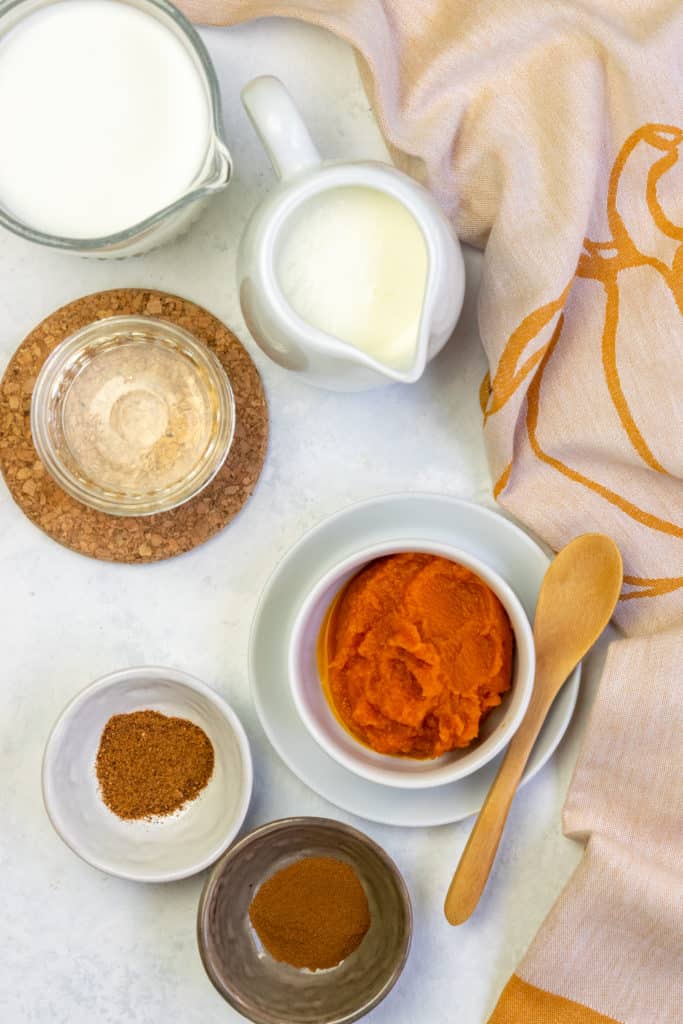 How to Make Pumpkin Cream Cold Foam
Make the pumpkin cream base. Add heavy cream, milk, syrup, pumpkin, cinnamon and nutmeg to a cold jar. Stir to combine.
Aerate the pumpkin creamer to create cold foam. Whisk, blend, shake or froth the pumpkin creamer until it thickens into cold foam. Only aerate as much creamer as you need for a drink using one of the methods described below. The remaining creamer should be stored in the refrigerator.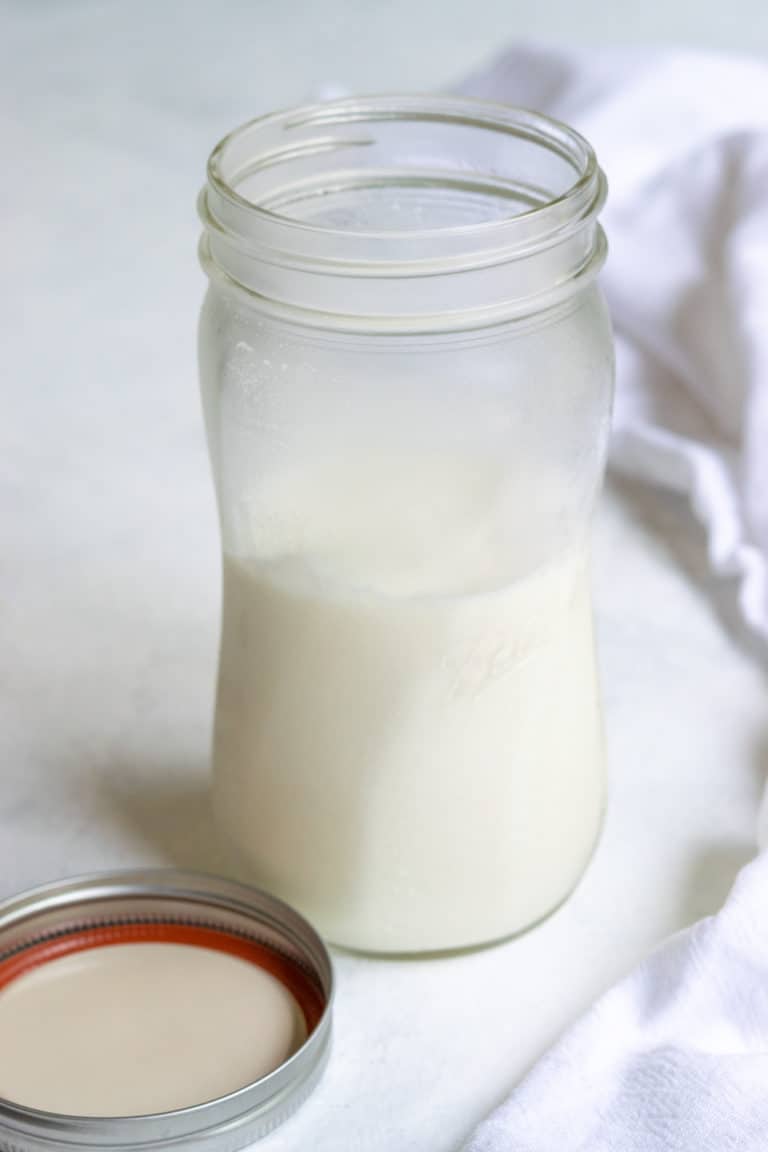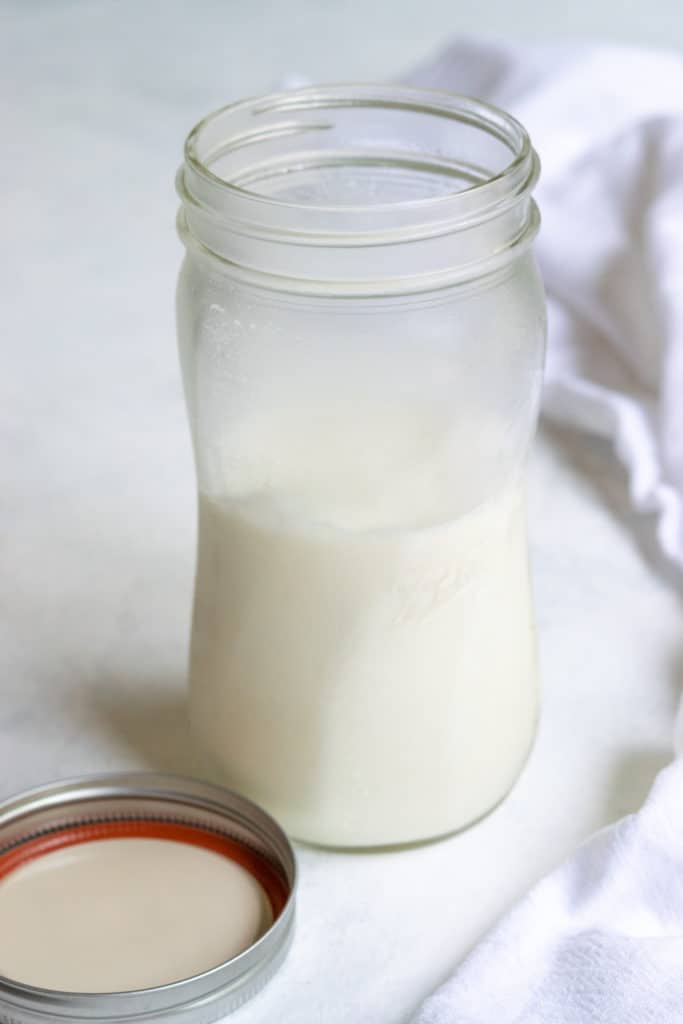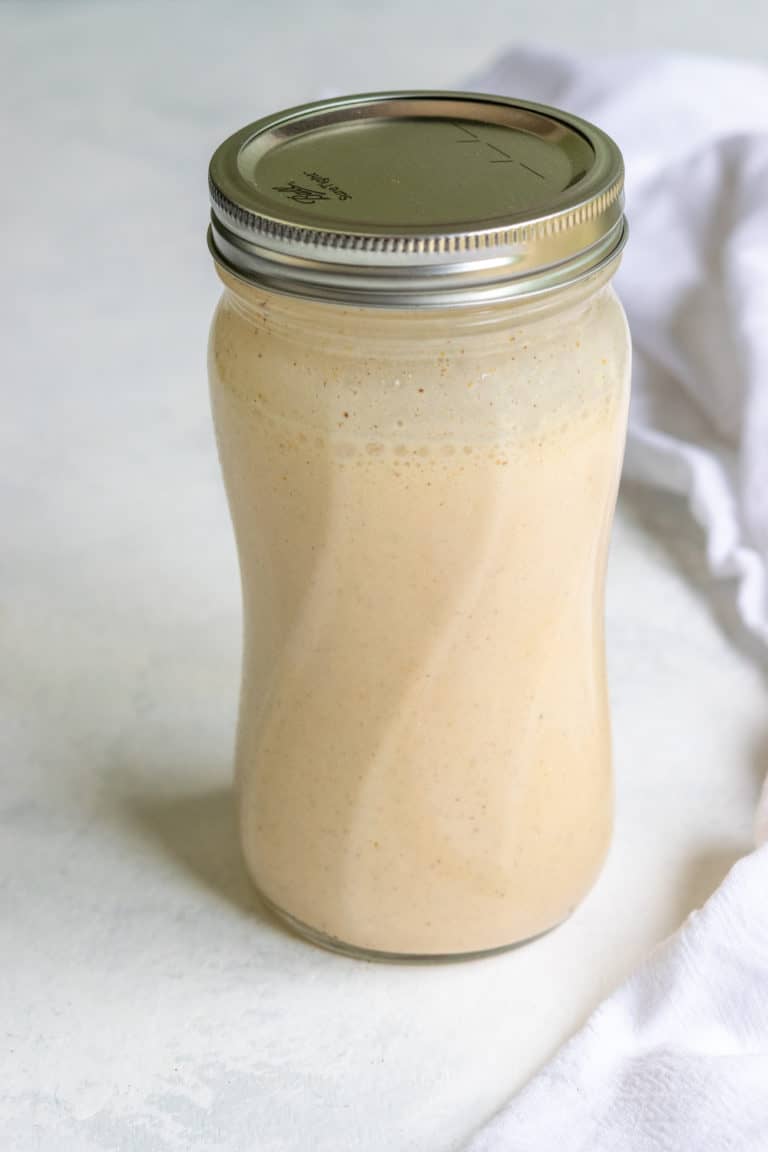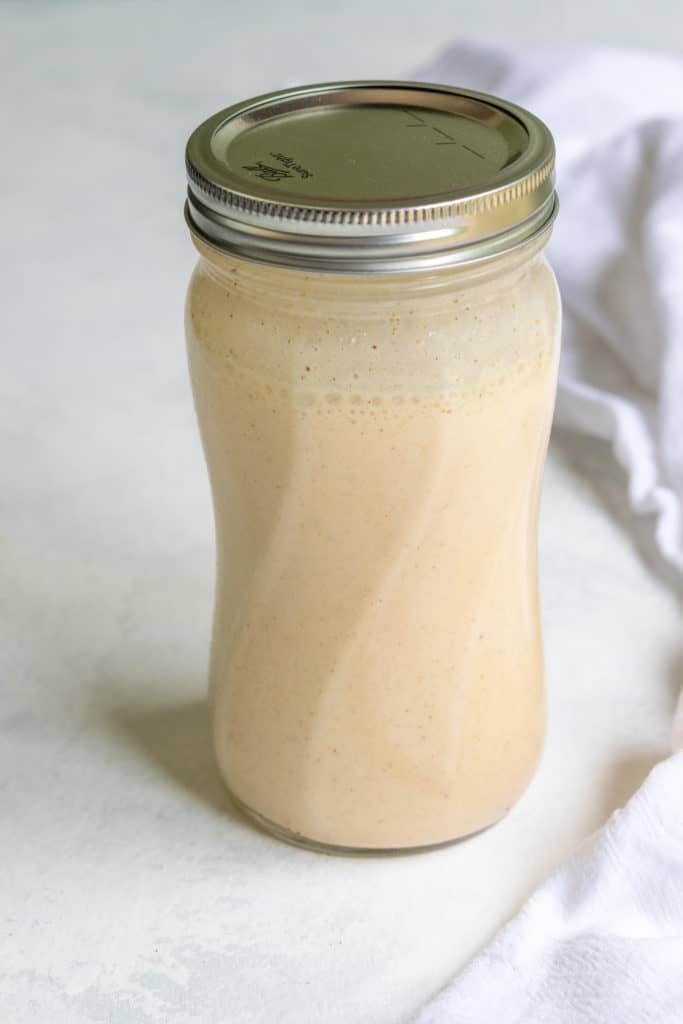 Methods to Turn Pumpkin Cream into Cold Foam
The consistency of pumpkin cream cold foam is akin to very melted ice cream. It is not as thick and creamy as Starbucks whipped cream. The goal is to create a velvety layer of pumpkin cold foam that rests on top of a drink and slowly cascades into it.
Cold Jar Method: The first method is to pour enough cream for an individual serving into a cold jar and shake it vigorously. This thickens it up really well and is my preferred method! You can stop at this point if you choose.
Handheld Milk Frother: If you want the cold foam a little thicker, take the shaking method a step further and use a handheld milk frother.
Electric Milk Frother: If you have an electric frother like my Nespresso Aeroccino or the Breville milk frother, you can use that for additional frothing after shaking the creamer in a cold jar. Make sure it's on the cold setting and froth it up.
Whisk or Blend: Another way to aerate the pumpkin creamer and transform it into cold foam is to whisk it vigorously or put some in a small blender.
French Press: A french press is my least favorite way for making cold foam. Sure it works ok if you're making a large batch of cold foam for several drinks, but it's not effective for making a single serving of cold foam since the plunger can't go that low.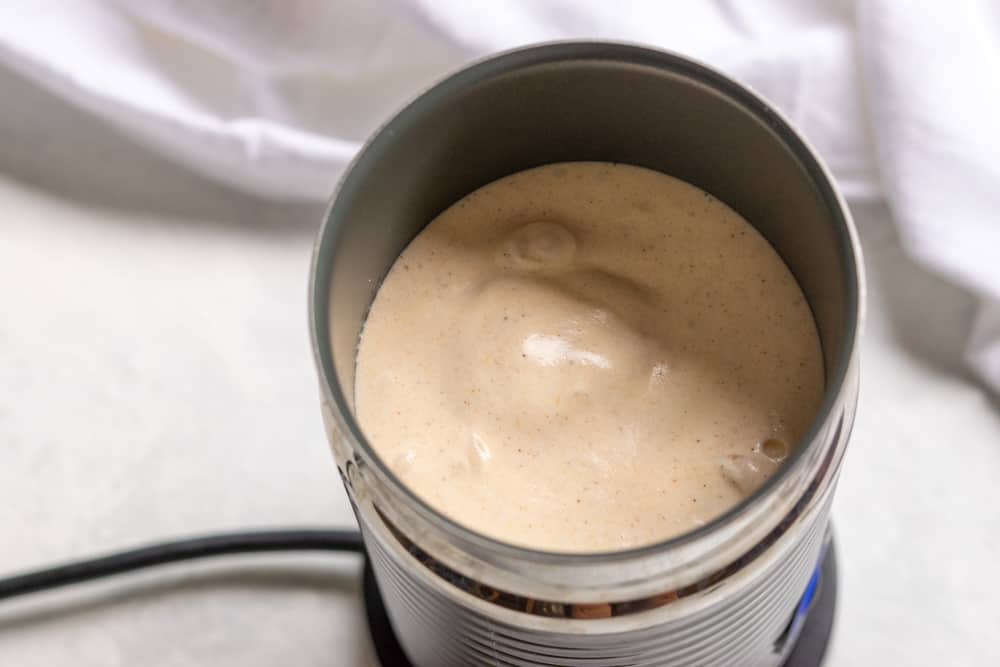 Serving Pumpkin Cold Foam
Starbucks cold foam is typically served on top of iced beverages.
At Starbucks, it's mainly served on top of cold brew drinks, but you can add it to anything you want.
For instance, one really popular iced chai tea latte customization is to add a fluffy layer of pumpkin cream foam on top. As you can imagine, it's the perfect mixture of spicy fall flavors.
Here's how to order a Starbucks iced chai with pumpkin cold foam. Trust me, it's the perfect fall duo.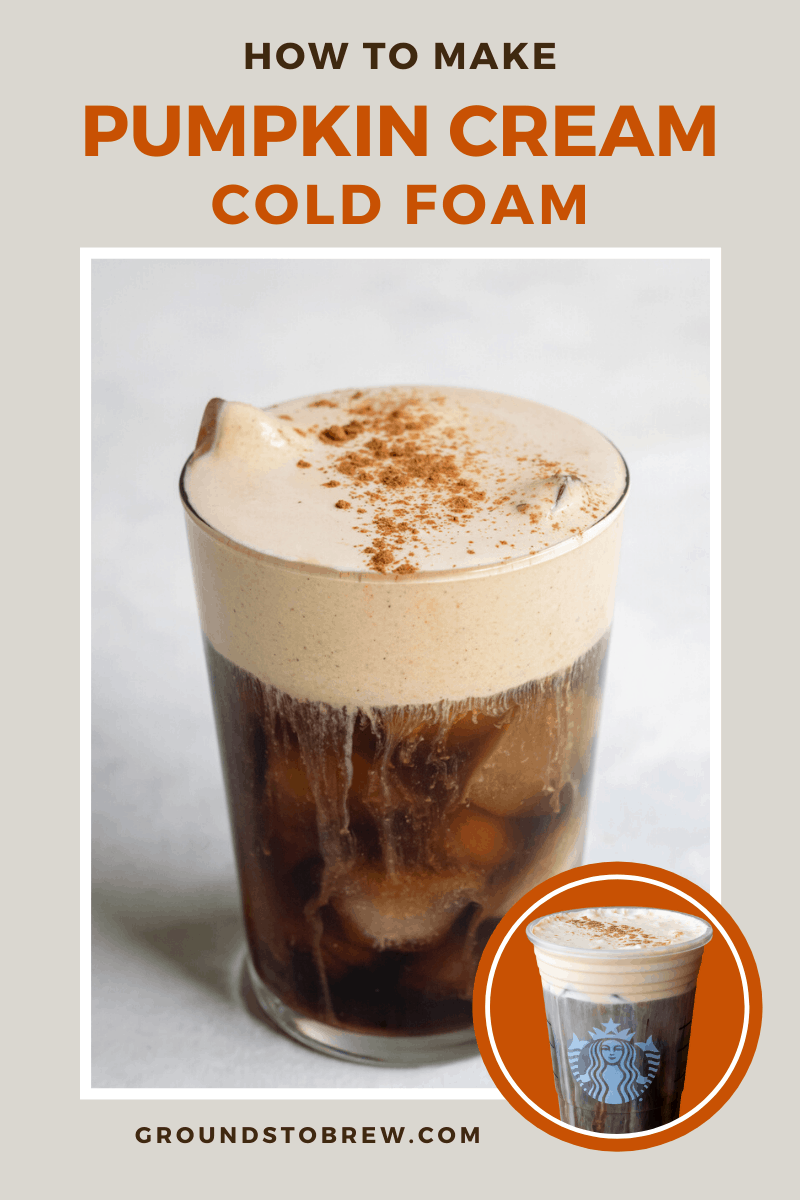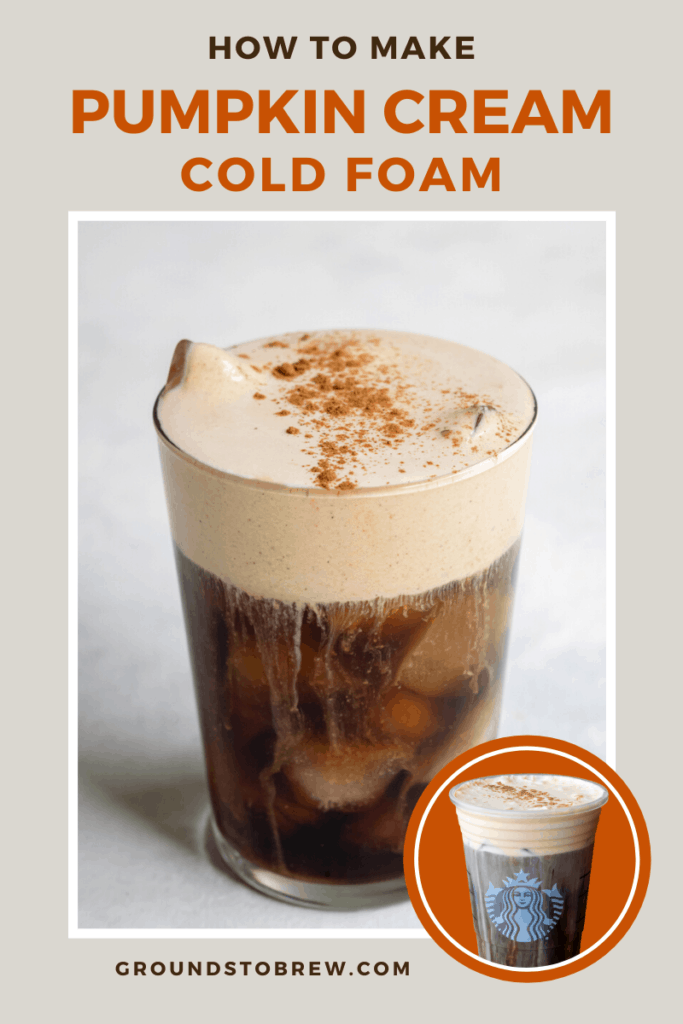 Related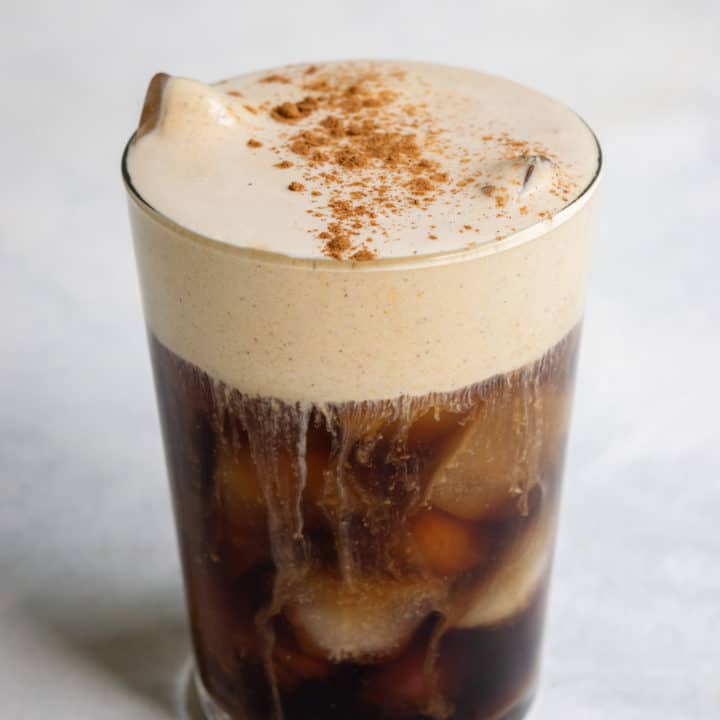 Pumpkin Cream Cold Foam (Starbucks Copycat)
Additional Time:
2 minutes
Easy copycat Starbucks pumpkin cream cold foam recipe that only takes 2 minutes to make with just a few ingredients. Enjoy this creamy pumpkin cold foam topping on cold brew, iced coffee or iced chai tea.
Ingredients
For the Pumpkin Cream Cold Foam
1 cup heavy cream
1/3 cup reduced fat milk, 2%
1/2 cup vanilla syrup
1/4 cup pumpkin puree
1/2 teaspoon cinnamon
1/4 teaspoon nutmeg
For Serving with Cold Brew Coffee
8 ounces cold brew coffee
2 tablespoons vanilla syrup
ice
pumpkin pie spice, to garnish
Instructions
To Make the Pumpkin Cream Base:
Add all ingredients to jar 24 ounces or larger. Substitute ¾ cup pumpkin spice syrup for the vanilla syrup, pumpkin puree and spices, if desired.
Stir to combine.
Store pumpkin creamer in refrigerator or froth a small amount to make it into pumpkin cold foam to top drink.
To Make Pumpkin Cream Cold Foam:
In an electric milk frother on the cold setting, aerate ¼ - ½ cup of the pumpkin cream. For thicker cold foam, vigorously shake the creamer in a cold jar before adding to frother. You can also pulse a small amount of pumpkin cream in a NutriBullet.
To make pumpkin cream cold foam like Starbucks, be sure to aerate the cream long enough so it comes out nice and fluffy. I find that shaking it in a cold jar first and then using an electric or handheld milk frother works best.
Serving Pumpkin Cream Cold Brew:
Add vanilla syrup (or desired sweetener) and cold brew coffee to a 16 ounce glass. Stir to combine.
Fill glass with ice nearly to the top.
Slowly pour a serving of thickened pumpkin cream cold foam on top of the ice and cold brew coffee.
Garnish with pumpkin pie spice.
Recommended Products
As an Amazon Associate and member of other affiliate programs, I earn from qualifying purchases.