Looking for a cold Starbucks drink that's 100% sugar-free? This list shows all 7 Starbucks iced coffees and iced teas without sugar, perfect for diabetics or anyone counting carbs.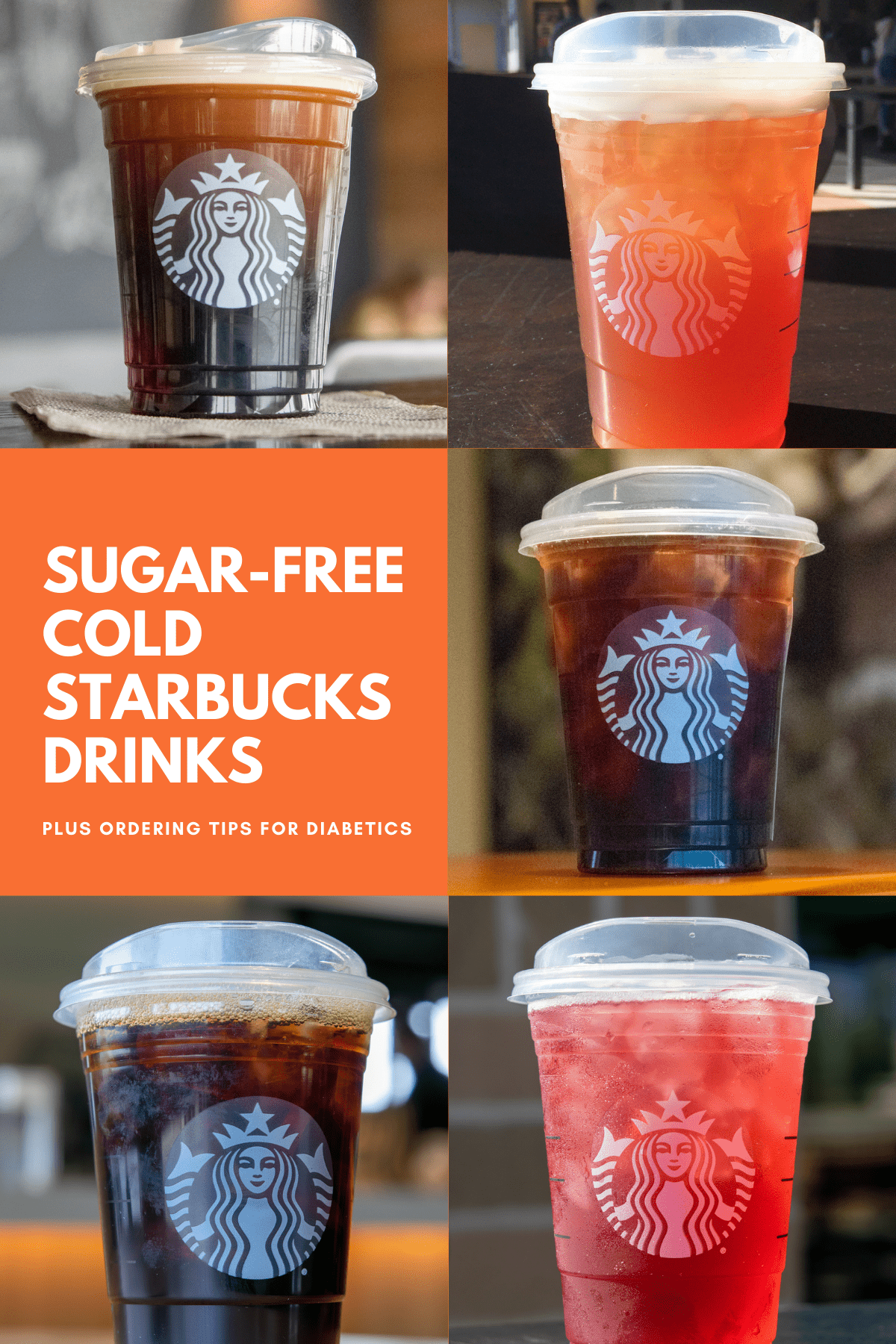 If you're diabetic or watching your diet, Starbucks has more than a handful of 100% sugar-free iced drinks on the menu
In fact, the Starbucks menu lists seven drinks that are naturally sugar-free.
They all contain 0 grams of sugar, according to Starbucks published nutrition information.
While I am not a health professional, I do know Starbucks recipes and preparation techniques and want to provide information so anyone that's diabetic can make the best ordering decisions.
RELATED: 41 Lowest-Calorie Starbucks Drinks on the Menu (No Hacks)
Sugar-free Starbucks Drinks for Diabetics
Here's a list of diabetic-friendly Starbucks iced drink options that diabetics can feel comfortable ordering.
Each drink in the list is completely sugar-free and no customizations are needed to eliminate sugar.
1. Starbucks Cold Brew Coffee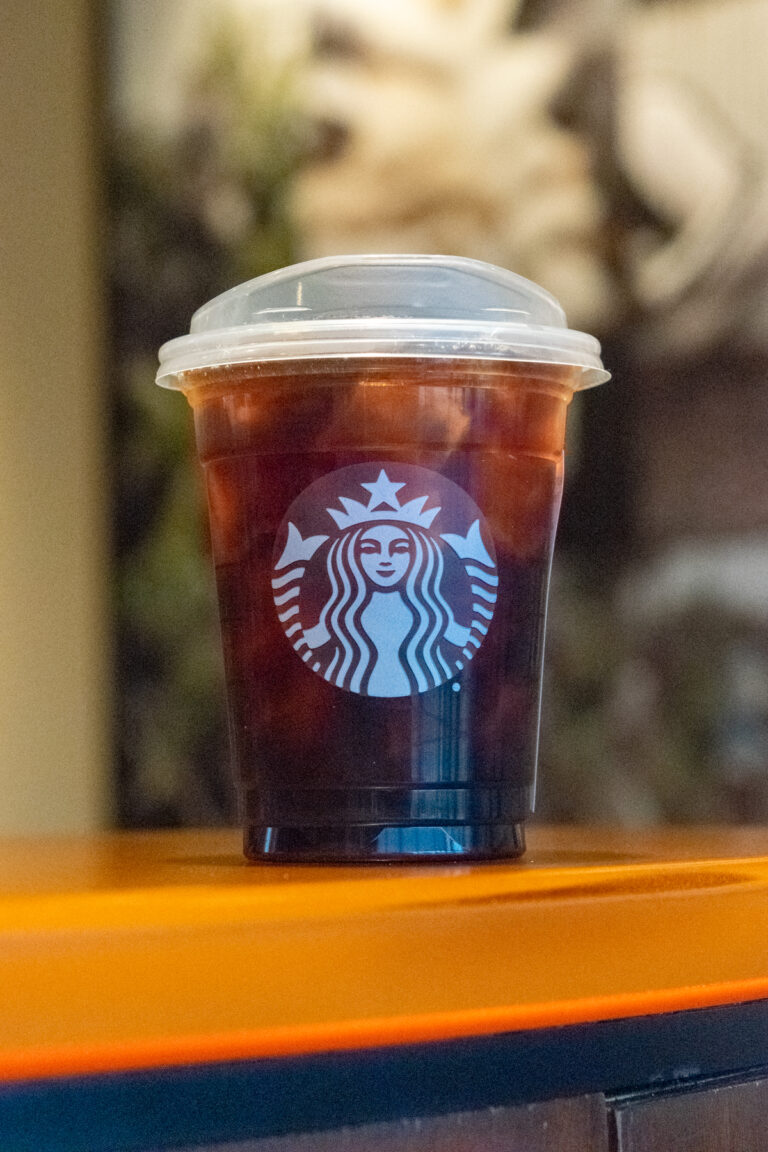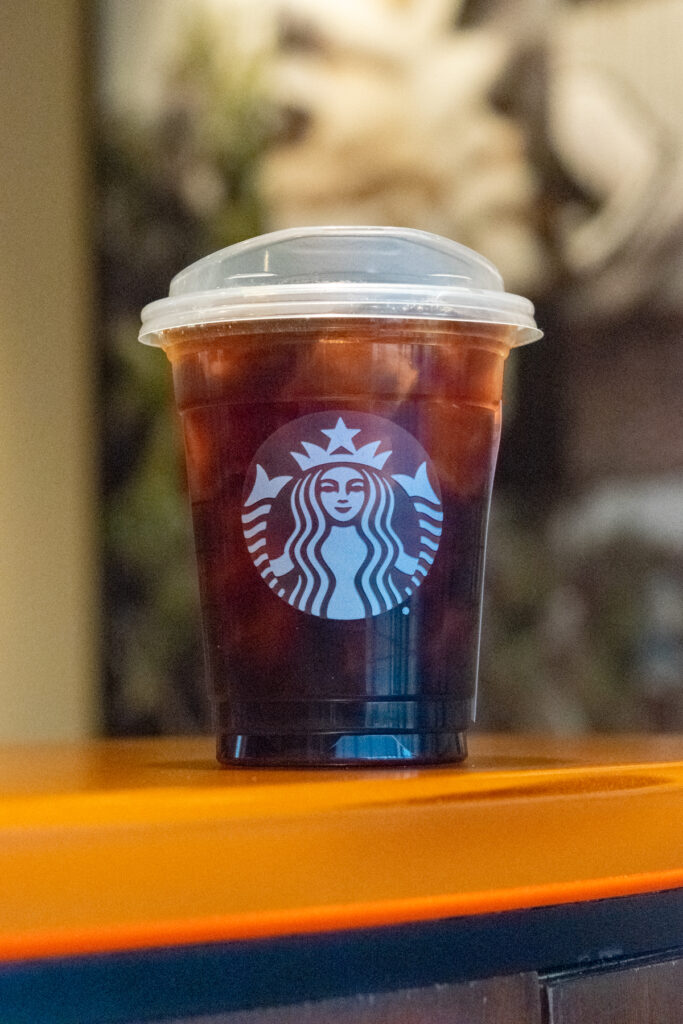 Starbucks cold brew coffee is simply a custom blend of coffee beans slow-steeped in cool filtered water.
Overall, it tastes sweeter than regular iced coffee even though it does not have any syrup added in.
This is because there's no heat in the brewing process to extract as much acidity.
Starbucks Cold Brew Coffee: Calories in a Grande: 5; Total Carbohydrates: 0g; Sugars: 0g
RELATED: Starbucks Iced Coffee vs. Cold Brew (Hint, They're Different)
---
2. Nitro Cold Brew Coffee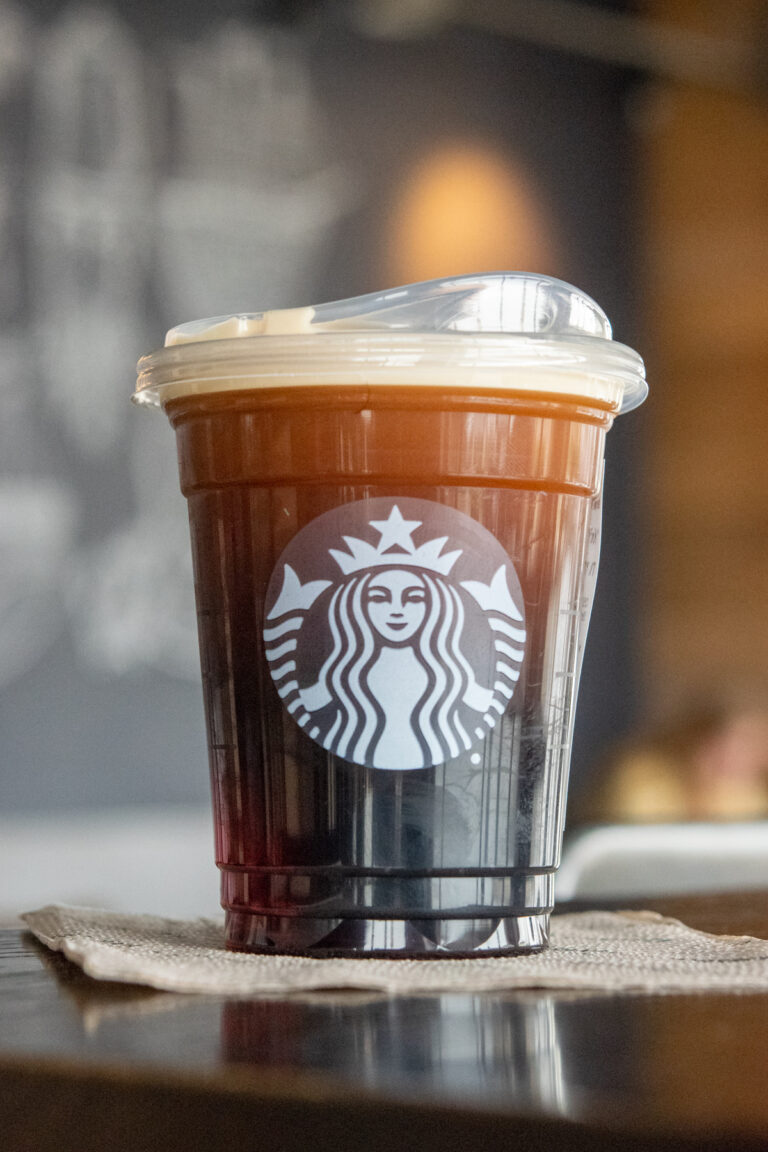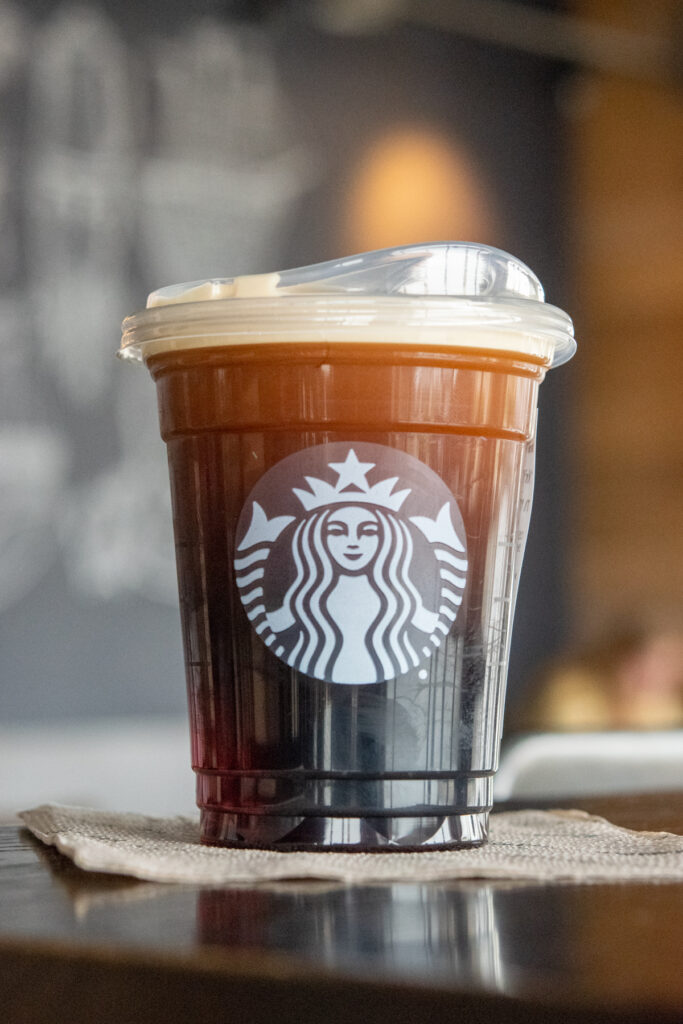 Starbucks cold brew coffee is infused with nitrogen which creates sweetness without sugar.
All the tiny bubbles create a light layer of crema, making this a very satisfying cold coffee option for diabetics or anyone counting carbs.
Nitro Cold Brew: Calories in a Grande: 5; Total Carbohydrates: 0g; Sugars: 0g
RELATED: Starbucks Coffee Guide: Cold Brew
---
3. Iced Americano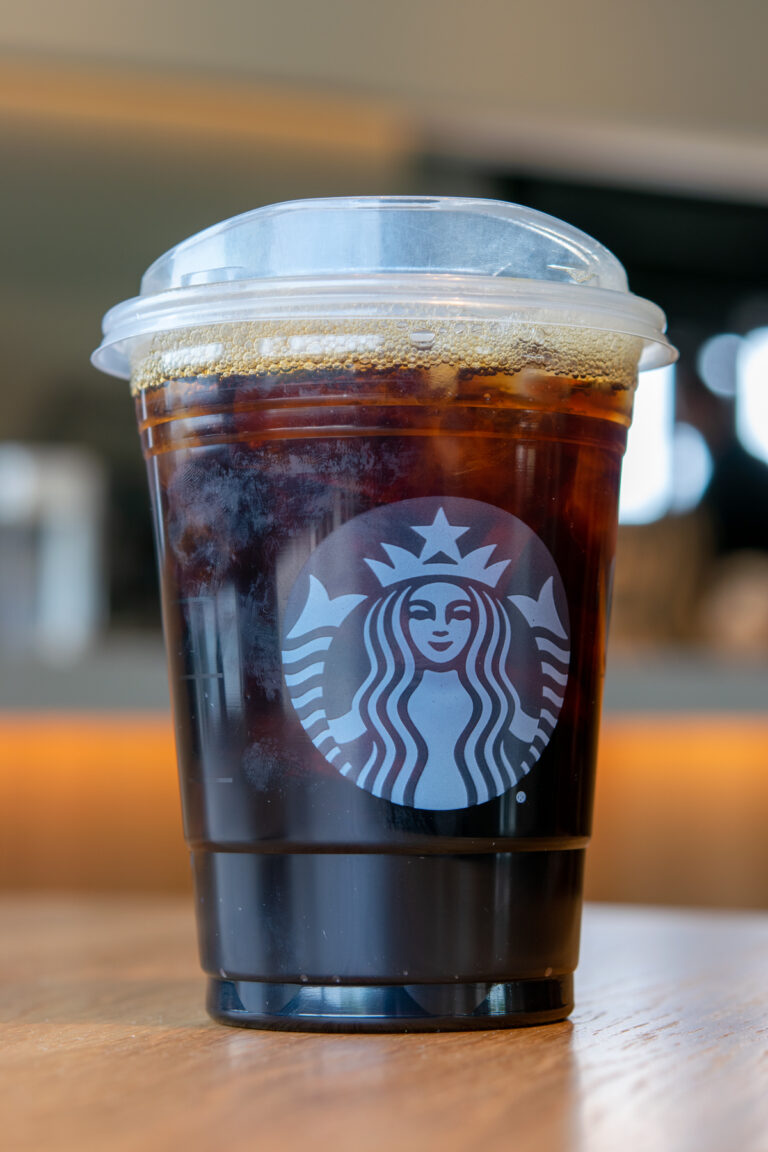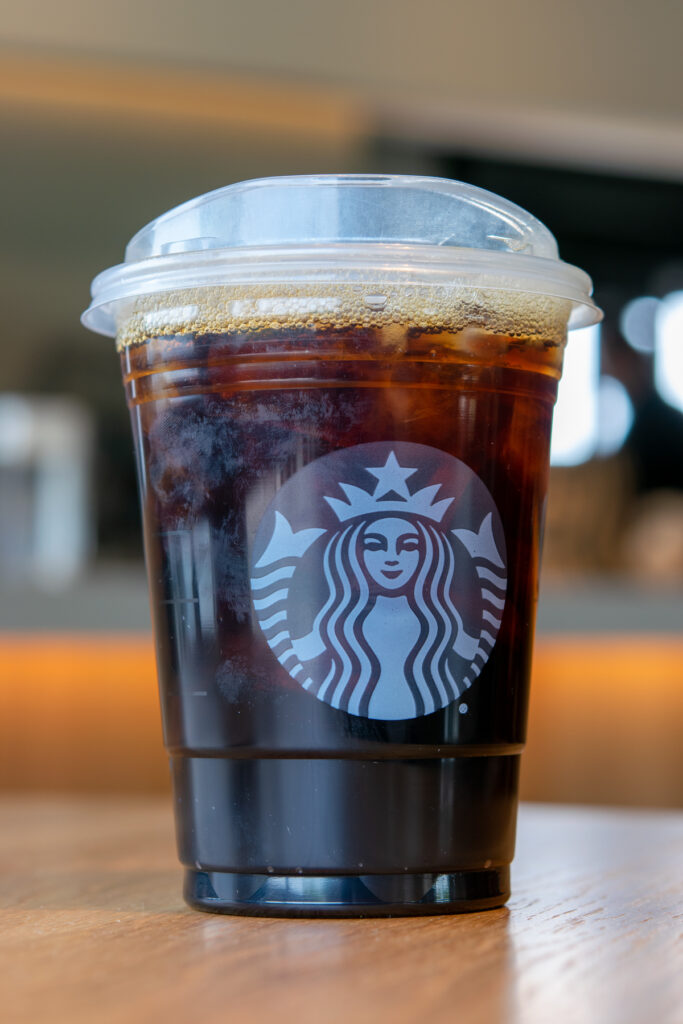 Ice, crisp filtered water and espresso make up this refreshing Starbucks iced coffee.
A grande Americano comes with one more shot of espresso than most other espresso drinks.
Ask for one more for an even stronger beverage.
Iced Caffe Americano: Calories in a Grande: 15; Total Carbohydrates: 2g; Sugars: 0g
RELATED: Caffeine in Starbucks Americanos (It May Surprise You)
---
4. Iced Espresso
Shots of bold espresso roast are poured over ice, creating an iced caffeinated beverage with notes of carmel and a kick of caffeine.
Iced Espresso: Calories in a Doppio: 10; Total Carbohydrates: 2g; Sugars: 0g
RELATED: Espresso Drinks at Starbucks: Every Type Explained
---
5. Iced Black Tea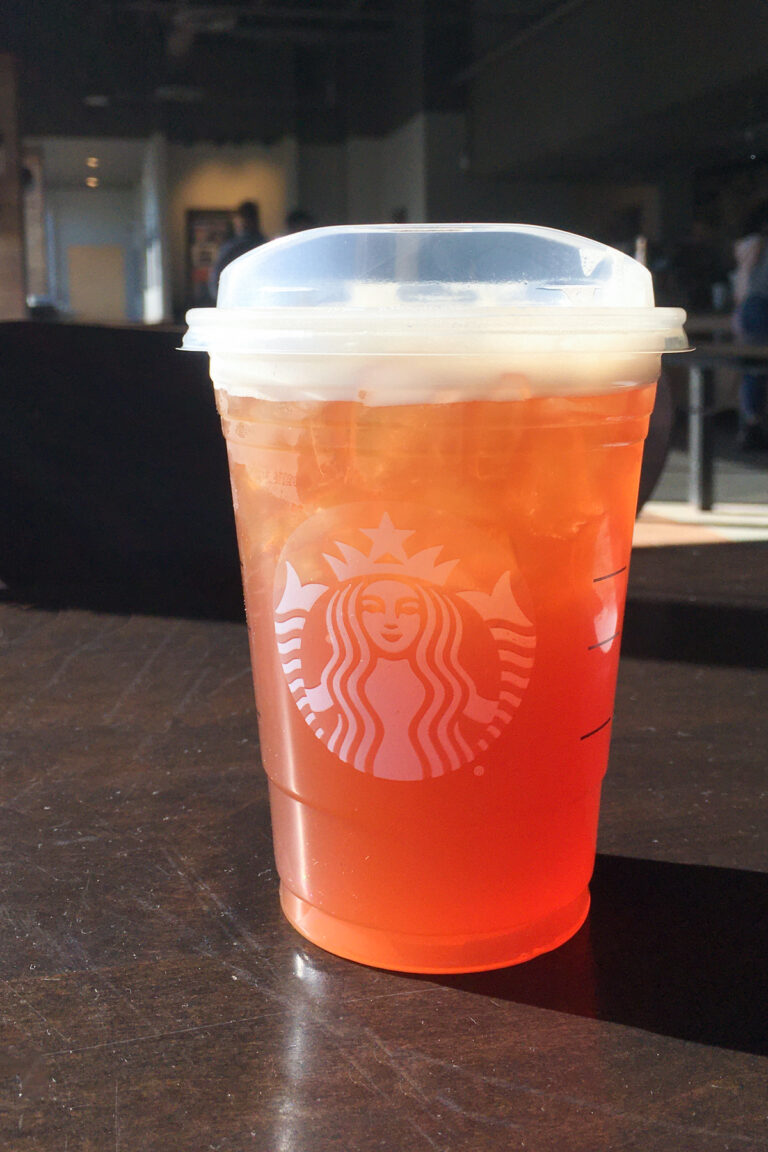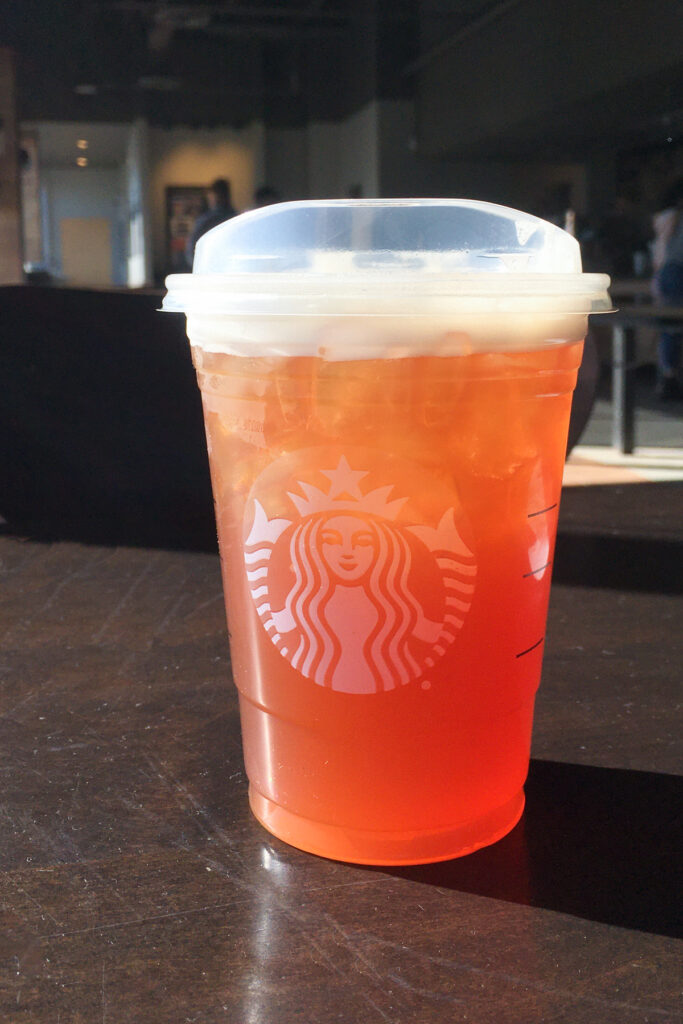 Premium black tea is brewed fresh daily by baristas.
Upon ordering, the tea is shaken with ice to create the most refreshing caffeinated iced tea.
In the past Starbucks iced teas were made with liquid cane sugar added in by default, but that is no longer the case. Now they come sugar-free.
Iced Black Tea: Calories in a Grande: 0; Total Carbohydrates: 0g; Sugars: 0g
RELATED: Starbucks Black Tea Drinks: Everything You Need to Know
---
6. Iced Green Tea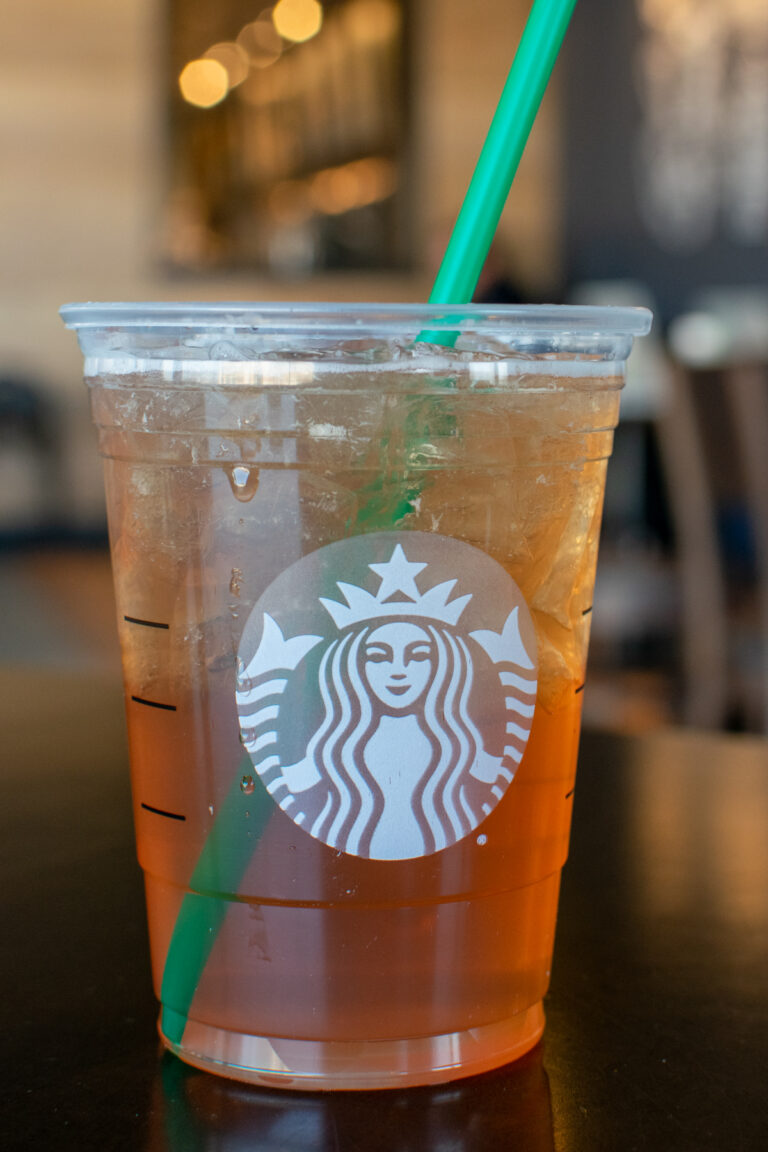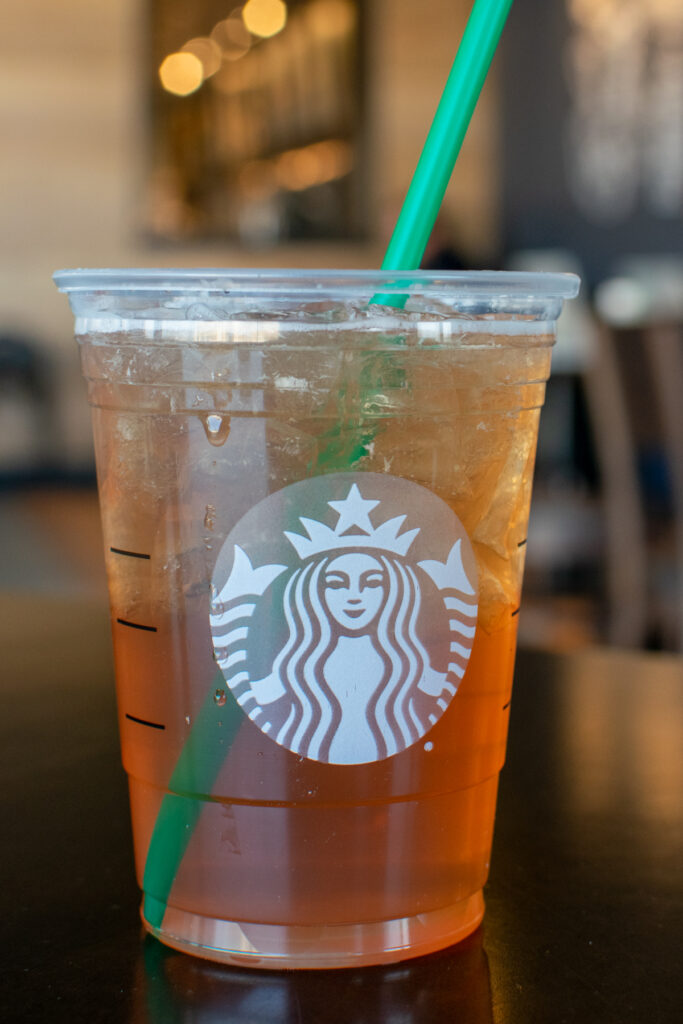 An infusion of green tea, mint, lemongrass and lemon verbena shaken with ice is the perfect sugar-free summer iced tea.
It also is caffeinated—that's right, green tea contains caffeine.
Iced Green Tea: Calories in a Grande: 0; Total Carbohydrates: 0g; Sugars: 0g
RELATED: A Barista's Guide to Starbucks Green Tea & Matcha Drinks
---
7. Iced Passion Tango Tea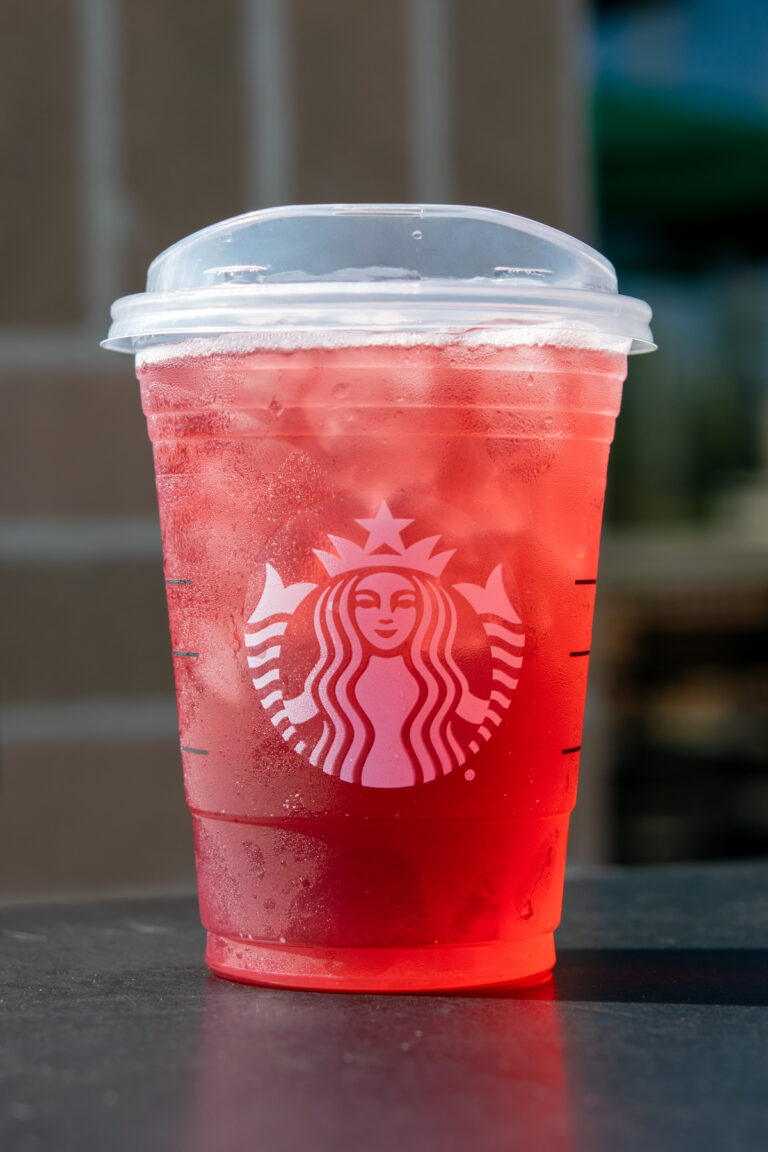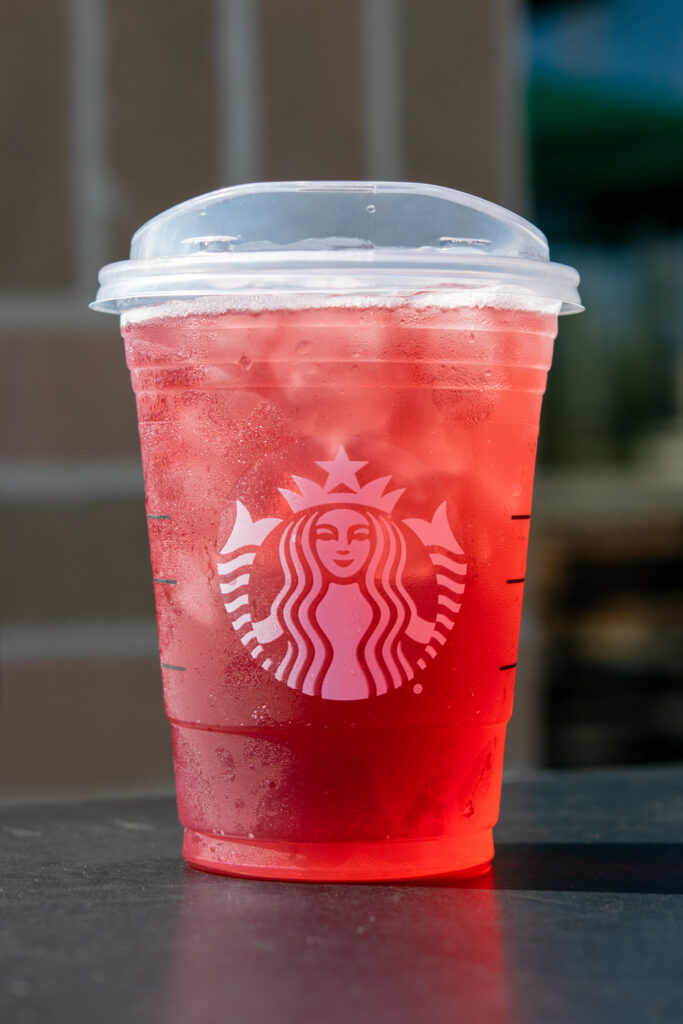 The only herbal tea on Starbucks iced tea menu is a delightful infusion of hibiscus, lemongrass and apple.
Handshaken with ice, this iced tea is so flavorful you might think it's sweetened, but it isn't.
Starbucks Iced Passion Tango Tea doesn't have a single gram of sugar.
Iced Passion Tango Tea: Calories in a Grande: 0; Total Carbohydrates: 0g; Sugars: 0g
RELATED: Starbucks Herbal Teas: See All the Options
---
Is Starbucks Iced Coffee Safe for Diabetics?
Starbucks regular iced coffee is actually another way to enjoy a sugar-free cold drink at Starbucks.
However, and this is a big "however," a cup of iced coffee made by a barista according to the official Starbucks recipe contains sugary Classic syrup.
So yes, you can get sugar-free regular iced coffee at Starbucks, but you must order it without classic syrup.
But as a precaution, anyone with diabetes should doublecheck the sticker on the drink to ensure it says, "no classic."
RELATED: 12 Types of Starbucks Iced Coffee Drinks on the Menu
Does Vanilla Sweet Cream Have Added Sugar?
Here's what you need to know about vanilla sweet cream if you are diabetic.
Baristas mix up vanilla sweet cream by the pitcher on a daily basis.
The mixture contains heavy cream, 2% milk and vanilla syrup.
When a customer orders a vanilla sweet cream beverage, a small amount of the pre-made creamer is poured into the drink or a small amount is blended into vanilla sweet cream cold foam topping.
Now, you may think that if you order a flavored sweet cream cold foam, like pumpkin cream cold foam, that there's not any vanilla syrup in it—but that's not the case.
Instead, a few pumps of the flavored syrup is added to the pre-made creamer.
My point is, any flavor of vanilla sweet cream or vanilla sweet cream cold foam always contains sugary vanilla syrup.
As a diabetic this means sugar-free vanilla sweet cream is not a thing even though Starbucks has sugar-free vanilla syrup.
Does Starbucks Whipped Cream Have Added Sugar?
Starbucks whipped cream is a mixture of heavy cream and vanilla syrup, so yes, it has added sugar.
Starbucks Milk Options & Sugar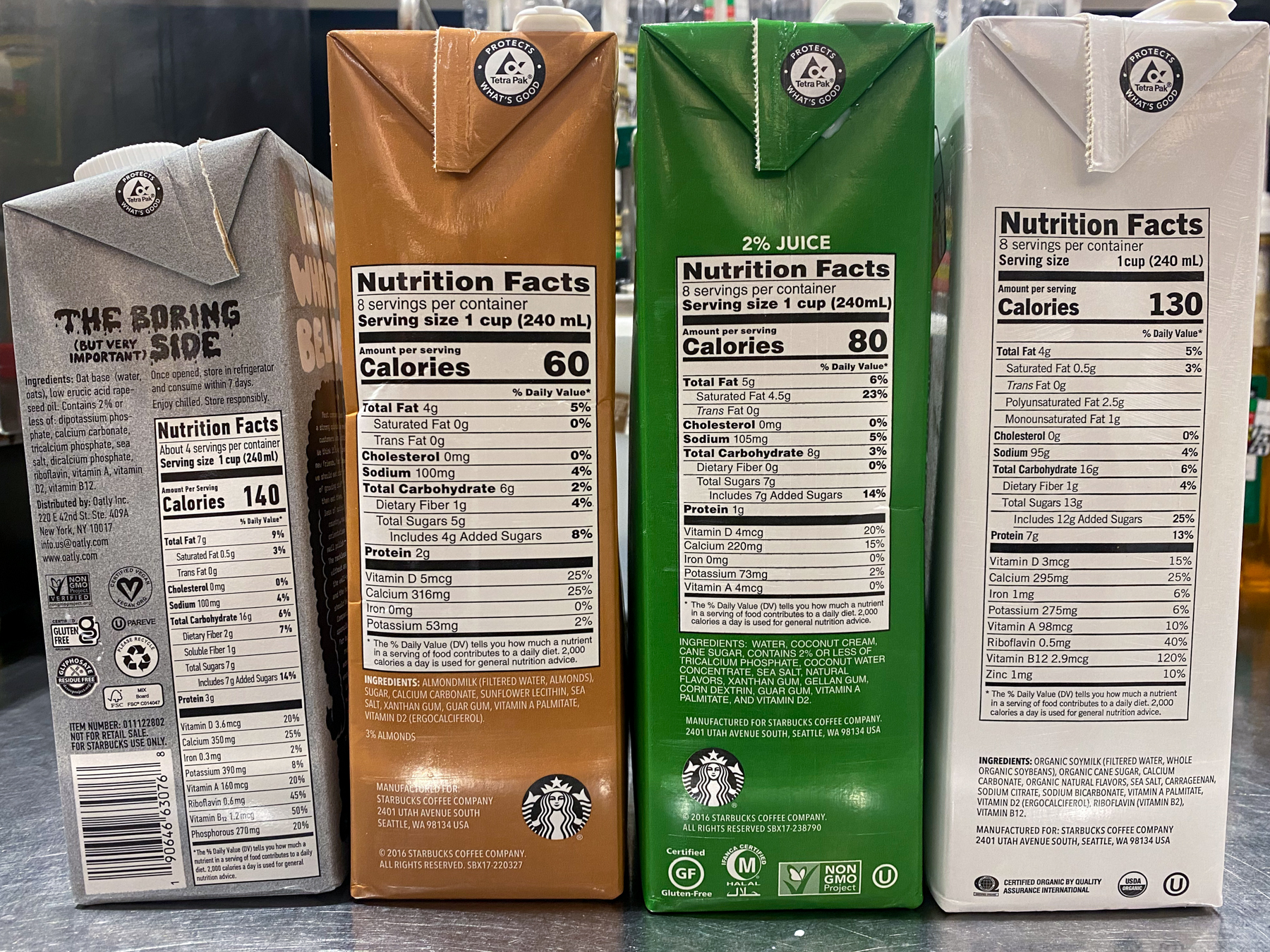 If you're diabetic and ok with consuming a splash of milk, then you'll want to know which Starbucks milk options have added sugar.
While plant-based milk sounds healthy, the truth is they often contain added sugar. And that's the case at Starbucks.
All four non-dairy milks available at Starbucks contain added sugar.
To compare, the milks with the most carbohydrates per serving at Starbucks are soymilk and oatmilk, followed by coconutmilk.
Almondmilk has the least carbs per serving out of the plant milks at Starbucks.
As far as dairy milk options at Starbucks go, they have non-fat, 2%, half and half, whole and heavy cream.
There's also vanilla sweet cream, but remember, it contains vanilla syrup.
Can I Drink Milk if I Have Diabetes is a helpful resource regarding milk consumption and diabetes. As always, consult your own trusted medical professional.
Starbucks Drinks Diabetics Should Avoid
Refreshers: Starbucks Refreshers beverages are made from a pre-packaged Refreshers juice base that contains sugar. There's no such thing as a sugar-free Refresher.
Lemonade Beverages: All Starbucks lemonade drinks are made from pre-packaged lemonade. The sugar cannot be left out or reduced.
Chai Tea Lattes: Starbucks chai tea lattes are made from a pre-packaged chai black tea concentrate that contains sugar. The only sugar-free chai tea option at Starbucks is to have it made using an organic Teavana chai tea bag.
Matcha Lattes: Starbucks matcha powder is a mix of finely ground Japanese green tea and sugar.
Frappuccinos: Frappuccinos are whole-milk-based, sugary blended beverages. They're thickened with frappuccino syrup which of course contains sugar. In addition, they are flavored with sugar-filled syrups, fruit inclusions and sugary toppings. It's best to avoid all frappuccinos.
Handcrafted Coffee & Tea Beverages on the Menu: If you're watching sugars and carbohydrates, it's best to avoid any of the handcrafted drinks listed on the menu. They often have lots of syrup, milk and toppings. However, there are at least 7 Starbucks iced coffees and teas on the menu that come without sugar. This is a good starting point for adding a splash of milk or a pump or two of sugar-free vanilla syrup to handcraft your own custom beverage according to your dietary guidelines.
Related