A copycat Starbucks Pumpkin Spice Latte is surprisingly easy to make at home. See exactly how to make this latte like a barista with this 5 ingredient recipe.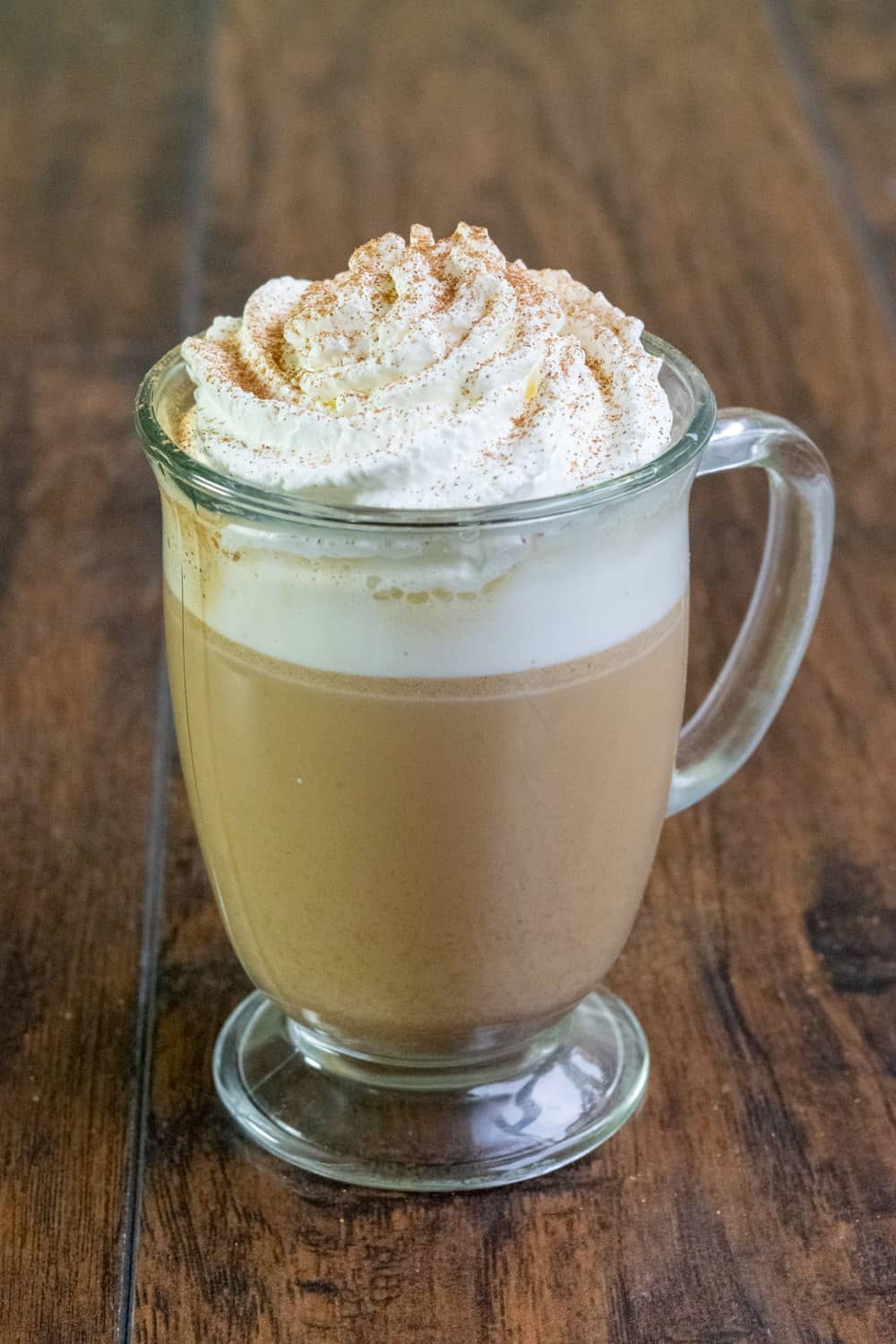 Starbucks Pumpkin Spice Latte
A Starbucks Pumpkin Spice Latte is an espresso-based beverage that combines pumpkin spice sauce, brewed espresso and steamed milk. It's topped with whipped cream and pumpkin spice topping.
This warm and cozy latte, affectionately known as a PSL, has all the flavors of fall—pumpkin, cinnamon, nutmeg, clove and ginger.
One sip of a Pumpkin Spice Latte and it's easy to see why fans of pumpkin Starbucks drinks eagerly await their return to the fall menu every August.
But what if I told you, it's easy to make this fall-flavored latte in your own kitchen!
With this copycat Starbucks Pumpkin Spice Latte recipe, you can enjoy this delicious coffee drink anytime you want. In no time, you'll be able to whip up a homemade PSL as fast as a barista.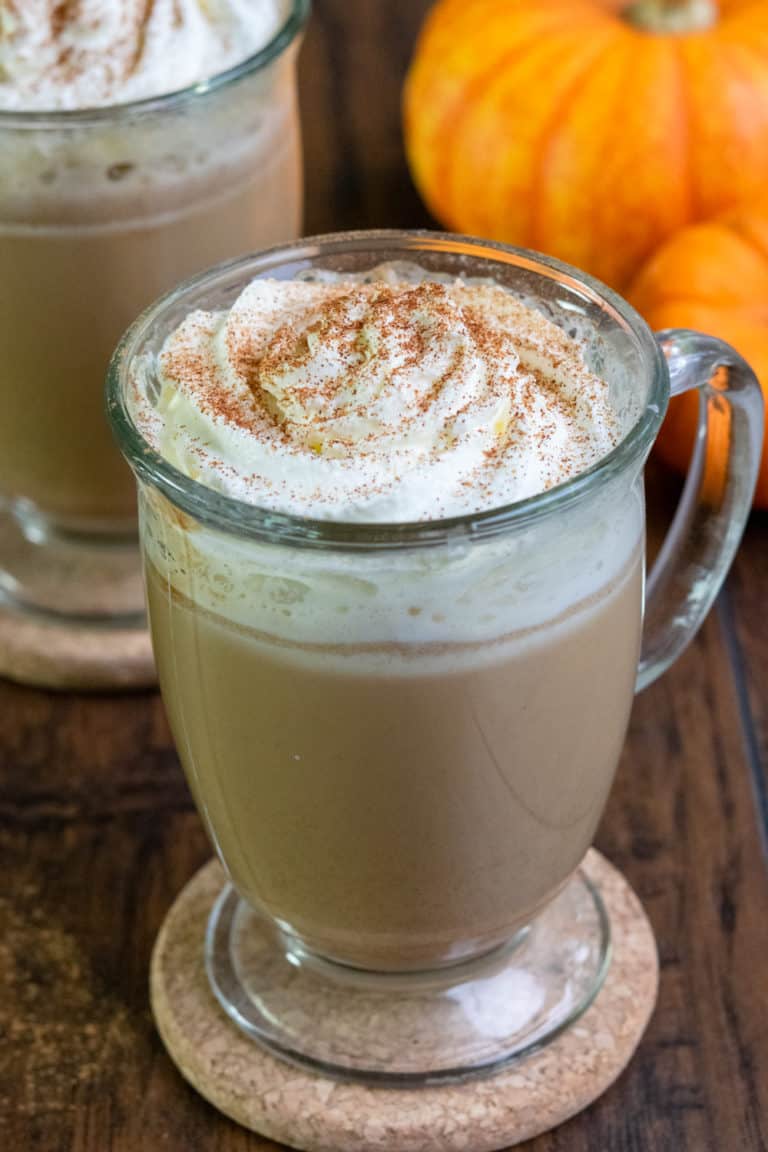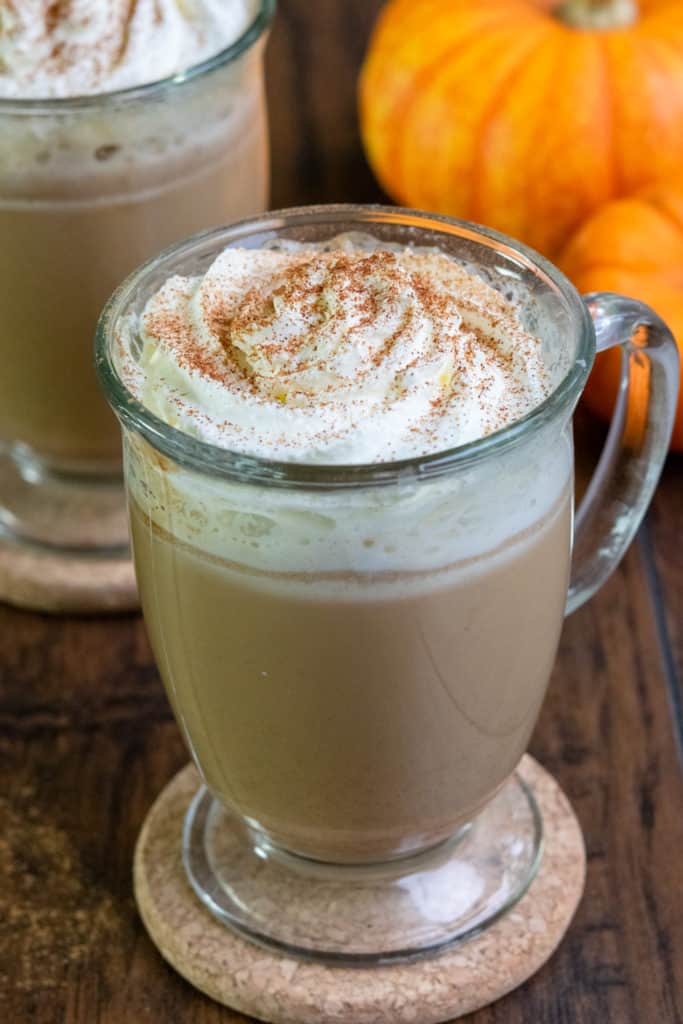 RELATED RECIPE: How to Make a Maple Latte with Real Maple Syrup
Recipe Overview
This copycat Starbucks Pumpkin Spice Latte recipe makes the equivalent of a 16-ounce grande Starbucks PSL.
A pumpkin latte is made with espresso; ideally you need either an espresso machine and freshly ground coffee, or a Nespresso machine and capsules.
Starbucks makes this drink with their signature dark roast espresso, but you can use any coffee roast you prefer. You can even make it decaf.
A Pumpkin Spice Latte at Starbucks contains dairy. The dairy is in both the pumpkin spice sauce and steamed 2% milk. Although the milk can be substituted with a plant-based milk, it's not possible to get a completely dairy-free Pumpkin Spice Latte at Starbucks. However, with this homemade recipe, you can use a sugar-based pumpkin spice syrup and dairy-free milk if desired.
Starbucks Pumpkin Spice Latte Ingredients
Pumpkin Spice Syrup: All Starbucks pumpkin drinks get their flavor from the bottled pumpkin spice sauce. It contains real pumpkin and sweetened condensed milk.
For this latte recipe, my preference is to use homemade Pumpkin Spice Syrup. It's sugar-based, has real pumpkin, lots of spices, and is vegan. And it's super simple to make. With this syrup, you can also make pumpkin cream cold foam to top beverages like a Pumpkin Cream Cold Brew. One syrup—so many possibilities.
Another option is to make homemade Pumpkin Spice Sauce which contains sweetened condensed milk and real pumpkin. It's rich and creamy like the real Starbucks sauce.
One final possibility is to get a bottle of store-bought coffee syrup like Torani Pumpkin Spice Syrup or a thicker sauce like Torani Pumpkin Pie Sauce. However, in my experience, it's really hard to find these in stock.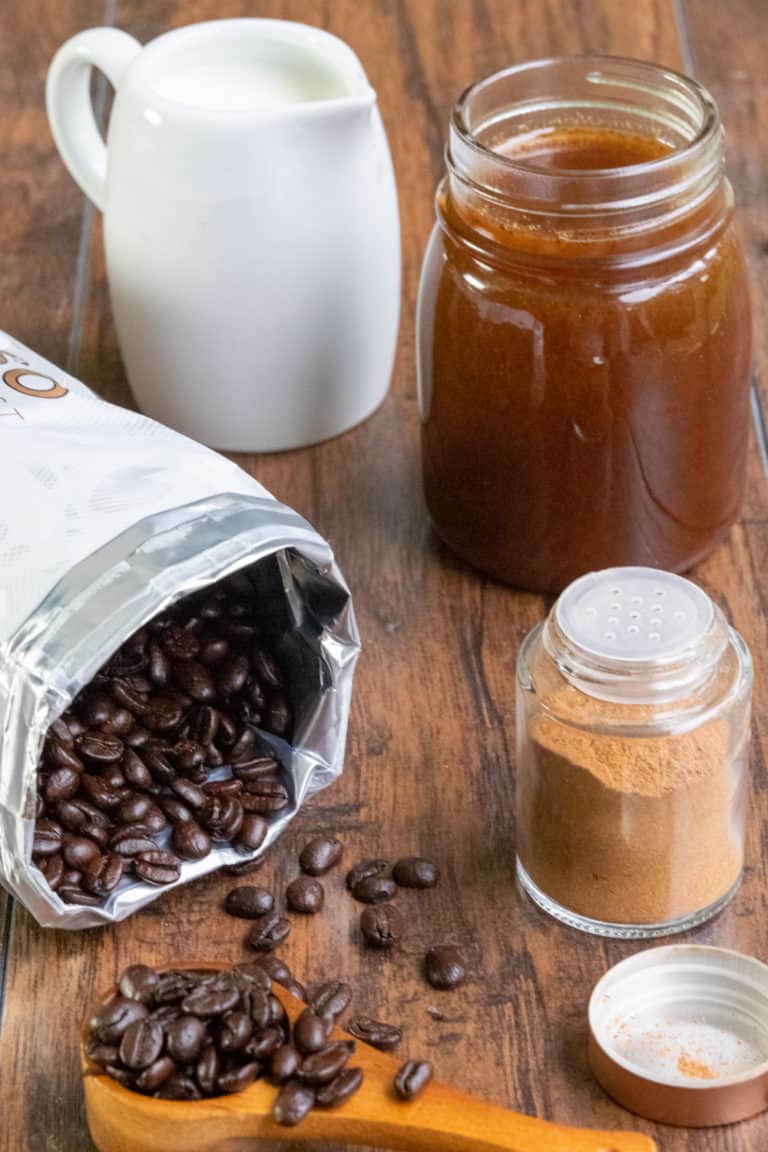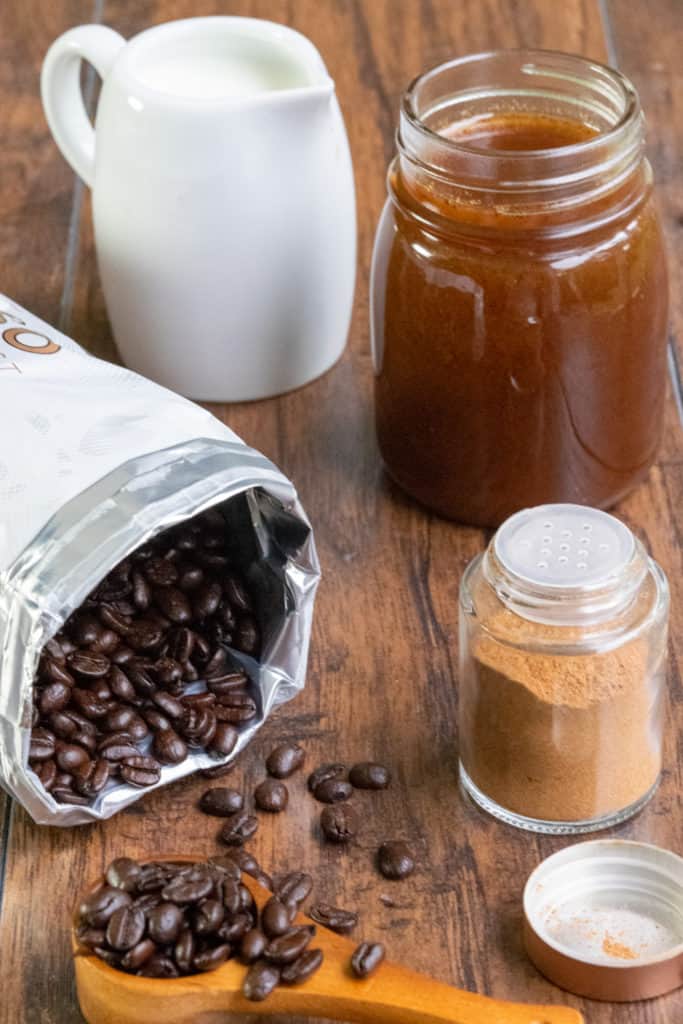 Espresso: The basis of every latte is brewed espresso.
A grande size Starbucks Pumpkin Spice Latte has 2 shots of espresso, which is nearly 2 ounces. Additionally, most of their lattes are made with a dark roast espresso, unless it specifies that it's blonde.
For a homemade drink as similar as possible to Starbucks, I suggest using Starbucks brand whole coffee beans if you have an espresso machine and grinder, or Starbucks capsules if you have a Nespresso machine. Here are some options: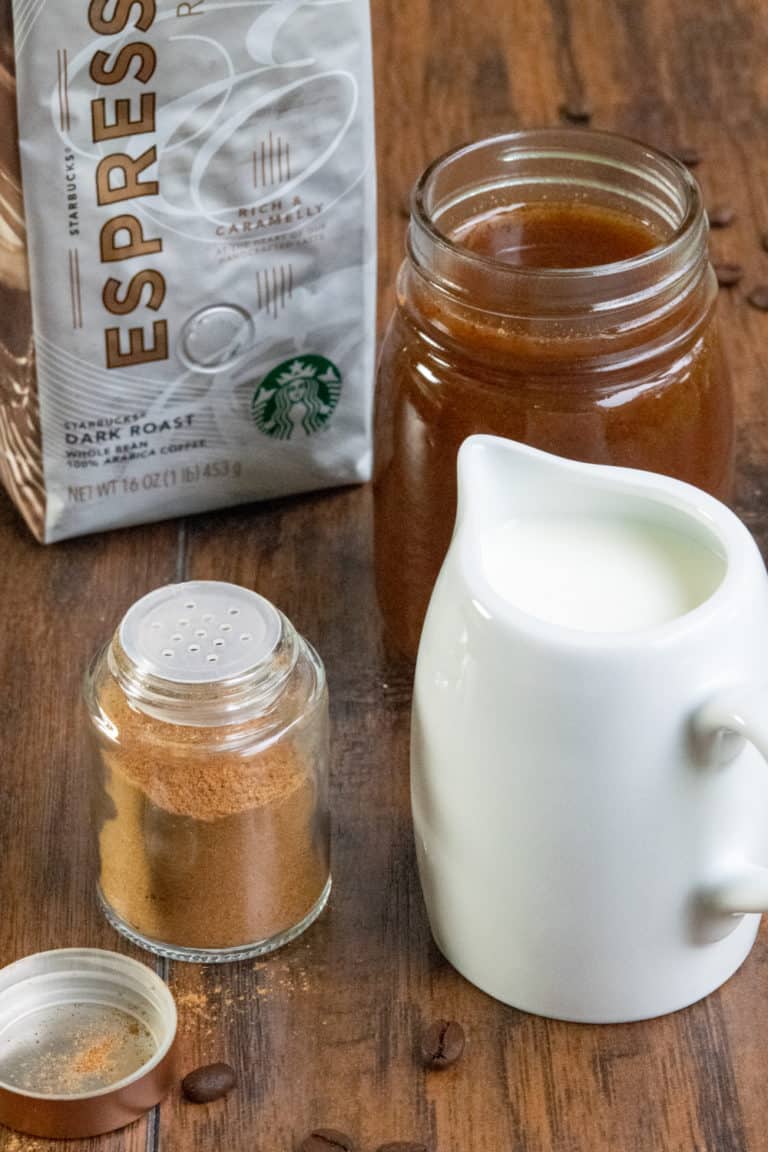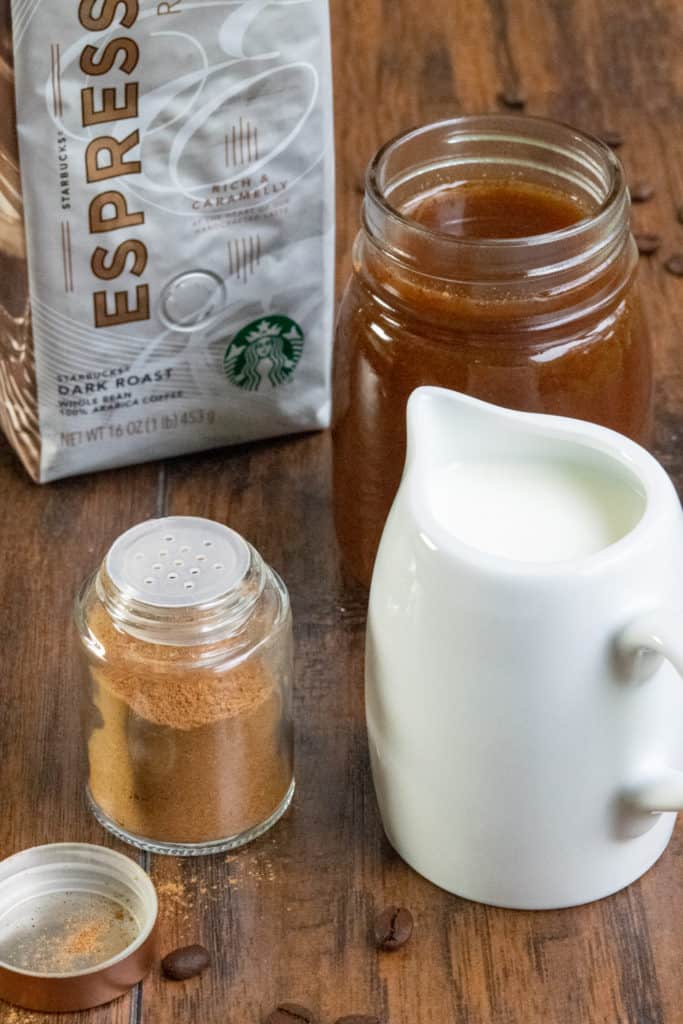 Milk: The default milk Starbucks uses for most of its lattes is reduced-fat 2% milk. You can use any milk you prefer, but keep in mind it may affect the overall creaminess of the drink.
Additionally, to make a hot Pumpkin Spice Latte, the milk needs to be steamed. Steaming does two things. It heats the milk and aerates it, which makes it both frothy and sweet.
If you have a steam wand on your espresso machine, use that. Or an electric milk frother, like this Breville milk frother, is another great option.
Otherwise you can heat the milk with the stove or microwave and use a handheld frother.
Whipped Cream: Pumpkin Spice Lattes are topped with vanilla-flavored, sweetened whipped cream.
Here's exactly how to make Starbucks whipped cream at home. All you need is heavy cream and vanilla syrup. If you don't have a whipped cream dispenser, simply whip it up with a mixer.
Pumpkin Spice Topping: Starbucks pumpkin spice topping is simply a mixture of cinnamon, nutmeg, ginger and clove. To keep things simple, I just get a small bottle of store-bought pumpkin pie spice.
If you have the individual spices on-hand, here's a simple recipe for homemade pumpkin pie spice.
Steps to Make a Pumpkin Spice Latte
It's quick and easy to make a pumpkin spice latte at home. Here are the step-by-step instructions.
Step 1: Make Whipped Cream
Prepare the homemade whipped cream and set aside. If you're using store-bought whipped cream, obviously you can skip this step.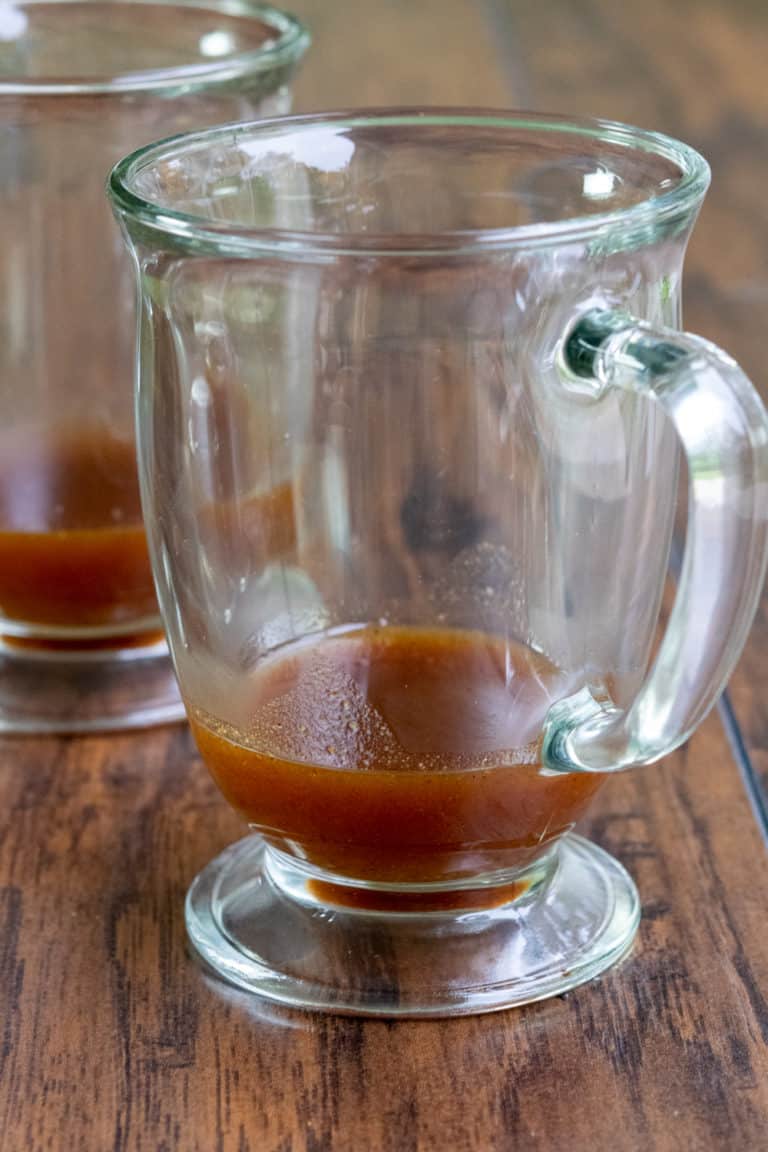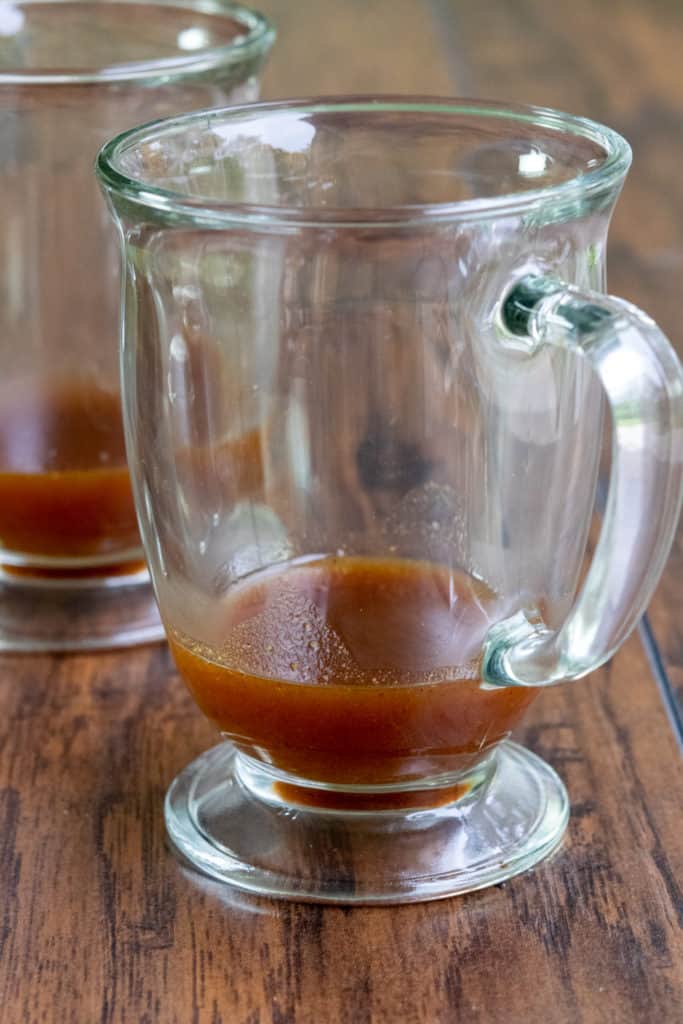 Step 2: Put Pumpkin Spice Syrup in a Mug
Add the pumpkin spice syrup to a mug that holds at least 16 fluid ounces. Also, if you have a pump on the syrup bottle, you can pump it directly into the cup.
Step 3: Pull Espresso Shots
Pull 2 shots of espresso directly into the mug with pumpkin spice syrup in it, or pull them into a shot glass and pour over the syrup.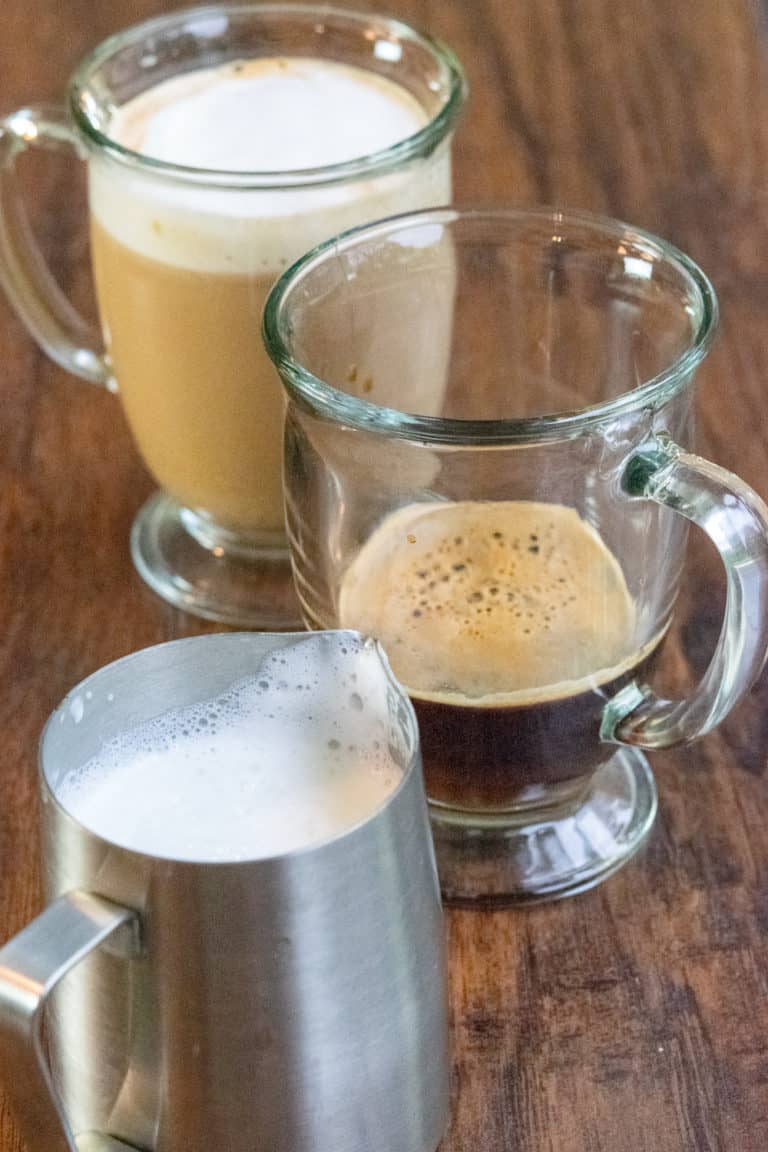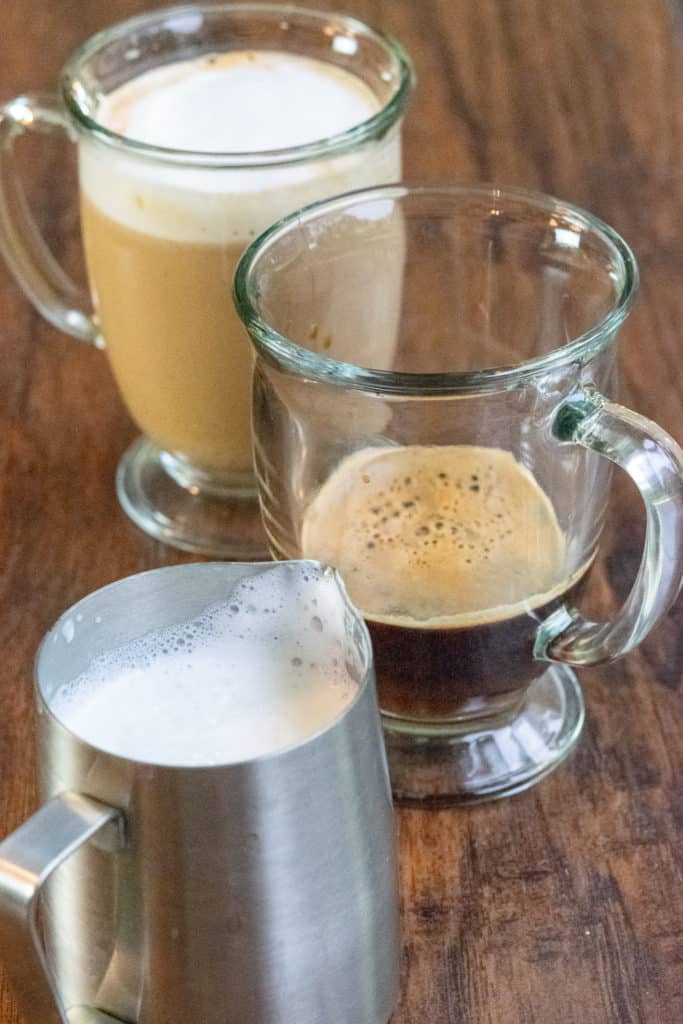 Step 4: Steam the Milk
If you're using an electric milk frother or stove method, you can get the milk started before the espresso if you want.
Once the milk is steamed, pour it and a little foam into the mug. Give the latte a stir.
Step 5: Add Toppings
And for the final touch, put a nice big swirl of whipped cream on top of your pumpkin spice latte and sprinkle on some pumpkin pie spices.
More Starbucks Pumpkin Recipes & Drink Guides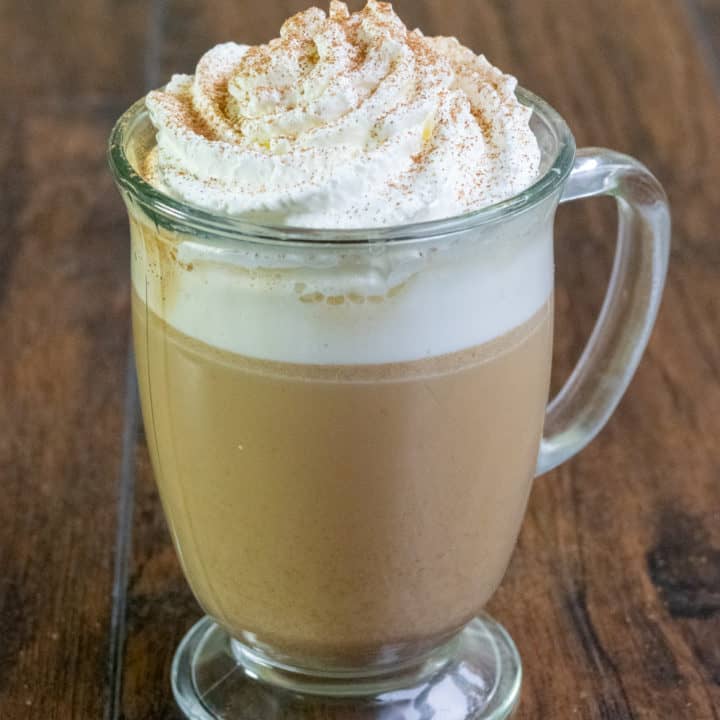 Starbucks Pumpkin Spice Latte
See how to make a Pumpkin Spice Latte at home with this copycat Starbucks recipe. Just like Starbucks, this espresso beverage gets its pumpkin flavor from pumpkin spice syrup. This recipe makes the equivalent of a Starbucks grande latte and is topped with whipped cream and pumpkin pie spices.
Ingredients
For Homemade Pumpkin Spice Syrup
1/4 cup pumpkin puree
1 1/2 cups sugar
1 1/2 cups water
2 tablespoons pumpkin pie spice
For the Pumpkin Spice Latte
3 tablespoons pumpkin spice syrup
2 ounces espresso
1 cup milk, steamed
1/2 cup whipped cream
pumpkin pie spice, to garnish
Instructions

To Make the Pumpkin Spice Syrup
For this latte recipe, you can use either homemade pumpkin spice syrup or store-bought. Here's how to make a batch of the syrup that you can keep in your refrigerator for about 7 days. Here's the complete copycat Starbucks Pumpkin Spice Syrup recipe with pictures.
Combine the sugar and water in a saucepan and bring to a boil. Reduce heat immediately and stir until all the sugar is dissolved.
Stir in the pumpkin puree and spices and let simmer 10-15 minutes. Remove from heat and cool.
Strain the syrup if desired.
To Make the Pumpkin Spice Latte
Add pumpkin spice syrup to a 16 ounce mug.
Make 2 shots of espresso (approximately 2 ounces) and pour the espresso over the pumpkin spice syrup. Stir if desired.
Steam milk with a steam wand, electric milk frother or on the stove. Pour the milk and a little foam into the pumpkin spice espresso.
Top the drink with homemade Starbucks whipped cream and a dusting of pumpkin pie spice.
Notes
Pumpkin Spice Syrup Options:
You can buy a bottle of pumpkin spice syrup such as Torani's.
You can make homemade pumpkin spice syrup (which is really easy to do).
Or, you can make homemade pumpkin spice sauce that is creamier as it contains sweetened condensed milk.
Recommended Products
As an Amazon Associate and member of other affiliate programs, I earn from qualifying purchases.
Nutrition Information:
Yield:

1
Serving Size:

16 ounces
Amount Per Serving:
Calories:

300
Total Fat:

45g
Carbohydrates:

48g