Wondering what a Starbucks Chestnut Praline Latte tastes like and what's in this holiday drink? Here's a complete overview of this seasonal handcrafted beverage from Starbucks, including chestnut praline flavor profile, caffeine content and more.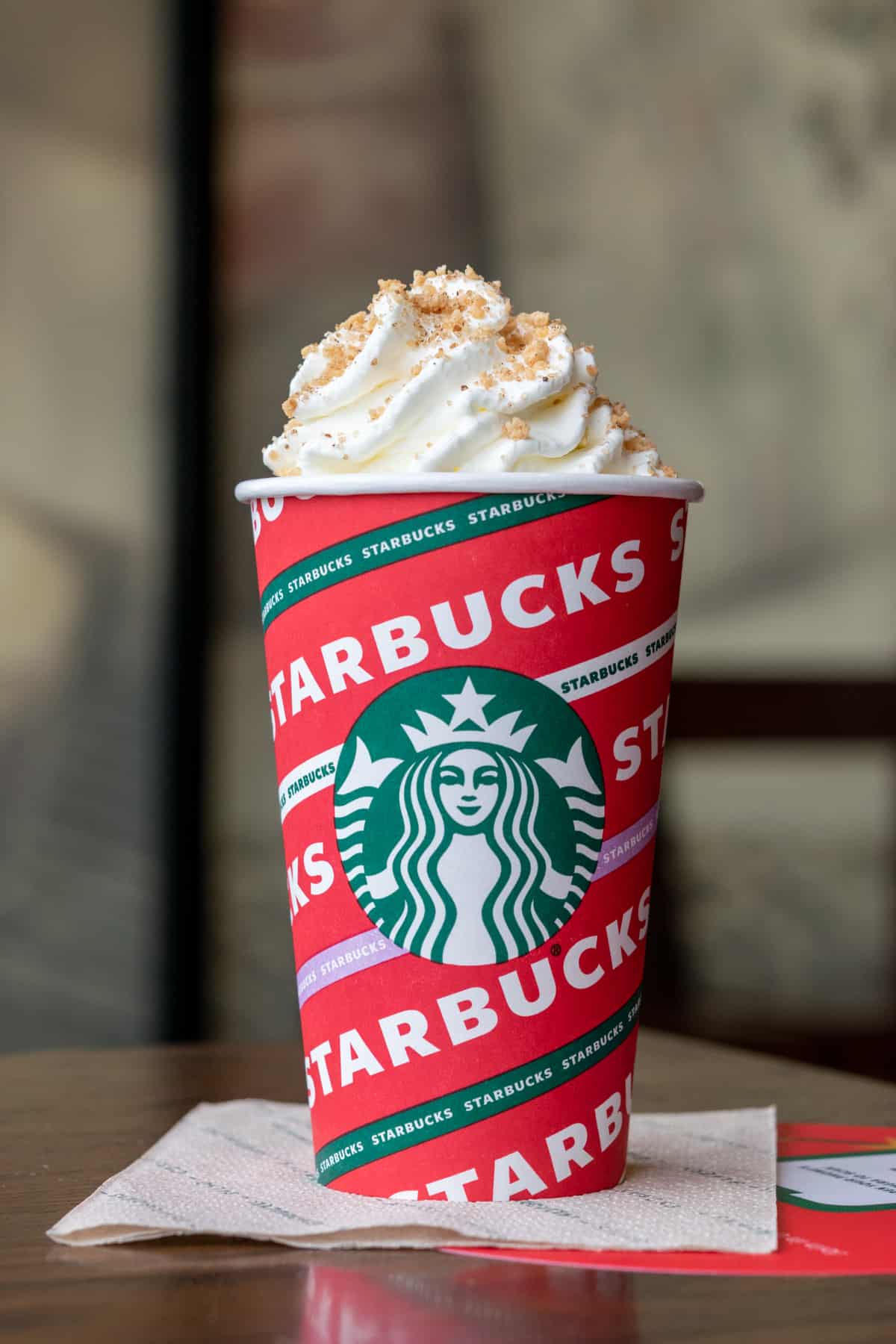 Starbucks Chestnut Praline Latte
Starbucks Chestnut Praline Latte is a holiday drink that combines chestnut praline syrup, espresso and milk. It's topped with whipped cream and a spiced chestnut praline crumb topping.
This seasonal Starbucks beverage is available as a hot latte or iced. And for an even more indulgent holiday sip, chestnut praline frappuccinos are on the menu, too. There's both a coffee-based chestnut praline frappuccino and a caffeine-free, creme-based option.
Starbucks describes a hot Chestnut Praline Latte like this:
First we begin with our signature espresso and velvety steamed milk, and then add flavors of caramelized chestnuts and spices—all topped with a holiday finale of whipped cream and specially spiced praline crumbs.

starbucks.com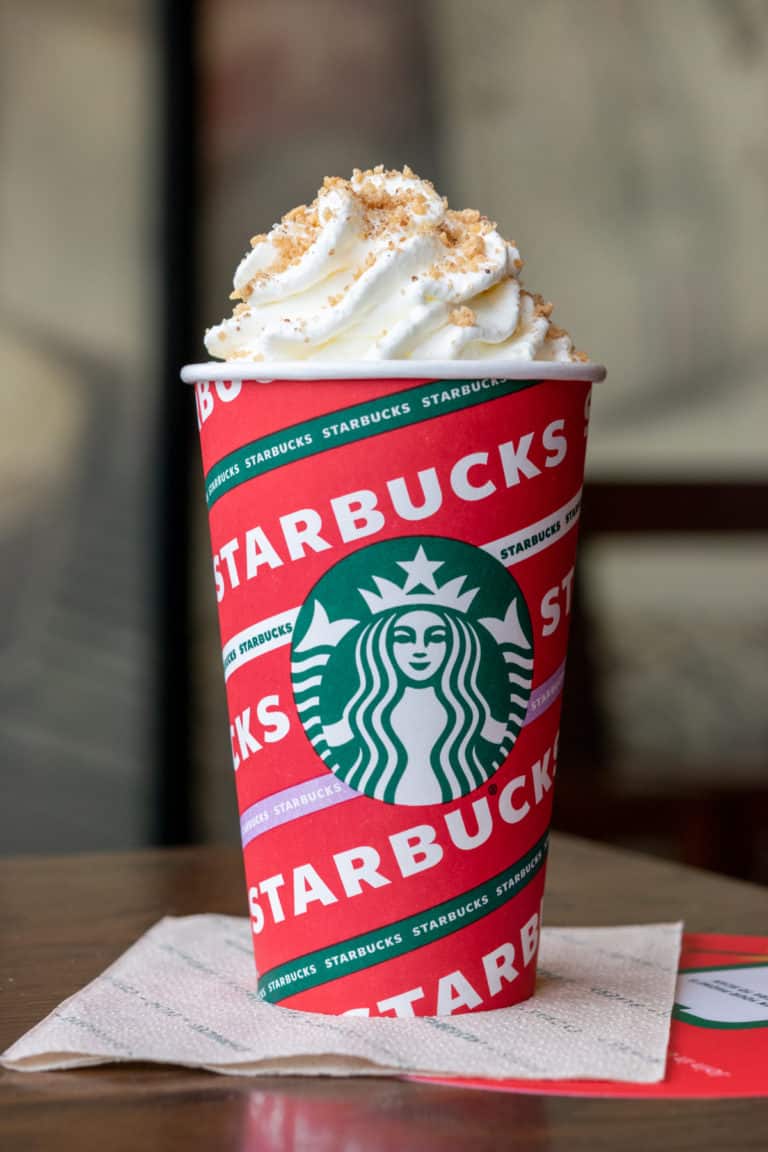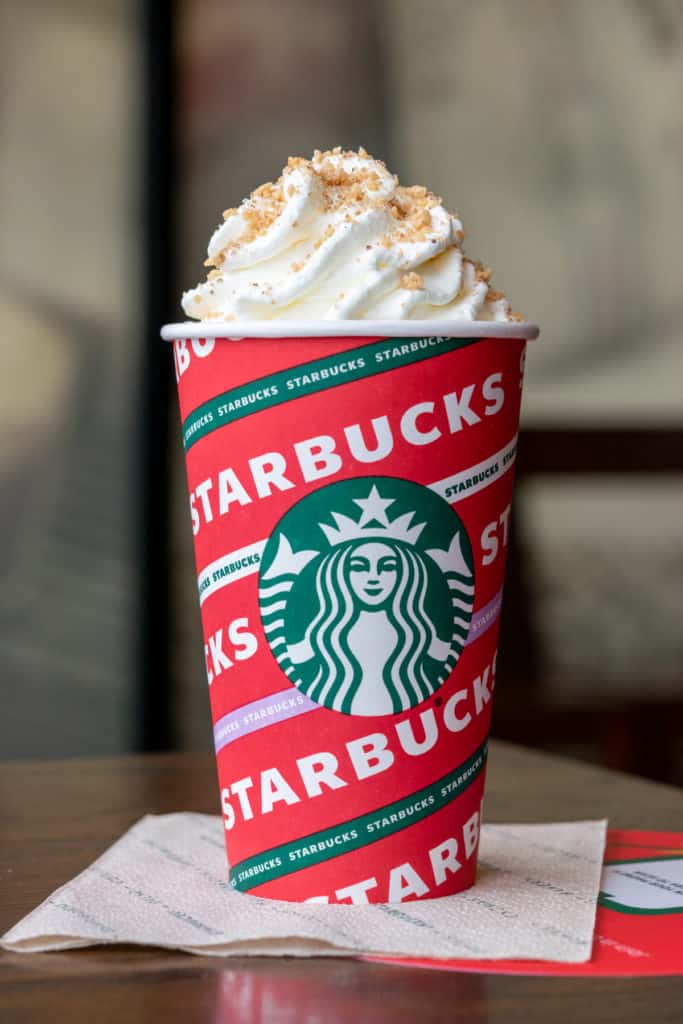 So what does a Starbucks Chestnut Praline Latte taste like?
A Chestnut Praline Latte has a caramelized chestnut flavor with a bit of a nutty and buttery taste. Toffee, cinnamon, ginger, and clove provide sweetness and spice. Perfect for winter sips.
Back in 2014, when Starbucks first introduced Chestnut Praline to their seasonal drink line-up, they described it as, "inspired by the time-honored holiday tradition of warm roasted chestnuts."
My favorite part of this drink is the crumb topping and whipped cream. This sweet and toasty duo transforms a tasty latte into a real holiday treat!
Related: Every Starbucks Holiday Drink Rated, Cheers or Jeers; Starbucks Holiday Drinks & Syrups: Every Festive Flavor
What's in a Chestnut Praline Latte from Starbucks
Chestnut Praline Syrup + Brewed Espresso + Steamed 2% Milk (or Ice & Milk) + Whipped Cream + Chestnut Praline Topping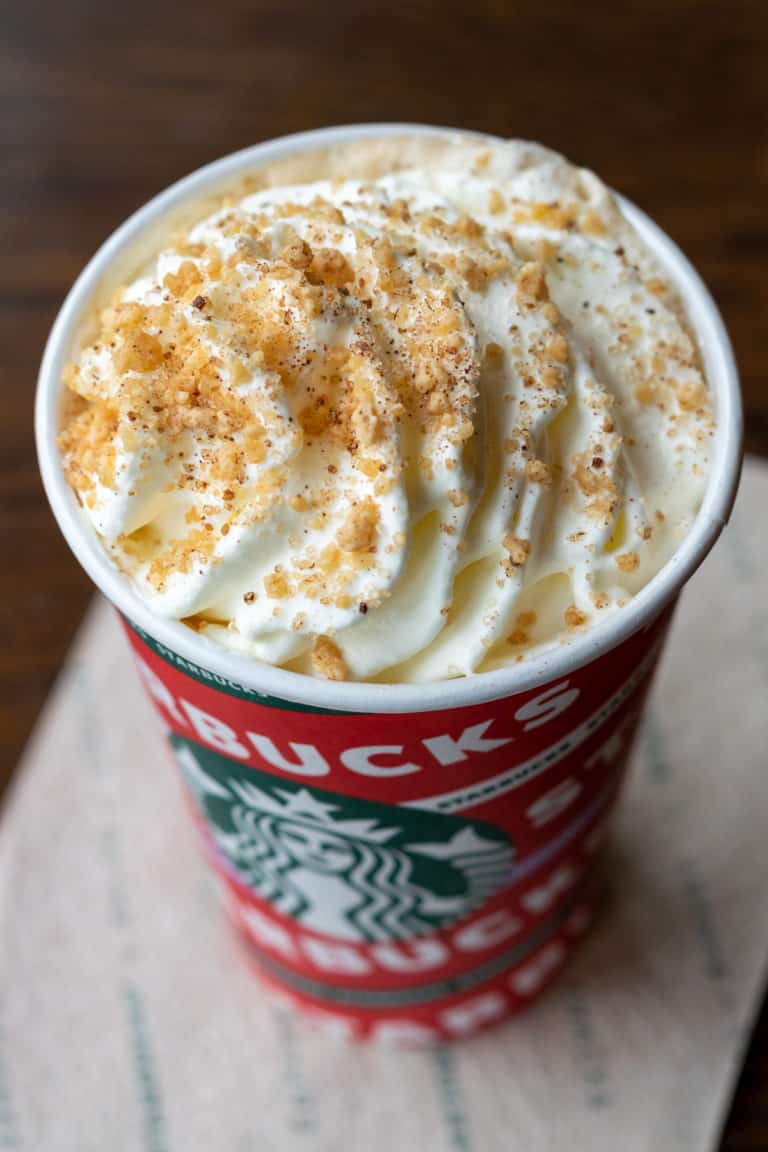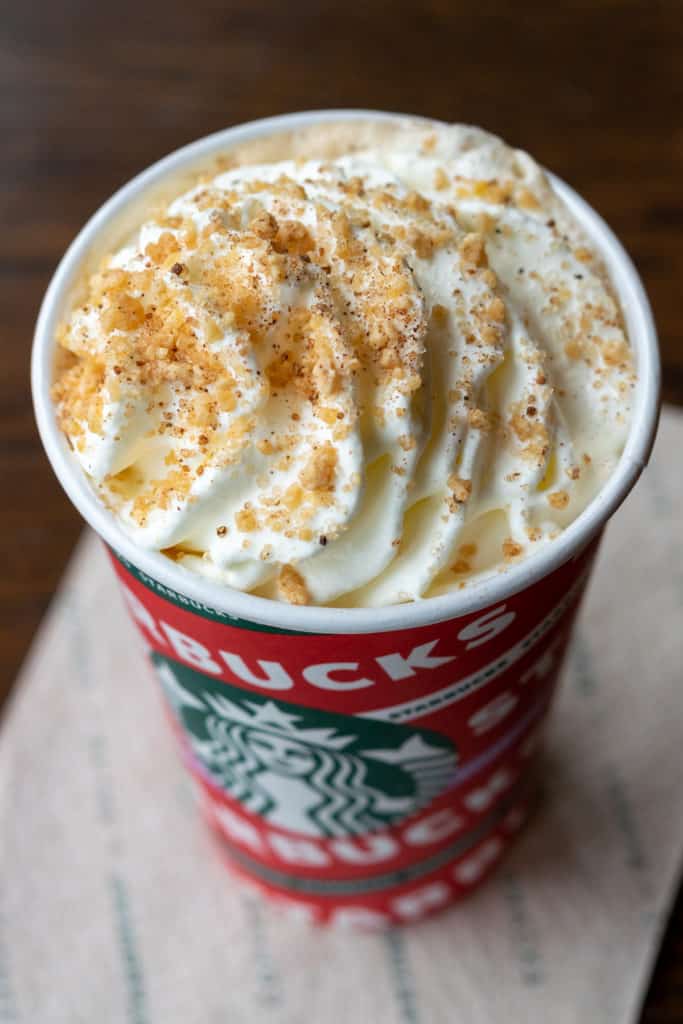 Chestnut Praline lattes at Starbucks are flavored with chestnut praline syrup. This coffee syrup flavor is sugar-based and does not contain any milk products.
The chestnut praline topping is basically spicy bits of sugar. In fact, this crumb topping contains two types of sugar—toffee sugar, and cane sugar coated in cinnamon, ginger and clove.
Make note, Starbucks also offers a Blonde Chestnut Praline Latte seasonally. Made with light-roasted espresso, this latte has bit more of a mellow taste.
It's also slightly more caffeinated than lattes made with Starbucks regular signature espresso roast. For instance, Starbucks lists a grande blonde latte as having 170 mg of caffeine compared to a regular latte with 150 mg.
What's in a Chestnut Praline Latte: The drink portion contains both components of a Caffè Latte, brewed espresso and steamed milk, that's flavored with chestnut praline syrup. The iced version has ice and cold milk instead of steamed milk.
Chestnut Praline Toppings: This seasonal latte is topped with a big dollop of Starbucks whipped cream. Spiced praline crumbs are sprinkled on top.
Related: Starbucks Coffee Guide: Lattes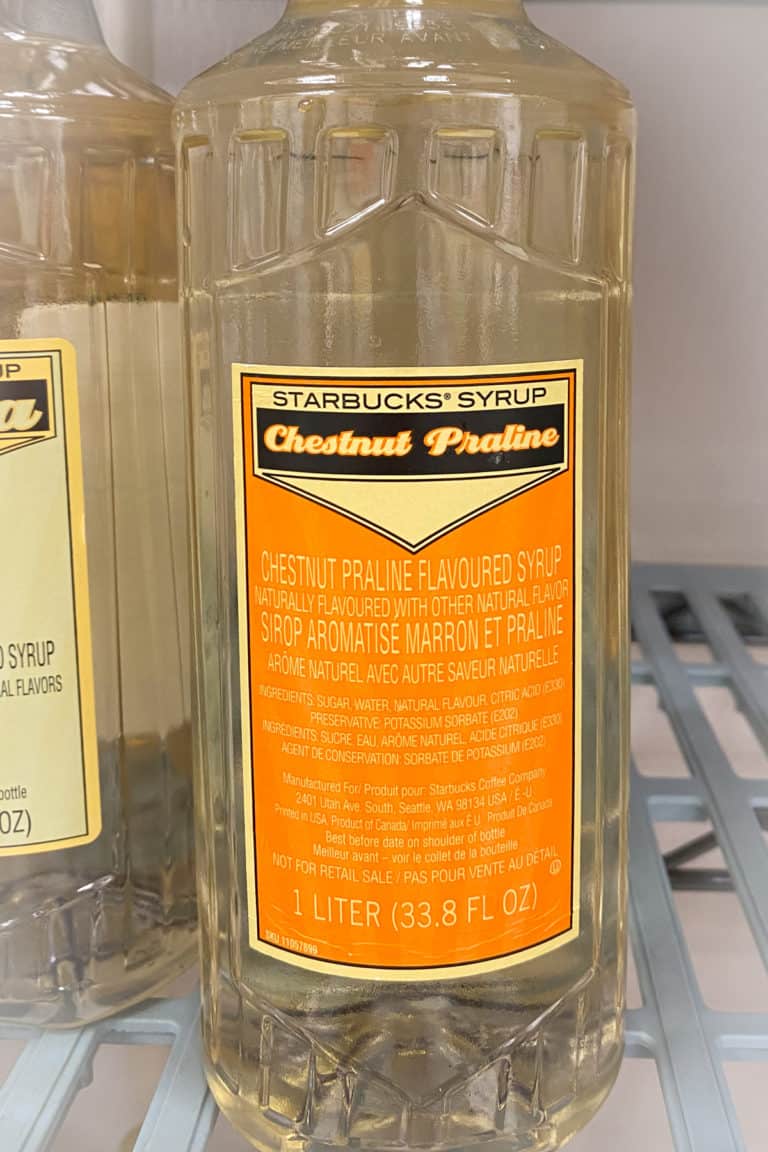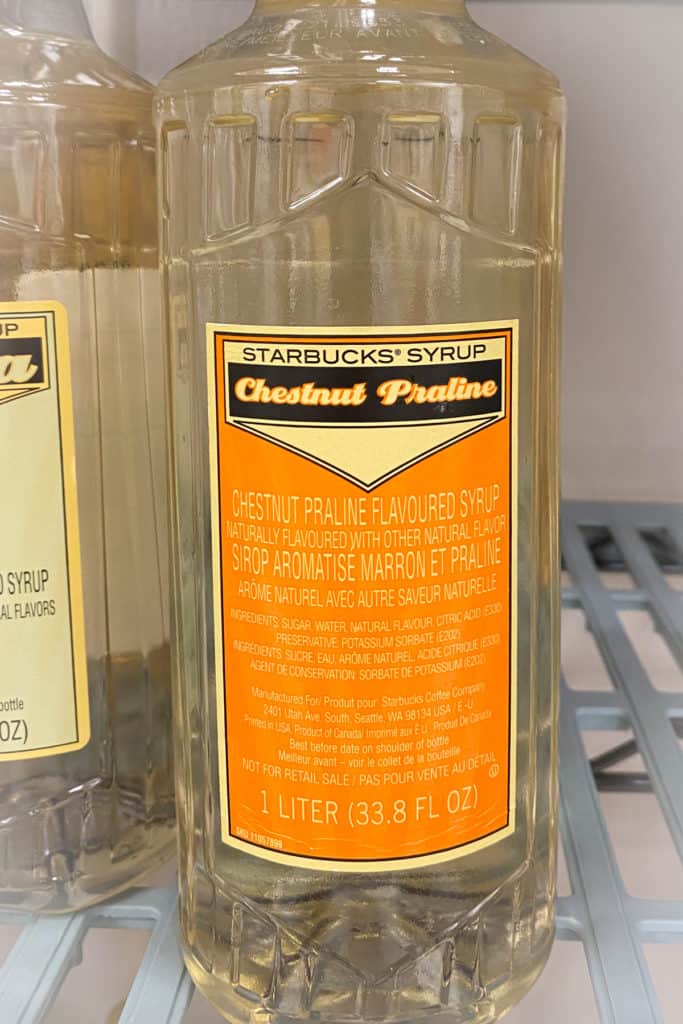 Starbucks Chestnut Praline Latte: Sizes, Caffeine & Calories
| | | |
| --- | --- | --- |
| Chestnut Praline Latte Sizes | Calories | Caffeine |
| Short (Hot) | 190 | 75 mg |
| Tall (Hot) | 310 | 75 mg |
| Tall (Cold) | 240 | 75 mg |
| Grande (Hot) | 330 | 150 mg |
| Grande (Cold) | 320 | 150 mg |
| Venti (Hot) | 410 | 150 mg |
| Venti (Cold) | 400 | 225 mg |
Starbucks Chestnut Praline Latte Sizes, Caffeine and Calories from starbucks.com
To see exactly how many shots of espresso and pumps of syrup each Chestnut Praline Latte gets, check out this related article.
Related: Starbucks Drink Sizes: The Ultimate Guide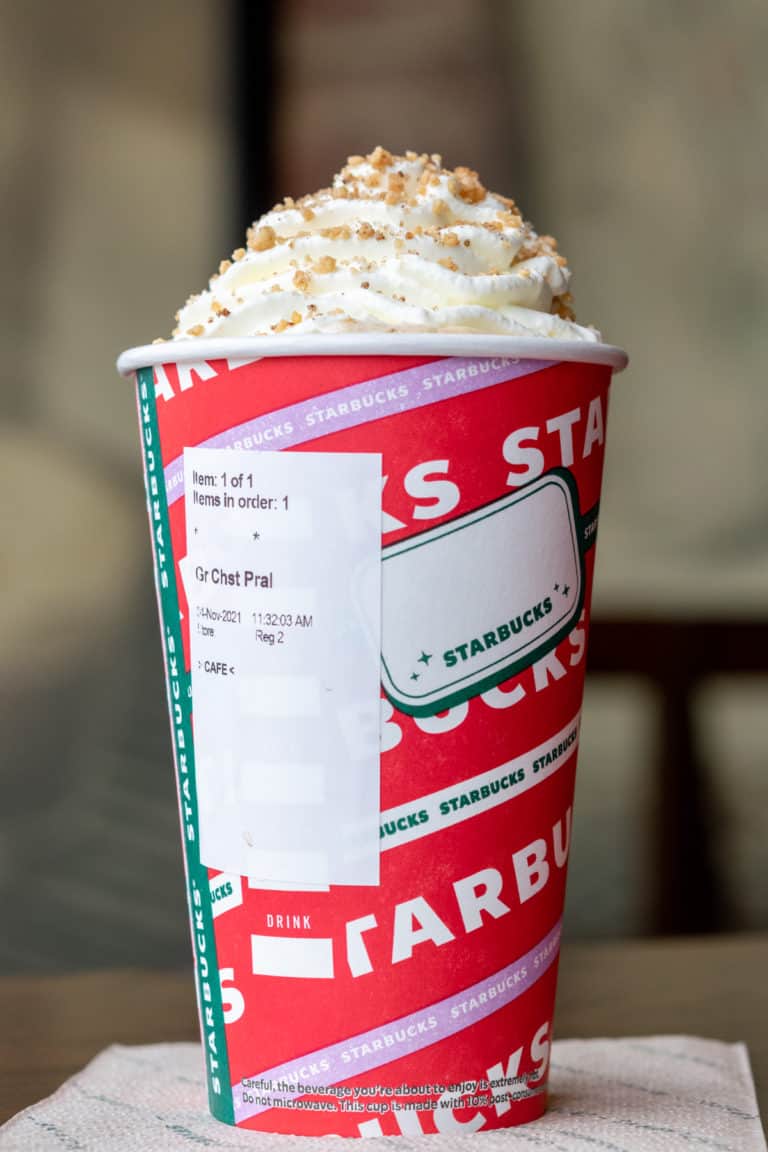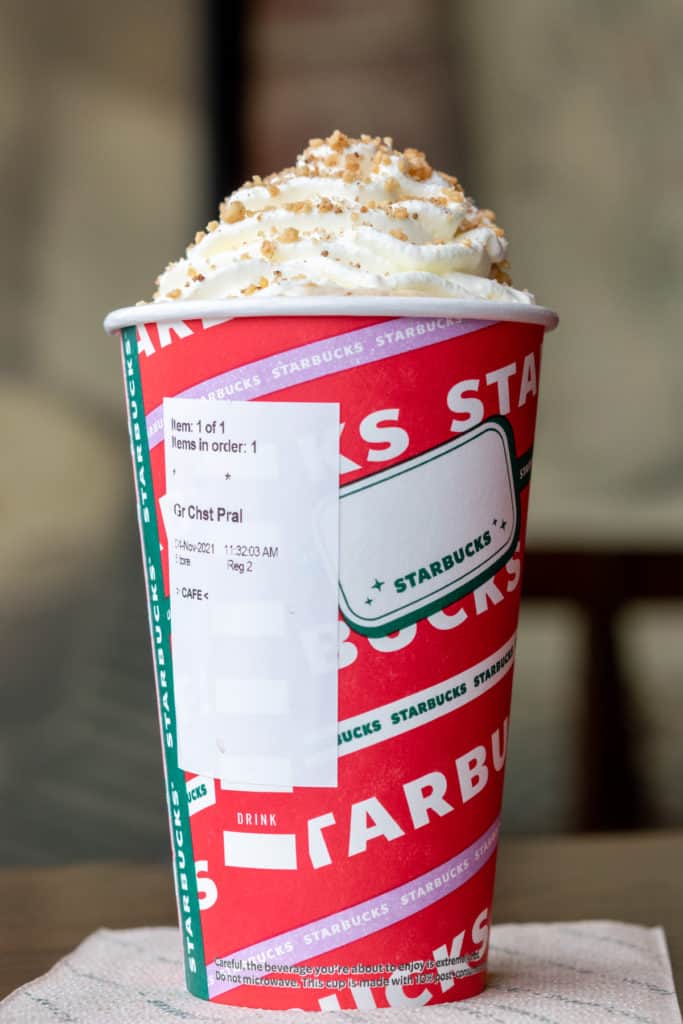 Ways to Customize a Chestnut Praline Latte at Starbucks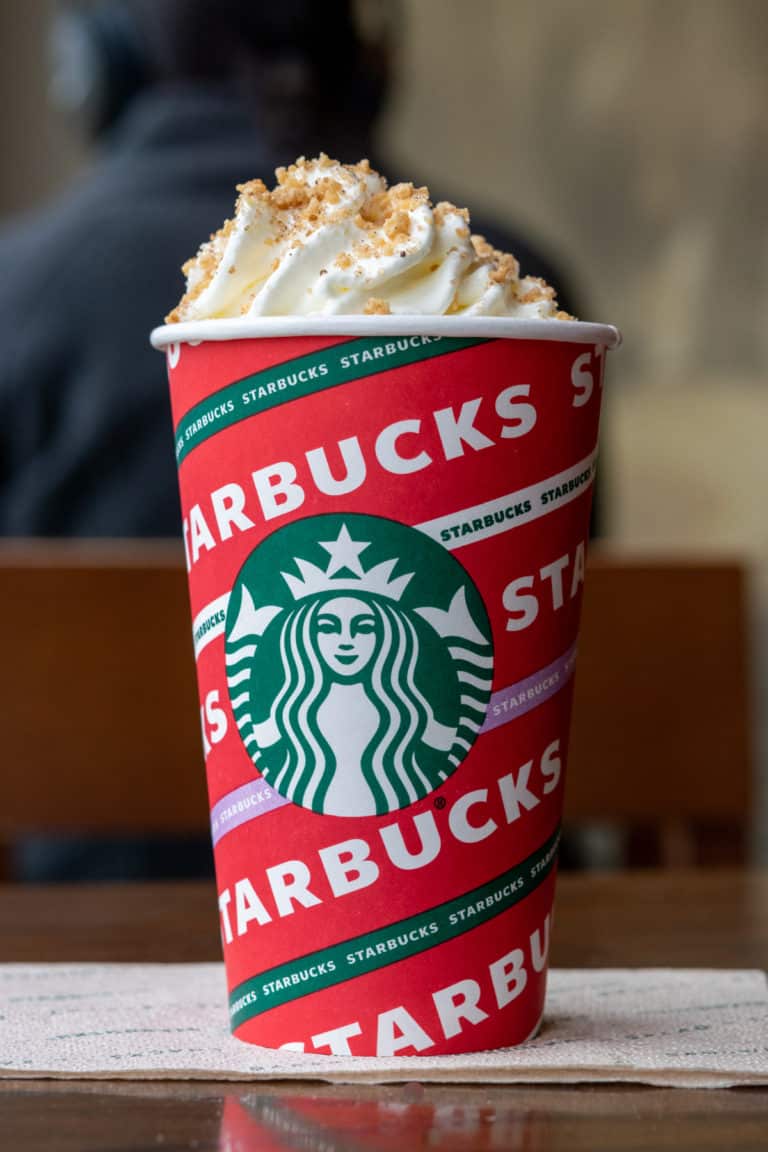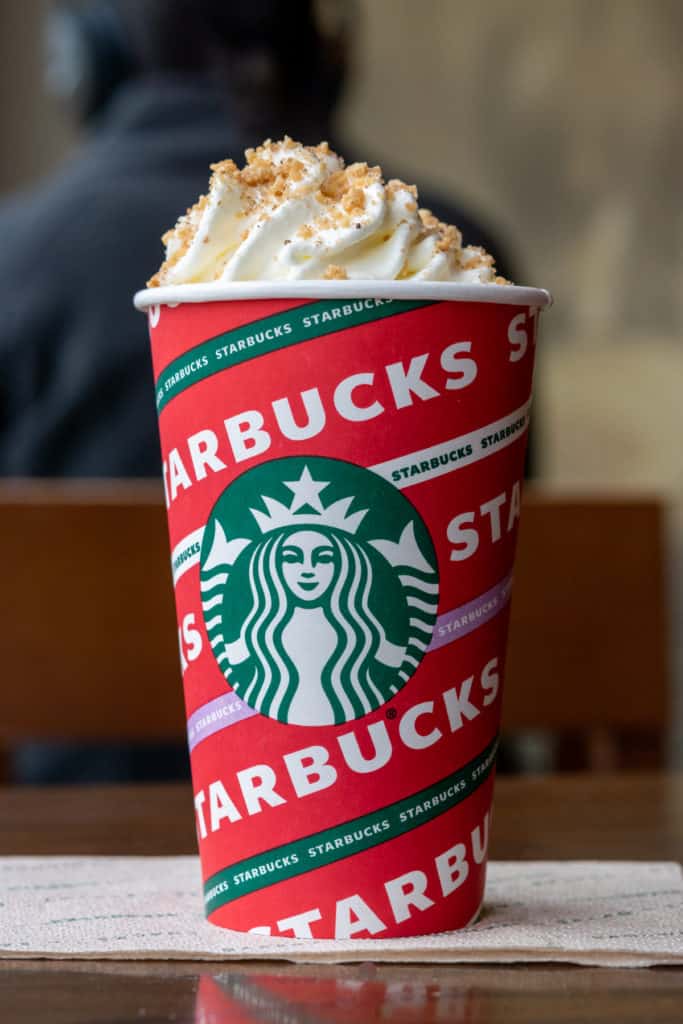 Order it Decaf: Since the Chestnut Praline Latte is an espresso-based beverage, you can order it decaf.
Make it Dairy-free: Since the chestnut praline syrup does not contain milk products like some Starbucks flavored sauces, it's possible to order a non-dairy Chestnut Praline Latte. Simply, substitute the standard dairy milk with an alternative milk, like almond, oat or soy. In addition, order it with no whipped cream.
An alternative milk costs around .70 cents but you can also use Starbucks Rewards Stars towards a free customization.
Cut the Calories: To reduce calories in a Starbucks latte, including the Chestnut Praline Latte, one thing you can do is select a lower-calorie type of milk. Another option is to leave off the whipped cream and select a calorie-free topping like cinnamon spice.
Add More Caffeine: The holidays can be a busy time so you may want to add an extra shot of espresso to your Chestnut Praline Latte. Or maybe you just want more yummy coffee flavor. Here are 10 ways to get more caffeine in your Starbucks drink.
Related: Starbucks Espresso Shots: Sizes, Caffeine & Options; 12 Delicious Dairy-Free Starbucks Drinks
Questions You May Have
What does Starbucks Chestnut Praline Latte taste like?
Overall, a chestnut praline latte from Starbucks has a toasty, nutty, buttery flavor. The sweet ground praline crumb topping tastes of cinnamon, ginger and clove. This holiday latte is inspired by warm, roasted chestnuts, and its flavor lives up to that inspiration.
Is a Starbucks Chestnut Praline Latte a seasonal drink?
Chestnut Praline lattes and frappuccinos are seasonal Starbucks drinks that first appeared on the 2014 holiday menu. This traditional winter beverage is available for a limted time each year, beginning in Novemeber.
More Starbucks Holiday Drinks
Related Starbucks Drinks & Guides