Wondering exactly what's in a Starbucks Iced Pumpkin Spice Latte and how much caffeine is in each size drink. Here's a complete look at this popular seasonal pumpkin beverage.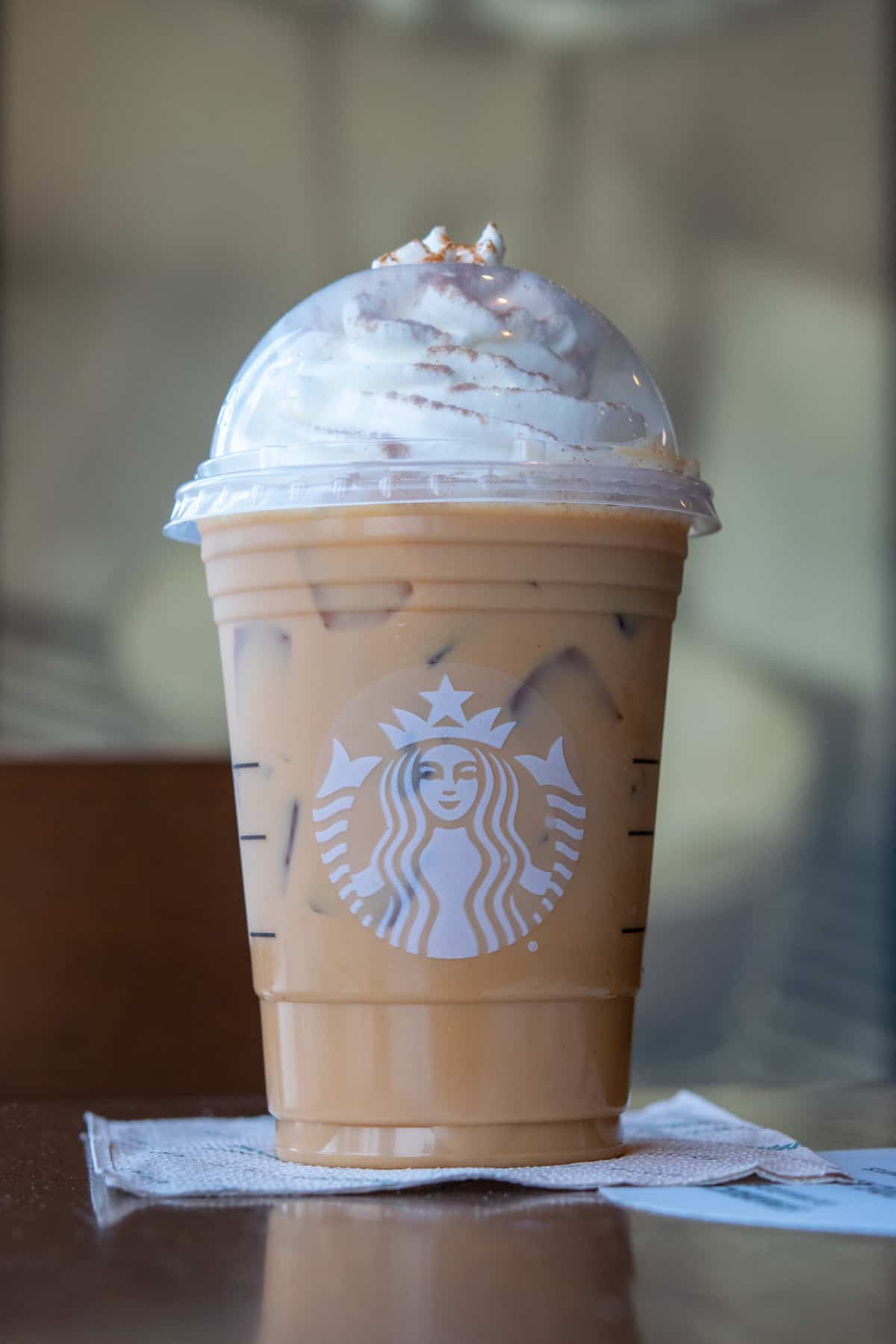 Starbucks Iced Pumpkin Spice Latte
A Starbucks Iced Pumpkin Spice Latte is simply a regular Iced Caffe Latte that's flavored with creamy pumpkin spice sauce and topped with whipped cream and pumpkin spice topping. It's the iced version of a hot PSL.
A standard Iced Pumpkin Spice Latte without any customizations is made with Starbucks Signature Espresso which is a dark roast.
This drink is very different from a Pumpkin Cream Cold Brew. For example, the Iced PSL has more pumpkin flavor but a lot less caffeine than the pumpkin cold brew. To see a complete comparison, take a look at: Starbucks Iced Pumpkin Spice Latte vs. Pumpkin Cream Cold Brew.
This popular seasonal beverage contains dairy. The pumpkin spice sauce has dairy in it and the latte is made with 2% reduced fat milk.
Looking for more ways to enjoy a cold pumpkin-flavored drink? Here's a list of popular pumpkin iced coffee drinks to order at Starbucks.
What's in an Iced Pumpkin Spice Latte
An Iced PSL from Starbucks has six ingredients.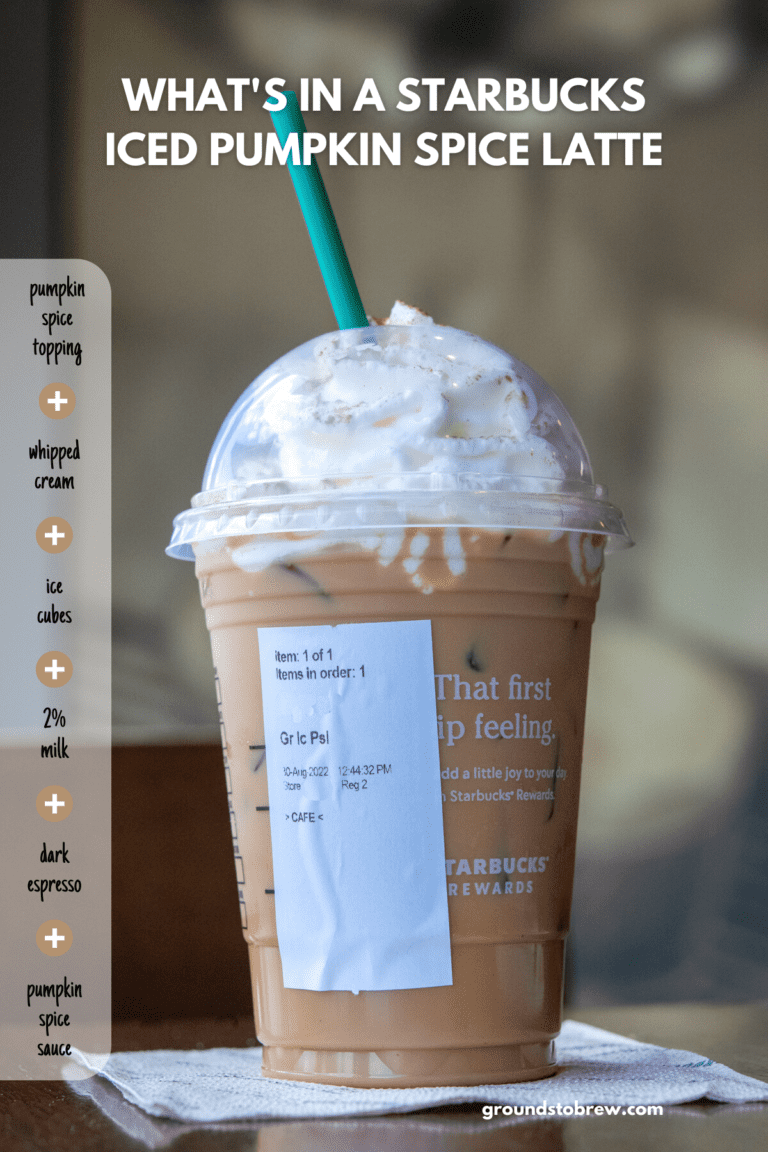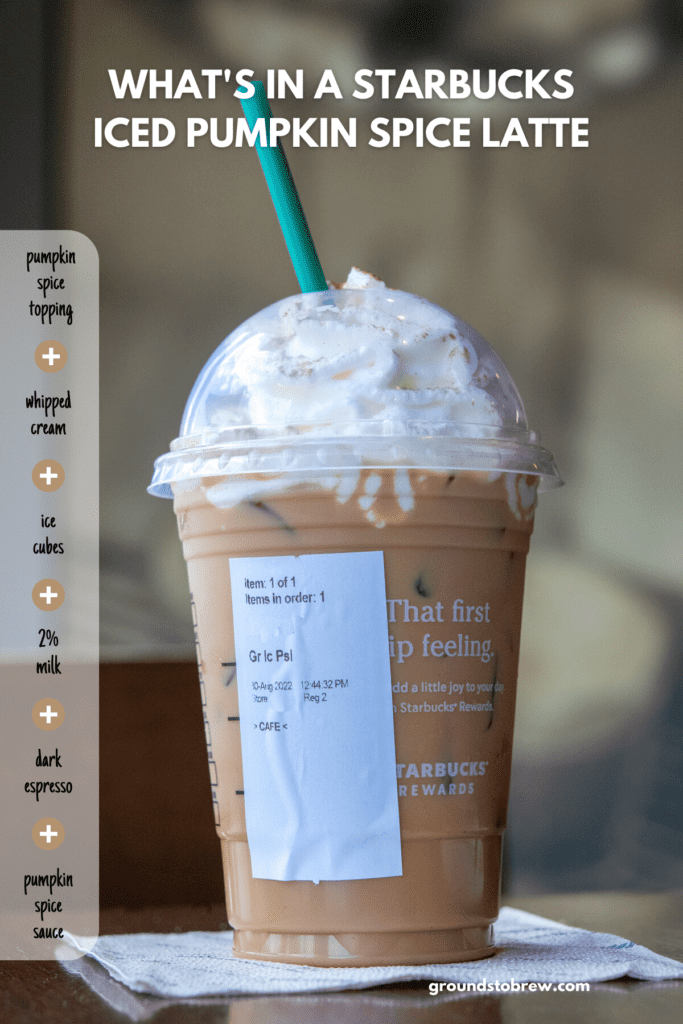 Pumpkin Spice Sauce
Brewed Espresso
2% Milk
Ice
Whipped Cream
Pumpkin Spice Topping
Pumpkin Spice Sauce: This sweet and creamy sauce is how every pumpkin drink at Starbucks is flavored. Made with real pumpkin, Starbucks Pumpkin Spice also contains spices like cinnamon and clove.
Brewed Espresso: Starbucks Signature Espresso Roast is a dark roast coffee that's the foundation of all lattes at Starbucks. The rich, bold roast is the perfect complement to the sweet and creamy pumpkin sauce.
2% Milk: Reduced-fat 2% dairy milk is the standard milk that is used to make almost every Starbucks espresso drink. A notable exception is the flat white. It's made with whole milk.
Ice: The only difference between a hot pumpkin spice latte and the iced version is ice and the temperature of the milk. Along with cold milk, Starbucks tripled-filtered ice cubes cool down the espresso and make the perfect iced version of this classic fall beverage.
Whipped Cream: Every slice of pumpkin pie needs a dollop of whipped cream, and in my opinion, a big swirl of Starbucks sweetened whipped cream is a must on top of every pumpkin spice latte. Unless you want to reduce dairy or cut back calories, don't skip the whip.
Pumpkin Spice Topping: Pumpkin spice topping sprinkled on top whipped cream ensures every sip of your latte is creamy and tastes of fall. This ground spice mixture combines cinnamon, ginger, nutmeg and clove.
Drink Sizes
There are four cup sizes at Starbucks for cold drinks. However, not every iced drink comes in every size.
For example, Starbucks iced espresso beverages are not available in the largest cup—the mega, 30-ounce trenta.
To put it simply, there's no such thing as ordering a trenta iced latte from Starbucks.
This means, an iced pumpkin spice latte at Starbucks comes in three sizes: 12-ounce tall, 16-ounce grande, and 24-ounce venti.
Caffeine Content
The caffeine content for all Starbucks espresso-based beverages depends on the size you order, the number of espresso shots, and the espresso roast.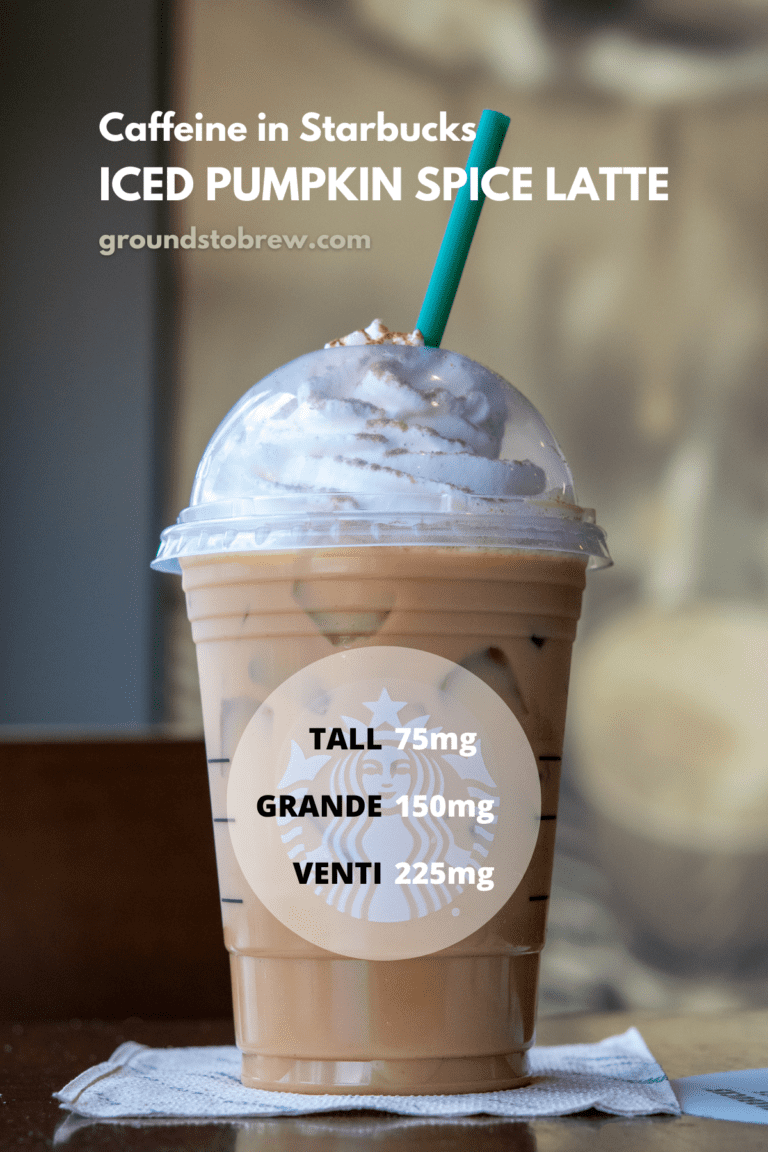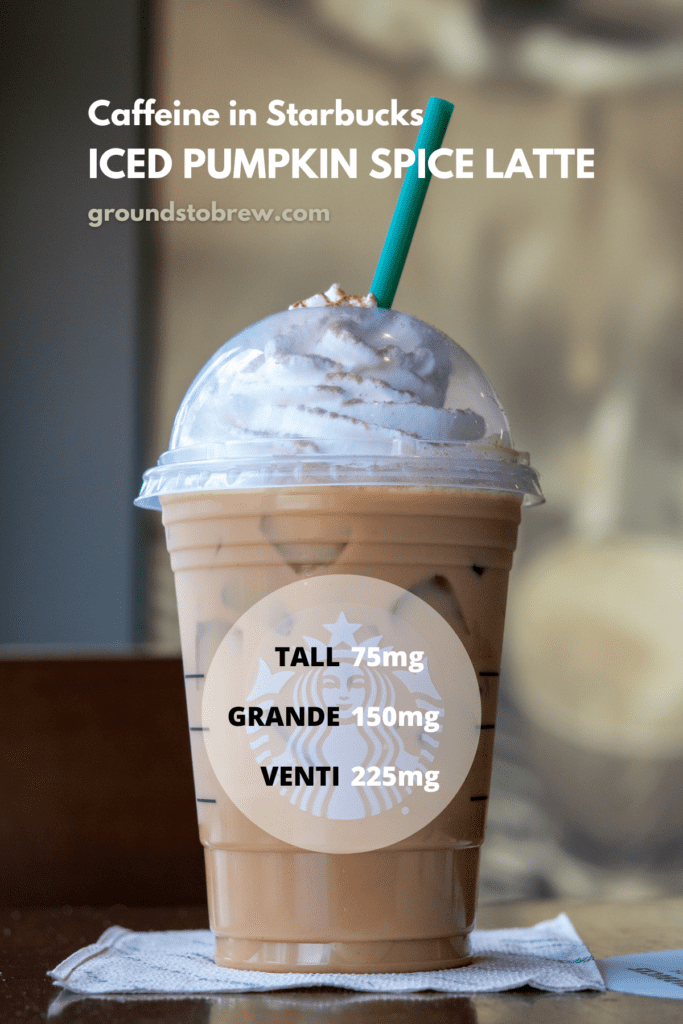 At Starbucks, an Iced Pumpkin Spice Latte has 1 shot of dark roast espresso in a tall, 2 shots in a grande, and 3 shots in a venti.
Caffeine in a Starbucks Iced Pumpkin Spice Latte
Tall (12 fl. oz.): 75mg
Grande (16 fl. oz.): 150mg
Venti (24 fl. oz.): 225mg
To add more caffeine, you can add extra shots of espresso or switch to blonde roast. (Or do both.)
For less caffeine, order it with Starbucks decaf espresso instead of dark roast. Decaf is a process of removing caffeine from the coffee so it still has trace amounts of caffeine in it.
For a completely caffeine-free Iced Pumpkin Spice Latte just ask for the drink to be made without coffee.
The hot version of a coffee-free pumpkin spice latte is listed on the menu as a Pumpkin Spice Steamer.
Calories
Pumpkin spice lattes are heavy on milk and cream. And with that, comes lots of calories.
Calories in a Starbucks Iced Pumpkin Spice Latte:
Tall: 270 calories
Grande: 370 calories
Venti: 480 calories
Here's the thing, an Iced PSL is never going to make the list of Starbucks drinks under 100 calories or a list of calorie-free Starbucks drinks for diabetics, but there are ways to reduce the amount of calories if that matters to you.
Take a look at these ordering options to see how.
Iced Pumpkin Spice Latte Ordering Options
Popular ways to customize pumpkin drinks at Starbucks like the Iced PSL are to switch the type of espresso shots, opt for another Starbucks milk option, or to combine it with another flavor.
Reduced Calories: There are 3 ways to shave off some calories on an Iced PSL and they are to substitute in a lower calorie milk, order it with less pumps of pumpkin spice sauce, and ask for it without whipped cream.
Reduced Dairy: Starbucks pumpkin spice sauce has condensed skim milk in it so you can not order a nondairy PSL.
However, you can significantly reduce the dairy by switching to a plant-based milk and ordering it sans whipped cream.
Questions You May Have
How many calories are in a Starbucks Iced Pumpkin Spice Latte?
The majority of calories in an iced pumpkin spice latte from come from the pumpkin sauce, milk in the latte and whipped cream on top. Specifically, a 12-ounce tall iced PSL contains 270 calories, a 16-ounce grande has 370 calories and a 24-ounce venti has 480 calories.
What does an iced pumpkin spice latte taste like?
Starbucks pumpkin drinks are made with a sauce that contains real pumpkin, cinnamon, nutmeg and clove. Pumpkin pie spices are sprinkled on top, as well. The sauce and milk balance the bold espresso. As you can imagine, this delicious espresso drink has all the warm and cozy flavors of fall.
Related