Espresso con Panna is an easy coffee drink to make and brings out the flavor of espresso perfectly paired with sweet and creamy whipped cream.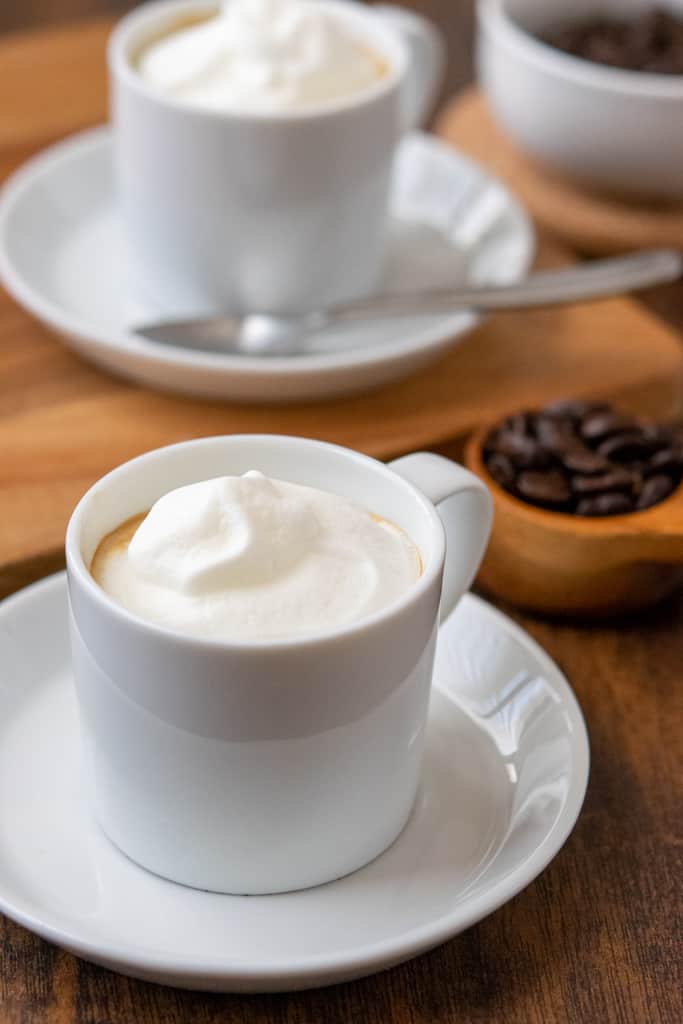 An espresso con panna is as simple and delicious as its name suggests—espresso with cream. And with just a couple ingredients and a few minutes you can easily make an espresso con panna at home.
Once you see how simple it is to make this lovely little coffee, you can sip it while relaxing or enjoy it as an after dinner treat.
Shots of espresso are the foundation of so many of our favorite coffeehouse drinks. But lattes, mochas, and cappuccinos are often mixed with lots of milk, foam, syrups, sauces and sweeteners.
An espresso con panna lets you step back and really savor the bold flavors of the espresso tempered with fluffy sweet cream.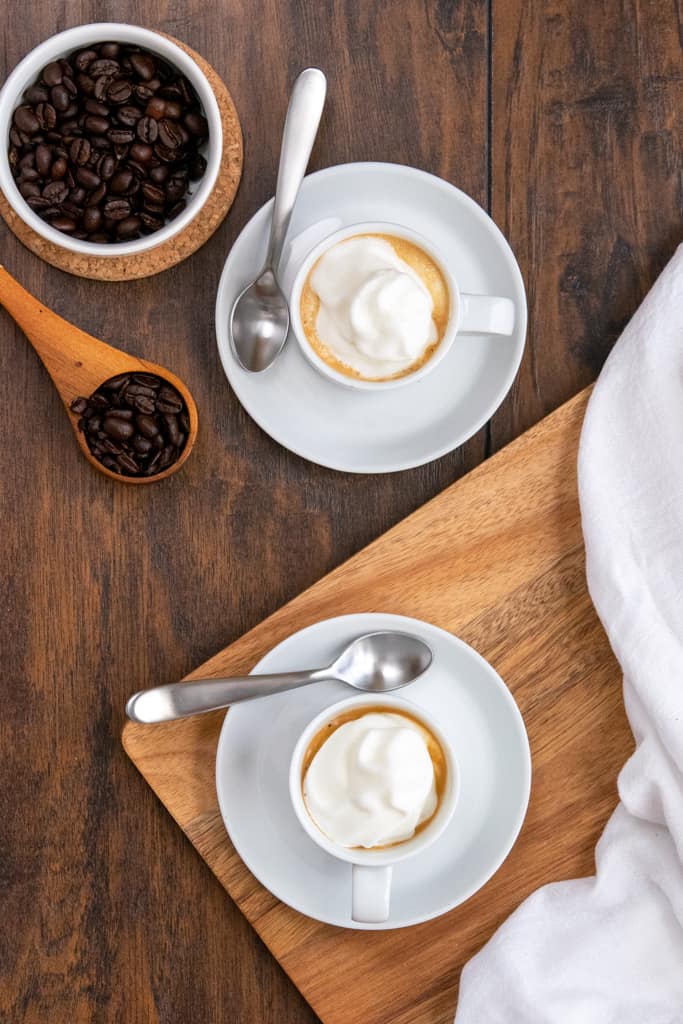 How to Make Espresso con Panna
To make an espresso con panna you need two things: espresso and whipped cream.
As you can imagine, with only two ingredients, the flavor of each really stands out.
The thing is, with an espresso con panna there's a certain synergy between the espresso and cream. In a way, it's like a marriage of opposites.
Each sip is the perfect balance of rich espresso and sweet whipped cream. Of course, the overall flavor is dependent on the coffee beans you select and their freshness. Additionally, the taste and texture of the whipped cream has a big impact, too.
Here are some tips on making each at home.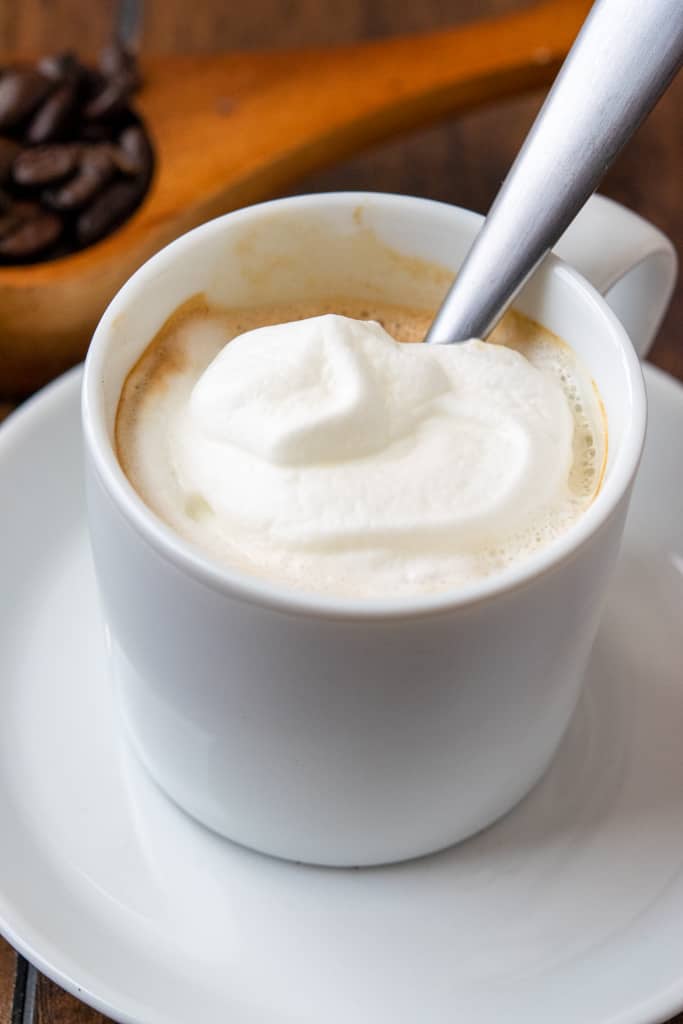 Making Espresso at Home
If you have an espresso machine, then this is a really simple drink to make. I use the Breville Barista Express and love that it has a built-in coffee grinder. For this drink, pull either a single or double shot.
Now, I know not everyone has an actual espresso machine. An alternative is to use a moka pot. They're really inexpensive, easy to use, and you can even pick one up at places like Target.
Keep in mind, when it comes to making espresso, grind size matters.
In the case of espresso, you need to grind the beans finely. I have a Cuisinart coffee grinder with a wide range of grind sizes from fine to course. It's great because you can select "fine" for espresso or "course" to make cold brew coffee.
Finally, I know a lot of people have Nespresso machines, as well and love the ease and convenience of the pre-measured, pre-ground coffee capsules or pods.
If you're using a machine like this, just select the "espresso" or "double espresso" cup size.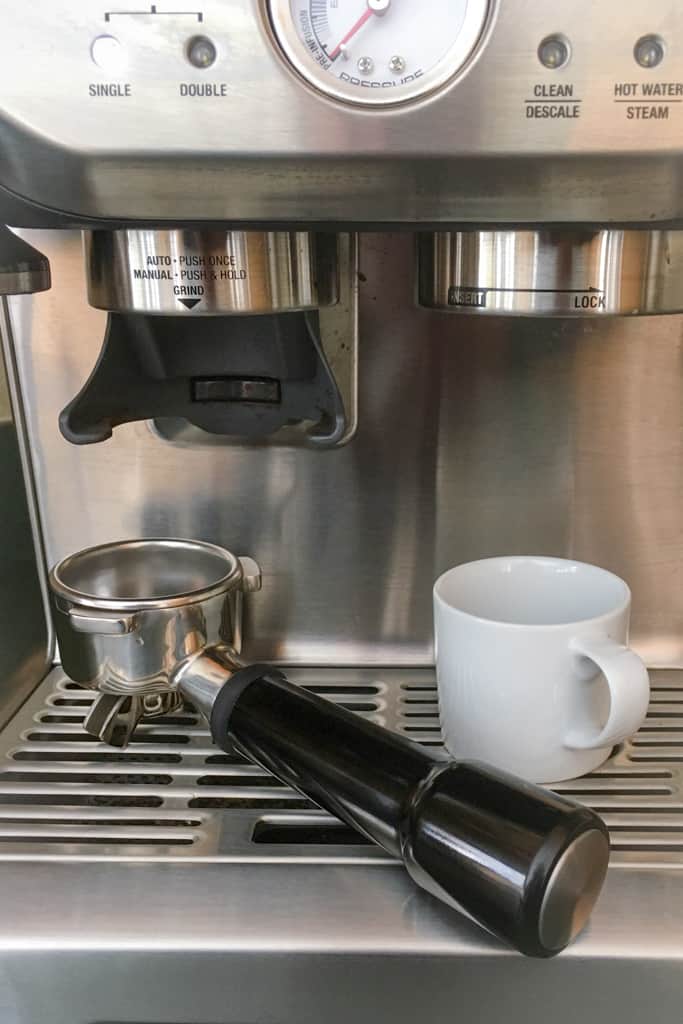 Making Whipped Cream
A big dollop of sweet and creamy whipped cream is also key to a great-tasting espresso con panna.
And while you can squirt on some store-bought whipped cream from a can, I do not recommend it.
I think it's definitely worth making homemade whipped cream. It's really simple to do and is fresh and creamy. Plus, you can make it nice and sweet with a little confectioners sugar or flavored syrup.
But hands-down, my favorite whipped cream is Starbucks whipped cream. Have you ever wondered why their whipped cream is so good?
Well, the secret to what makes it so special (to me, anyway), is that it's flavored with vanilla syrup. Take a look; here's how to make Starbucks whipped cream at home.
So for an espresso con panna, make your favorite whipped cream recipe at home with heavy cream, and add a little vanilla syrup to take the flavor up a notch.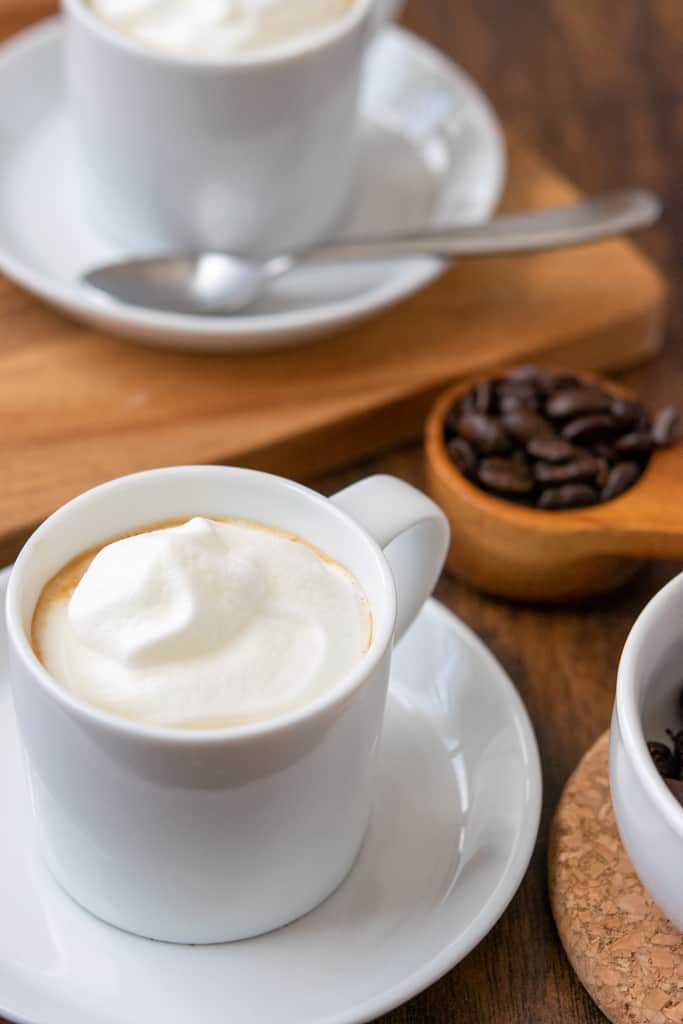 How to Serve Espresso con Panna
Typically, an espresso con panna is served in a demitasse cup or small glass.
If you're not familiar, a demitasse cup, also called a half cup, holds about 2-3 fluid ounces.
In this case, half cup does not refer to the actual 4 ounce measurement. Instead, "half" is more of a comparison since this little cup was about half the size of a typical coffee cup.
Additionally, a saucer is nice for carrying a petite demitasse cup. Plus, it catches any spills and protects your table. Oftentimes espresso cups and saucers are sold together as a set.
You can even serve this coffee with an espresso spoon (yes, "they" make those). If you want to sweeten the espresso with a little sugar, the espresso spoon is perfect for stirring it.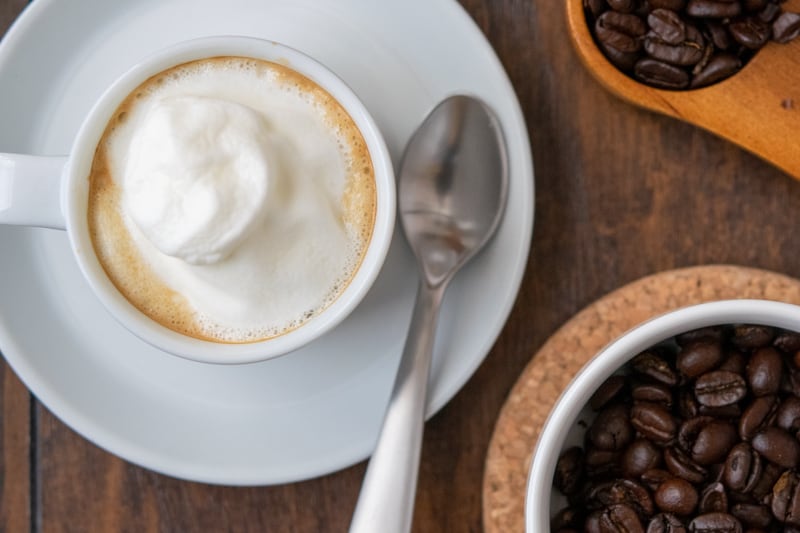 Espresso Con Panna at Starbucks
If you're on-the-go and want an espresso con panna, you can easily get one at Starbucks or any coffeeshop with an espresso machine.
It's listed on the Starbucks hot coffee menu as Espresso Con Panna.
The only decision you have to make is how many shots of espresso you want: solo, doppio, triple or quad. The standard size is doppio—two shots.
While this certainly isn't one of Starbucks more popular drinks to serve, this Starbucks drink has a lot of caffeine without all the extra calories of milk and other add-ins.
I guess you can think of it as a way to get all the caffeine you crave, without all the typical Starbucks calories.
But, since an espresso con panna is so simple to whip up, why not try making it at home? Here's an easy recipe.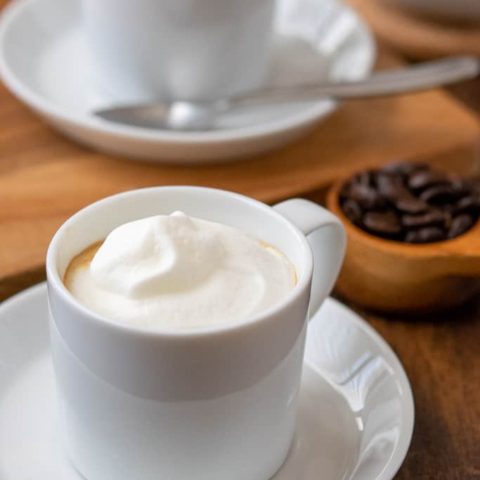 Espresso con Panna
Easy and delicious espresso con panna made with a shot or two of espresso and homemade whipped cream.
Ingredients
Espresso con Panna
2 ounces espresso
3 tablespoons whipped cream
Vanilla Whipped Cream
1 cup heavy cream
2 tablespoons vanilla syrup
Instructions
Make whipped cream. Combine vanilla and cream in a cold bowl and whip with whisk or blender until peaks form. Set aside. See how to make whipped cream like Starbucks with commercial grade dispenser/whipper.
Pull espresso shots and pour into demitasse cup or small glass.
Top with whipped cream.
Notes
You can make espresso with an espresso machine and approximately 18 g of finely ground coffee for a doubleshot. Otherwise, make an espresso-like drink with a moka pot of with espresso pods or capsules.
Recommended Products
As an Amazon Associate and member of other affiliate programs, I earn from qualifying purchases.