Wondering if Starbucks has decaf iced coffee? In this guide I'll show you all the decaf iced coffee options at Starbucks so you can enjoy your favorite drinks on ice.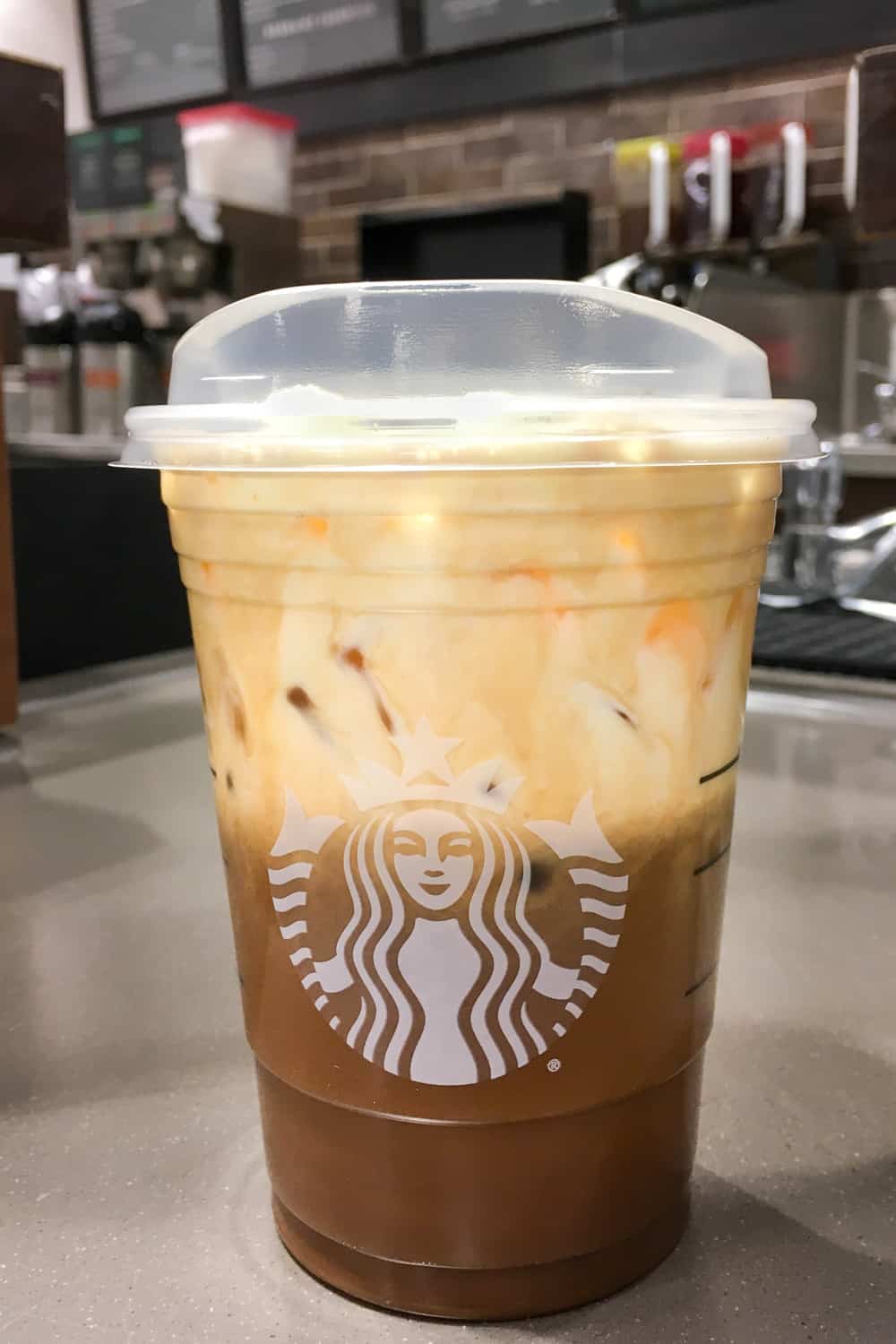 Does Starbucks Have Decaf Iced Coffee?
A lot of people wonder if you can get decaf iced coffee at Starbucks.
And the answer is, yes.
In fact, Starbucks has quite a few decaf iced coffee drinks available.
Make note, though, actual brewed iced coffee and cold brew coffee are not available in decaffeinated form.
However, decaf coffee drinkers will love that all Starbucks iced espresso drinks can be made with decaf espresso beans.
Of course, Starbucks has lots of decaf coffee options for hot drinks, too.
Here's a quick look at every type of drink on Starbucks iced coffee menu and whether or not it can be made decaffeinated.
| | |
| --- | --- |
| Starbucks Iced Coffee Menu | Decaf Available |
| Cold Brew | No |
| Nitro Cold Brew | No |
| Iced Coffee (brewed) | No |
| Iced Caffè Americano | Yes |
| Iced Espresso | Yes |
| Iced Shaken Espresso | Yes |
| Iced Flat White | Yes |
| Iced Latte | Yes |
| Iced Macchiato | Yes |
| Iced Mocha | Yes |
List of Starbucks Decaf Iced Coffee Drinks
RELATED: Starbucks Iced Coffee Drinks: A Look at Every Kind of Cold Coffee on the Menu
Decaf Iced Coffee at Starbucks: Quick Facts
Here are a few insider tips to help you order a decaf iced coffee beverage from Starbucks.
Starbucks brewed iced coffee and cold brew coffee are both made in large batches. Decaf is never made for either type of coffee since there isn't enough demand for it.
Every Starbucks iced espresso drink can be made with decaf espresso.
If you want a traditional decaf iced coffee (brewed coffee that's cold, not iced espresso), the barista can make you a decaf iced coffee using the pour-over method. It will take a few minutes, though.
A decaf Iced Caffè Americano is the best choice if you want a quick decaf iced coffee without syrups and creams.
All Starbucks stand-alone stores have decaf espresso beans. However, not every licensed location (inside grocery stores, book stores, Target, etc.) has decaf espresso.
A limited number of Starbucks locations are equipped with the Clover Brewing System, which can quickly brew individual cups of decaf iced coffee on the spot. Decaf Clover iced coffee blends include Pike Place, Sumatra and Espresso Roast.
Like all decaffeinated coffee, Starbucks decaf iced coffee drinks actually contain a little bit of caffeine.
To order a Starbucks iced coffee drink with less caffeine you can combine decaf espresso and regular espresso. Menu options include: ½ decaf, ⅓ decaf, ⅔ decaf and fully decaf.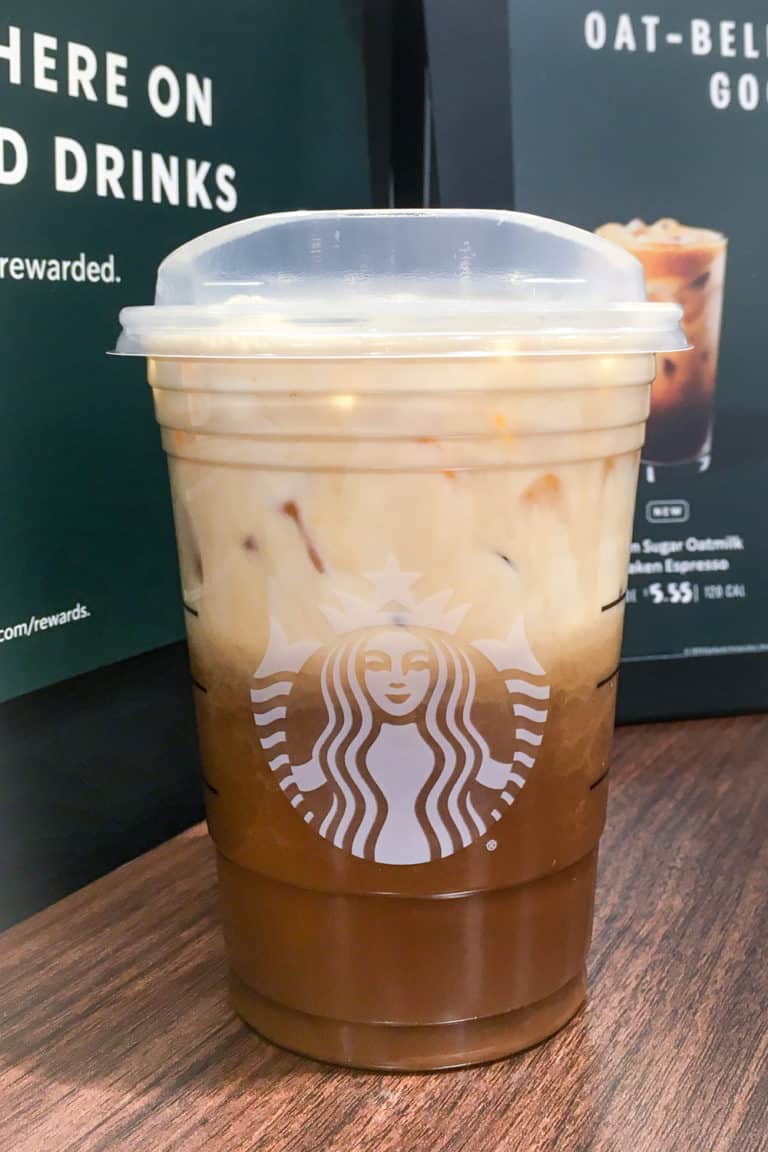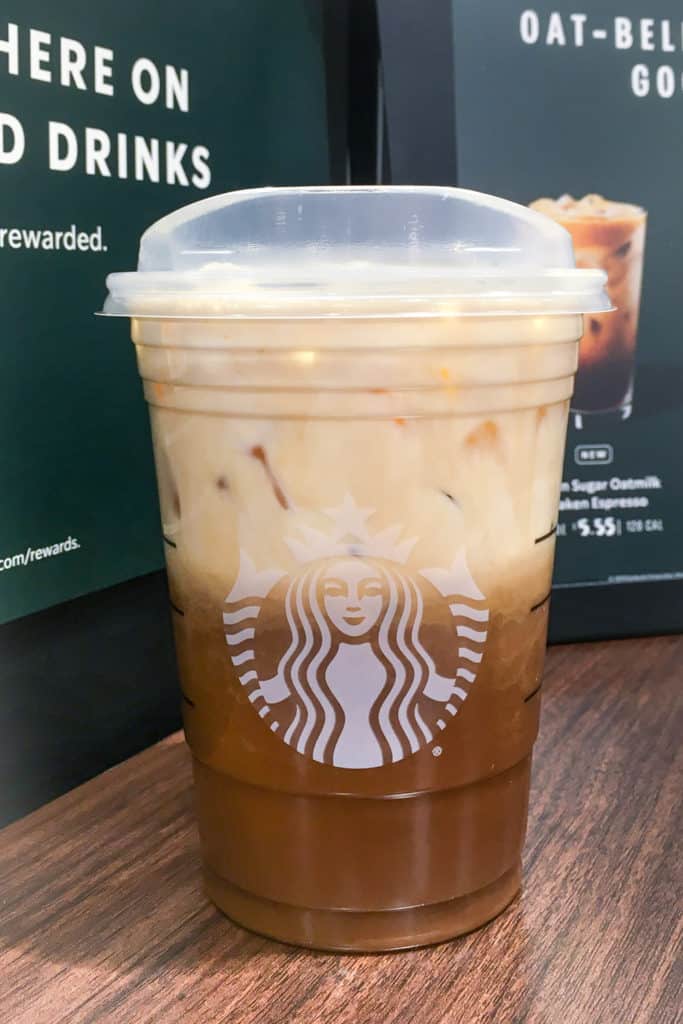 Best Starbucks Decaf Iced Coffees without a lot of Calories
Many Starbucks iced coffee drinks and iced espresso beverages, like the Iced Caramel Macchiato, contain sweet flavored syrups, lots of milk, sauces, and sometimes even whipped cream.
In other words, they don't quite make the list of low-calorie Starbucks drinks.
So, if you want a decaf iced coffee without lots of add-ins, here are the best options.
Decaf Iced Americano
An Iced Americano is simply espresso shots topped with cold water and served over ice. Like all espresso drinks, it has a light layer of crema.
RELATED: Caffeine in Starbucks Americanos (It May Surprise You)
Decaf Iced Shaken Espresso
Starbucks new Iced Shaken Espresso is pretty much the same drink as a Doubleshot on Ice (no longer listed on the menu).
To make this drink, the barista shakes together espresso, ice and classic syrup. Then a splash of 2% milk is added. Feel free to substitute in another one of Starbucks milk options.
Variations made with plant-based milks include the Iced Chocolate Almondmilk Shaken Espresso and the Iced Brown Sugar Oatmilk Shaken Espresso.
RELATED: A Guide to Iced Shaken Espresso Drinks at Starbucks
Decaf Iced Coffee Pourover
A pour-over is a method of brewing a single cup of coffee at a time. So if you want a true decaf iced coffee, as opposed to iced espresso, a pour-over is an option.
Basically, the barista grinds decaf coffee beans and slowly pours hot water over them as the coffee drips into a cup of ice below.
While a pour-over makes a delicious cup of decaf iced coffee, it takes several minutes to make. Don't be surprised if your barista recommends a decaf Iced Americano instead.
Decaf Iced Espresso
Decaf Iced Espresso is simply Starbucks decaf espresso roast over ice.
If you wouldn't drink a straight shot of espresso, this isn't the drink for you. Instead, opt for an Americano which more closely resembles traditional iced coffee.
Starbucks Insider Tip Want a decaf iced coffee? Since Starbucks doesn't brew decaf iced coffee, order a decaf Iced Caffe Americano instead. It's quick & delicious.
How Much Caffeine is in Starbucks Decaf Coffee?
As I mentioned before, decaf iced coffee still contains a small amount of caffeine. This is because decaf is not the same thing as caffeine-free.
Look at it this way. Caffeine-free Starbucks drinks never contained caffeine to begin with. Whereas, decaf drinks have had the caffeine removed. Well, most of it.
Here's a comparison.
A single shot of Starbucks blonde roast has about 85 mg of caffeine while dark has 75 mg. And, according to this lab study, Starbucks decaf ranges from 3-15 mg per shot.
RELATED: How Much Caffeine in Starbucks Coffee: The Ultimate Guide
Related