Craving a Starbucks iced caramel macchiato? See how easy it is to make a delicious iced caramel macchiato at home with this Starbucks copycat coffee recipe.
What is an Iced Caramel Macchiato?
A Starbucks Iced Caramel Macchiato is one of their most popular drinks. And it's easy to see why. Every sip of the perfectly delineated layers in this drink brings together sweet vanilla, creamy milk, bold espresso coffee and rich caramel.
At first glance, it may seem complicated to make at home. But it's not at all.
I can't wait to show you how to put together this macchiato just like a barista.
Just like making a regular Starbucks caramel macchiato, all you need for the iced version are a few ingredients and a couple minutes.
First, I'll show you exactly how Starbucks makes this iced espresso drink and then I'll show you the measurements you need to make this beautifully layered drink right in your own kitchen.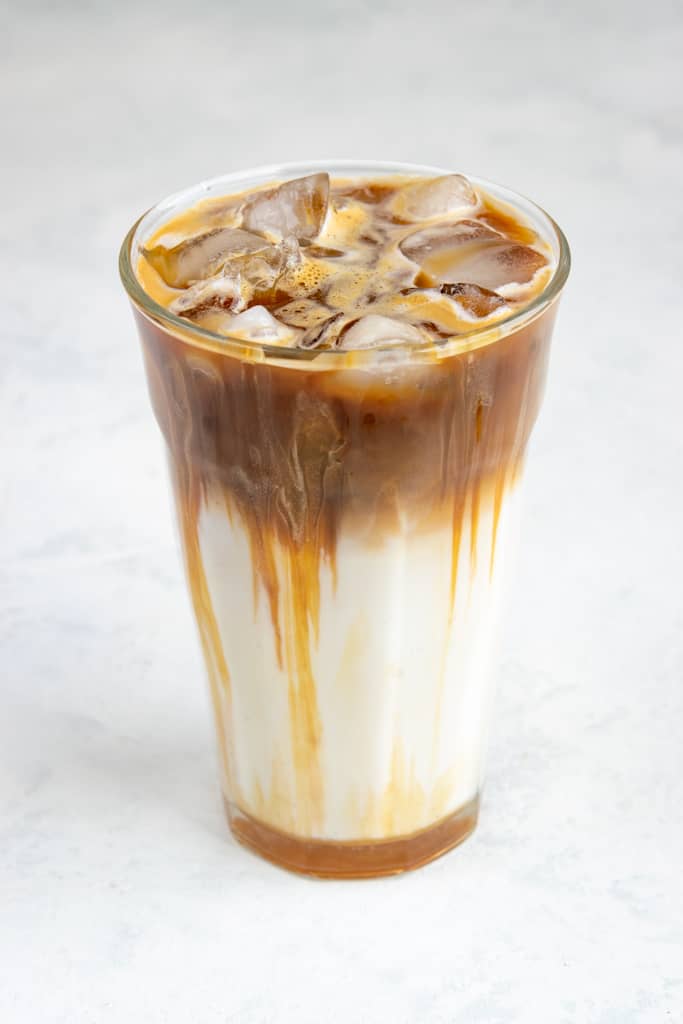 How Starbucks Makes Iced Caramel Macchiatos
The first time I ever had a Caramel Macchiato from Starbucks, I was surprised to find out that it didn't actually contain caramel syrup in the drink. Did you know that?
Actually, the drink itself has vanilla syrup in it. And creamy caramel sauce (not syrup) goes on top.
As a matter of fact, macchiato means marked in Italian. So in the case of an iced caramel macchiato, the drink is marked on top with sweet caramel drizzle.
Here's how Starbucks describes it:
We combine our rich, full-bodied espresso with vanilla-flavored syrup, milk and ice, then top it off with a caramel drizzle for an oh-so-sweet finish.

starbucks.com
Starbucks Iced Caramel Macchiato Ingredients
Here are the ingredients Starbucks baristas use to make an iced caramel macchiato.
Incidentally, this list is also the order the ingredients go into the cup. That's right, vanilla syrup goes into the cup first, followed by milk and so on.
2% Milk
Ice
Espresso
Caramel Sauce
The first step to make an iced caramel macchiato is to pump vanilla syrup into a cold cup. For instance, to make a 16-ounce grande iced drink, 3 pumps of syrup go into the bottom of the cup.
Next, milk is poured to the third black line. A grande-size scoop of ice goes on top of the milk which is followed by 2 shots of espresso.
Finally, caramel sauce is drizzled on top in Starbucks signature crosshatch pattern. But look fast; the caramel flows into the drink quickly.
For anyone familiar with the number of syrup pumps Starbucks puts in each cup size, you may be wondering why a grande macchiato only gets 3 pumps of vanilla syrup instead of the normal 4.
And the answer is that the caramel drizzle is like the "4th pump."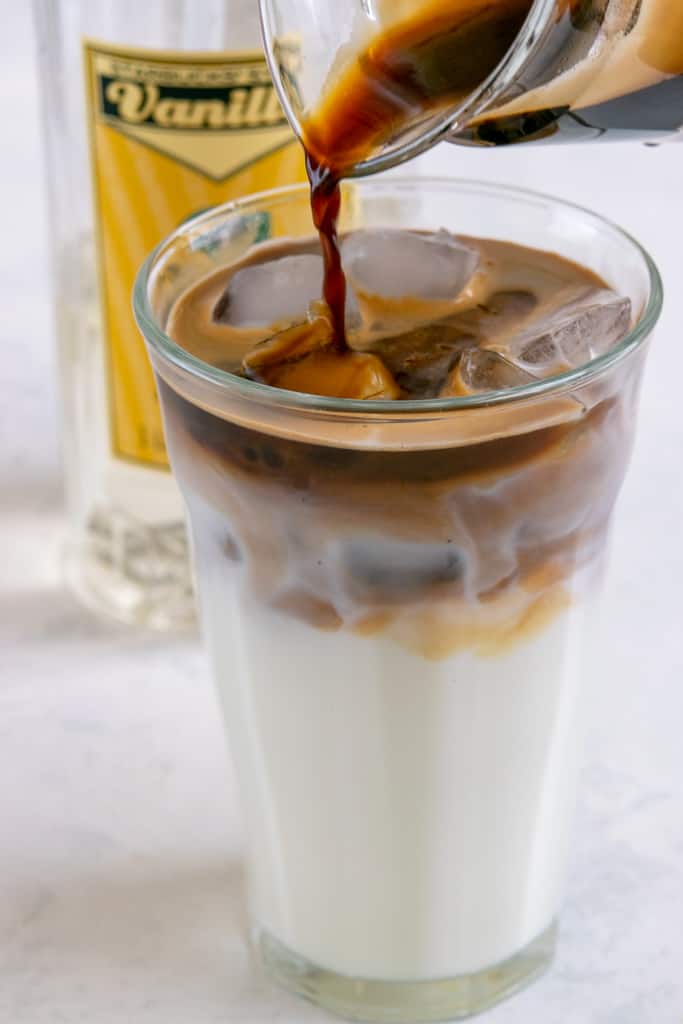 Making an Iced Caramel Macchiato at Home
I think it's fun to be my own at-home barista. It certainly, doesn't stop me from stopping by Starbucks; if anything I probably just drink more coffee.
But, if you have an espresso machine like my Breville Barista Express or a Nespresso Espresso Machine then it's fun to explore all the different types of drinks to make at home.
So, let's make an iced caramel macchiato. As you can see from the Starbucks recipe above, it's pretty simple to make.
But "number of pumps" of syrup and "lines on cups" doesn't mean a whole lot to us at home. That's why I've figured out the exact measurements.
DIY Iced Caramel Macchiato Recipe
This iced caramel macchiato recipe is simple to make and all the ingredients are easy to find at any grocery store.
1 1/2 tablespoons vanilla syrup
1 1/4 cups 2% milk
enough ice to fill 16 ounce cup near the top
2 ounces espresso (made from dark roast coffee beans)
1/2 tablespoon caramel sauce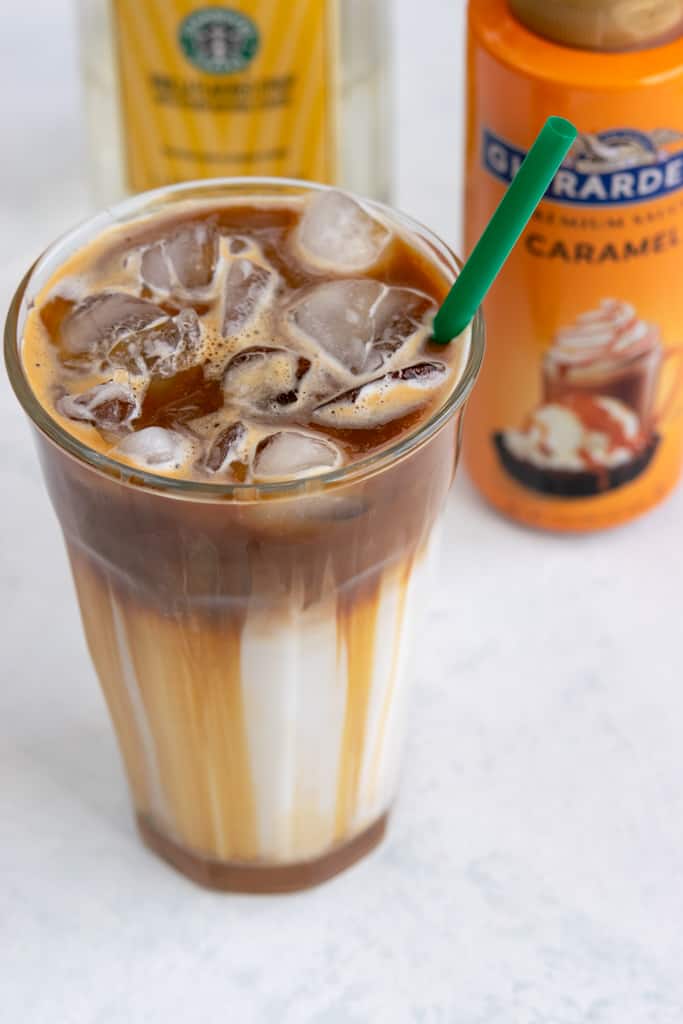 Vanilla Syrup
If you want to make your macchiato just like Starbucks, you can actually buy a bottle of the same syrup Starbucks uses.
Perhaps it's a little known secret, but if Starbucks has a bottle to spare, they can sell it to you. Otherwise, you can buy Starbucks vanilla syrup or sugar-free vanilla syrup from Amazon.
But don't think you have to get Starbucks brand vanilla syrup. Another option is to buy vanilla coffee syrup from the grocery store. My store stocks Torani syrup in the coffee aisle.
Finally, you can make this homemade vanilla syrup recipe. It's so easy and all you need is sugar, water and vanilla extract.
I have to admit, however, a big bottle of vanilla syrup really is a must for your at-home coffee bar, especially if you like vanilla lattes or vanilla sweet cream cold brew.
Did you know Starbucks adds vanilla syrup to their whipped cream, too? Yup, it's true. That's why it tastes so good.
Take a look. Here's how Starbucks makes whipped cream and vanilla sweet cream cold foam, too.
Milk
The standard milk Starbucks uses for most drinks, unless you request otherwise, is 2% dairy milk.
To make an iced caramel macchiato all you have to do is pour in milk, no steaming or aerating or anything.
However, feel free to substitute the milk with any kind you like.
Caramel Sauce
I've experimented with several different types of caramel sauce to copy Starbucks.
What I've found works best is Ghirardelli sauce. They come in squeeze bottles, making it easy to drizzle on top of macchiatos.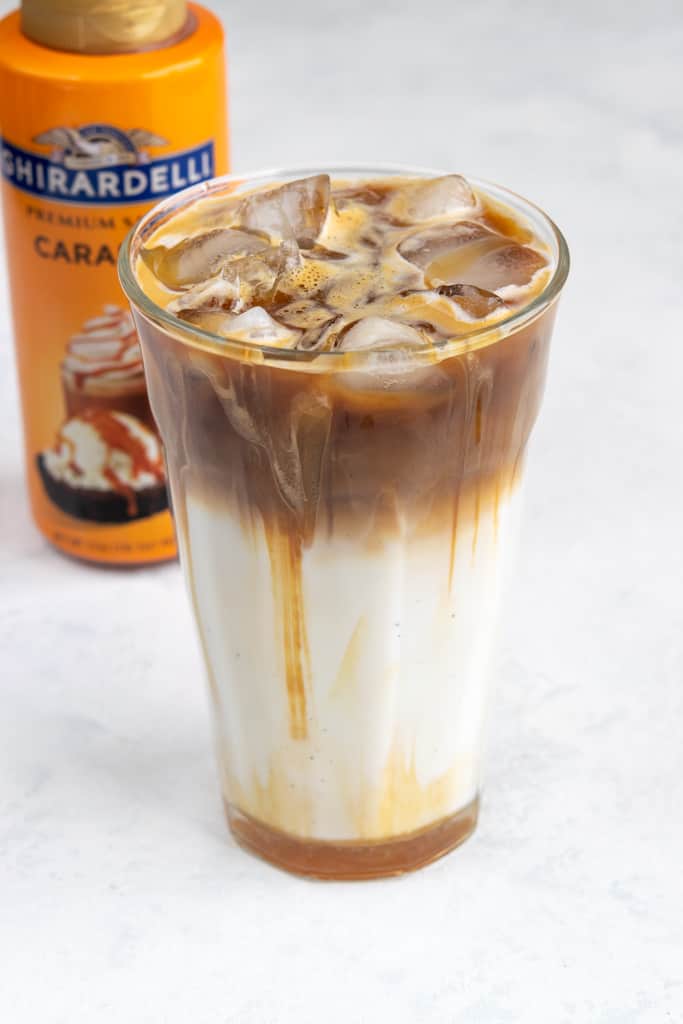 Step-by-Step Instructions
Ready to make an iced caramel macchiato?
You need a 16-ounce cup and I highly recommend using a clear glass for this drink. This way you can enjoy the beautiful layers. We eat with our eyes first, right?
Here are the steps I follow.
Step 1: Put vanilla syrup into a glass.
Step 2: Pour in milk.
Step 3: Fill glass with ice, leaving a little room at the top (about an inch of space).
Step 4: Pour in two shots of espresso. To make a layer of espresso on top of the milk, slowly pour the espresso onto an ice cube.
Step 5: Drizzle the caramel sauce on top. Do this by making 4 circles and then a few wavy lines through the circles. (Obviously, the pattern isn't necessary, but if you really want to copy Starbucks, that's how the baristas do it.)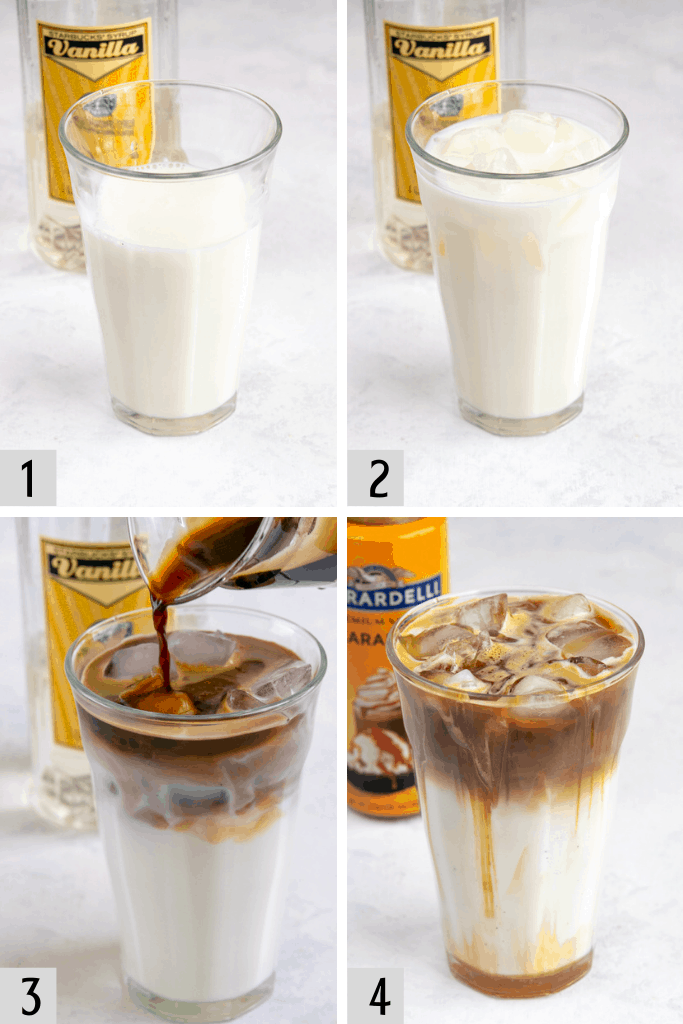 Related Starbucks Recipes & Guides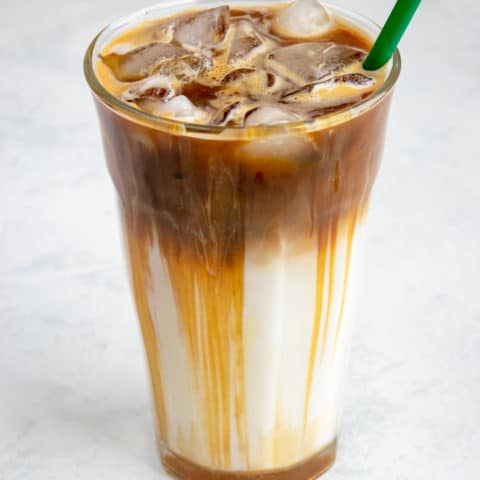 Starbucks Iced Caramel Macchiato
This Starbucks Iced Caramel Macchiato recipe is quick and easy to make at home and brings together the flavors of vanilla, coffee and caramel. See how to make an iced caramel macchiato just like a barista so your iced macchiato is layered and delicious. This copycat recipe makes the equivalent of a 16 ounce, grande Starbucks drink.
Ingredients
1 1/2 tablespoons vanilla syrup
1 1/4 cups 2% milk
2 ounces espresso (or 4 ounces concentrated coffee)
1 tablespoon caramel sauce
ice to fill glass
Instructions
Put vanilla syrup in a 16-ounce cup. (I like to use a clear cup like Starbucks to see all the iced caramel macchiato layers.)
Add milk to cup and then scoop ice on top of milk.
Slowly pour espresso shots on top of ice. (If you don't have an espresso machine you can substitute very strong coffee or cold brew concentrate.)
Drizzle caramel sauce on top of ice and espresso. (Starbucks drizzles caramel sauce in a cross-hatch pattern which is 7 drizzles across, 7 drizzles up and down and 2 circles.)
Notes
To make an Iced Caramel Macchiato just like Starbucks be sure and put the ingredients into the cup in the order shown in the recipe, beginning with vanilla syrup and finishing with caramel sauce.
For extra caramel sauce, squeeze caramel sauce around the inside of glass before putting in all the other ingredients.
The original Starbucks Iced Caramel Macchiato recipe calls for 2% milk, but you can substitute the milk for any type you prefer.
Starbucks Iced Caramel Macchiato is made with dark roast espresso. For a true at-home copycat drink, pick up a bag of Starbucks dark roast espresso whole bean coffee.
If you have a Nespresso machine, I recommend Starbucks dark roast nespresso capsules (original line) or dark roast capsules for the Vertuo system.
To make a "skinnier" version of an Iced Caramel Macchiato, use Starbucks sugar-free vanilla syrup and non-fat milk.
Recommended Products
As an Amazon Associate and member of other affiliate programs, I earn from qualifying purchases.
Nutrition Information:
Yield:

1
Serving Size:

16 ounces
Amount Per Serving:
Calories:

285
Total Fat:

6g
Cholesterol:

25mg
Sodium:

172mg
Carbohydrates:

43g
Sugar:

39g
Protein:

2g