This at-home Starbucks Peppermint Iced Coffee recipe is easy and delicious and perfect for holiday entertaining.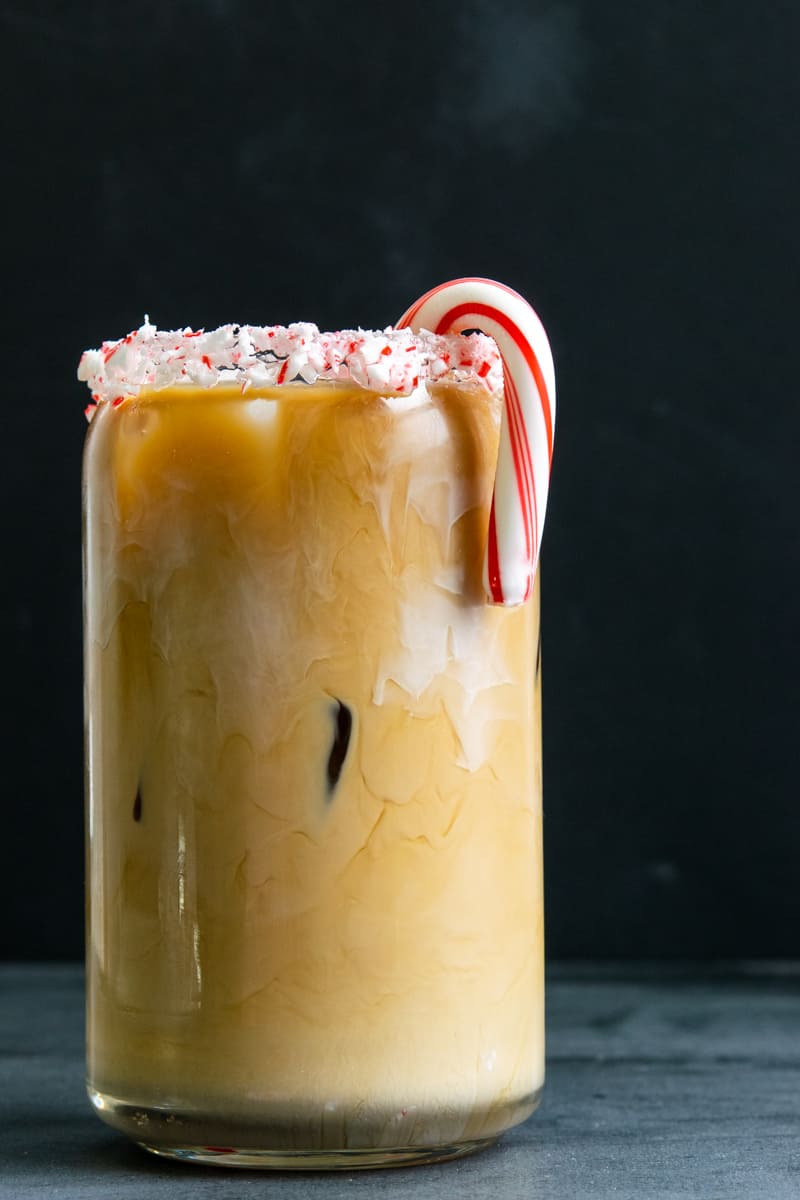 Peppermint Iced Coffee
This Starbucks-inspired peppermint iced coffee recipe is incredibly quick and easy to whip up at home with just a few ingredients.
You'll love that not only is this iced coffee delicious, but its peppermint flavor makes it the perfect holiday drink.
And if you're entertaining, there are so many fun ways to make your at-home peppermint iced coffee look really festive.
Of course, during the winter season, extra time to whip up fancy-looking drinks may be a luxury.
But trust me, that's what I love about this peppermint iced coffee recipe, there's nothing complicated about it.
As a matter of fact, this drink is as easy as assembling a few ready-made ingredients. One of my favorites is Starbucks line-up of refrigerated iced coffees, .
This way, you don't even have to brew your own coffee.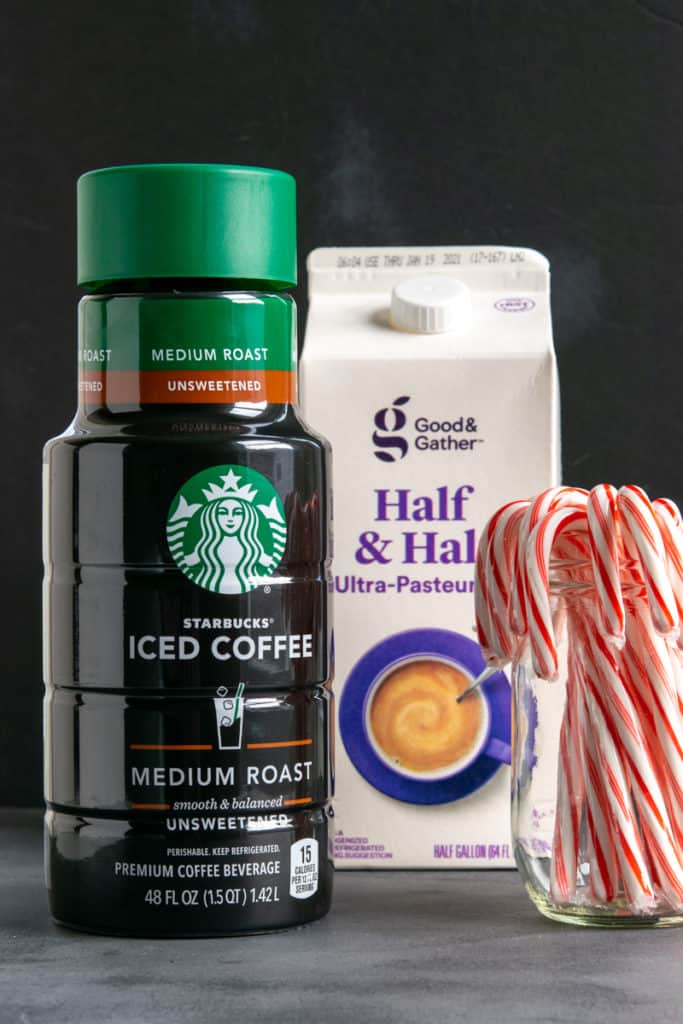 Here's all you Need to Make Peppermint Iced Coffee
Iced Coffee
Half and Half
Peppermint Simple Syrup
Peppermint Candies
Ice
Iced Coffee: Have you ever tried Starbucks line-up of bottled coffee? It's really quite tasty and obviously, convenient. I like to keep a bottle on-hand when I'm in an iced coffee drinking mood.
For peppermint iced coffee, I like to use Starbucks medium roast or dark roast iced coffee and then add peppermint syrup to it.
But you can also make your own iced coffee using any flavor coffee bean. As a matter of fact, Starbucks sells peppermint mocha coffee in the grocery store, too.
Did you know you can make iced coffee quickly using the pour-over method? All you have to do is let it drip into a cup of ice.
Peppermint Simple Syrup: Coffee syrups are such a simple way to switch up the taste of a cup of coffee. You usually can find several brands and several flavors in the coffee section of your grocery store.
However, you can actually find some flavors of actual Starbucks syrup online like peppermint.
But peppermint syrup is also easy to make at home. Here's how my mom makes homemade peppermint simple syrup.
How to Garnish Rim of Glass with Peppermint
Rimming the glass with peppermint is a nice decorative touch for the holiday season. Plus, it makes each sip of iced coffee really flavorful.
And it's really easy to do.
First, crush some peppermint candies into a fine powder. Then coat the rim of each glass with peppermint syrup and dip it into the peppermint sugar.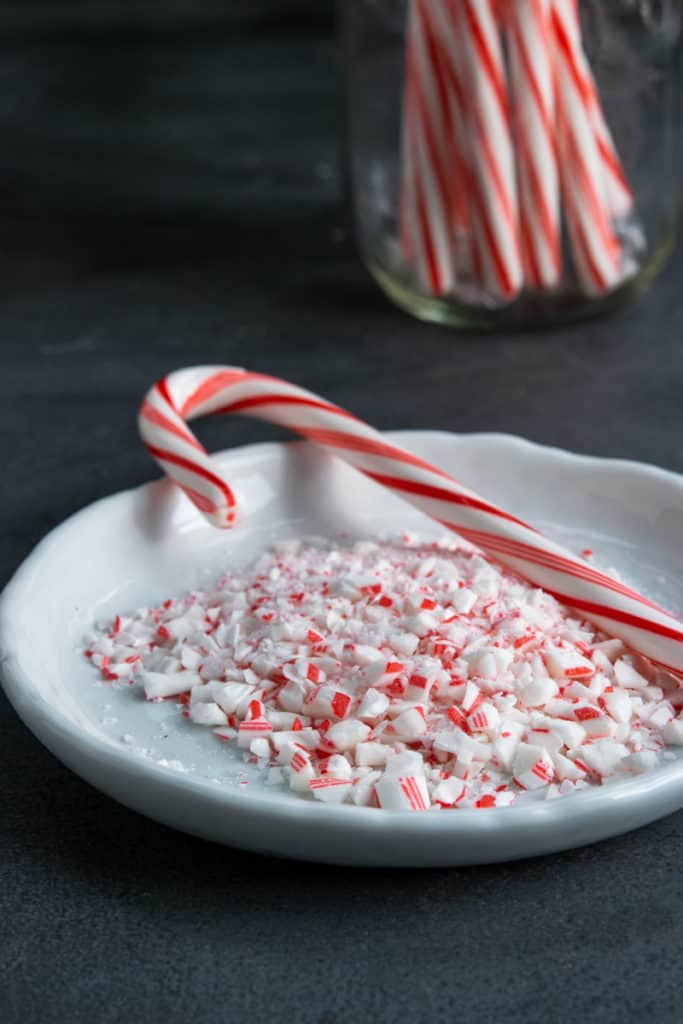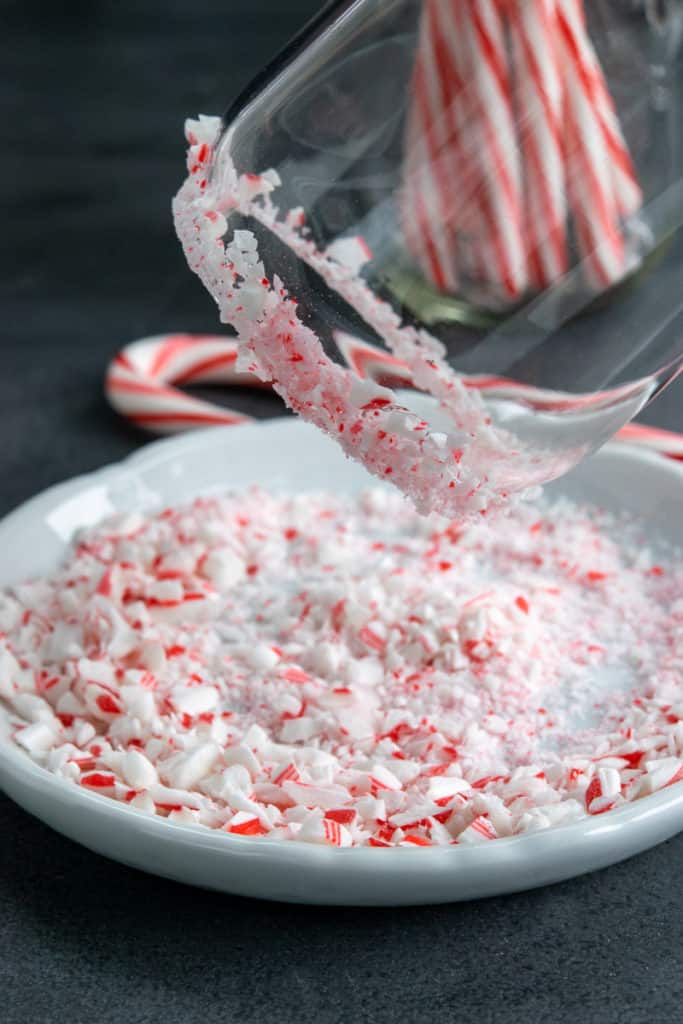 Assembling the Peppermint Iced Coffee
Like I said earlier, making this peppermint iced coffee is super quick and easy to do.
Simply fill a glass with ice. For best results, use iced made with filtered water if possible.
Then, fill the glass almost to the top with your favorite iced coffee.
If you use plain iced coffee, add some peppermint simple syrup. Otherwise, if you use a flavored iced coffee like Starbucks peppermint mocha, then there's no need for additional syrup.
Finally, pour in some half and half to make the iced coffee nice and creamy.
Here's a little tip if you like to see all those yummy swirls of coffee and cream: pour the cream directly onto an iced cube and pour slowly.
I hope you enjoy each sip of peppermint, coffee and cream as much as I do. Enjoy.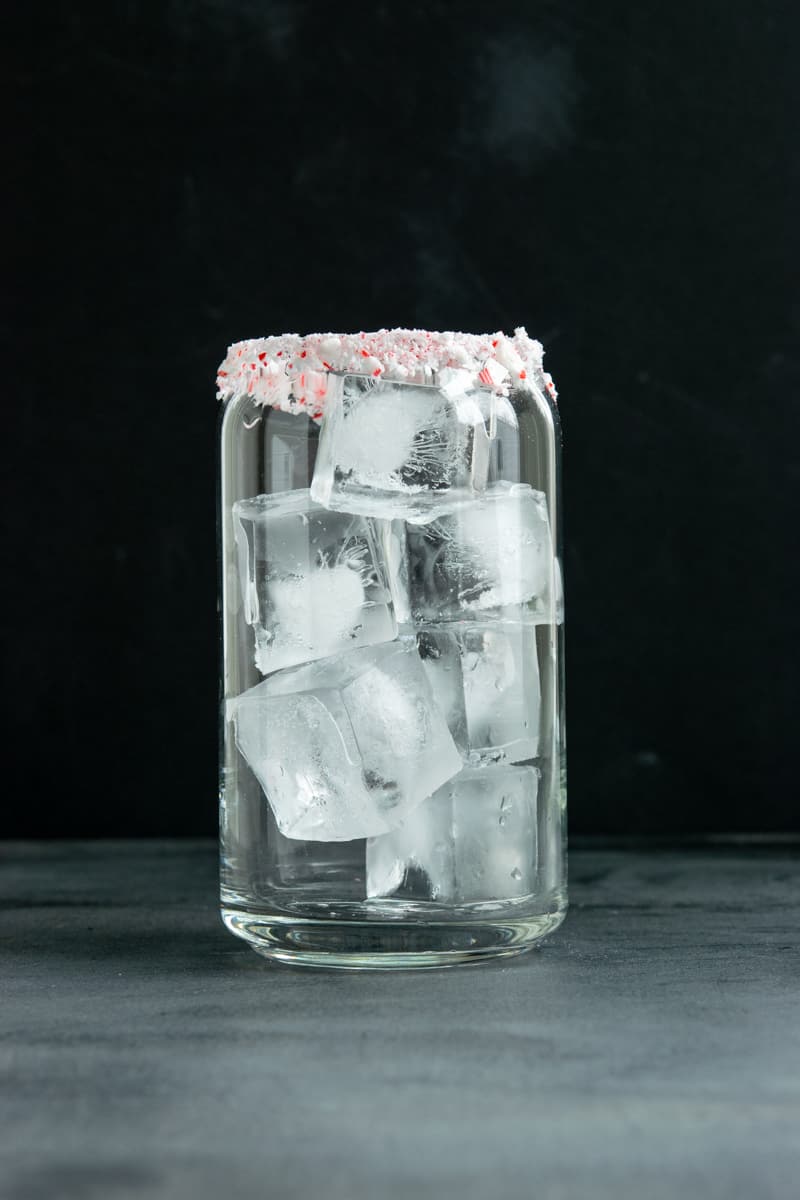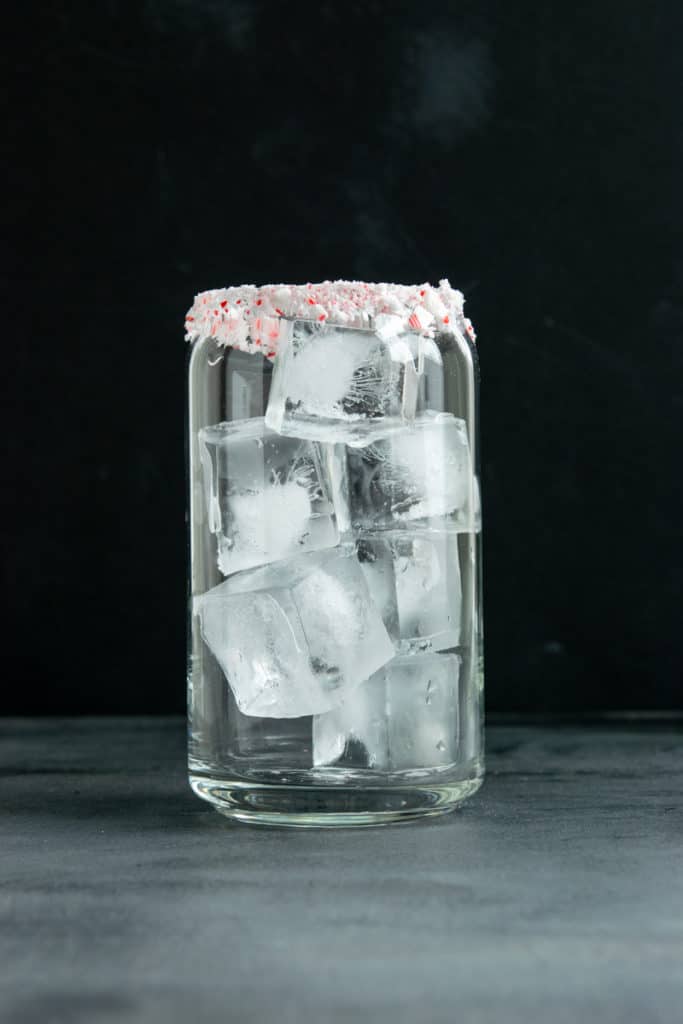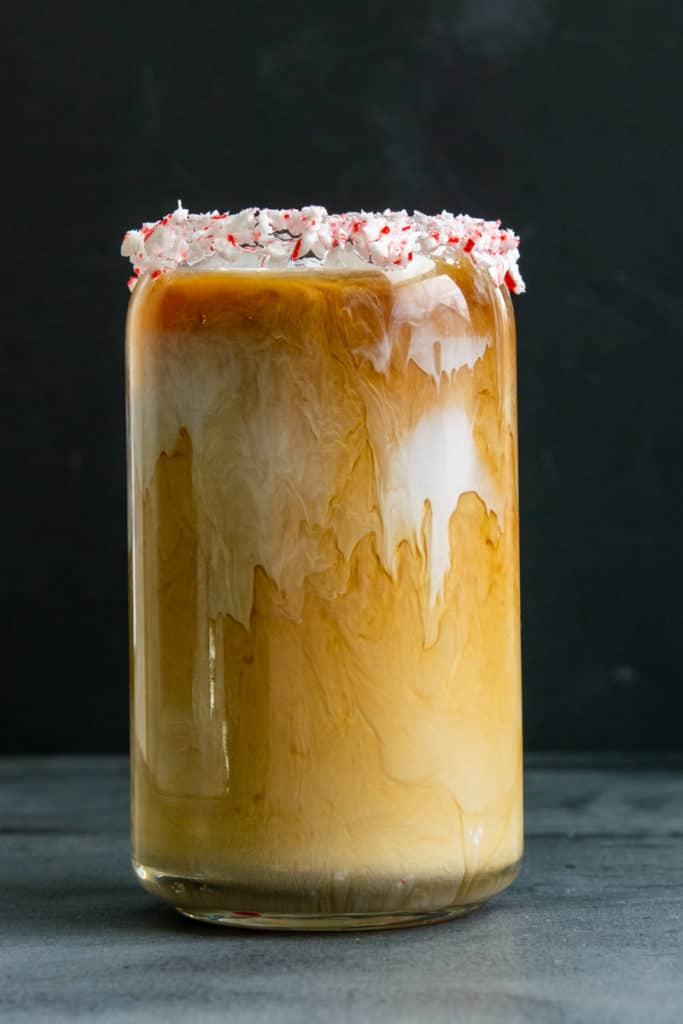 Related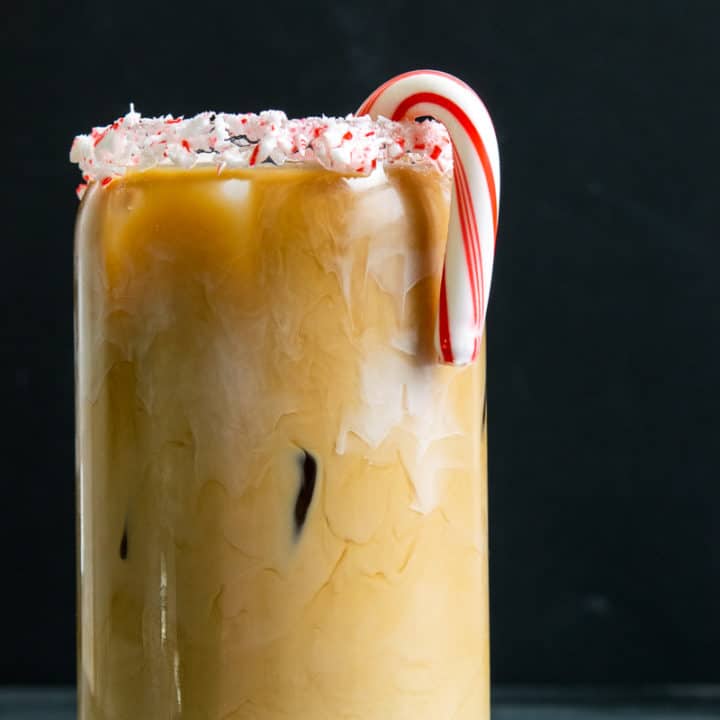 Peppermint Iced Coffee
Quick and easy peppermint iced coffee recipe inspired from Starbucks line-up of peppermint coffee drinks.
Ingredients
1 1/2 cups iced coffee
1/4 cup half and half
2 tablespoons pepeprmint syrup, divided
1 tablespoon peppermint candy, crushed
Ice to fill glass
Instructions
Crush peppermint candies or candy cane into a fine powder. Put in a small bowl or plate. Set aside.
Put simple syrup in small bowl or plate that rim of drinking glass fits into. Dip rim of 16-ounce glass into syrup, coating entire opening of glass.
Dip glass rim into crushed peppermint candy.
Add ice to glass.
Pour in iced coffee. I like to use bottled Starbucks unsweetened iced coffee.
Add peppermint syrup if desired.
Pour half in half over coffee and ice.
Garnish with candy cane (optional).
Notes
Starbucks bottled iced coffee comes in medium, dark and blonde roasts and is available in grocery stores.
Recommended Products
As an Amazon Associate and member of other affiliate programs, I earn from qualifying purchases.