Enjoy a homemade version of the new Starbucks Iced Apple Crisp Macchiato with this easy drink recipe. The apple flavor in both the syrup and drizzle makes the perfect fall espresso beverage.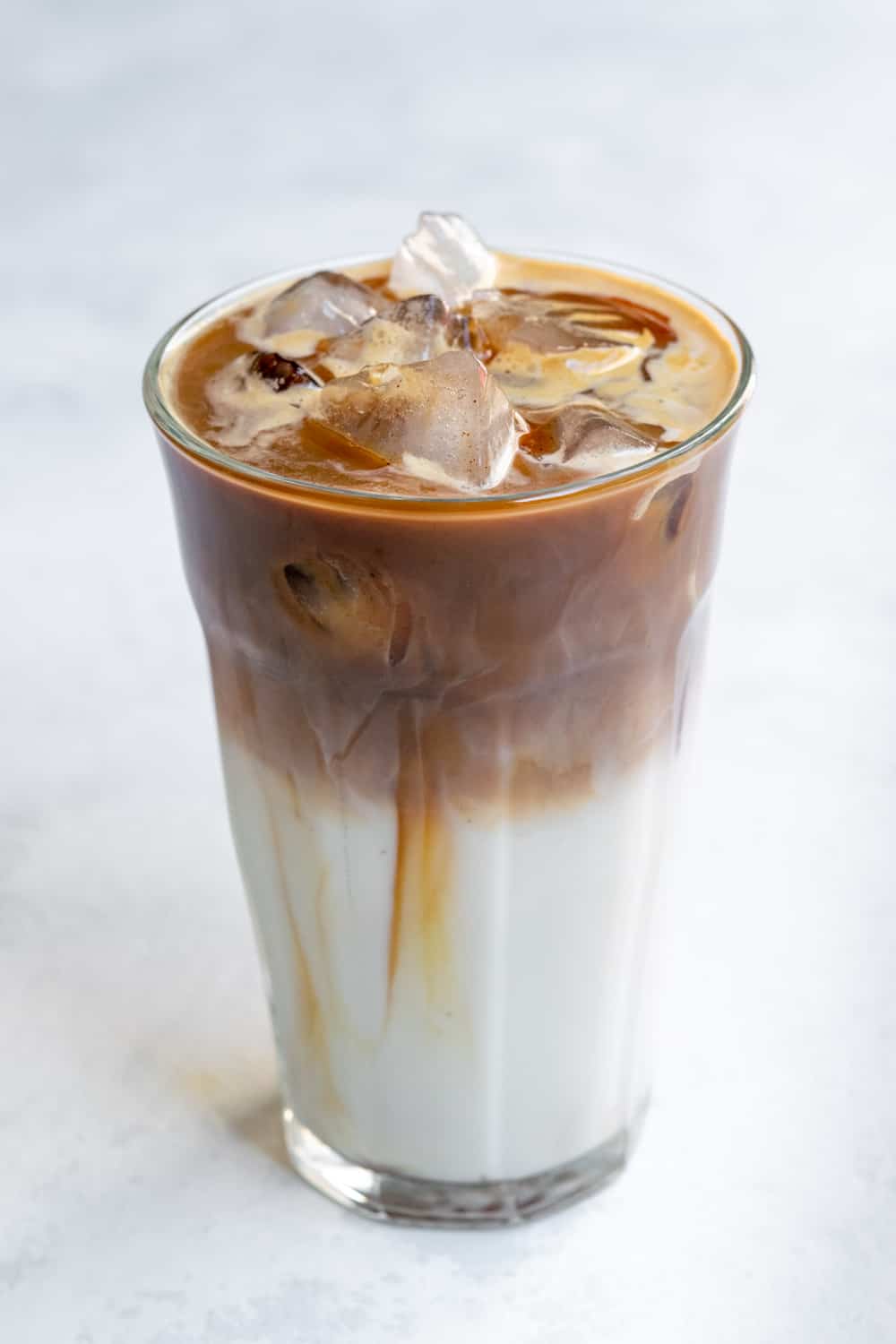 Starbucks Iced Apple Crisp Macchiato is a tasty drink if you're ready to try a new fall-flavored beverage. This autumn inspired macchiato brings together espresso, cream and all the flavor and aroma of baked apples.
We already know how well Starbucks roasty signature espresso pairs with warm spices like cinnamon and nutmeg. But the addition of red apple, might make this drink the perfect "nostalgic autumn-pick-me-up."
Of course, the beginning of Starbucks fall season is always marked by their much anticipated lineup of pumpkin drinks.
Now, in addition to Pumpkin Spice Lattes and Pumpkin Cream Cold Brew, the seasonal menu includes several apple-flavored coffee drinks.
The options include an Apple Crisp Macchiato (hot or iced) or a Spiced Apple Frappuccino (with coffee or without).
What I love about the Starbucks Iced Apple Crisp Macchiato is its an easy drink recipe to make at home. In fact, the assembly of the drink is just like making an Iced Caramel Macchiato.
However, to make this drink you need apple brown sugar syrup to mix in the espresso and spiced apple drizzle to top it off.
Luckily, I've already figured out how to make homemade versions of both. Here's my 3-ingredient recipe for apple brown sugar syrup and my copycat recipe for spiced apple drizzle.
Once you make a batch of each, putting the drink together is simple.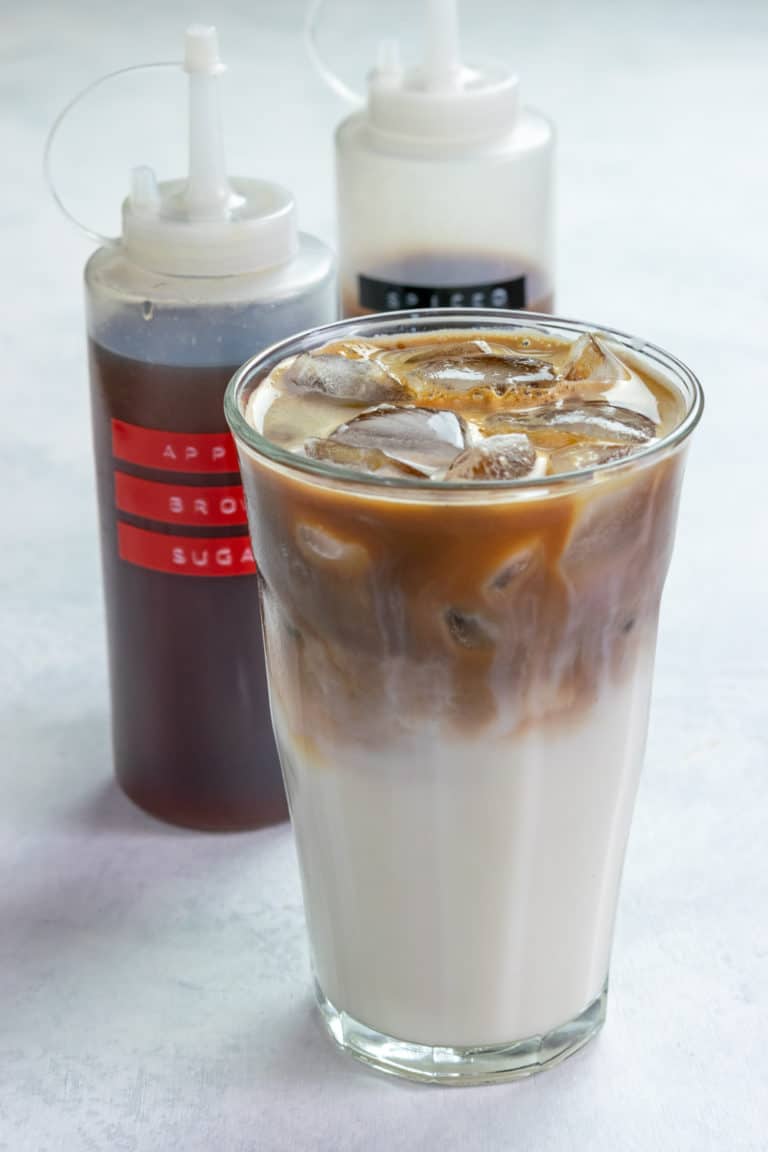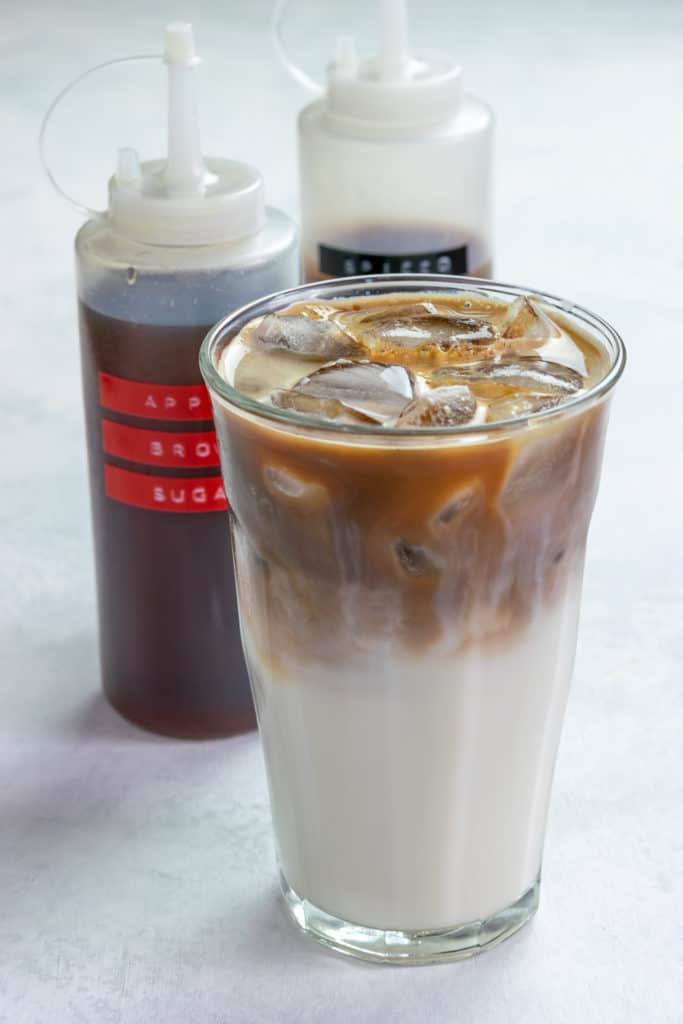 Iced Apple Crisp Macchiato: Recipe Notes
This recipe makes a 16 ounce drink, the equivalent of a grande size Starbucks drink.
The Apple Macchiato is an espresso beverage and a grande has 3 espresso shots (2.25 ounces) at Starbucks. At home you can make it with 2 shots (2 ounces).
The standard milk for Starbucks espresso drinks is 2% low-fat milk, but you can make this macchiato into a dairy-free Starbucks drink by substituting in a plant-based milk.
This is a limited-time fall Starbucks drink. But you can enjoy a DIY Apple Crisp Macchaito at home anytime since it's easy to make homemade apple brown sugar syrup and spiced apple drizzle.
Ingredients
Apple Brown Sugar Syrup
Low-fat Milk (or preferred milk)
Ice, preferably filtered
Espresso (I use Starbucks dark roast espresso.)
Spiced Apple Drizzle
Apple Crisp Macchiato Recipe
To make a homemade version of Starbucks Iced Apple Crisp Macchiato put apple brown sugar syrup in a 16 ounce glass. To the glass add milk, ice and espresso shots in that order. Finally, top the beverage with spiced apple drizzle sauce.
Here's a look at each step.
Step 1: Put syrup, milk and ice in glass. Leave enough room in the cup for the espresso.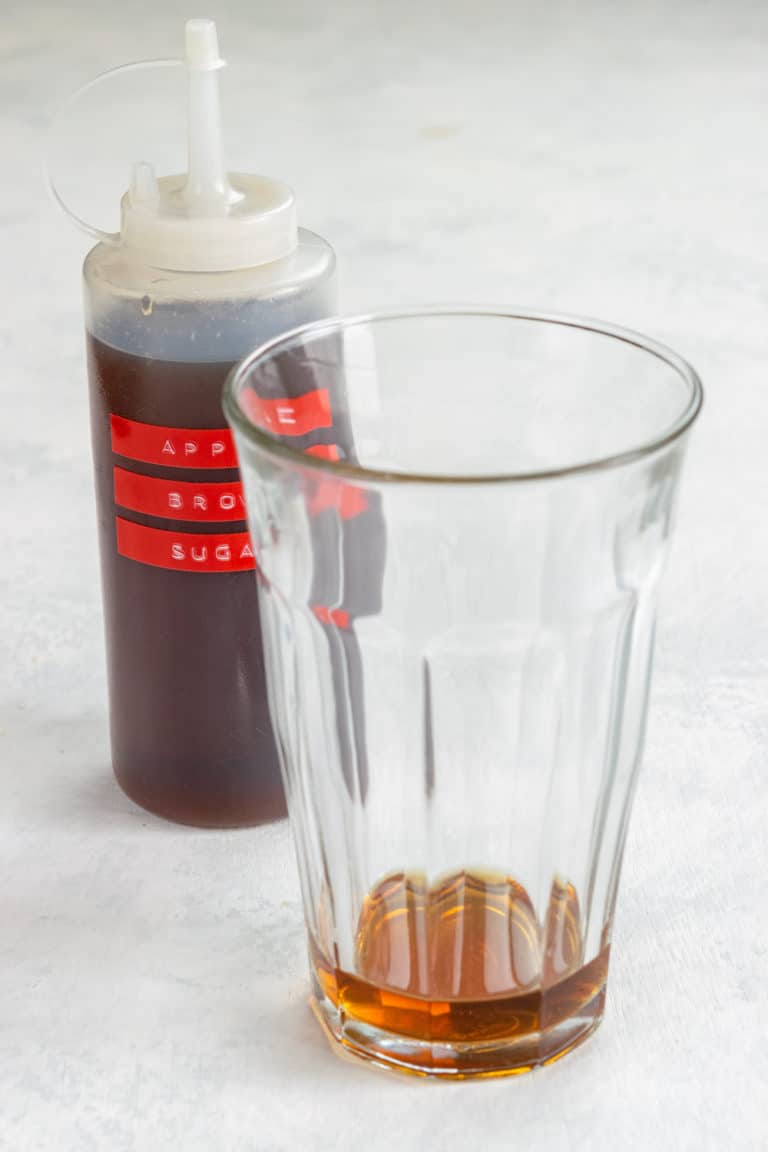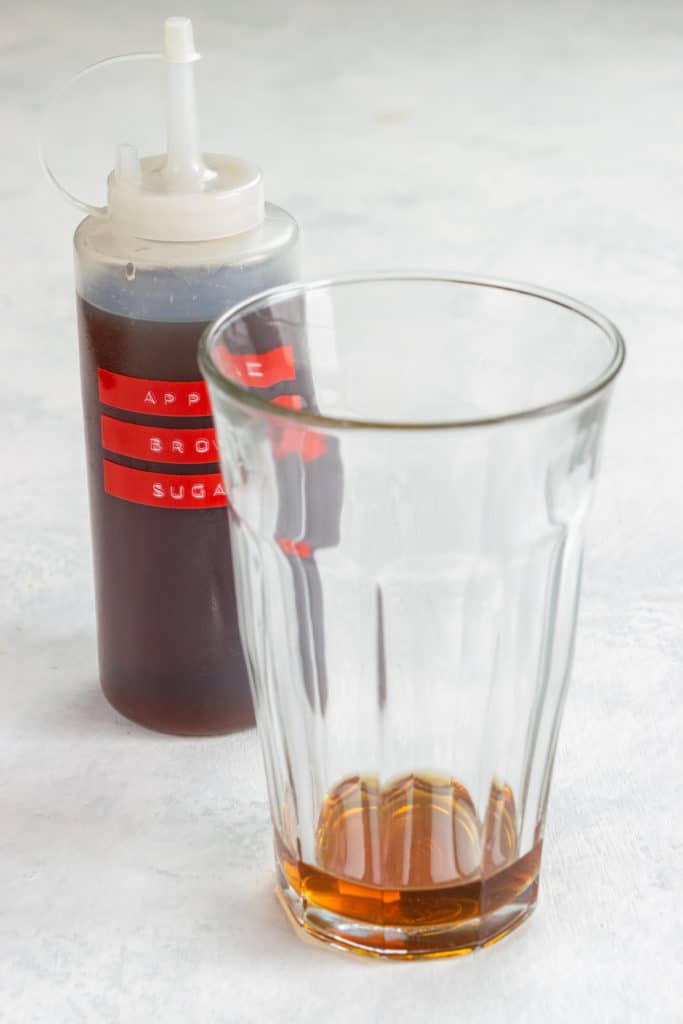 Step 2: Pour espresso shots over ice. The hot espresso will melt a little bit of the ice. That's ok.
Starbucks makes this macchiato with their signature dark espresso. If you prefer blonde roast or a medium roast like Pike Place, feel free to use that instead.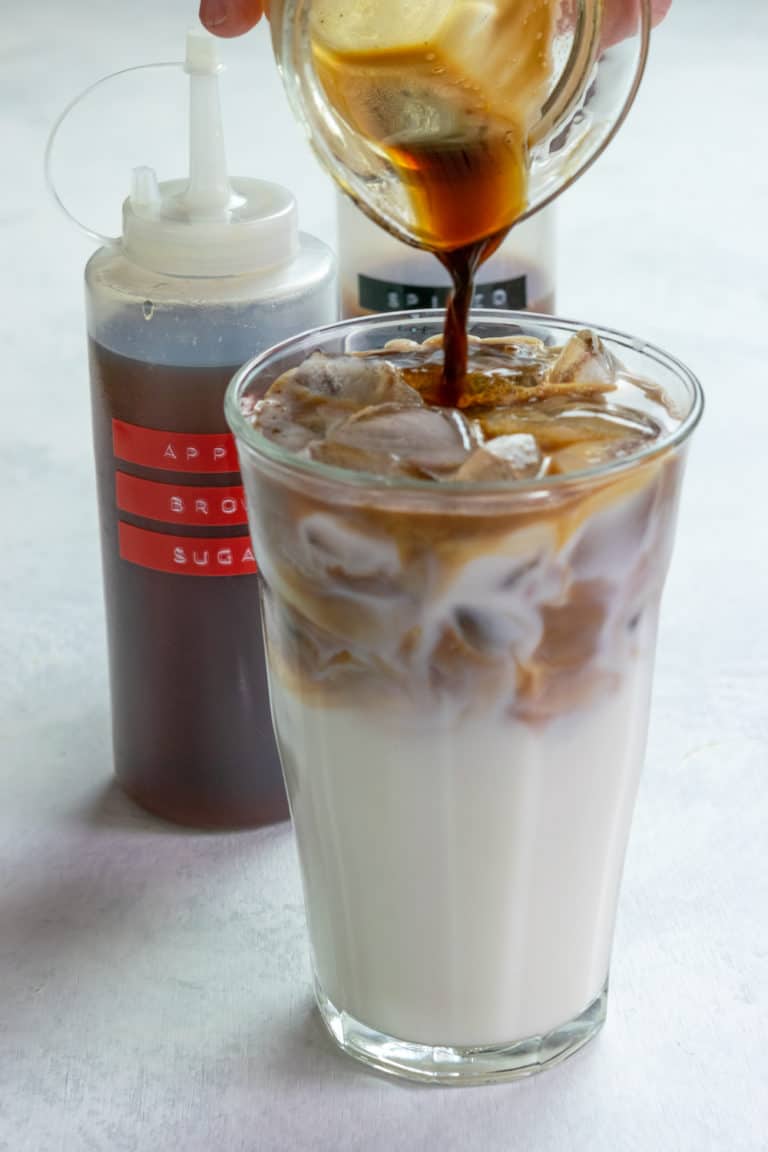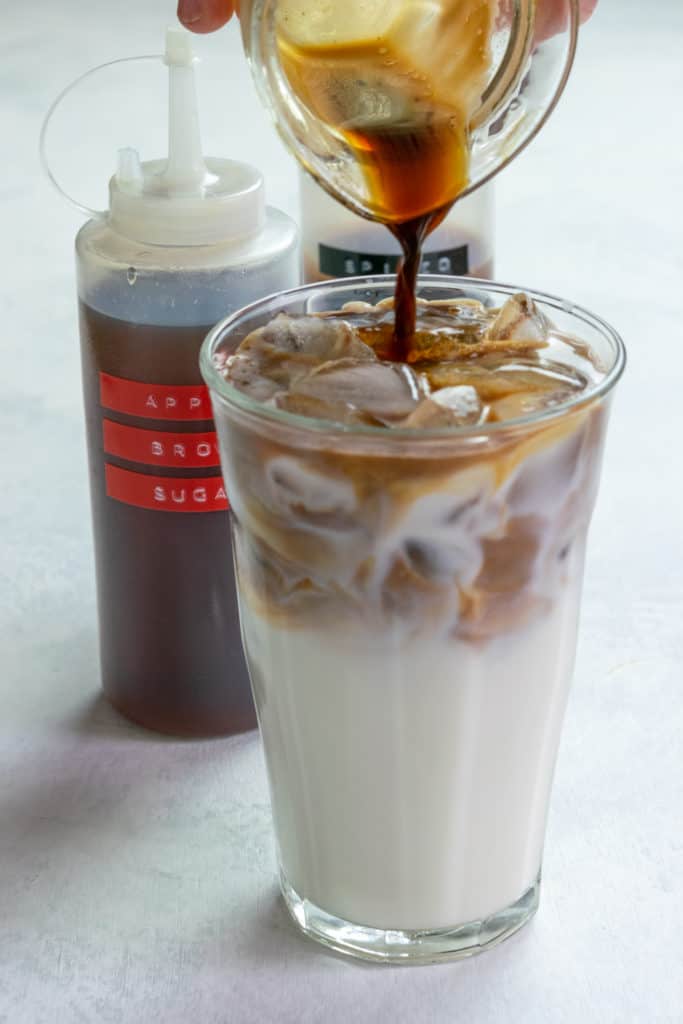 Step 3: Top the drink with a generous swirl of the spiced apple drizzle sauce. The drizzle will slowly drip into the drink. It adds a lot of sweetness and it's where most of the apple flavor in the drink comes from.
The apple brown sugar syrup has more of a brown sugar flavor with a hint of apple.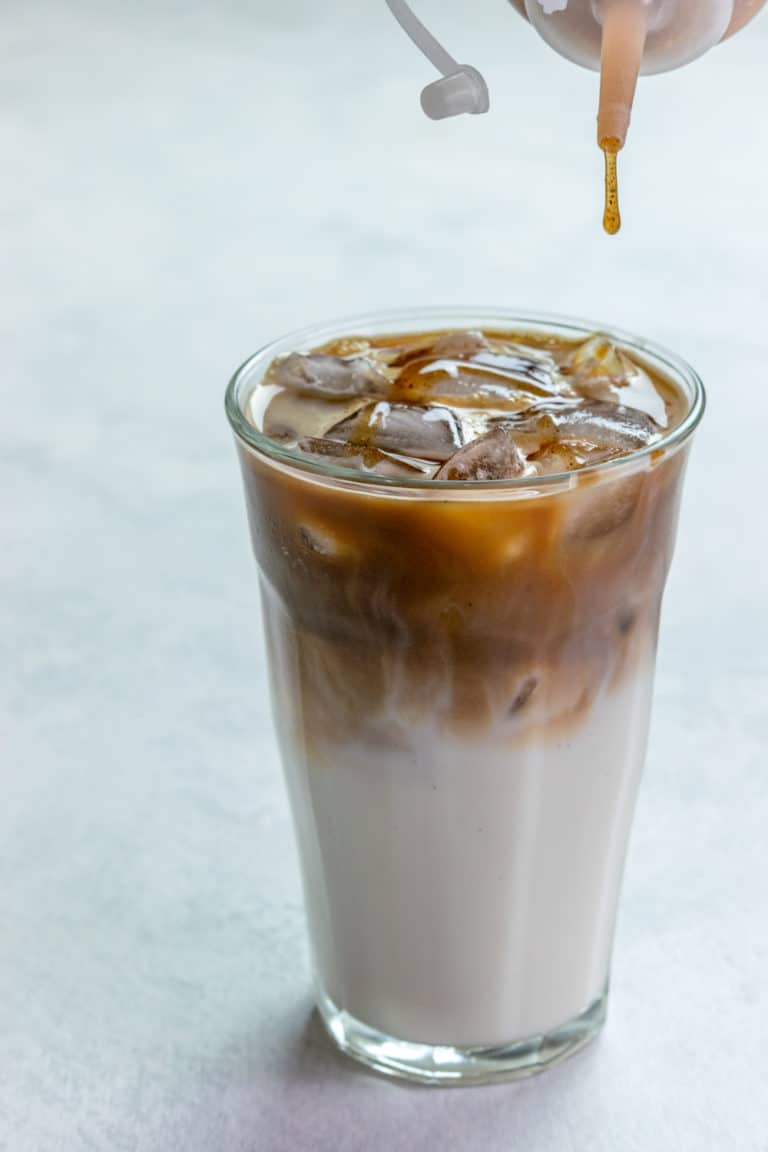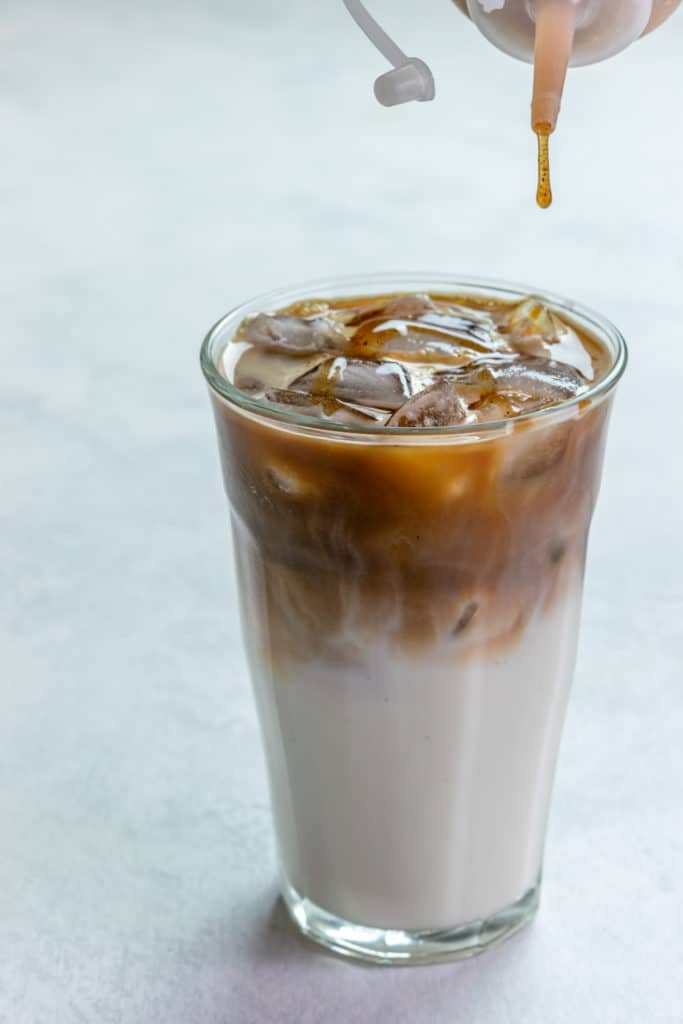 More Starbucks Fall Favorites & Guides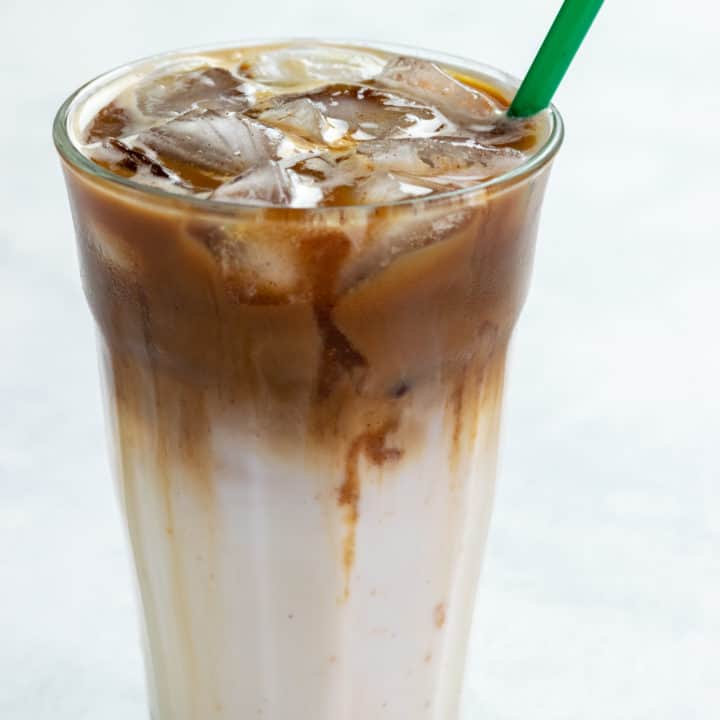 Starbucks Iced Apple Crisp Macchiato
DIY Starbucks Iced Apple Crisp Macchiato recipe to make at home. This fall-flavored iced espresso drink gets it's apple flavor and sweetness from syrup and rich apple sauce on top.
Ingredients
1 1/2 tablespoons apple brown sugar syrup
1 1/4 cups low-fat milk
ice to fill glass
2 ounces espresso
1 tablespoon spiced apple drizzle
Instructions
To Make Apple Brown Sugar Syrup
Here's my Starbucks copycat apple brown sugar syrup recipe. It only takes 3 ingredients to make.

To Make the Iced Apple Crisp Macchiato Drink
Put apple brown sugar syrup in a glass that's at least 16 ounces. Pour milk on top of syrup.
Fill glass with ice nearly to the top. Leave a little space for two shots of espresso.
Pour espresso shots on top of ice.
Finish the Iced Apple Crisp Macchiato with spiced apple drizzle on top. Give the drink a stir and enjoy each sip.

Recommended Products
As an Amazon Associate and member of other affiliate programs, I earn from qualifying purchases.
Nutrition Information:
Yield:

1
Serving Size:

16 ounces
Amount Per Serving:
Calories:

304
Total Fat:

6g
Saturated Fat:

4g
Cholesterol:

25mg
Sodium:

164mg
Carbohydrates:

51g
Sugar:

49g
Protein:

10g