Easy DIY recipe for Starbucks Spiced Apple Drizzle. Use it to top coffee drinks like an Apple Crisp Macchiato or to make a delicious homemade apple pie flavored frappuccino.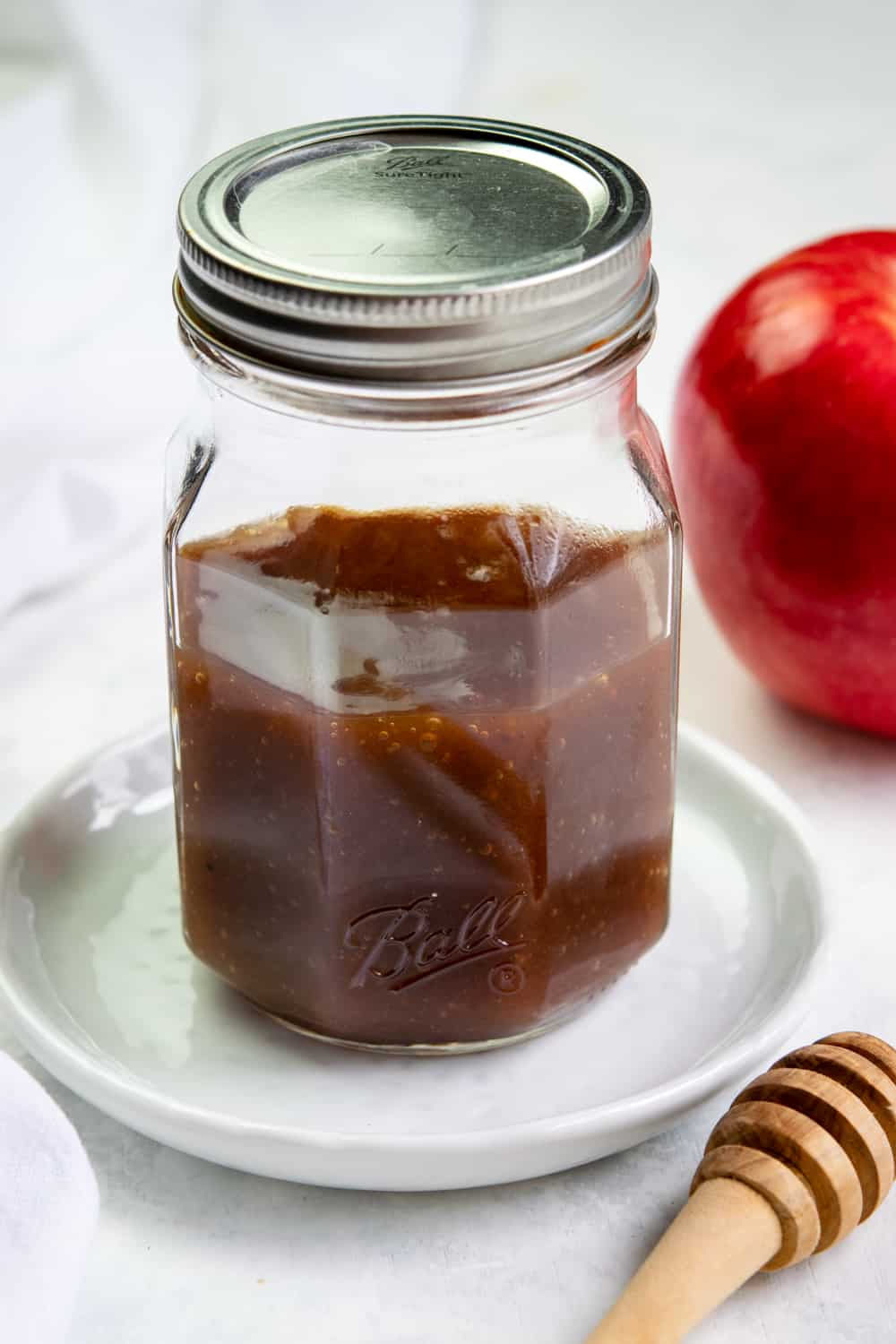 Starbucks Spiced Apple Drizzle and Apple Brown Sugar Syrup are the basis of their new line-up of apple inspired fall beverages.
While the apple brown sugar syrup provides a hint of apple flavor and an abundance of brown sugar sweetness, the spiced apple drizzle is the real star of the show.
If you taste the apple drizzle sauce on its own (yes, I've done that), the flavor is very recognizable. In fact, it tastes just like the gooey stuff inside an apple pie.
As you can imagine, Starbucks drinks with the fall flavors of cinnamon, nutmeg and apple pie filling are really delicious.
While I'm guessing the apple line-up won't be as popular as Starbucks pumpkin drinks, I love that they've added a new autumn option.
Afterall, Starbucks customers seemed to really like the other newly introduced brown sugar syrup found in the popular Iced Brown Sugar Oatmilk Shaken Espresso.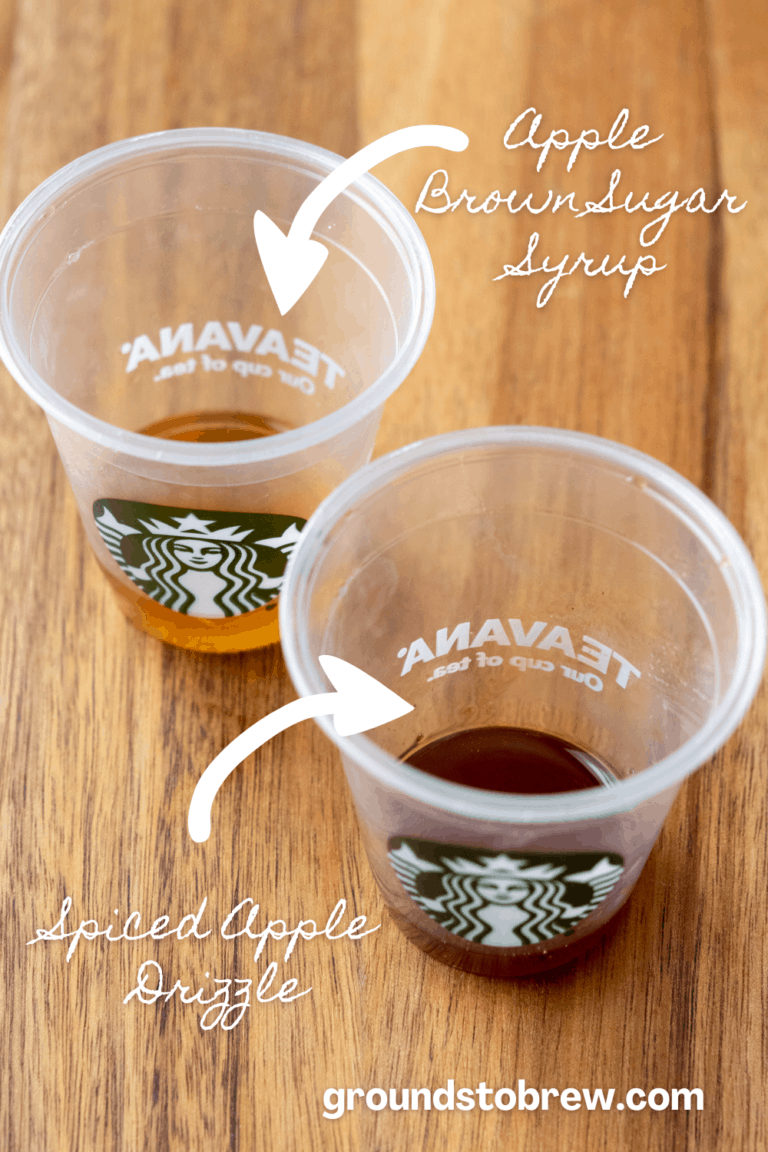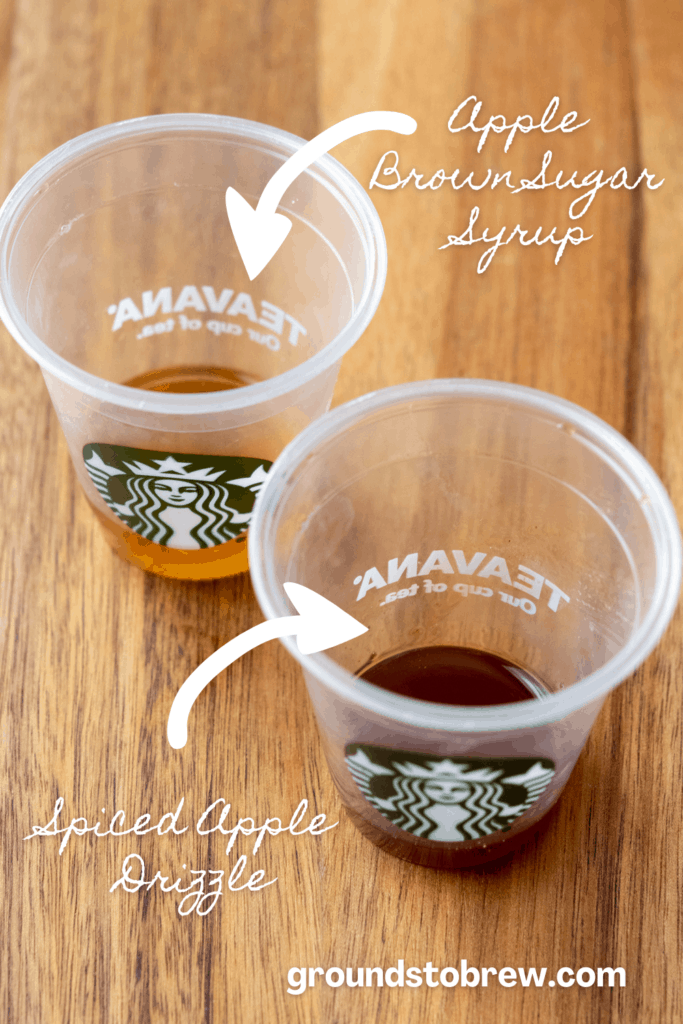 Starbucks Drinks with Spiced Apple Drizzle
Along with the new apple brown sugar syrup, spiced apple drizzle is featured in these four Starbucks drinks:
Apple Crisp Macchiato (hot espresso drink)
Apple Crisp Frappuccino
Apple Crisp Creme Frappuccino
For both the hot and iced macchiatos, the spiced apple drizzle is swirled on top of the drink. It's the final layer of these espresso drinks, just like caramel sauce on top of a hot or Iced Caramel Macchiato.
And it's best to skip the straw when enjoying these macchiatos. This way each sip has a bit of apple pie flavor.
And for both the coffee-based and creme-based frappuccinos, there are two generous layers of apple drizzle.
Ingredients
Making Starbucks Spiced Apple Drizzle at home is surprisingly simple to do.
And it's also quick to make.
The thing is, you have to use real apples—apple flavoring or extract will not do. The reason is, the pectin from the apples makes the drizzle into a nice and gooey consistency. There's even a touch of cornstarch in the recipe to thicken it up some more.
As an example, here's a picture of an actual pouch of Starbucks Apple Drizzle and its ingredients listed on the box.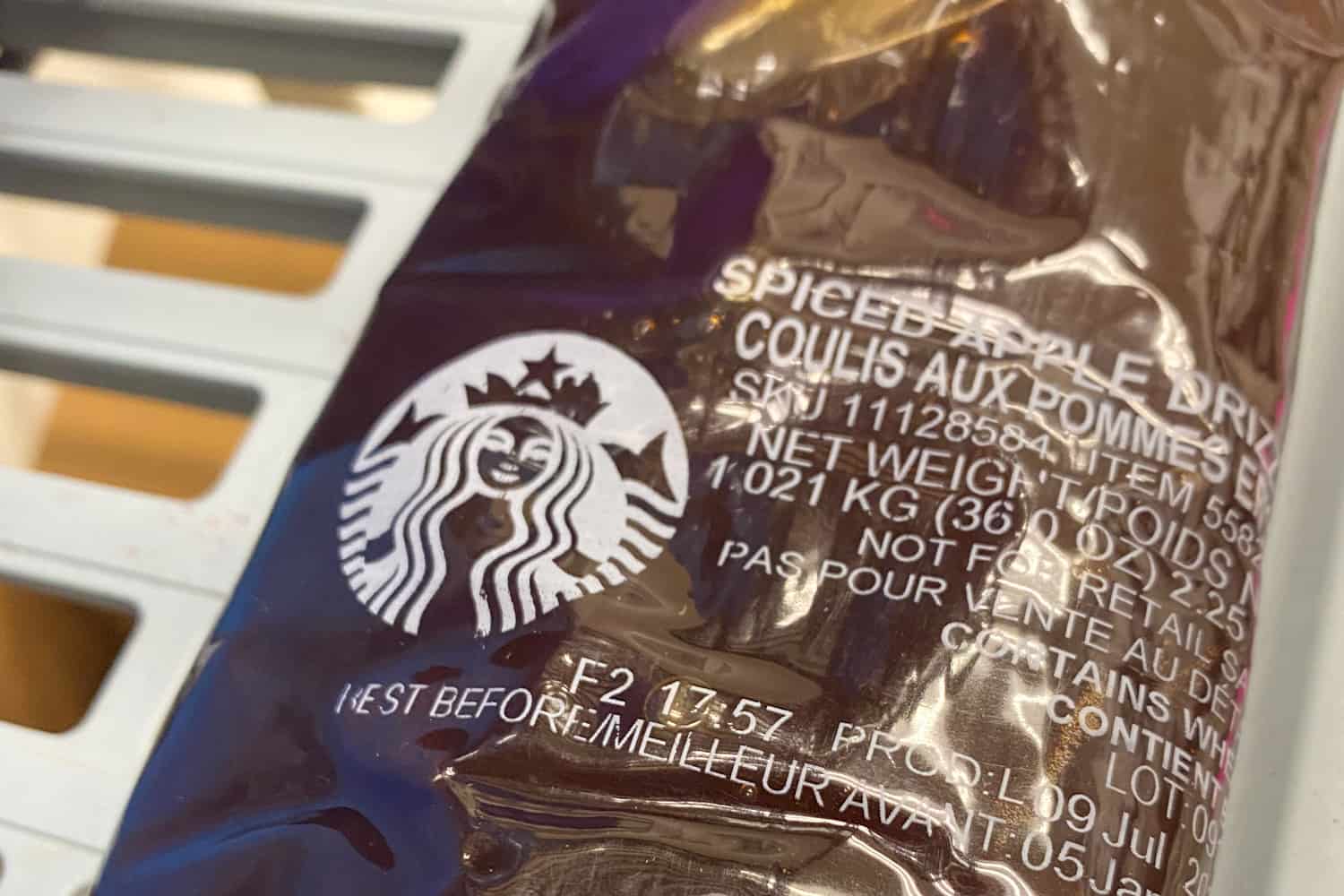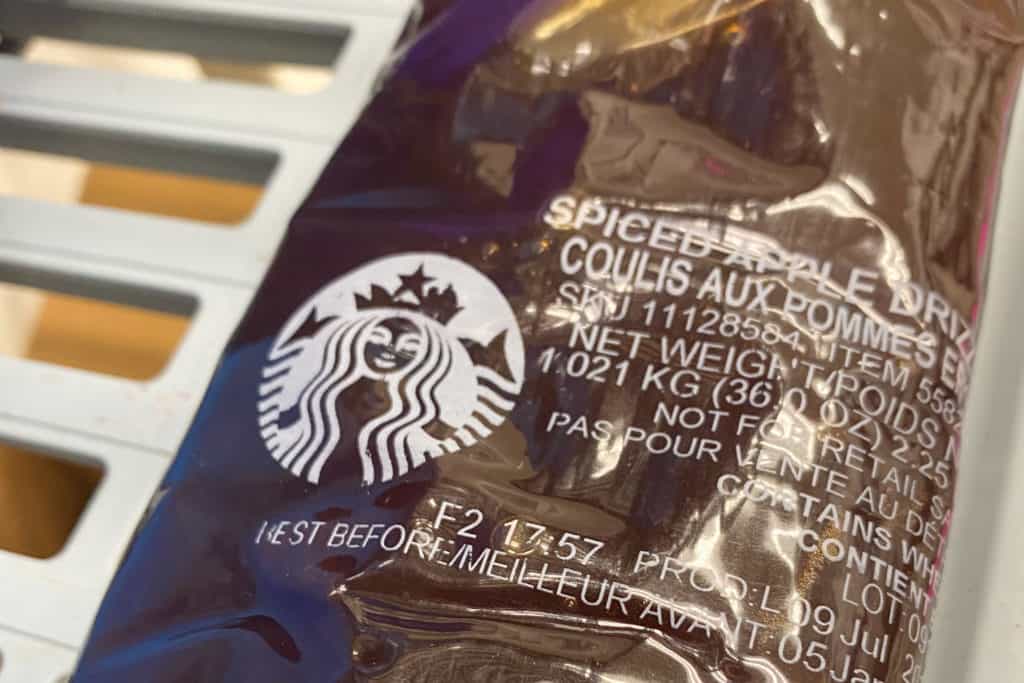 Ingredients to make homemade Spiced Apple Drizzle like Starbucks:
Diced Apples
Apple Juice
Brown Sugar
Cornstarch
Lemon Juice
Cinnamon
Nutmeg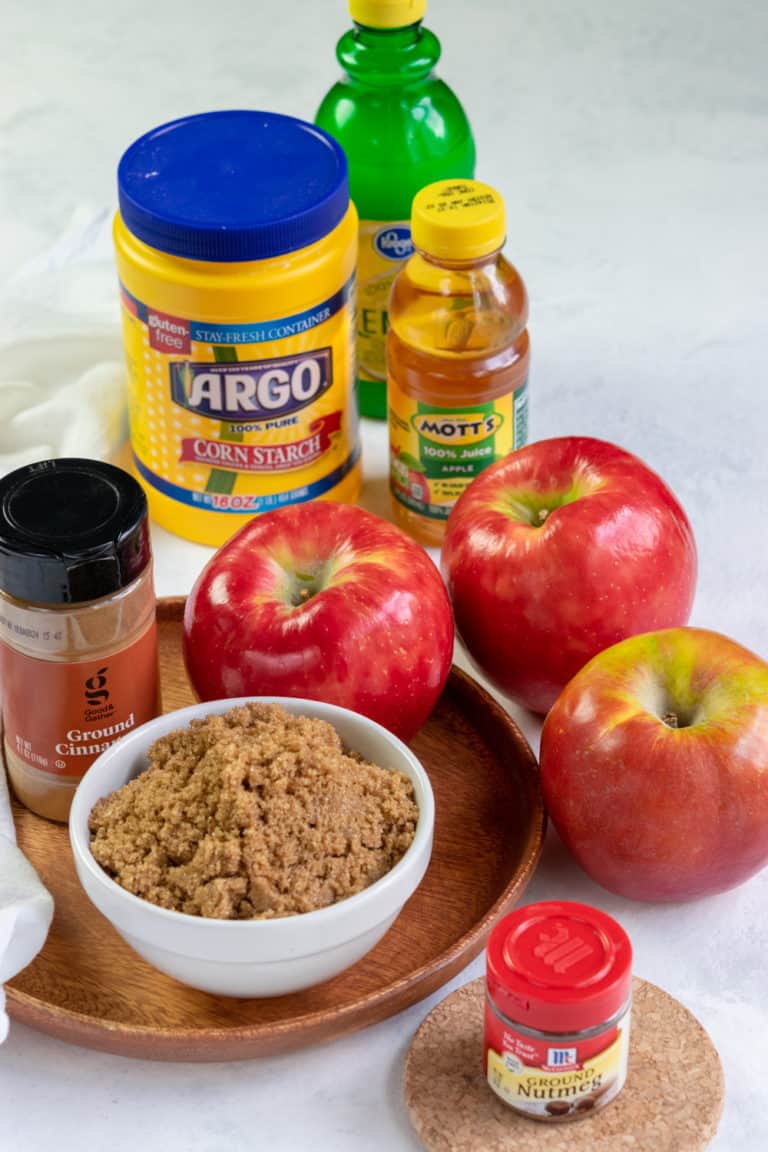 Spiced Apple Drizzle Recipe
To make homemade Starbucks Spiced Apple Drizzle, combine diced apples, sugar, cinnamon, nutmeg along with a few more ingredients in a saucepan. Heat the mixture over medium heat, stirring often. Pour in apple juice and stir continuously until sauce thickens. Remove from heat, strain apples and cool.
This recipe makes a little more than one cup of drizzle, enough for quite a few macchiatos. The sauce should be stored in the refrigerator.
Additionally, the remaining cooked diced apples make a delicious snack or side dish. But my favorite way to enjoy them is on top of a bowl of vanilla ice cream.
This recipe only takes minutes to whip up. Here are the steps to make the apple drizzle.
Step 1: Cube apples and sprinkle with lemon juice.
My favorite type of apple to use for this recipe is honeycrisp. Peel and cube the apples, discarding the peel. Place the apples in a saucepan and stir in the lemon juice.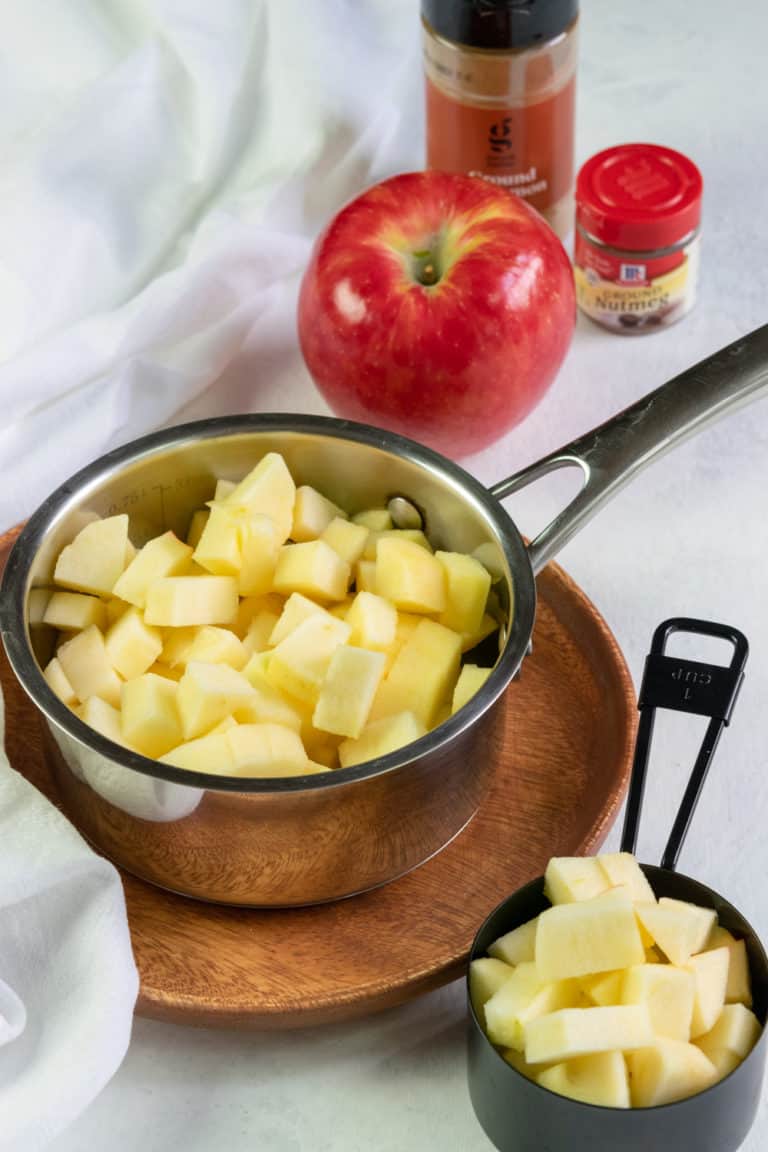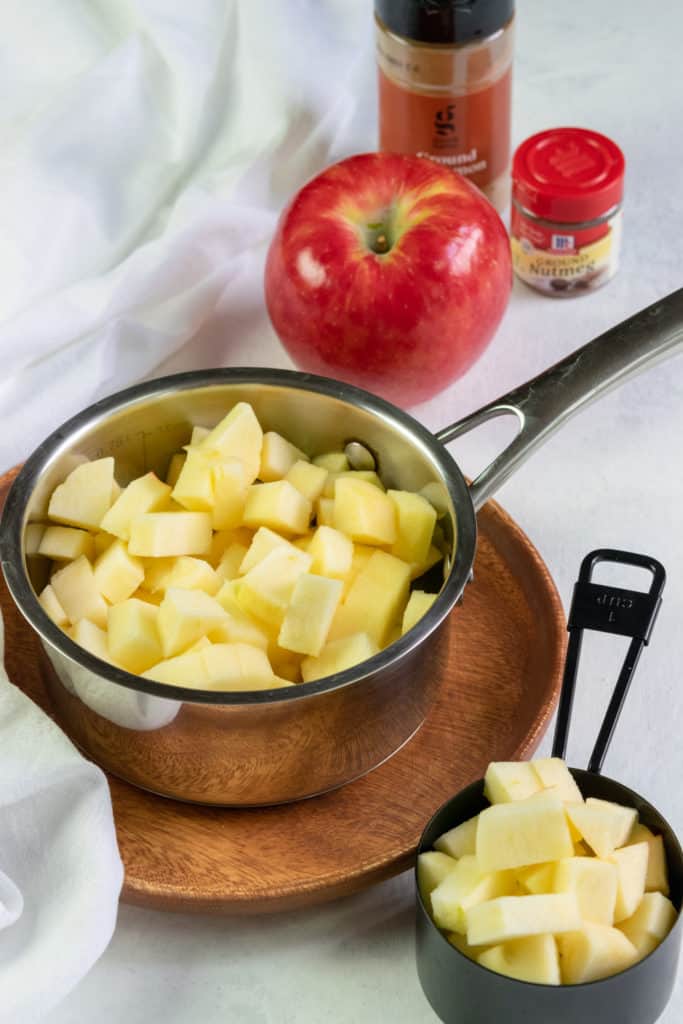 Step 2: Mix together sugar and spices.
Next, combine all the dry ingredients together in a separate bowl. Then, mix this sugar, cinnamon, nutmeg mixture with the apples in the saucepan over medium heat.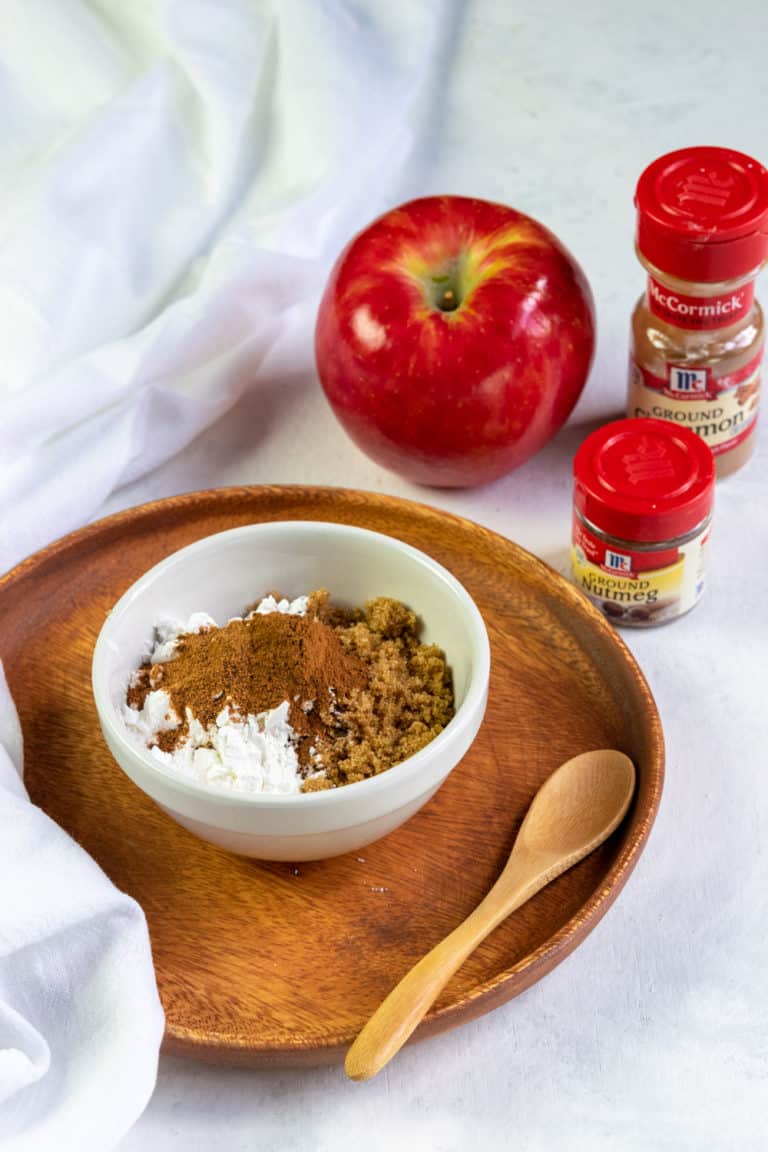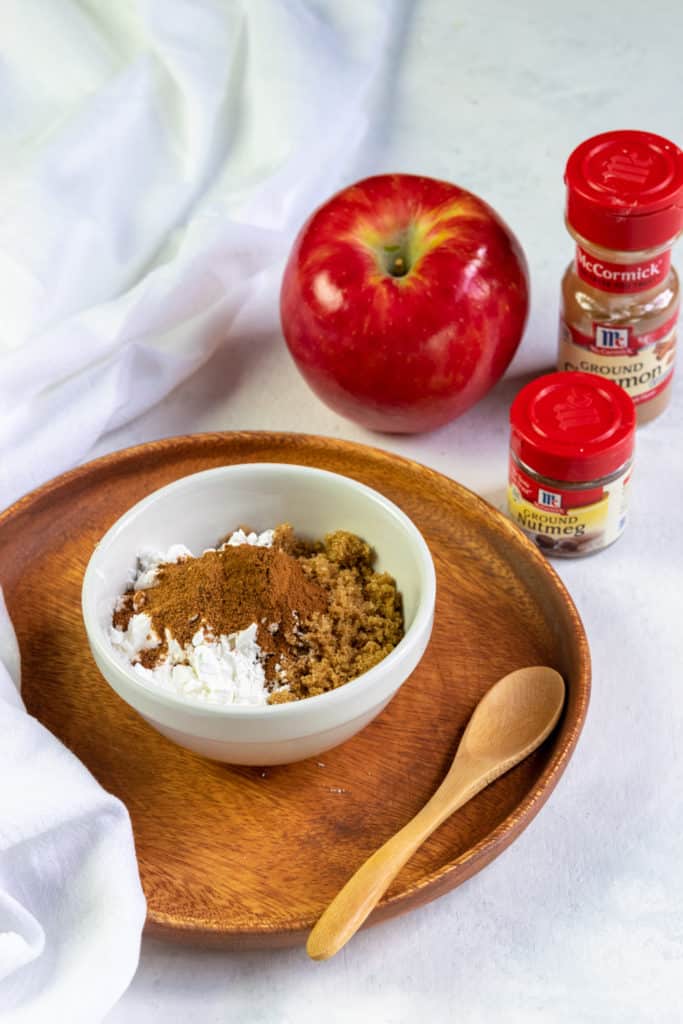 Step 3: Add apple juice and stir until thickened.
Next, warm up the apple juice in the microwave. I like to heat it up in a glass Pyrex measuring cup with handle. But be very careful when removing the hot liquid from the microwave.
Pour the apple juice into the apple mixture and stir constantly until the sauce thickens up. This happens quickly.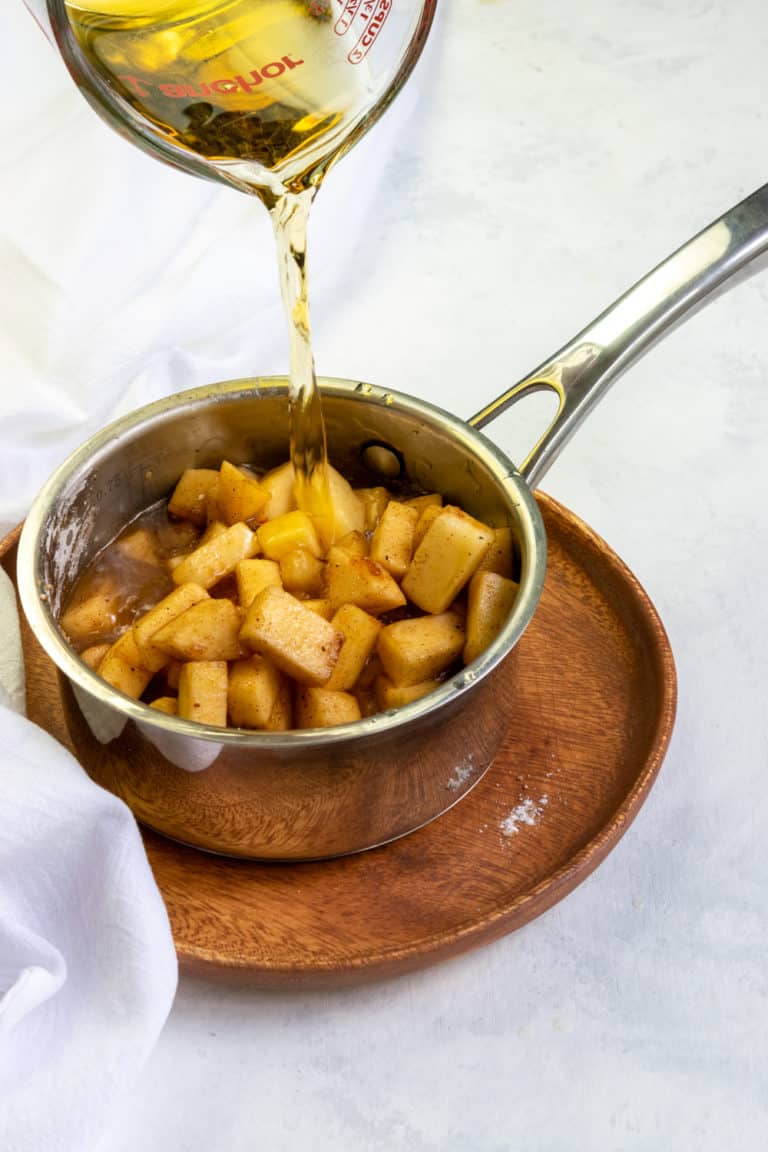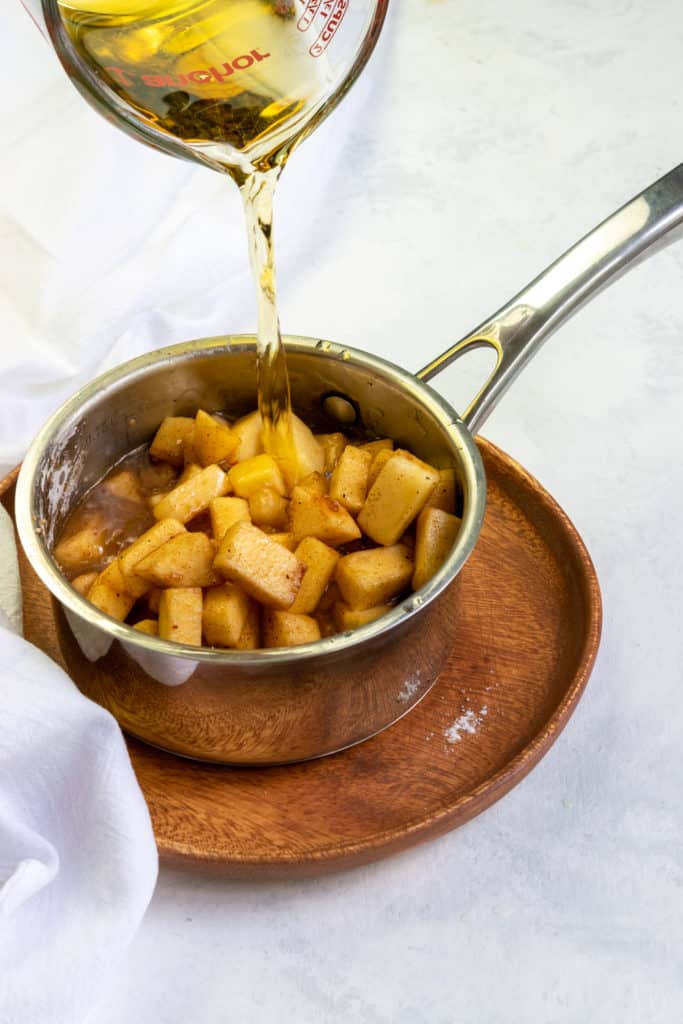 Step 4: Remove from heat, strain apples and cool the Spiced Apple Drizzle.
Remove the apple drizzle from the heat and let it cool. It will thicken a little more as it cools. Then use your homemade Starbucks apple drizzle to top espresso drinks. It also makes a yummy ice cream topping!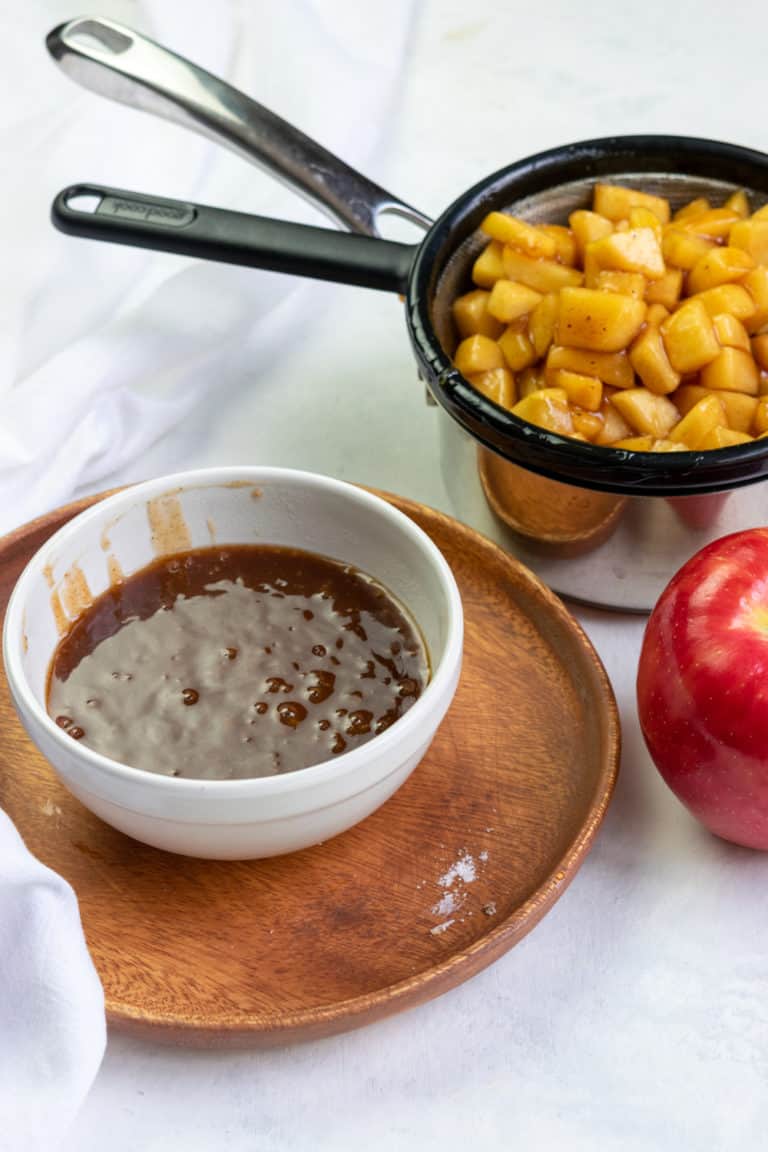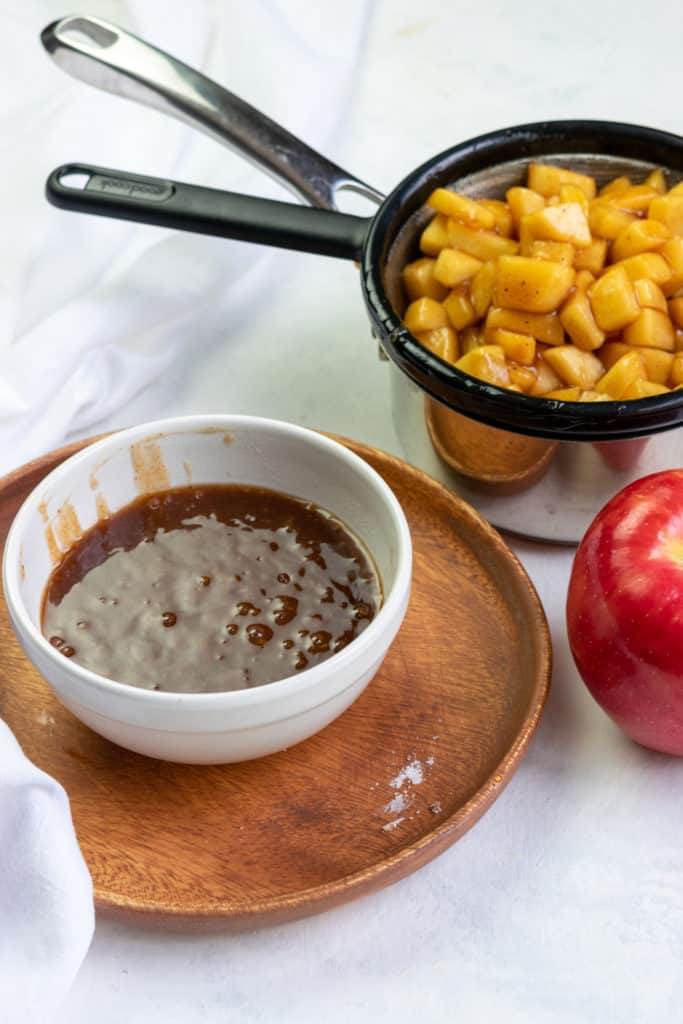 Related Starbucks Recipes and Drink Guides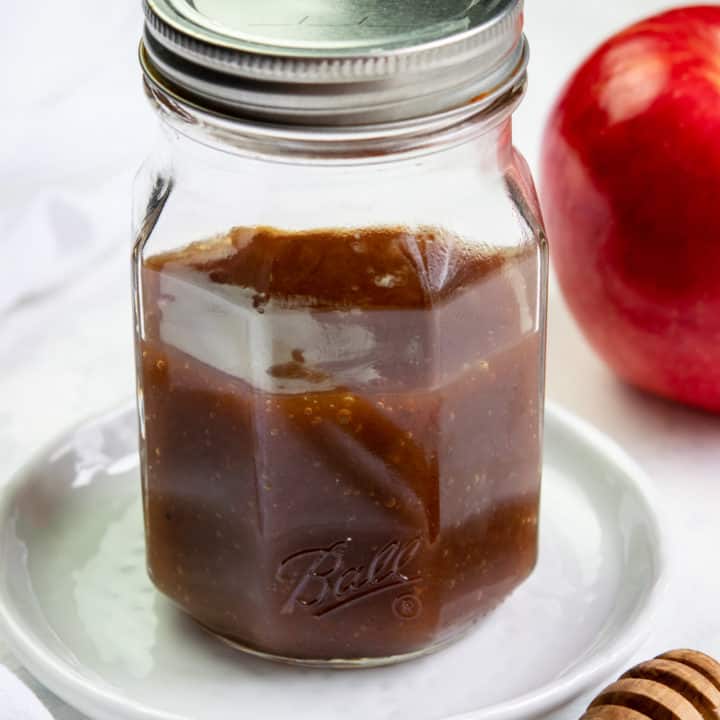 Starbucks Spiced Apple Drizzle
Easy homemade recipe for Starbucks Spiced Apple Drizzle. This apple pie flavored topping is delicious on lattes and macchiatos or your favorite coffee or tea drink.
Ingredients
4 cups apples, diced
2 tablespoons lemon juice
1/2 cup brown sugar
2 tablespoons cornstarch
1 teaspoon cinnamon
1 teaspoon nutmeg
1 cup apple juice
Instructions
Peel and dice apples and add to a saucepan along with lemon juice.
In a separate bowl, combine sugar, cornstarch, cinnamon and nutmeg. Coat the apples with this mixture and turn on heat to medium, stirring often.
Meanwhile, heat apple juice in a microwave until it's hot and pour over apple mixture. (Use extreme caution when removing hot liquid from microwave.)
Stir the spiced apple drizzle mixture constantly until it thickens. This takes 1-3 minutes. When thickened, remove from heat and let cool.
Strain the apples and store your homemade Starbucks Spiced Apple Drizzle in a sterilized jar in the refrigerator.
Nutrition Information:
Yield:

16
Serving Size:

1 tablespoon
Amount Per Serving:
Calories:

24
Sodium:

2mg
Carbohydrates:

6g
Sugar:

4g