See how simple it is to make Starbucks Apple Brown Sugar syrup. This three ingredient recipe only takes minutes to make and is tasty in drinks like coffee, tea or Starbucks new Apple Crisp Macchiato.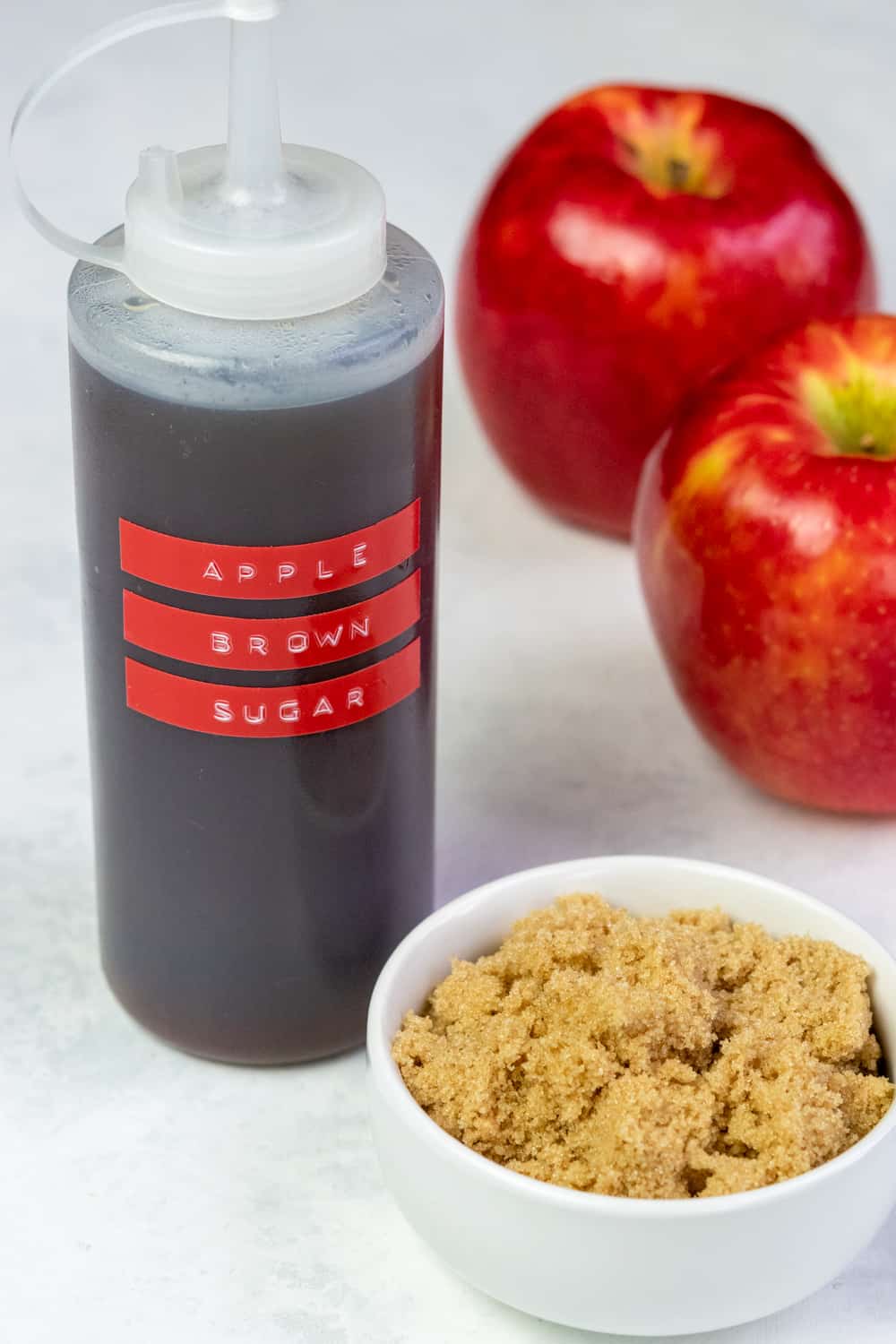 This homemade Starbucks apple brown sugar syrup recipe is easy to make and delicious in all kinds of coffee and tea drinks.
As you can imagine, this sweet apple syrup can take an ordinary beverage and transform it into the taste of fall.
And since all this apple brown sugar sweetness is in syrup form, it's perfect for mixing into both hot and iced drinks.
For instance, Starbucks uses this new seasonal syrup along with their Spiced Apple Drizzle topping to make limited-time drinks like a hot Apple Crisp Macchiato, Iced Apple Crisp Macchiato and Apple Crisp Frappuccinos.
Starbucks pumpkin drinks, like the Pumpkin Spice Latte and Pumpkin Cream Cold Brew beverages take center stage every autumn. But I love that apple brown sugar syrup brings even more fall flavor options.
And since it's easy to make a bottle of homemade apple brown sugar syrup, you can enjoy even more at-home Starbucks copycat drinks.
Apple Brown Sugar Simple Syrup Ingredients
Just like other simple syrups, this Starbucks Apple Brown Sugar syrup recipe only has a few ingredients.
Most simple syrups combine equal portions of sugar and water along with other flavors. The sugar is dissolved which makes the syrup ideal for mixing into drinks.
Likewise, apple brown sugar syrup is a mixture of brown sugar and water.
Additionally, I use Lorann's super strength extract for all the yummy apple flavor. If you're not familiar with this product, it's also referred to as candy oil, candy flavoring oil or concentrated extract. It's used for flavoring candy, frosting—or in our case, to flavor simple syrup.
Ingredients List
Brown Sugar (light or dark)
Water (preferably filtered water)
Apple Flavor Concentrated Extract
Apple Peels & Apple Slices (optional)
Wondering how to make plain brown sugar syrup? Here's my copycat Starbucks Brown Sugar syrup recipe. It's perfect for making an at-home Starbucks Iced Brown Sugar Oatmilk Shaken Espresso.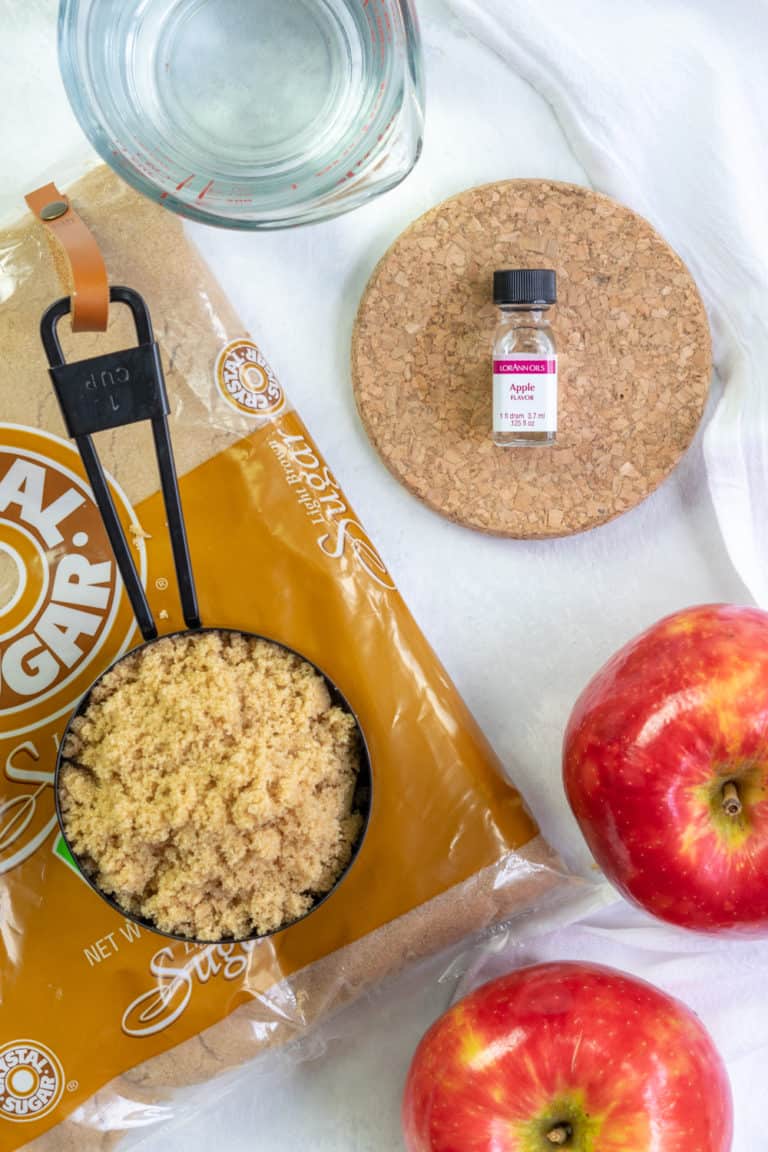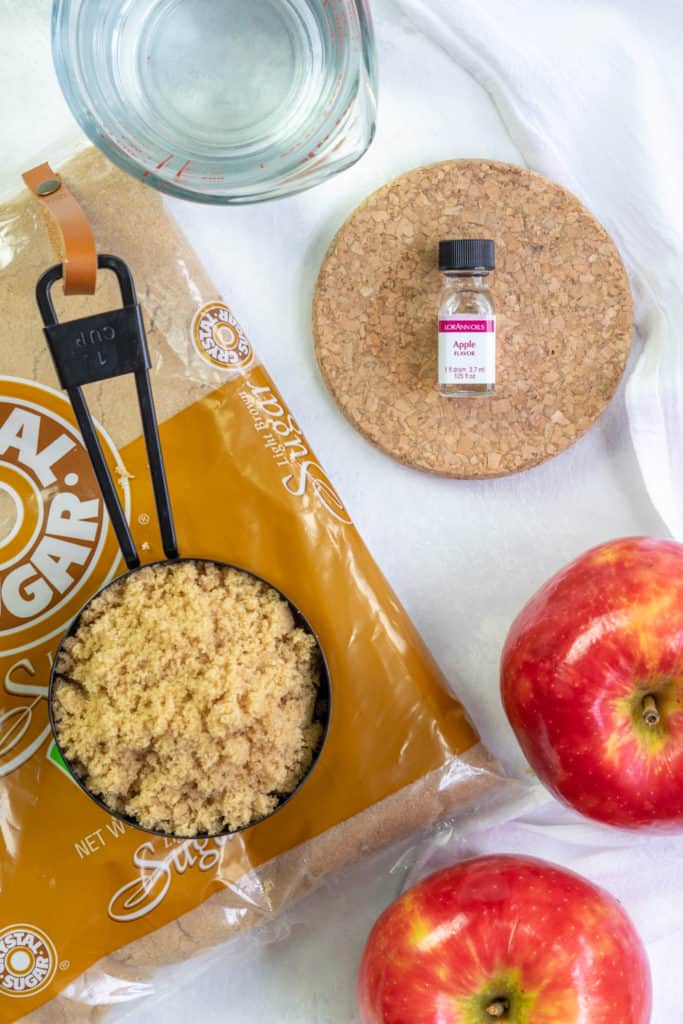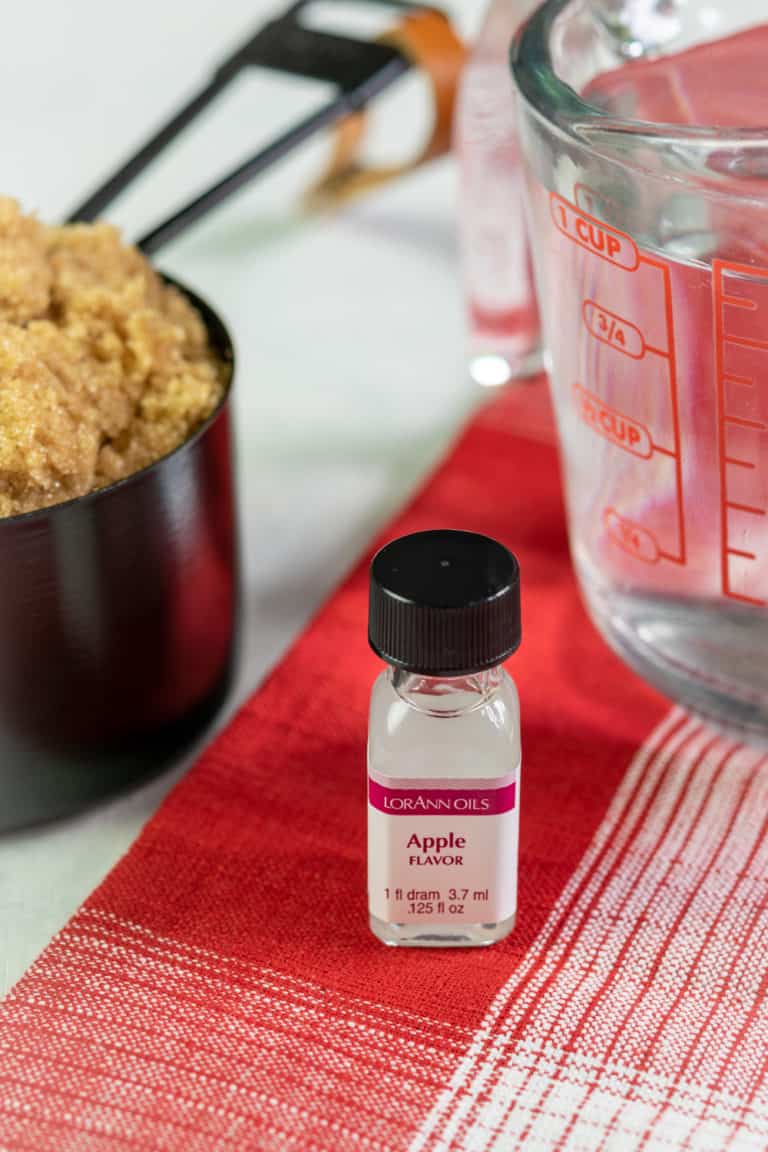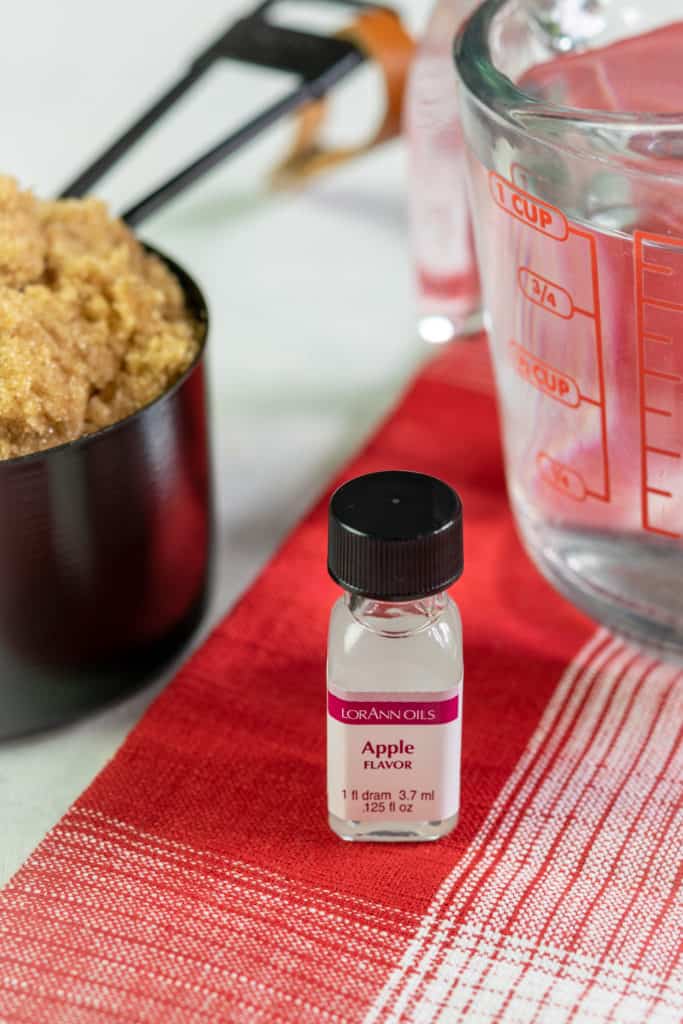 Steps to Make Apple Brown Sugar Syrup
To make apple brown sugar syrup, dissolve brown sugar into water over medium heat. Let it boil for two minutes, stirring frequently. Remove from heat and let the syrup cool for about five minutes. Once the syrup is cool, add apple flavor to make apple brown sugar syrup.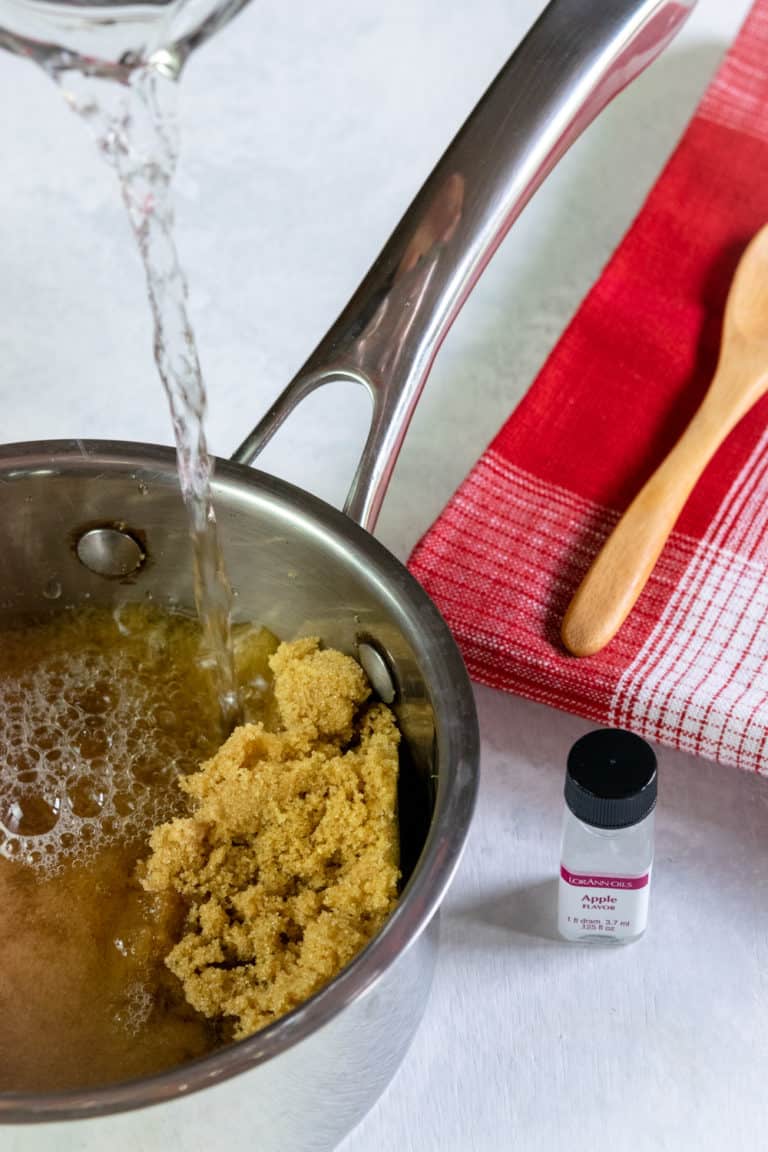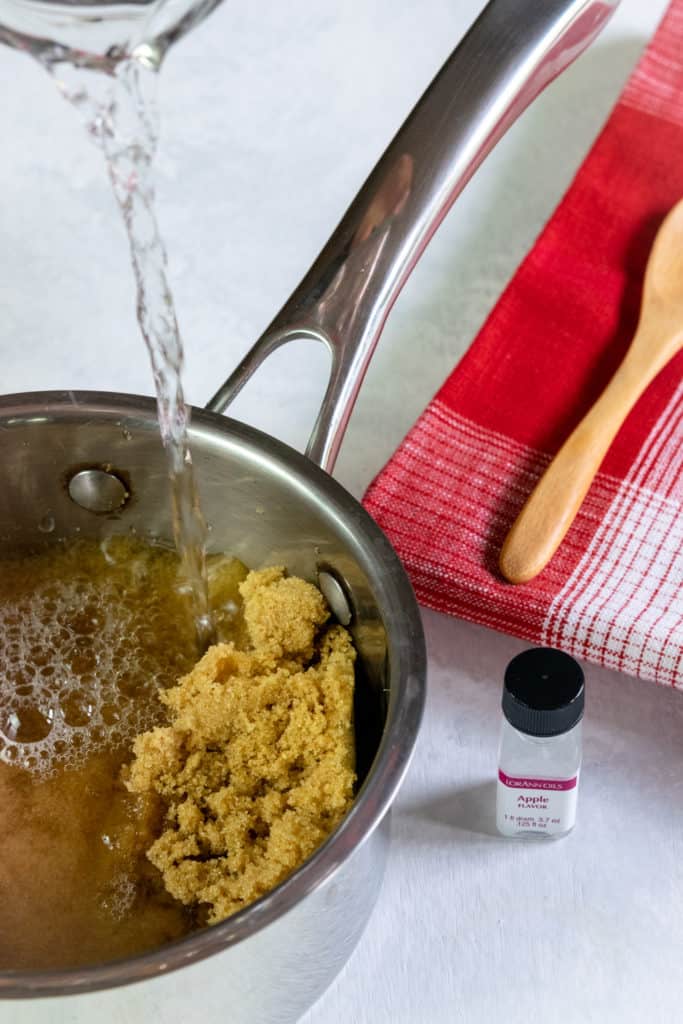 Recipe Notes
Apple Flavoring is the best way to achieve apple flavored syrup similar to Starbucks. I use LorAnn Oils Super Strength Apple Flavor which you can easily get at Michael's stores in the candy-making aisle. You can also get apple flavoring from Amazon.
You can use light or dark brown sugar. Brown sugar provides a stronger molasses flavor and is most similar to Starbucks syrup.
Ideally, make the syrup with filtered water for a crisp flavor. The Brita Filter Pitcher works great.
For even more apple flavor, add apple peels and slices to the saucepan. You may need to strain the syrup through cheesecloth to avoid apple pieces in the syrup.
You can use any type of apple but the I find, the best tasting apples for this syrup that are readily available are Honeycrisp and Pink Lady.
Starbucks Apple Brown Sugar Syrup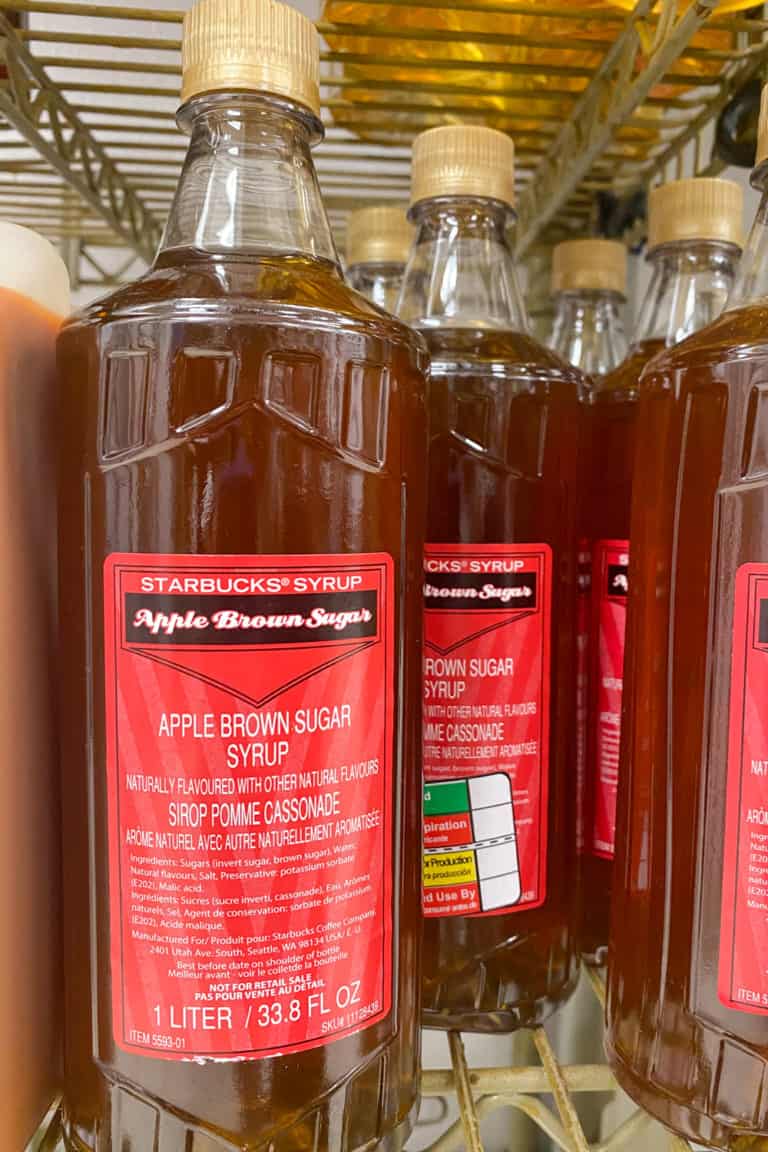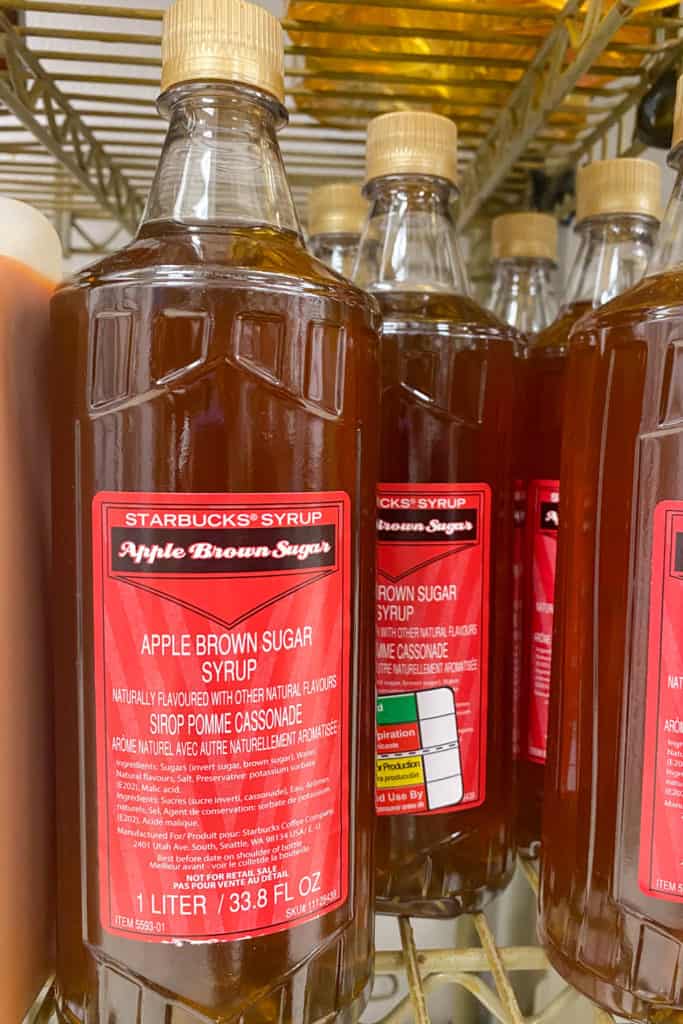 If you want to see the exact ingredients in a bottle of Starbucks Apple Brown Sugar syrup, here's a look at the bottle. Ingredients include:
Sugars: Invert Sugar & Brown Sugar
Water
Natural Flavors
Salt
Preservatives
Overall, the apple flavor in this Starbucks syrup is not what I would describe as super strong. In fact, the brown sugar really stands out, and is nicely complemented with apple.
Keep in mind, all Starbucks apple drinks also are generously topped with spiced apple drizzle which has a much stronger apple flavor.
Love Apple Brown Sugar Syrup? Then give my recipe for cookie butter syrup a try!
Related Starbucks Recipes & Drink Guides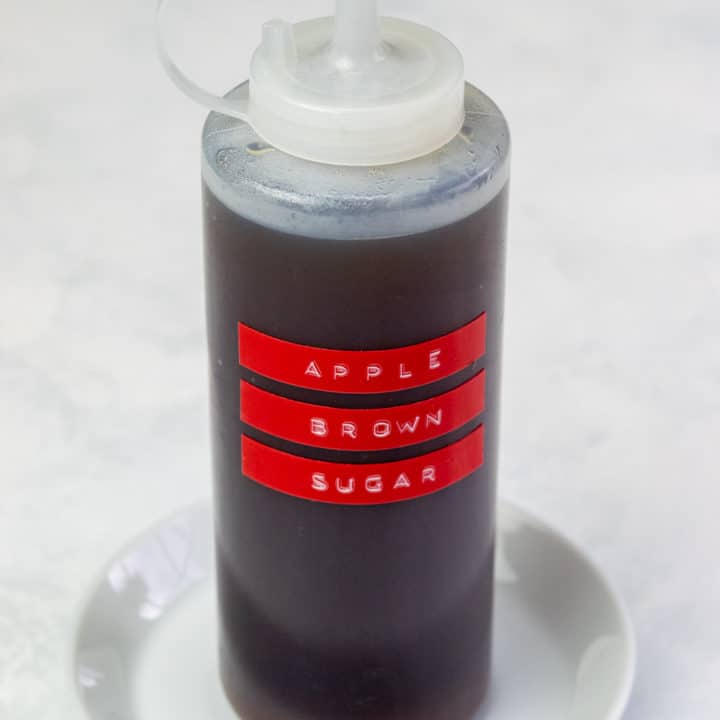 Starbucks Apple Brown Sugar Syrup
Additional Time:
5 minutes
Easy Starbucks copycat recipe for Apple Brown Sugar syrup for drinks like coffee, tea and Starbucks Apple Crisp Macchiato. This apple-flavored simple syrup recipe only has three ingredients and takes minutes to make.
Ingredients
1 cup brown sugar, light or dark
1 cup water, preferably filtered
1/2 tablespoon concentrated apple extract
Instructions
To Make Apple Brown Sugar Syrup
Combine brown sugar and water in a saucepan over medium heat.
Let it boil for two minutes, stirring frequently.
Remove from heat and cool for at least 5 minutes.
Stir in concentrated apple flavor extract.
Store the Apple Brown Sugar syrup in a sterilized jar in the refrigerator.

Notes
Apple Flavor Oil or concentrated extract is readily available in stores that sell candy-making supplies like Michael's.
Apple Brown Sugar Syrup is perfect for making homemade Starbucks drinks like the Apple Crisp Macchiato.
This apple flavored simple syrup is also good in other coffee and tea drinks and even chai lattes.
Recommended Products
As an Amazon Associate and member of other affiliate programs, I earn from qualifying purchases.
Nutrition Information:
Yield:

20
Serving Size:

1 tablespoon
Amount Per Serving:
Calories:

36
Carbohydrates:

10g
Sugar:

10g