Homemade pumpkin spice syrup for coffee and other drinks. If you love Starbucks Pumpkin Spice lattes, then you've got to give this homemade pumpkin coffee syrup recipe a try.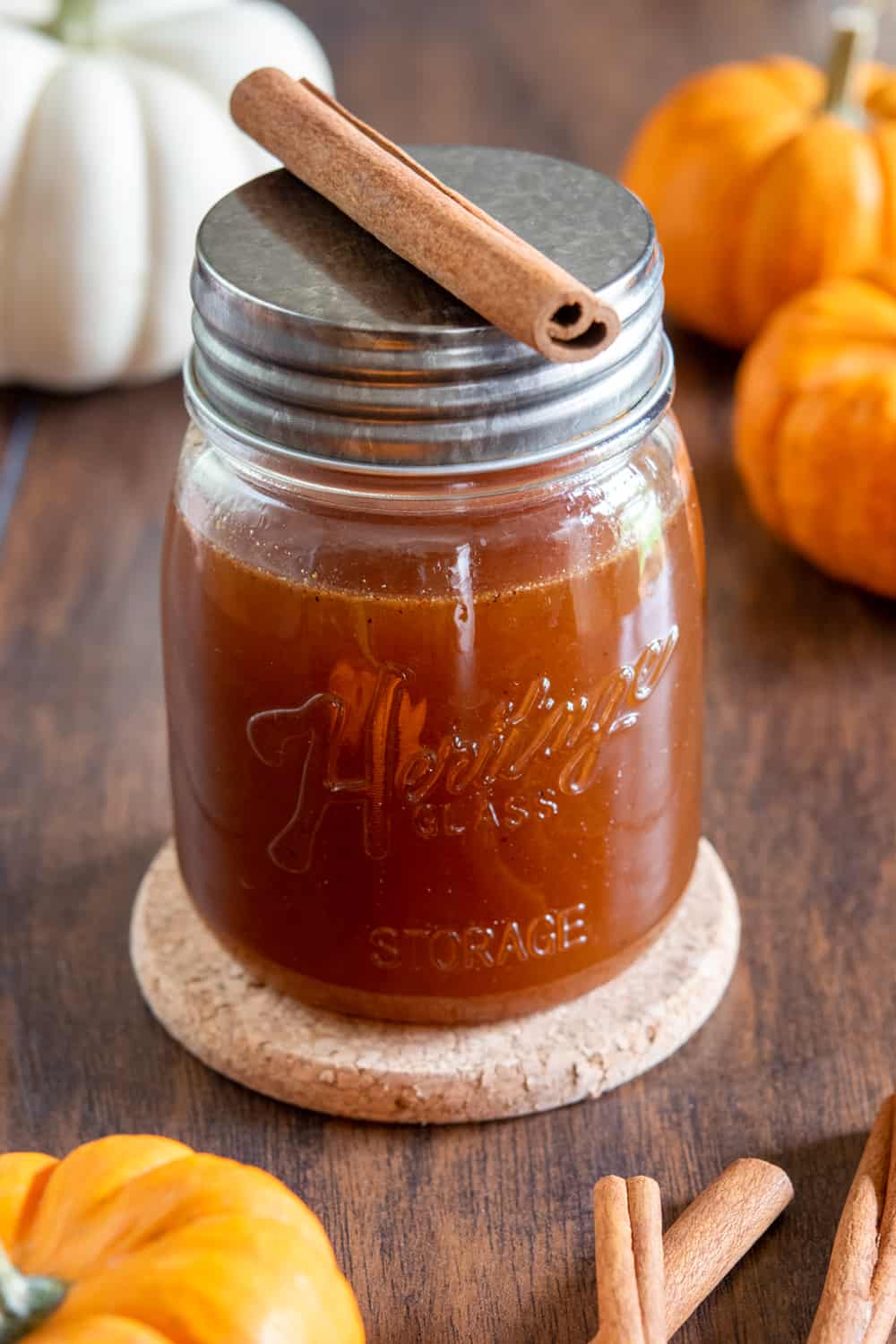 Pumpkin Syrup for Coffee
One of the best things about this homemade pumpkin spice syrup recipe is that it's super easy to make and absolutely delicious in coffee.
It only takes a few minutes to make a batch of this coffee syrup and then you can use it throughout the week to make all sorts of Starbucks pumpkin drinks, like this copycat Starbucks Pumpkin Spice Latte.
There's a good chance you already have most of the ingredients on-hand.
Well, you might need to get a can of pumpkin puree. But other than that, this simple syrup recipe is mostly sugar and spices.
If you're looking for a creamer, then check out my easy recipe for pumpkin spice coffee creamer.
As you can imagine, it's really cost effective to make your own pumpkin spice syrup.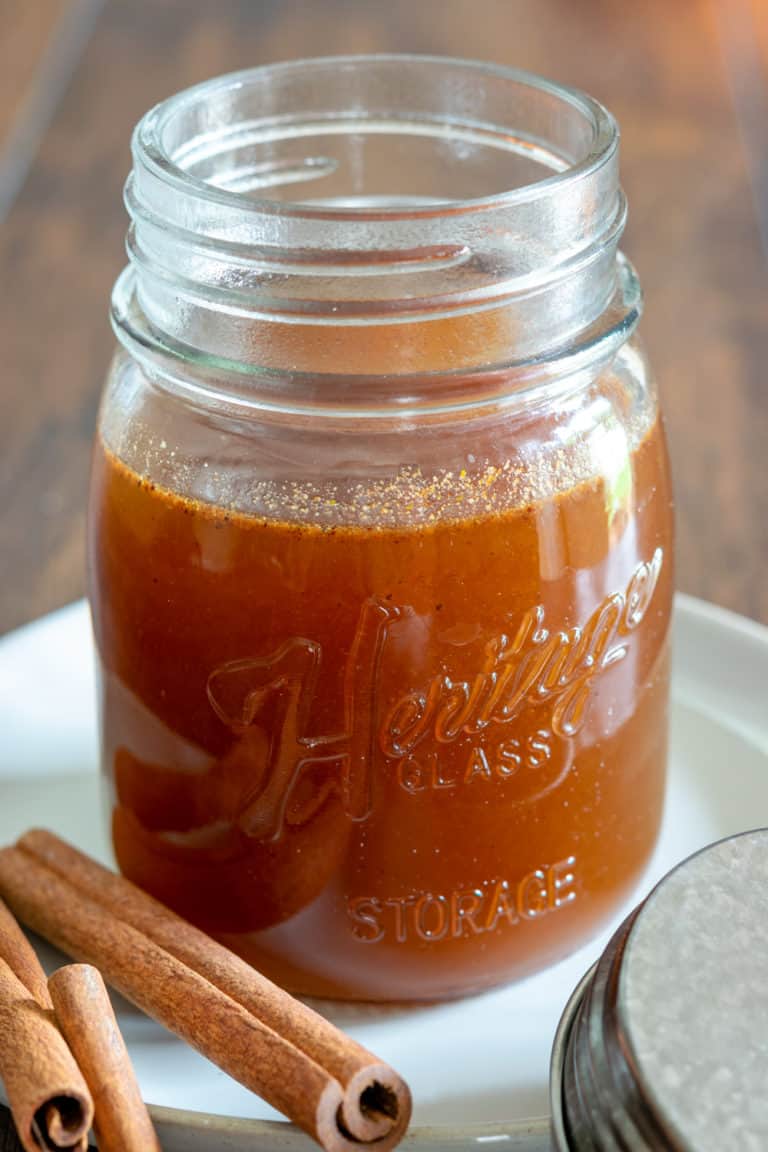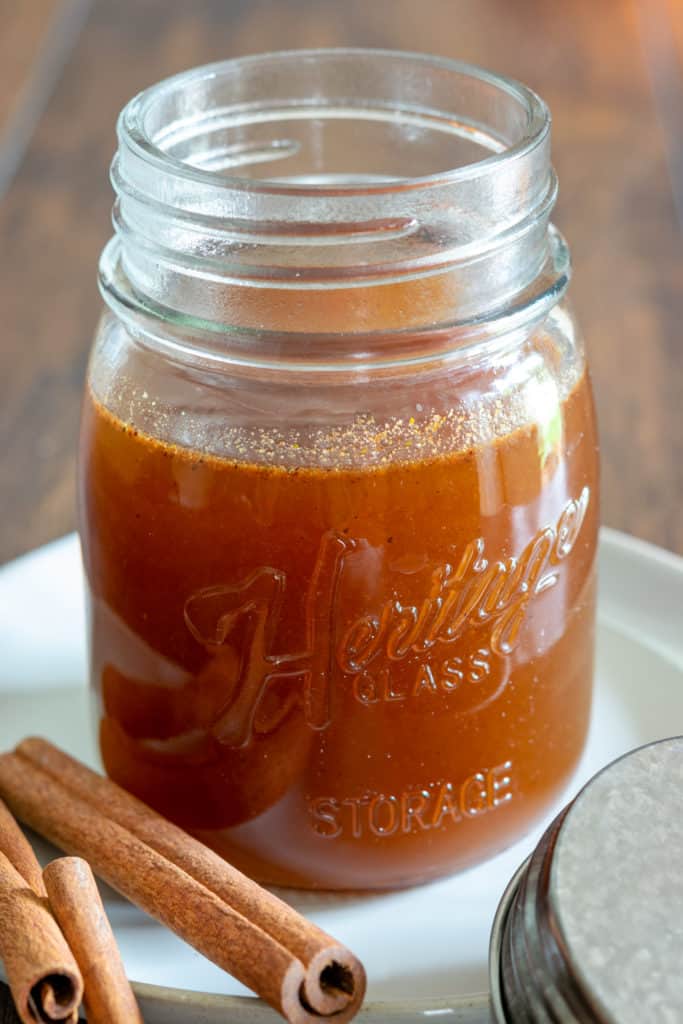 Recipe Overview
Pumpkin Spice Syrup is a pumpkin flavored simple syrup that's used to make coffee drinks like a Pumpkin Spice Latte.
This coffee syrup is easy to make with pumpkin puree, sugar, water, cinnamon and a few other spices.
Unlike Starbucks Pumpkin Spice Sauce, this simple syrup recipe does not contain dairy. This means you can make a dairy-free pumpkin spice latte at home using this pumpkin syrup and a milk alternative like oat milk or almond milk.
This recipe yields approximately 12-14 ounces of pumpkin spice syrup. That's enough to make 8-10 lattes.
This pumpkin syrup can be used to transform drink toppings like vanilla sweet cream cold foam or homemade Starbucks whipped cream into pumpkin-flavored fall toppings.
For Pumpkin Cream Cold Foam or to make a copycat Starbucks Pumpkin Cream Cold Brew, simply combine this pumpkin spice syrup with heavy cream and a little milk.
In addition to using this syrup in coffee, you can add it to tea, make a pumpkin milk steamer or even combine it with homemade whipped cream to top fall desserts and drinks. It's also a flavorful sweetener for oatmeal.
RELATED RECIPE: Pumpkin Cream Cold Foam Recipe (Starbucks Copycat)
Ingredients
What I love about making homemade pumpkin spice syrup is that it doesn't contain any artificial ingredients, whereas most store-bought coffee syrups do.
It's even made with 100% real pumpkin puree.
Here's everything you need to whip up a batch.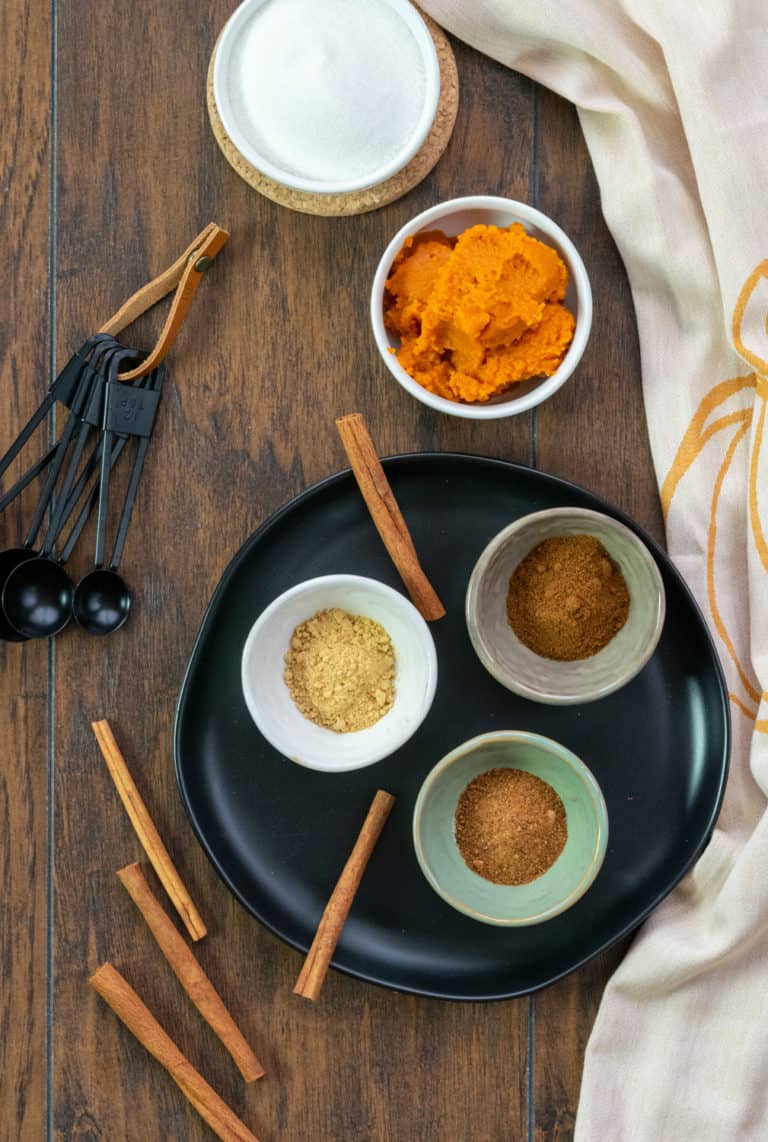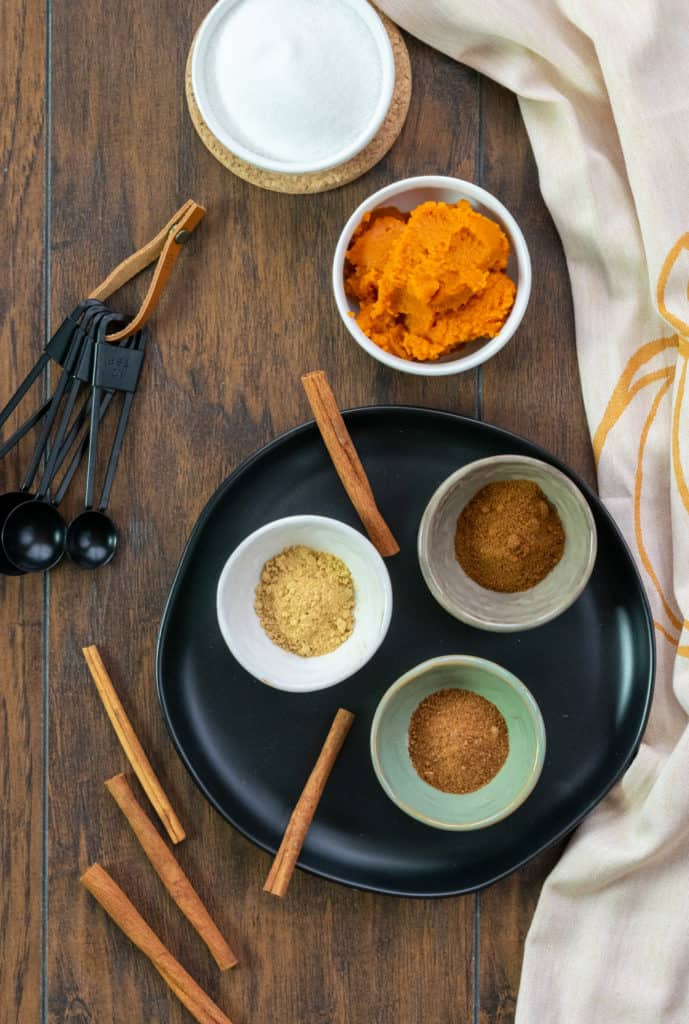 Pumpkin Puree: For this recipe you need a can of 100% pure pumpkin.
Make sure you don't get pumpkin pie mix in a can. They look similar.
This recipe only uses a small portion of the canned pumpkin so you could easily multiply it and have more pumpkin spice syrup for yourself or to give as a homemade gift.
Sugar: The basis of this recipe is simple syrup which is nothing more than sugar and water.
In the case of pumpkin syrup, I prefer to use granulated sugar. This way, all the flavorful spices really stand out.
However, if you want it a little richer, more molasses-like you can make brown sugar syrup to start off and add the pumpkin and spices to it.
Simply use half granulated sugar and half brown sugar.
Water: Be sure and use filtered water if at all possible. It always makes the best tasting syrups and drinks.
If you don't have a water filter I highly recommend using a Brita water filter pitcher.
Pumpkin Pie Spices: To make homemade pumpkin spice syrup you need cinnamon, ground nutmeg, ground cloves and ground ginger.
I prefer to use cinnamon sticks but you can easily substitute ground cinnamon in their place.
Alternatively, you can use pumpkin pie spice if you don't have all the individual spices.
Just keep in mind the ratio of cinnamon, nutmeg, cloves and ginger will be different so you may need to play around with the amount you use. It's really just a matter of taste.
Steps to Make Pumpkin Coffee Syrup
Detailed recipe and instructions are in recipe card at bottom of post.
I love making homemade pumpkin syrup because honestly it tastes really good compared to bottled syrup. Plus, it's cheaper, not to mention it's often very difficult to find a bottle of pumpkin flavored syrup in the store.
Here are the steps I take to make it:
To make pumpkin spice syrup, first make simple syrup by combining sugar and water. Then mix in pumpkin, cinnamon sticks and spices, and let the syrup simmer. Finally, cool the pumpkin spice syrup and store it in the refrigerator.
Step 1: Make Simple Syrup
Combine sugar and water in a saucepan. Bring the mixture to a boil and then reduce it to a simmer. Stir the syrup until all the sugar is dissolved.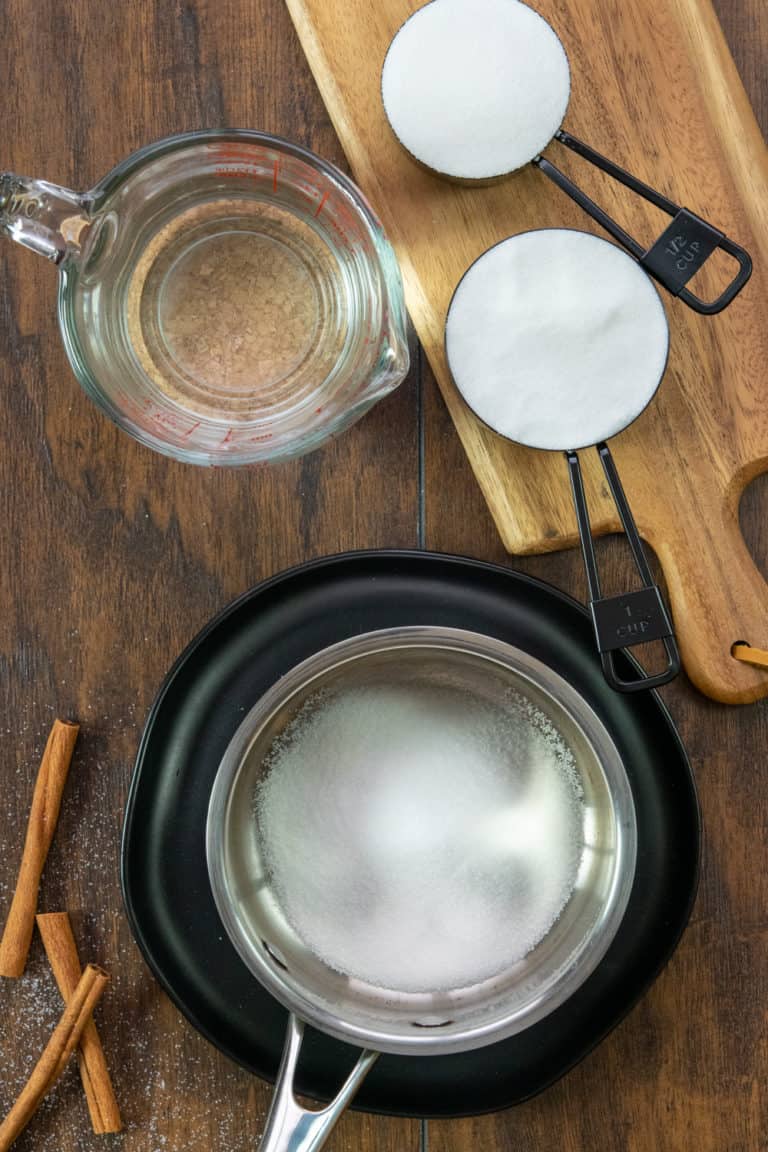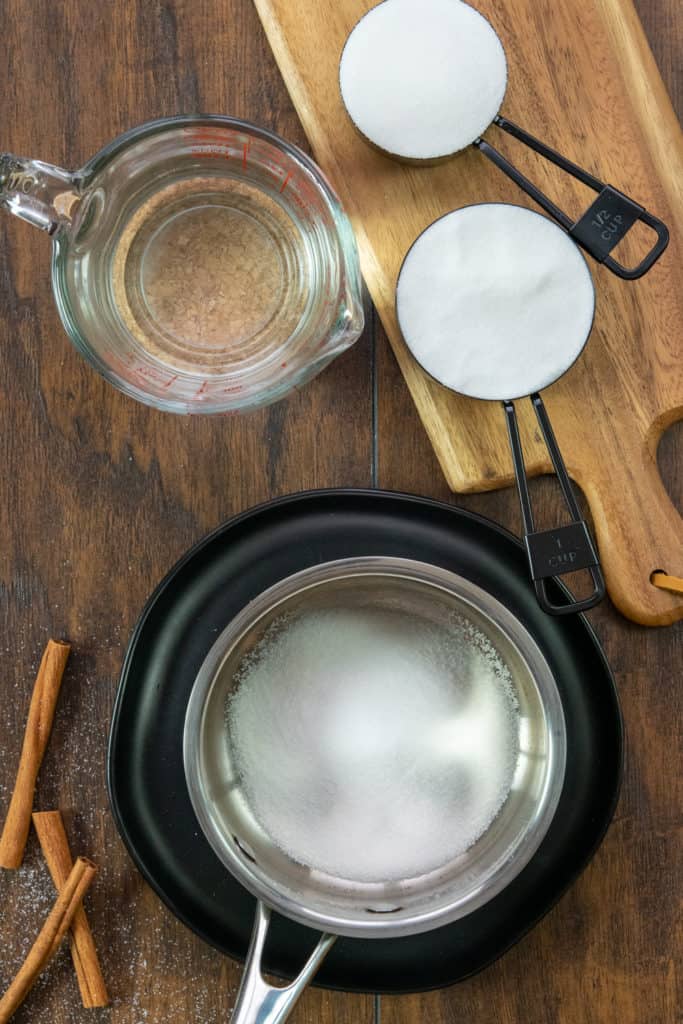 Step 2: Add Pumpkin & Spices
Add the pumpkin, cinnamon sticks and spices to the simple syrup. Stir the mixture and let it simmer for about 15 minutes. You can substitute cinnamon sticks with ground cinnamon, if preferred.
As a bonus, the simmering pumpkin spice syrup will fill your kitchen with the aroma of a baking pumpkin pie.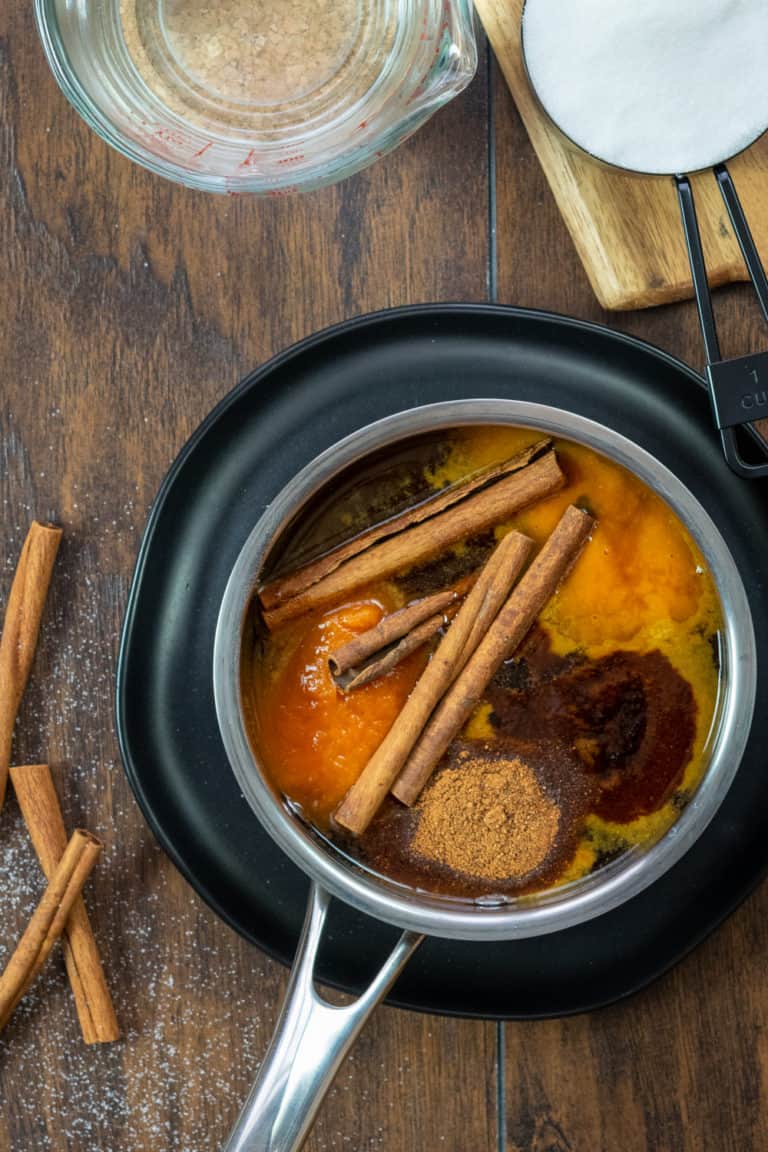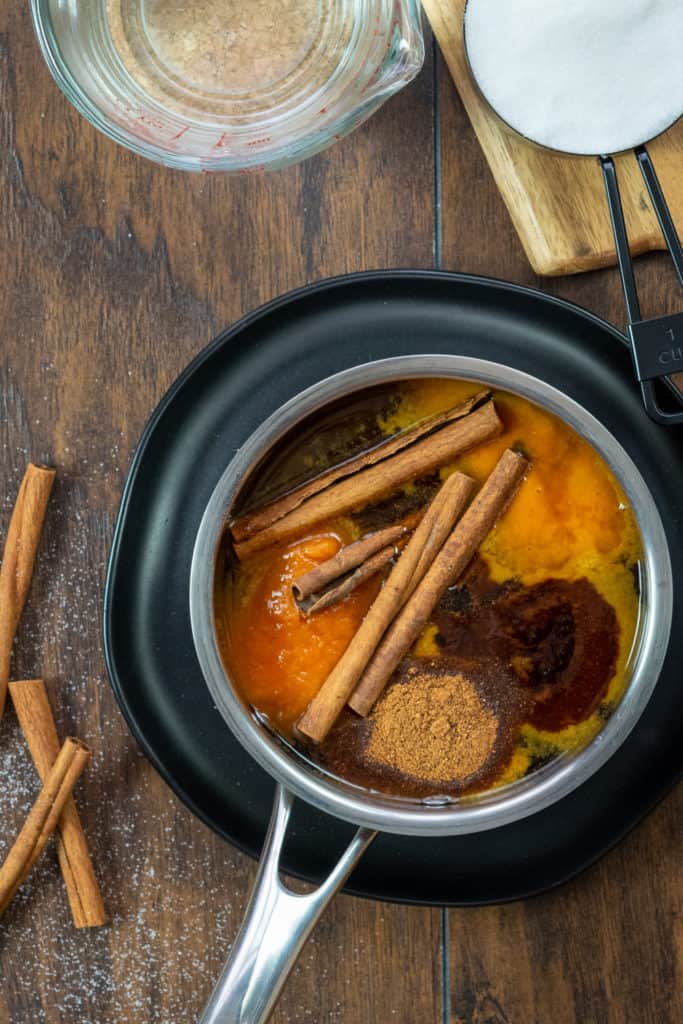 Step 3: Strain & Bottle the Syrup
The last step is to strain the pumpkin spice syrup. This step is entirely optional, but I prefer to remove the bits of spices that didn't dissolve.
To strain the syrup, just pour it through a cheesecloth-lined strainer. Be patient as it takes a little time for all the syrup to drip through. Notice in the first picture how clear the strained syrup is.
Once the syrup cools down, store it in a bottle in the refrigerator.
As promised, this homemade pumpkin spice syrup recipe is really easy to make. And it makes the best lattes. Enjoy!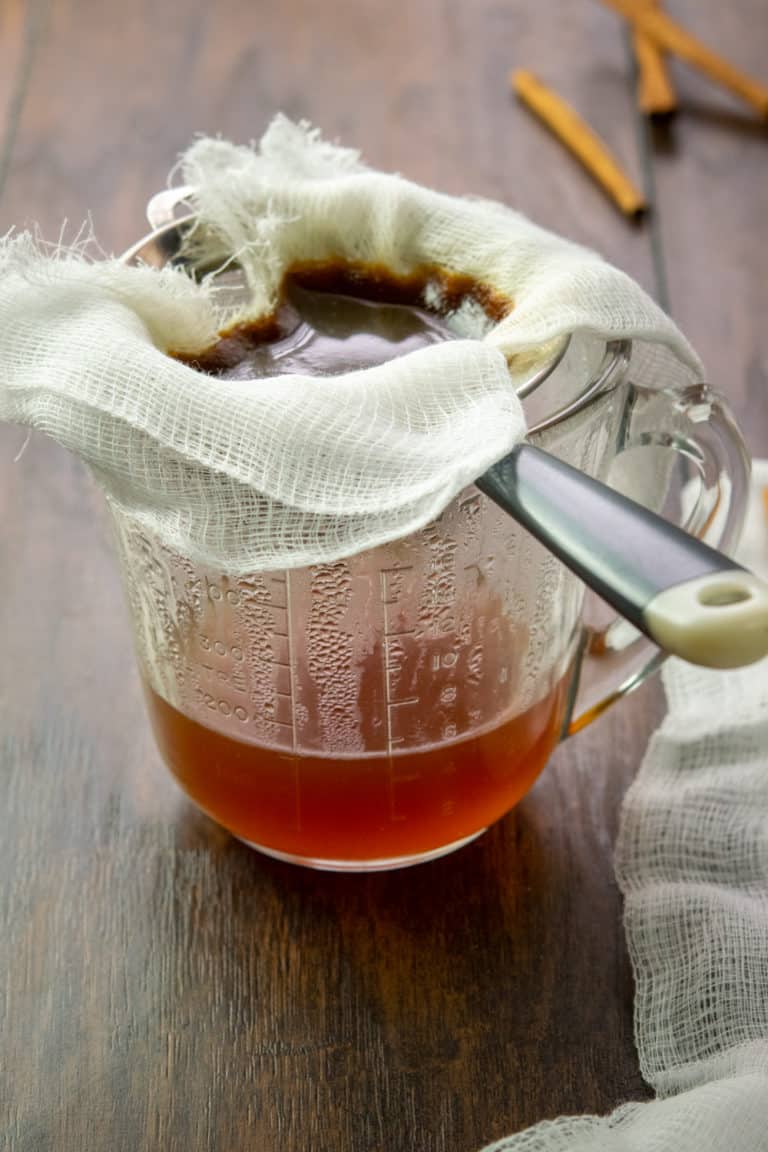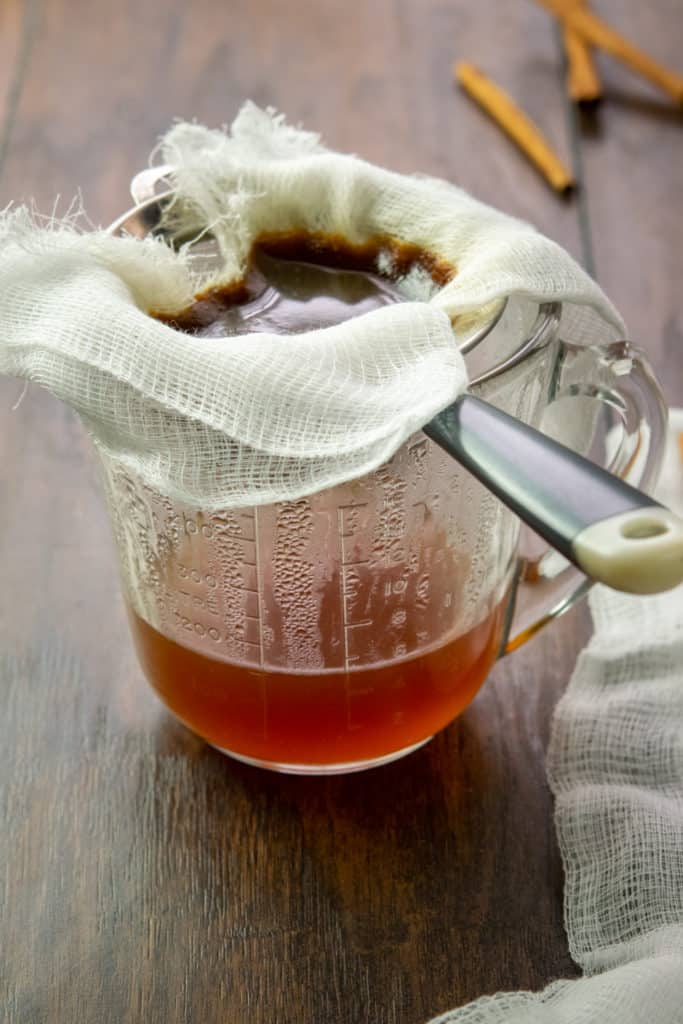 Related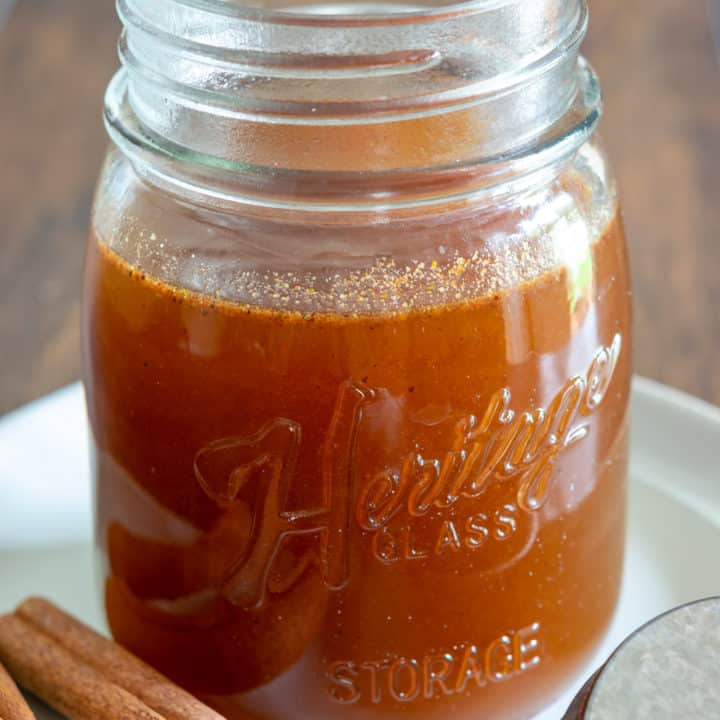 Homemade Pumpkin Spice Syrup for Coffee
Homemade pumpkin syrup for coffee is easy to make and can be use in copycat Starbucks pumpkin spice drinks like lattes. It only takes a few minutes to make and all you need is pumpkin puree, sugar and a few spices.
Ingredients
1/4 cup pumpkin puree
1 1/2 cups sugar
1 1/2 cups water, preferably filtered
4 cinnamon sticks or 2 teaspoons ground cinnamon
2 teaspoons ground nutmeg
1 teaspoon ground cloves
1 teaspoon ground ginger
Instructions
Pumpkin Coffee Syrup
Combine sugar and water in a saucepan. Bring the mixture to a boil then reduce it to a simmer. Stir the simple syrup until all the sugar is dissolved.
Stir the pumpkin puree, cinnamon sticks and all the other spices into the simple syrup. Simmer for 15 minutes.
Remove the pumpkin spice syrup from heat and let it cool. Strain the syrup, if desired.
Store the pumpkin spice syrup in a jar in the refrigerator and use it to make lattes or to sweeten coffee or tea.

Notes
Recipe Substitutions
1/2 teaspoon of ground cinnamon can be substituted for each cinnamon stick.
Pumpkin Spice Syrup Serving Suggestions
Make a homemade Starbucks Pumpkin Spice Latte by adding 2-3 tablespoons of pumpkin syrup to espresso. Or you can just sweeten a cup of coffee with it.
Mix pumpkin spice syrup in chai tea for even more cinnamon and fall flavors.
Make homemade pumpkin whipped cream by adding a few tablespoons to the heavy cream.
Make homemade pumpkin cream cold foam to top cold brew coffee.
Nutrition Information:
Yield:

14
Serving Size:

2 tablespoons
Amount Per Serving:
Calories:

79
Sodium:

2mg
Carbohydrates:

21g
Sugar:

22g