See how to make affogato, a classic Italian dessert that only has two basic ingredients: espresso and ice cream.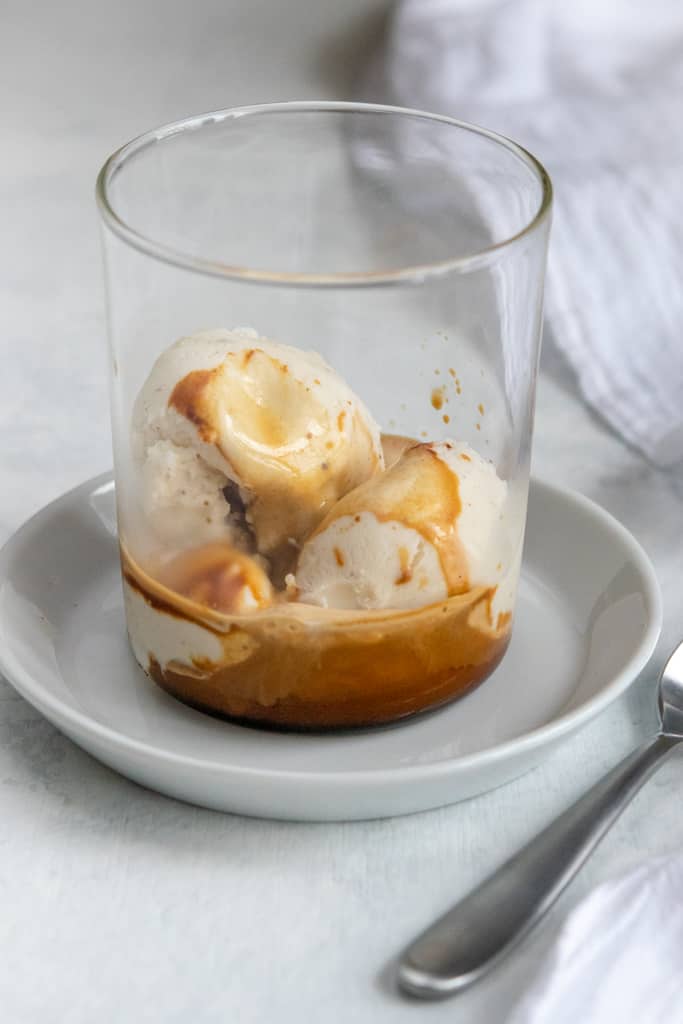 Affogato Recipe
This affogato recipe is a classic Italian dessert that brings together rich espresso and vanilla gelato or ice cream. Like so many Italian recipes, affogato is absolutely delicious.
In my opinion, affogato is the perfect example of "less is more."
In fact, this simple, two-ingredient recipe is the sum of its parts. In other words, the espresso enhances the ice cream and the melting ice cream enhances the espresso.
And if you're like me, the only time you set your spoon down is when you're ready to drink what remains.
Typically, affogato is served as a tasty after-dinner dessert. But don't let that stop you from enjoying affogato whenever you want.
This dessert certainly makes a sweet treat any time of the day. And since espresso has caffeine, an affogato may even give you a little boost.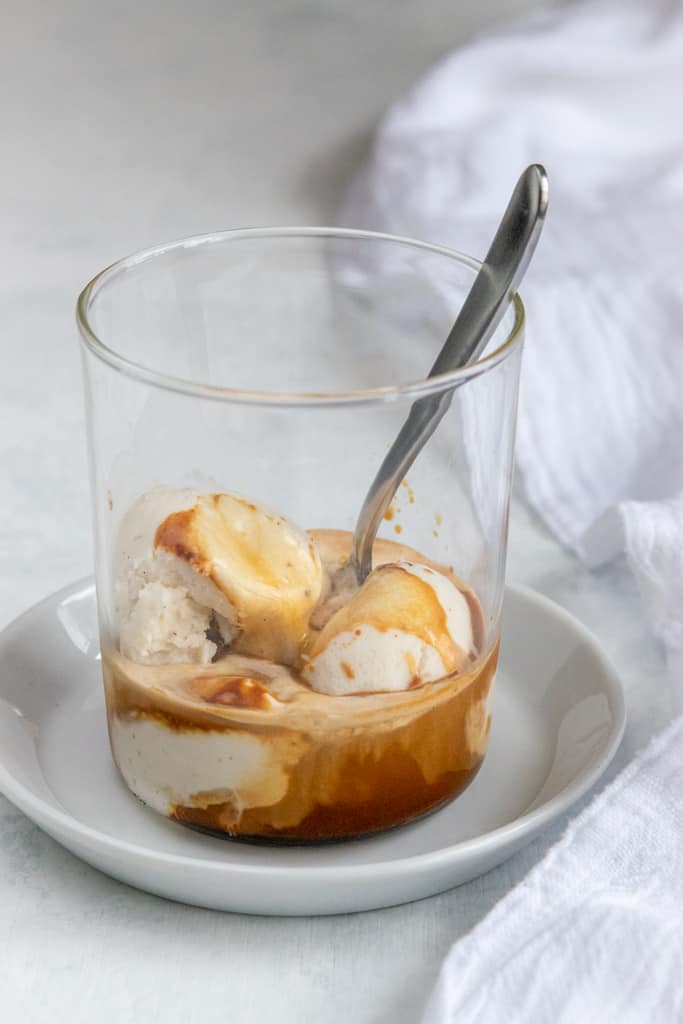 What is Affogato?
Affogato is an Italian coffee-based dessert originally known as, affogato al caffe. Its name literally means "drowned in coffee." Basically, affogato is a scoop of gelato with a shot of espresso poured over top. Traditionally, affogato is served in a glass that's slightly wider at the top. This way the gelato or ice cream doesn't fall all the way to the bottom. A lovely mixture of espresso and melted cream forms beneath.
Affogato al caffe often appears on Italian menus as a dessert. However, other countries and restaurants may list it as a drink. Really, it's a dessert drink.
Interestingly, the word affogato didn't even appear in American dictionaries until around 1992. So, while the combination of espresso and ice cream isn't all that new, this dessert isn't all that commonplace in America either.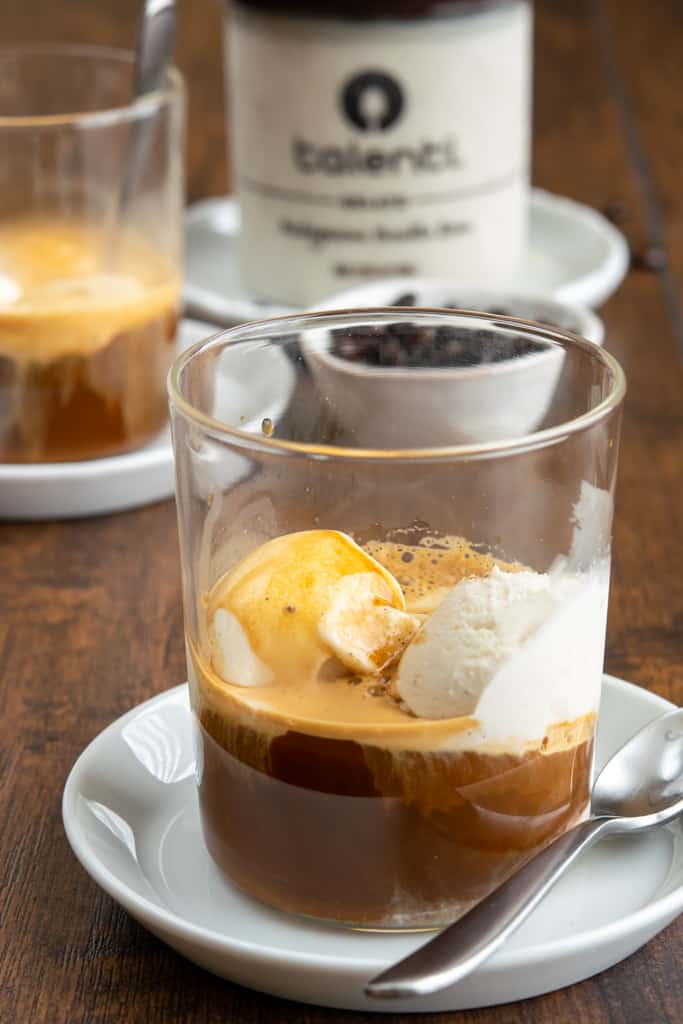 How to Make Espresso Affogato
As I'm sure you can tell, it's really easy to make espresso affogato. Here are the basic steps I follow.
Step 1: Scoop vanilla gelato or ice cream into a small glass. You can use any glass or dessert cups with a wider top.
Step 2: Pull a fresh shot of espresso made with your favorite coffee beans.
Step 3: Pour the espresso over ice cream.
Step 4: Add toppings if desired. Serve the affogato immediately with demitasse espresso spoons.
Which is better to make an affogato with—gelato or ice cream?
For an authentic affogato al caffe experience, I suggest using vanilla gelato.
But do you know the difference between gelato and ice cream? It's simple. Gelato usually does not contain eggs and is more dense than ice cream. Ice cream, on the other hand, usually contains eggs and is whipped into a lighter consistency.
My personal preference is to make affogatos with gelato. In fact, my favorite brand and flavor is Talenti Madagascan Vanilla Bean Gelato. Target even sells it.
However, if you can't find gelato in your local store, ice cream is perfectly fine. You can even experiment with different flavors, as well.
What's a good substitute for espresso?
If you don't have an espresso machine you still can make affogato or an affogato-style dessert.
A few good substitutes for hand-pulled espresso are:
A Nespresso single-serve espresso maker and espresso capsule
Espresso-like coffee brewed with moka pot
Double or triple-strength brewed coffee
Affogato Recipe Topping Ideas
It's absolutely not necessary to pile toppings onto an affogato. But if you want to make this coffee ice cream dessert even more impressive, here are a few topping suggestions.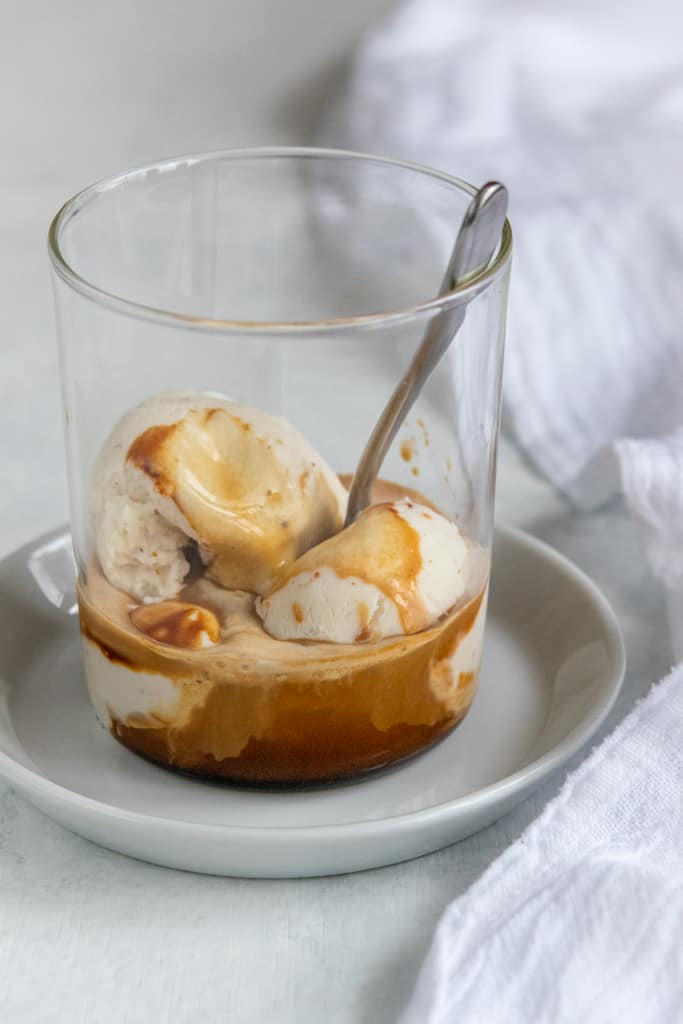 How to Make an Even Better Affogato
If I'm making just one or two servings of affogato, I like to pull espresso shots directly over vanilla gelato.
Personally, I think this method tastes even better than pouring a fresh shot over the ice cream.
Take a look at the pictures below. You can see how the layers of espresso are intact. And a sweet layer of crema hugs the ice cream. Yum!
If you have an espresso machine like my Breville Express, definitely try making an affogato like this.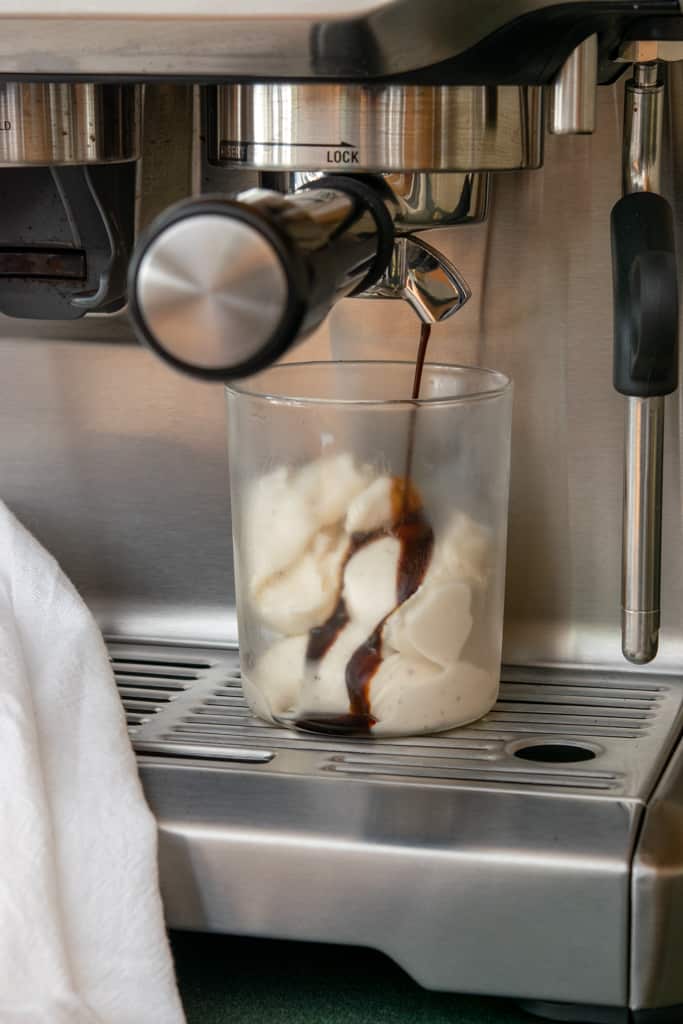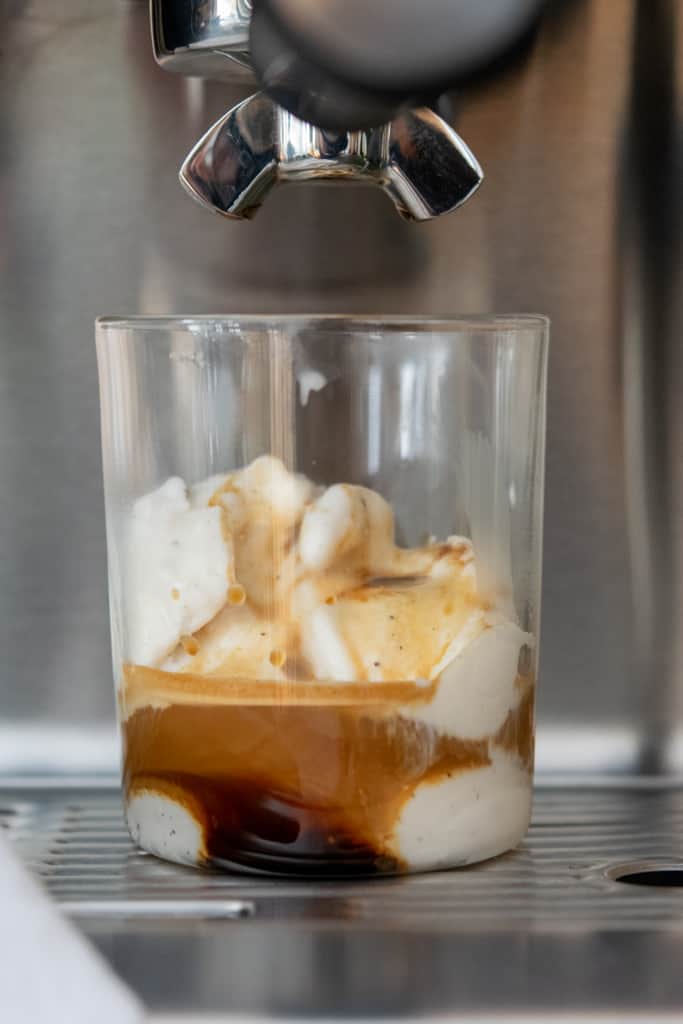 Questions you May Have
Is affogato a drink or dessert?
Affogato is an ice cream dessert topped with hot espresso. You can eat the gelato or ice cream with a spoon and drink the remaining espresso and melted cream.
What does affogato mean at Starbucks?
Starbucks does not serve traditional affogato. However, Starbucks makes affogato-style frappuccinos. All this means is that a single shot of espresso is poured over the top of any frappuccino. To order an affogato-style frappuccino with the Starbucks app, simply select a frappuccino. Then, customize it by selecting "Espresso & Shot options" and choosing "1 affagoto-style shot."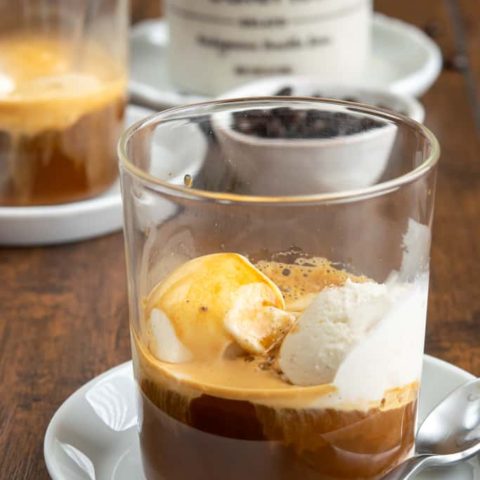 Espresso Affogato
Quick and easy espresso affogato dessert recipe. Make a single serving of this Italian coffee ice cream dessert or more for guests.
Ingredients
1/2 cup vanilla gelato or ice cream
1 shot espresso
Instructions
Scoop gelato or ice cream into a small glass.
Make espresso and pour over ice cream.
Add toppings as desired and serve immediately.
Notes
If serving to a group, ice cream can be scooped ahead of time and cups placed back in freezer until ready to serve.
Espresso shots can be pulled directly on top of gelato/ice cream for a layered espresso look and taste. You can use any roast coffee bean (dark, medium or blonde).
Espresso can be substituted with espresso-like coffee made with moka pot or double-strength coffee.
Recommended Products
As an Amazon Associate and member of other affiliate programs, I earn from qualifying purchases.