Check out the all-new Starbucks Iced Shaken Espresso and see how to make a copycat drink at home with this easy recipe.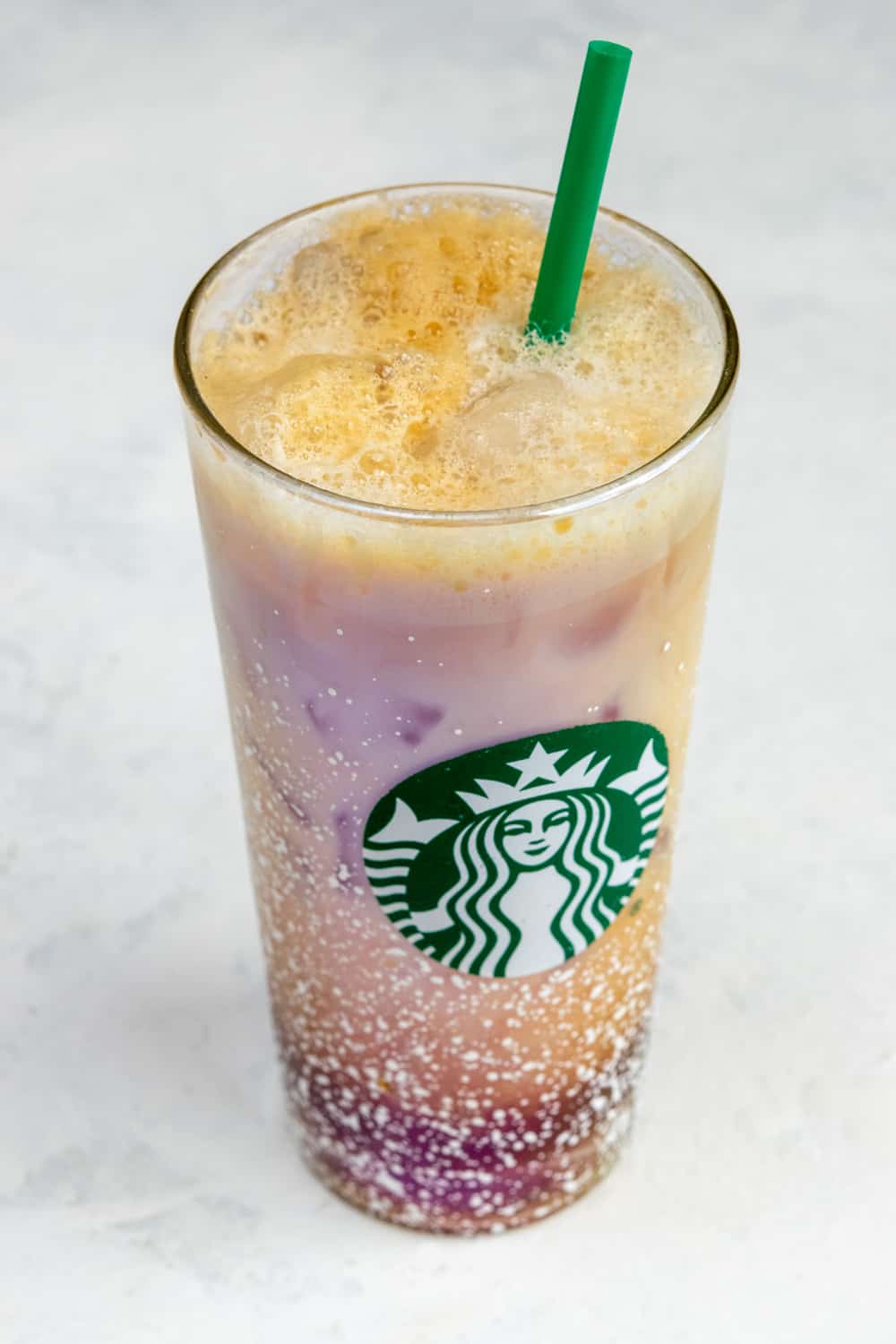 What I love about Starbucks new Iced Shaken Espresso, besides being delicious, is that it's easy to make yourself.
This way you have a win-win choice: enjoy an Iced Shaken Espresso at Starbucks or tap into your inner-barista and make one at home.
If you haven't tried an Iced Shaken Espresso yet, it's the classic Starbucks Doubleshot on Ice reimagined. It's made with rich, full-bodied espresso that's been chilled with ice and mellowed with a touch of low-fat milk and sweet syrup. And of course, it's handshaken.
In fact, shaking this drink is what makes it so special.
For starters, the shaking process chills the espresso and incorporates the sweetener into the entire drink. But it also creates a delicious frothy layer. And then, of course, the drink is topped off with creamy milk.
Sounds delicious, right?
RELATED: A Guide to Iced Shaken Espresso Drinks at Starbucks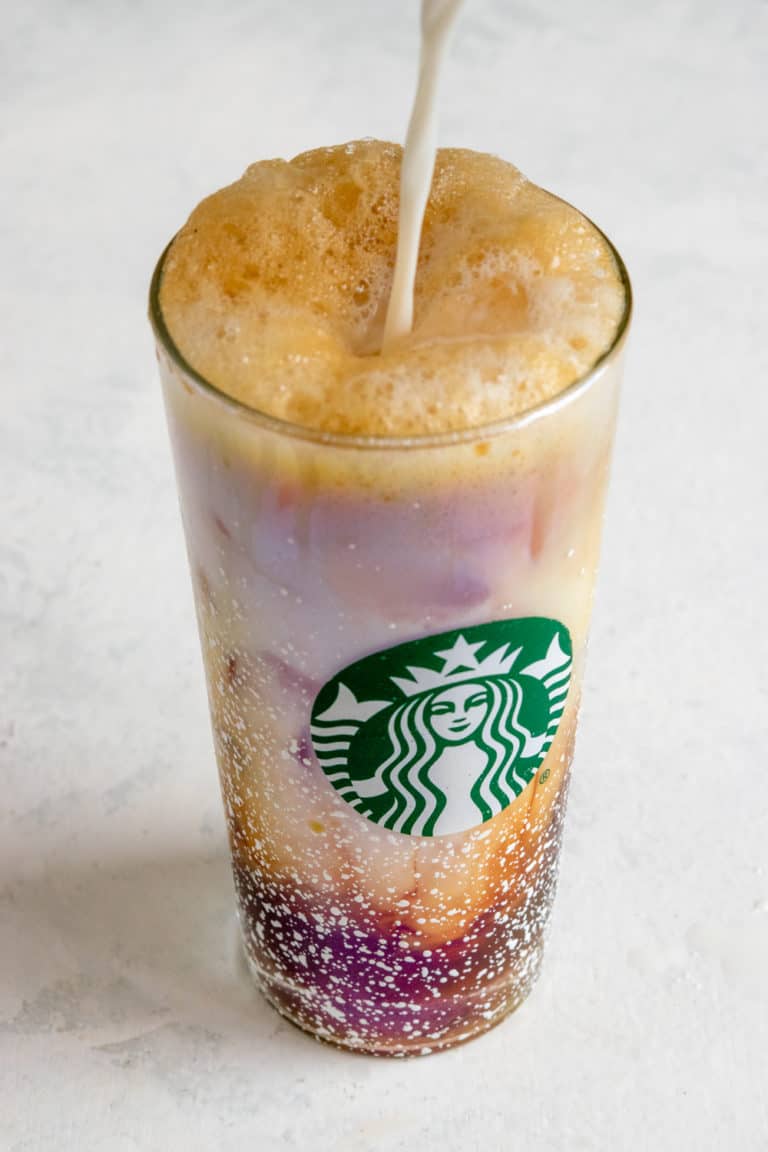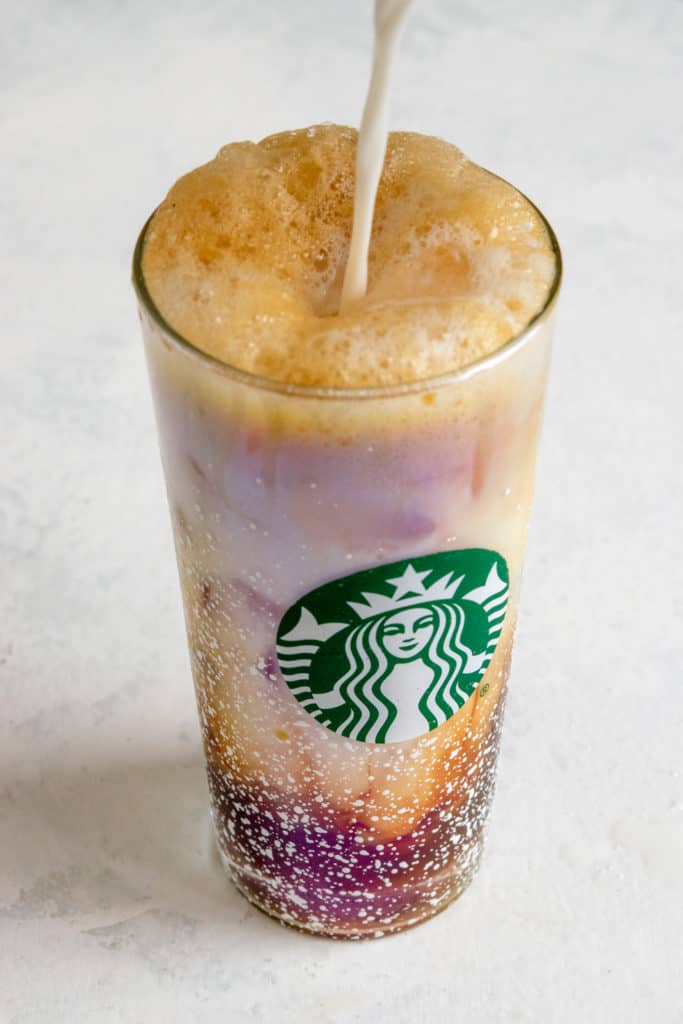 Iced Shaken Espresso Varieties
Starbucks shaken espresso drinks are available in three flavor combinations.
In this post I am going to show you how to make the basic iced shaken espresso. But be sure to checkout the other two recipes, as well.
This is how a Starbucks Barista Makes an Iced Shaken Espresso
To make any variety of shaken espresso, the barista puts all the ingredients, except the milk, into a shaker. Next, the barista shakes it about ten times and pours it into a cup. Finally, the drink is topped with milk.
Ingredients
Here's what goes into the basic shaken espresso.
Ice
Classic Syrup
Espresso Shots
2% Milk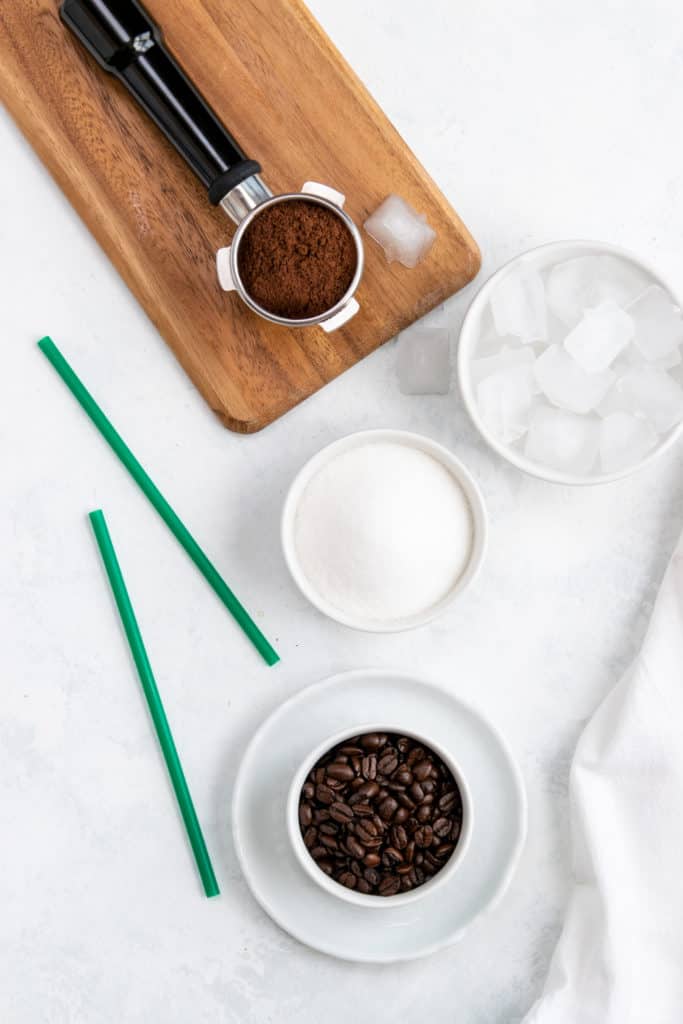 Ingredient Suggestions:
Coffee Beans: When I make Starbucks copycat recipes I like to keep the ingredients as close as possible to the real thing. So for this drink I recommend Starbucks Espresso Roast. You can either buy whole beans (preferable) or ground, depending on the type of espresso machine you have.
If you have a Nespresso capsule espresso maker, you should get Starbucks espresso roast capsules.
Classic Syrup: You also need Classic coffee syrup for this recipe. I like to keep a bottle of this type of simple syrup on-hand for other drink recipes, too.
For this syrup, you have a few options.
You can buy a bottle of Starbucks Classic Syrup online. Or you can buy a different brand from your store. For instance, my store sells Torani coffee syrups.
A final option is to make this homemade Classic syrup recipe. You won't believe how easy it is to make. All you need is sugar and water. Really!
Barista Tip For a true at-home Starbucks experience, use Starbucks products whenever possible and always use filtered water and ice.
How to Make an Iced Shaken Espresso
Now that you see how Starbucks makes this ice cold coffee drink, here's how to make it at home.
To make a homemade Iced Shaken Espresso, combine the ice and Classic syrup in a cocktail shaker. Pull a double shot of espresso and pour it over the ice, then shake it about 10 times. Next, pour the shaken espresso into a 16-ounce drinking cup and top it off with about 1/2 cup low-fat milk.
If you want to amp up both the sweetness and creaminess, you could even top off the drink with vanilla sweet cream cold foam. Yum!
Here's a detailed look at each step.
Step 1: Fill Cup with Ice
Fill a 16-ounce cup all the way to the top with ice. If it looks like a lot, don't worry. A lot of it will melt. Then, pour the measured ice into a cocktail shaker or large jar with lid.
I used two Starbucks cups I had that fit over each other to create a makeshift cocktail shaker.
Step 2: Make Espresso
Pull 2 ounces or 2 shots of espresso and pour the Classic syrup and espresso over the ice.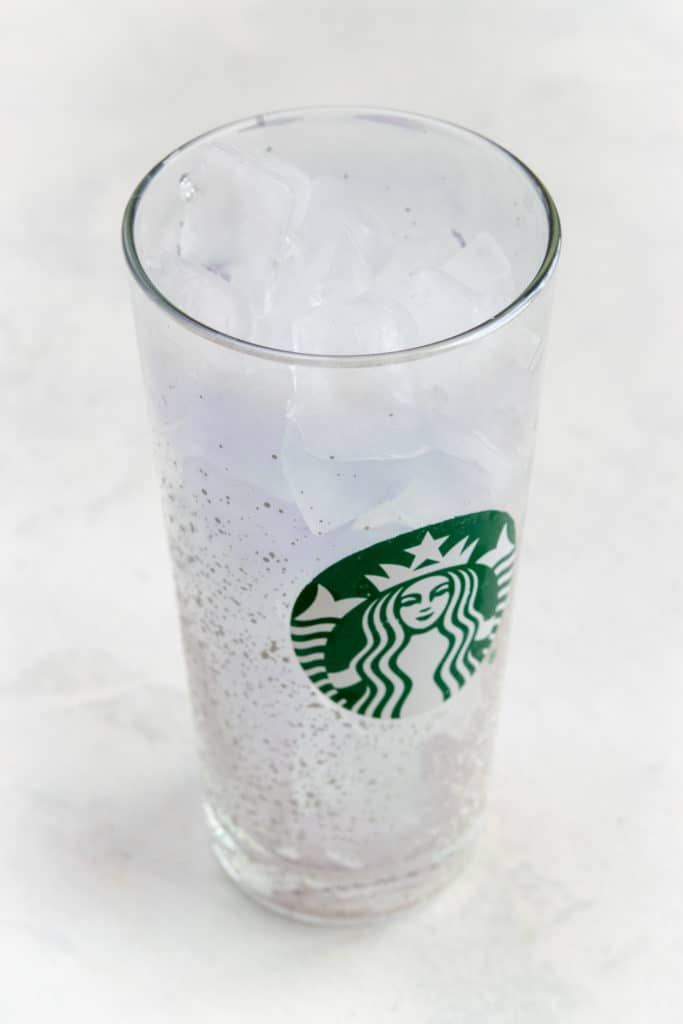 Step 3: Shake the Ice and Espresso
Put the lid on the cocktail shaker or jar and shake the iced espresso about 10 times. The drink will get cold and frothy. Pour the iced espresso back into the 16-ounce cup used to measure the ice.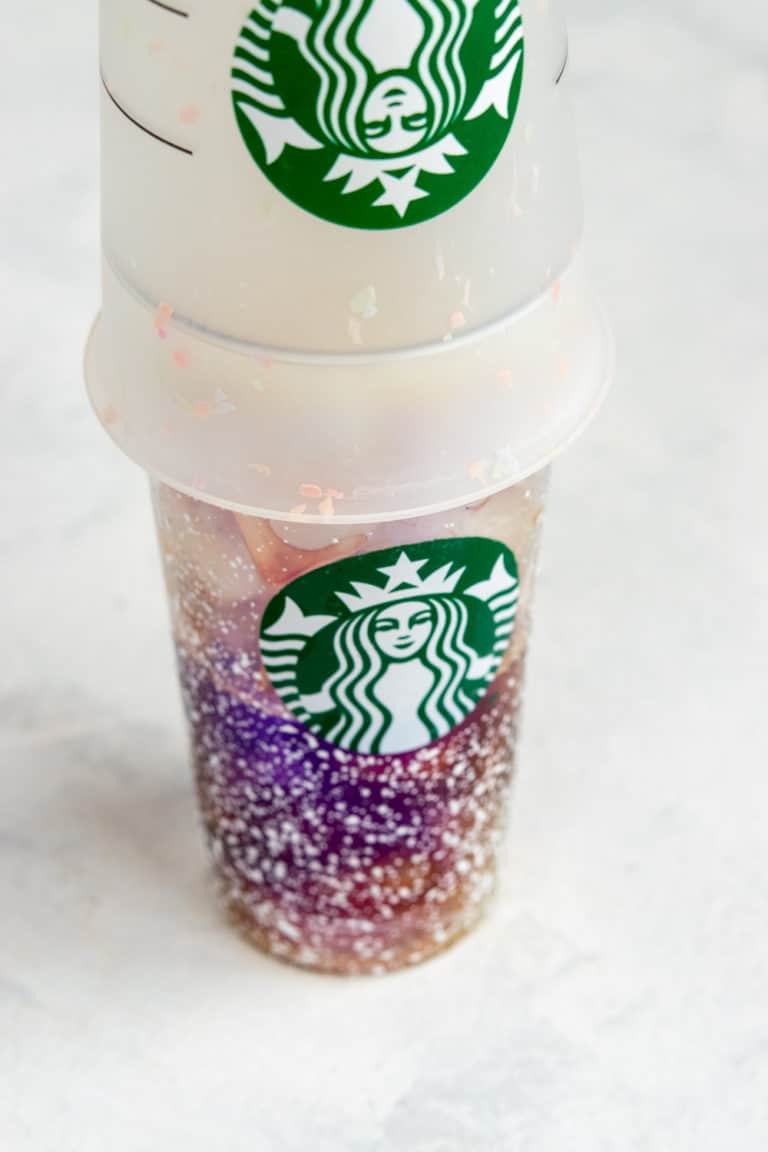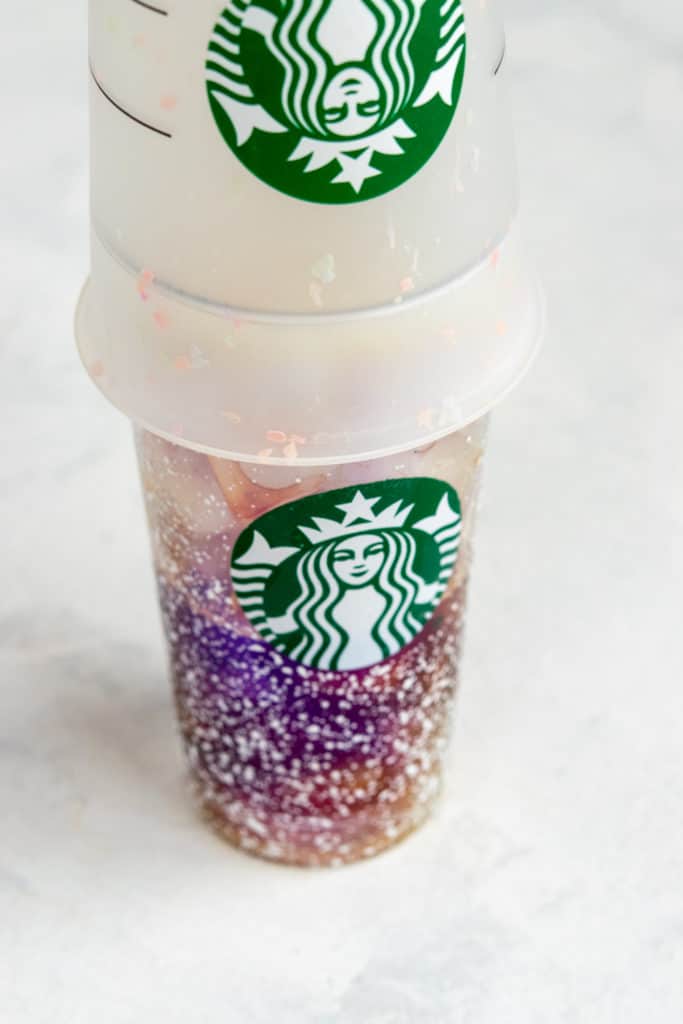 Step 4: Top Off the Iced Shaken Espresso with Milk
For the last step, all you have to do is add 2 percent milk to your copycat Starbucks Iced Shaken Espresso. Admire the layers and then give it a stir.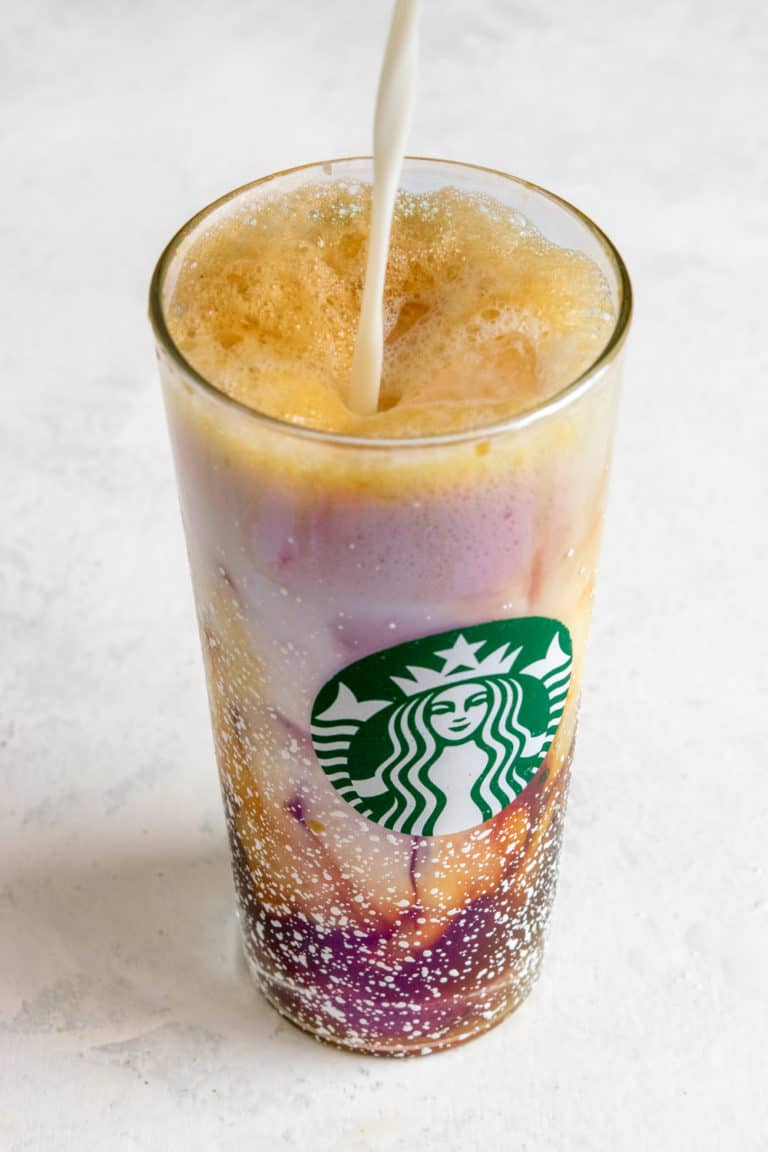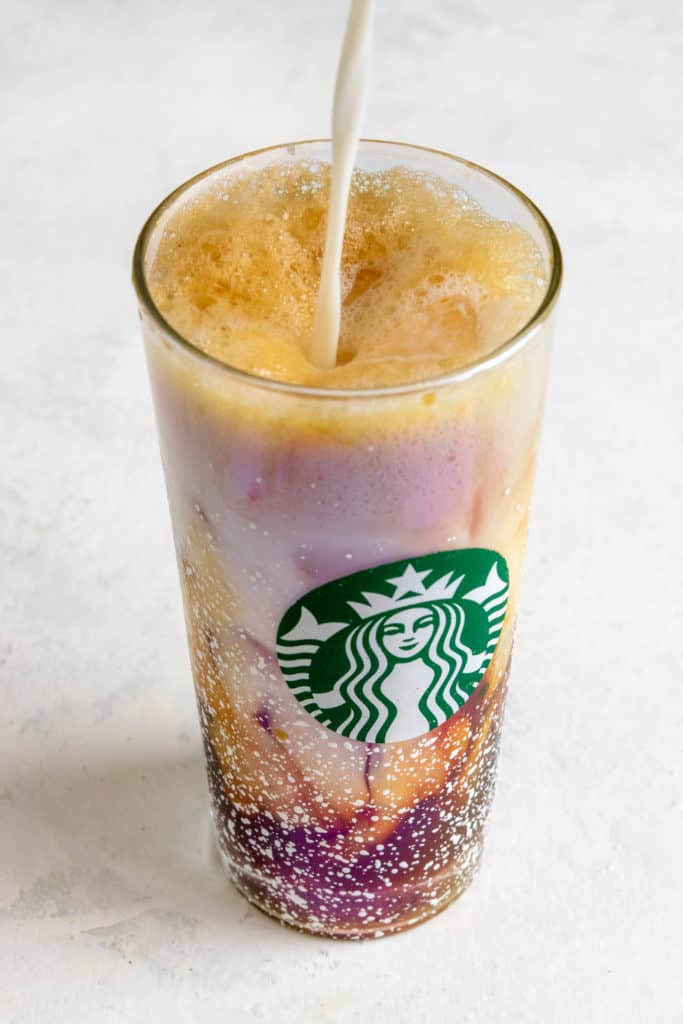 Ways to Customize a Shaken Espresso
Of course, like all-things Starbucks, the Iced Shaken Espresso is like a blank canvas just waiting to be customized with your favorite flavors and milks.
Whether you order this drink from a barista or make it at home, all you have to do to customize it is switch the syrup, milk or espresso roast.
Syrup: For instance, you can swap Classic for Vanilla, Caramel, Toffeenut or Hazelnut.
Milk: 2 percent is the standard milk for this shaken espresso, but non-fat is a good option if you're trying to cut calories on your Starbucks drink. Plant-based milks like oat, almond or soy are also possibilities.
Espresso Roast: Starbucks Signature Espresso Roast is what's used to make this drink. The other two varieties are made with blonde roast. Just note, blonde roast has more caffeine than dark.
Additionally, some Starbucks locations have decaf espresso. This means you can even get a decaf Iced Shaken Espresso. I love that there's a new, tasty way to enjoy decaf coffee at Starbucks.
More Recipes & Posts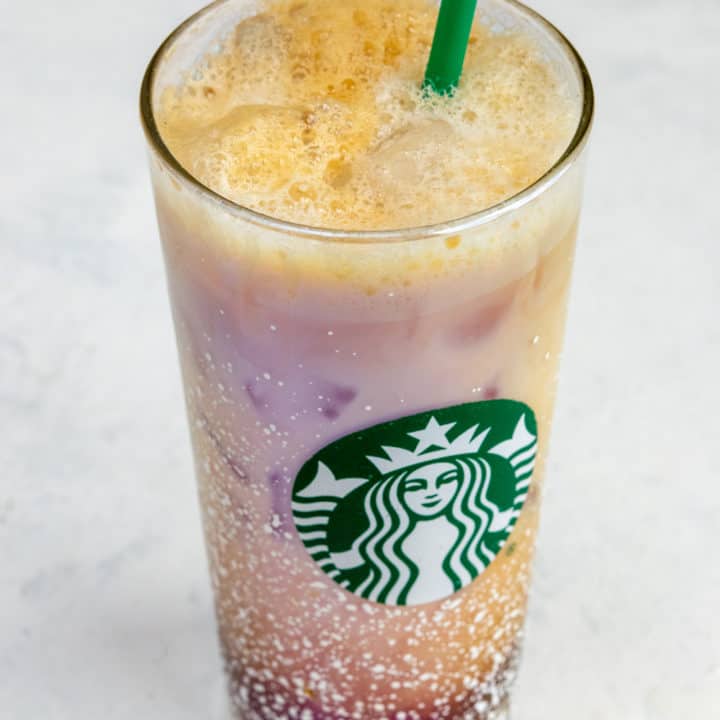 Starbucks Iced Shaken Espresso Copycat
Make an Iced Shaken Espresso at home with this easy Starbucks copycat recipe that only takes a couple minutes to make.
Ingredients
1 tablespoon Classic Syrup
2 shots espresso
1 1/2 cups ice
1/2 cup 2% milk
Instructions
To Make Syrup

If you don't have a bottle of pre-made Classic Syrup or simple syrup on-hand you can make it with this quick homemade Classic syrup recipe.
To Make Iced Shaken Espresso
Put ice in a drink or cocktail shaker. You can also use a jar with lid or two cups that fit together to form a shaker.
Add Classic Syrup and espresso shots to the ice. Put the lid on and shake it about 10 times.
Pour the iced shaken espresso into a 16-ounce drinking cup.
Top the drink with milk.
Notes
If you do not have Classic syrup, put as much sugar as desired over the ice and pour hot espresso over it. Another option is to add sugar to espresso shot glass and pull hot espresso shot over it. Then pour the espresso, sugar mixture over the ice.