Getting free iced coffee from Starbucks is actually really easy to do. Here's a look at what you need to do to be eligible for Starbucks freebies, and five simple ways to get free coffee.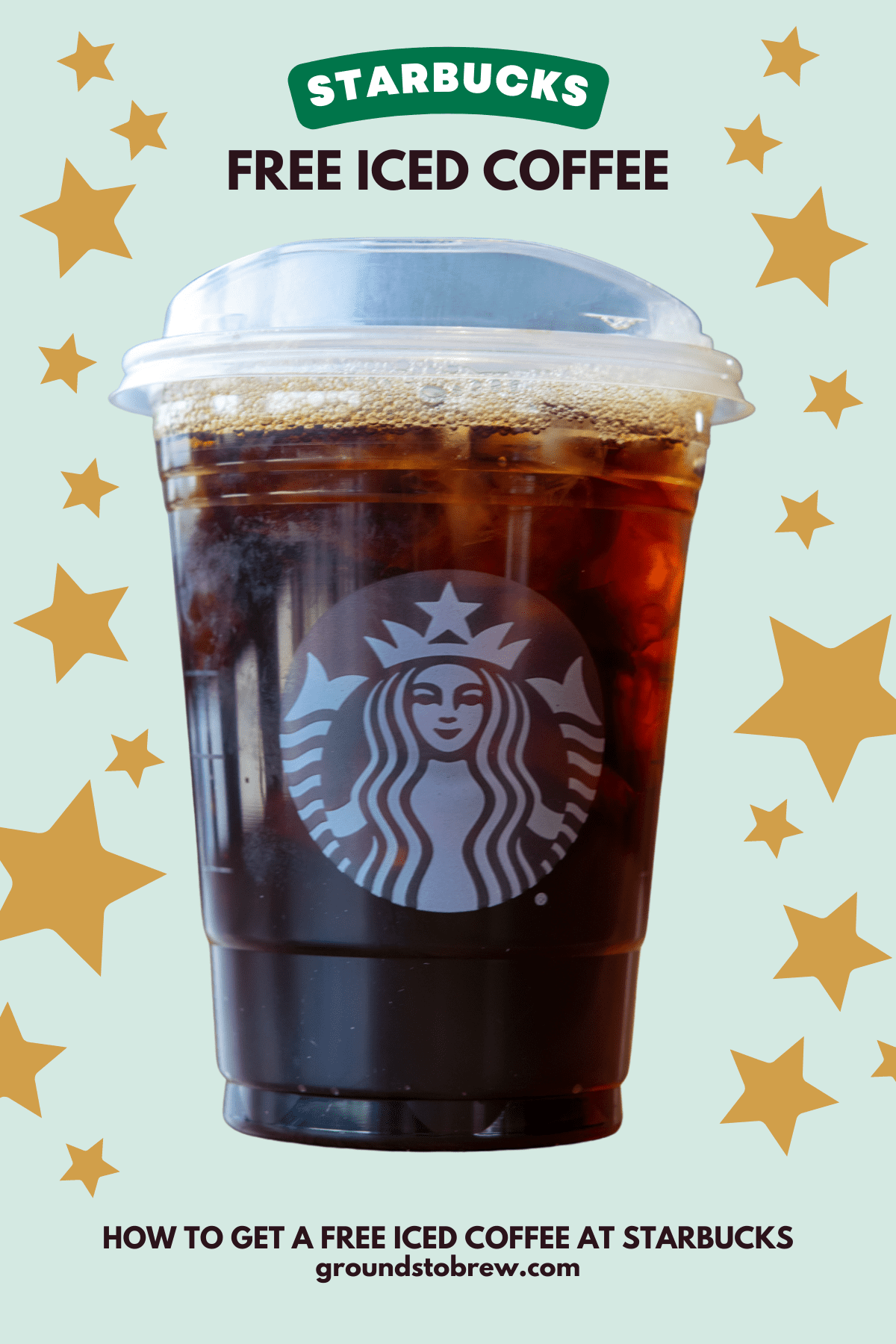 Scoring a free iced coffee at Starbucks is easier than ever.
In fact, once you sign up for Starbucks Rewards, there are quite a few ways to get a free cup of coffee, as well as other yummy drinks and food.
From free refills to redeeming stars, here's a rundown of the five most popular ways.
Join Starbucks Rewards to be Eligible for Free Iced Coffee
The very first step to getting free iced coffee at Starbucks is to join the Rewards program.
Through the Rewards program you can earn stars from purchases and other offers.
When you collect enough stars, you can redeem them for free iced coffee, as well as other drinks, foods and customizations.
Joining is simple.
First, download the Starbucks app and create an account.
Be sure to check off, "Yes, I'd like email from Starbucks." I get some incredible personalized bonus star offers this way.
Then, connect a credit card or Starbucks gift card.
You will definitely want to pay for all your Starbucks purchases using the app with a registered card, to earn twice as many stars.
The stars add up fast. You earn 2 stars for every pre-tax $1 spent when you pay this way. Otherwise, you get 1 star per $1 spent.
How to Score Free Iced Coffee at Starbucks
1. Free Refill
Perhaps the quickest way to score a free cup of iced coffee at Starbucks is to get a refill.
This freebie is reserved for Starbucks Rewards members and is available during the same in-store visit.
In other words, you cannot order a drink in the morning, leave the cafe and return later for a free refill.
It's seriously a great benefit, if you're hanging around a Starbucks cafe for awhile.
Here's how it works.
To be eligible for a free refill of hot or iced brewed coffee or tea, the barista must scan your barcode on the app for the first beverage purchase and then again when you ask for a refill.
To be clear, the only "refills" given are brewed coffee or tea (not cold brew). However, the original paid drink can be whatever you want.
Take a look at Starbucks Rewards terms of use for details and potential policy changes.
2. Redeem 100 Stars
In case you missed it, Starbucks recently moved free brewed coffee from the 150 star Rewards tier to 100!
This means, getting free iced coffee from Starbucks is as simple as redeeming 100 stars.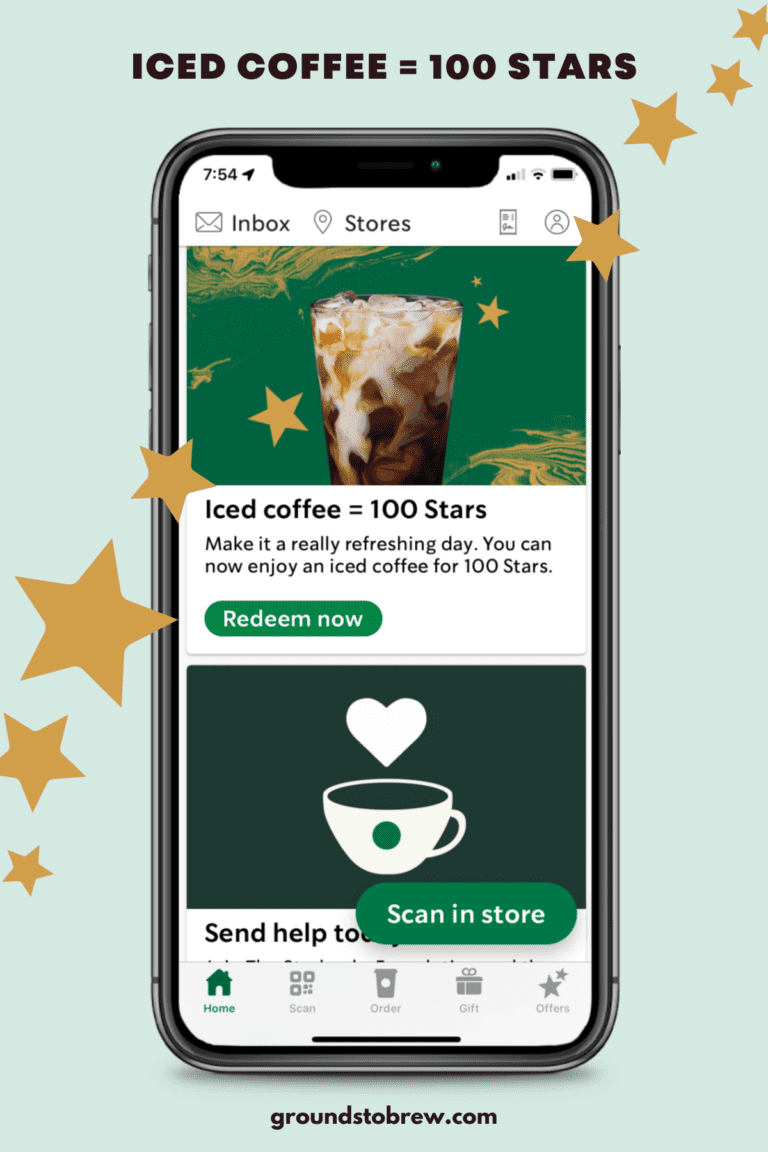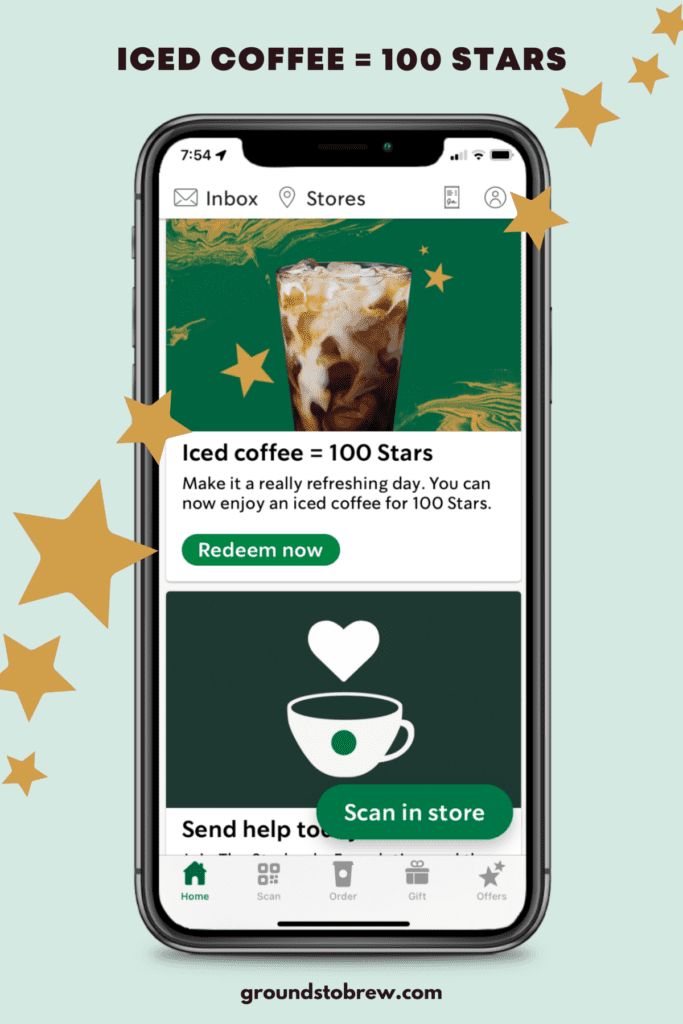 Now, you may be thinking you have to spend $50 through the app to stockpile up 100 stars for free coffee.
But that's not necessarily the case.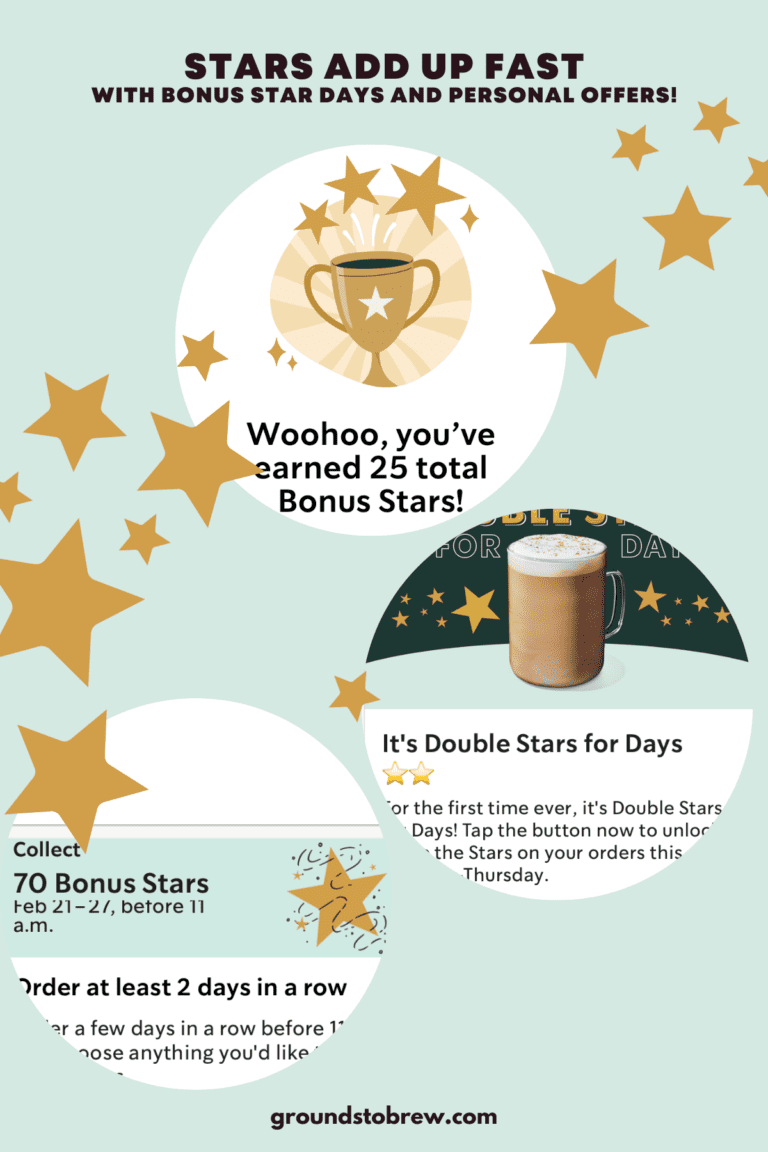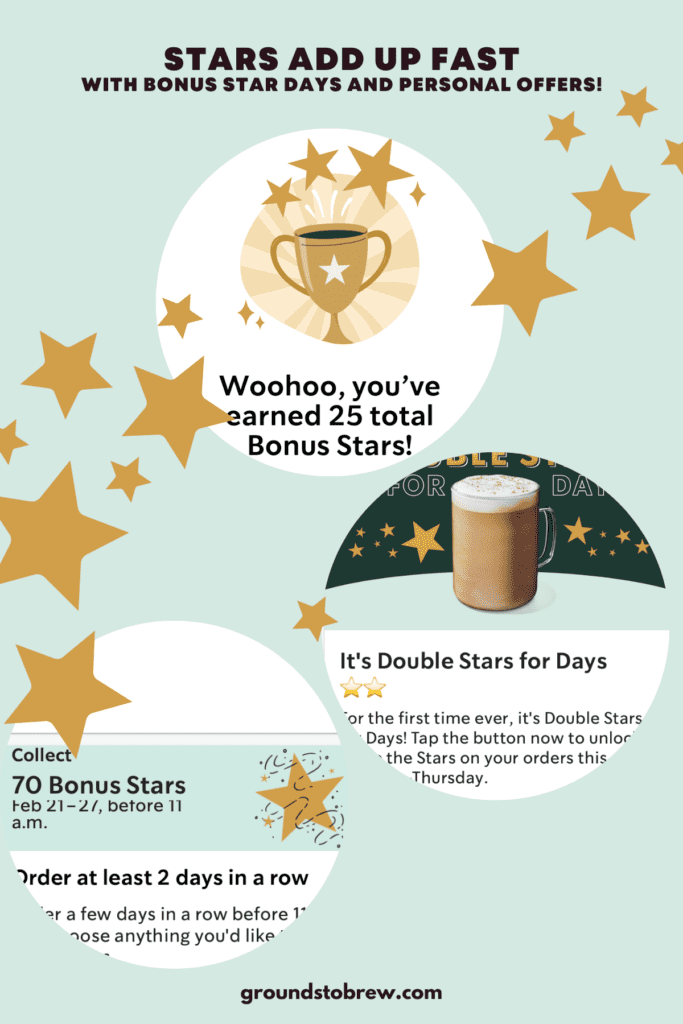 Starbucks continually offers ways to earn bonus stars. And you don't want to miss out.
In fact, I never make a purchase at Starbucks without first checking my email (or the offers tab on the app) for a new bonus offer.
I absolutely love the personalized challenges.
They're very enticing since they're almost always for drinks I've gotten before.
Typically, the offer is to receive a generous amount of stars after completing a challenge, such as buying a certain number of drinks over a specified period of time.
Personally, I look at this marketing tactic as a win-win. Starbucks earns my repeat business, and I earn lots of stars.
In addition to personalized offers, always be on the look out for other star-earning opportunities like Double Star Day.
3. Bring Your Own Cup
Want to earn your way to 100 stars and a free iced coffee fast?
Simply bring your own cup to a Starbucks U.S. store and get 25 stars for doing so!
Do that four times and you've got yourself a free iced coffee.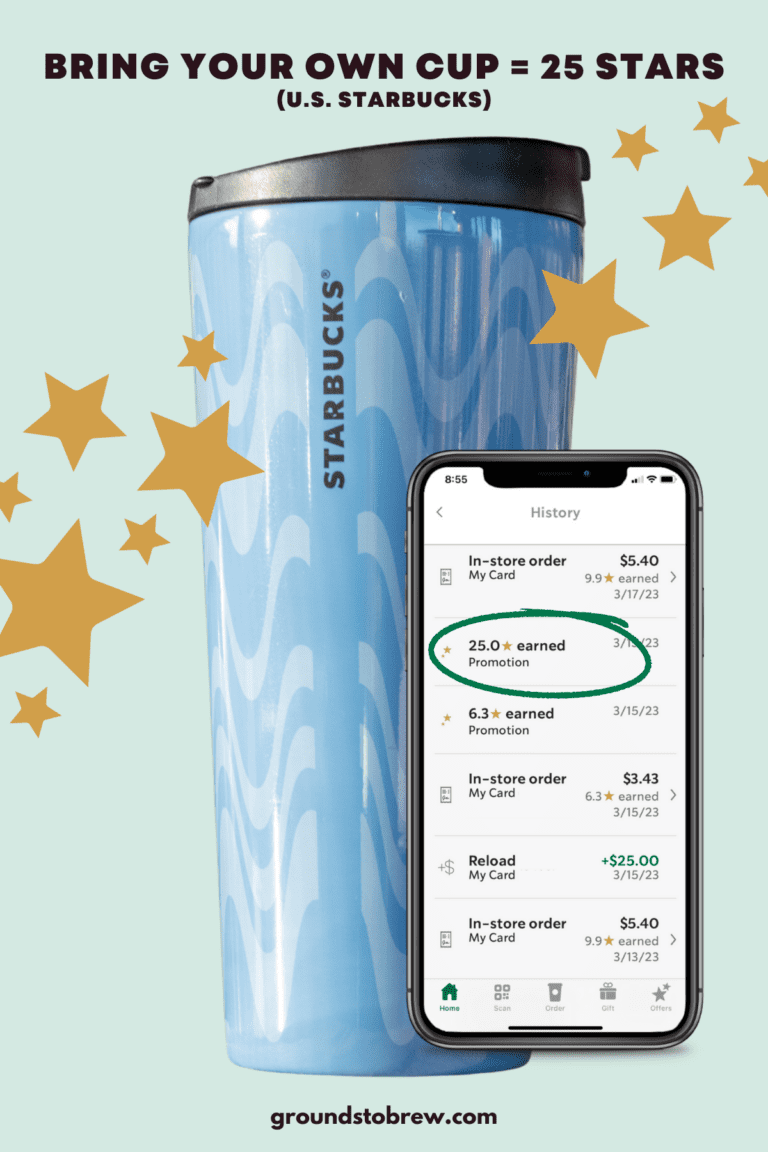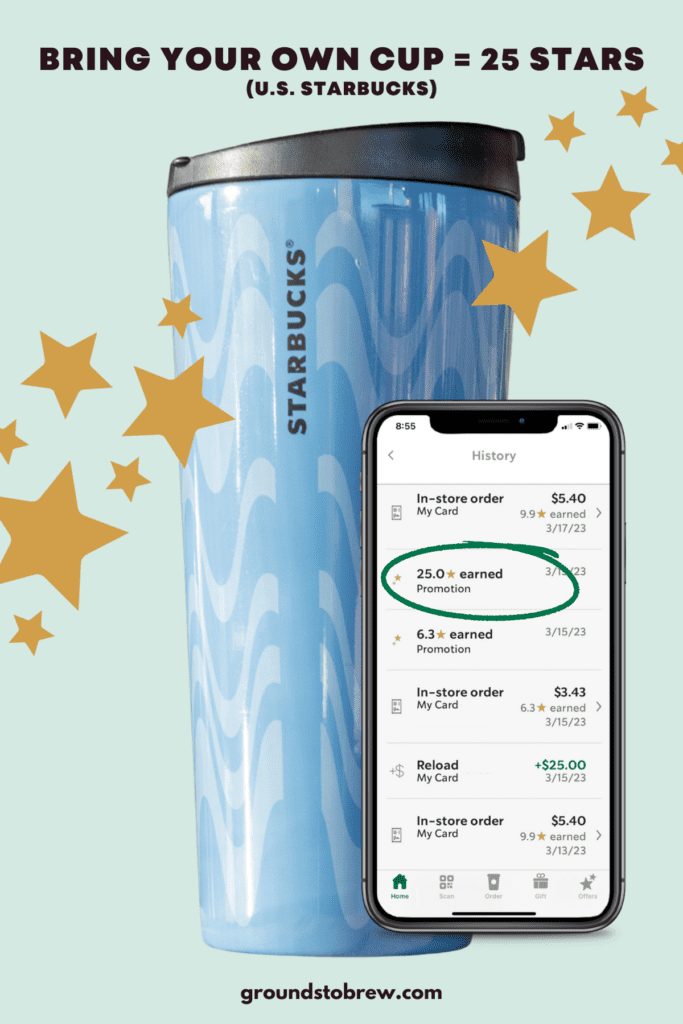 Since star-earning purchase rewards pile on top of personal cup rewards, you may even get to 100 stars by bringing a personal cup three times.
For example, if you buy a $5 (pre-tax) drink three separate times and pay through the app, you'll earn 30 stars.
Plus you'll receive an additional 75 stars for bringing your own cup for all three purchases.
And that, my friends, is enough to redeem for a free iced coffee.
Here are all the ins and outs of bringing a reusable cup to Starbucks.
4. National Coffee Day
By late September, Starbucks pumpkin drink season is well underway.
But you may want to come out of a pumpkin haze the week of September 29, National Coffee Day, to see if Starbucks has any special free coffee promotions.
While you almost always can get a cup of free coffee at Dunkin on National Coffee Day, Starbucks changes what they offer (if anything) from year-to-year.
Past promotions have included free Pike Place coffee if you bring in a reusable cup, a free sample of Pike, and Star Days with games and prizes for free food and drinks, including iced coffee.
5. Birthday Reward
In celebration of your birthday, Starbucks loads a birthday reward onto your account to use on your special day.
It's certainly a great way to snag a free iced coffee, but you might want to splurge for something more layered and expensive.
This is because the birthday reward is for any handcrafted beverage or food item (excluding multi-serve food & beverage trays).
In order to enjoy a free birthday beverage from the coffee giant, you have to be a Starbucks Rewards member and you need to provide your birthday month and day in your account.
Additionally, you need to have at least one star-earning transaction prior to your birthday each year.
If you're not already a Rewards member, be sure to join at least 7 days before your birthday and make a star-earning purchase.
Related