Wondering if you can bring your own cup to Starbucks? Here's a look at the cup discount and rewards benefits for using a personal cup and the rules for doing so.
Benefits of Bringing Your Own Cup to Starbucks
The number one way to super charge the amount of Starbucks reward stars you get for a drink is to bring your own cup.
If you're not taking advantage of the Starbucks reusable cup benefit, you're really missing out!
In the past, getting a Starbucks drink in your own personal cup merely saved you 10¢. And let's be honest, that wasn't enough to motivate most customers to bring their own cup.
But things have changed, and in a big way.
In celebration of Earth Day last year, Starbucks introduced the new and improved reusable cup policy to US customers.
In my opinion, they pulled out all the stops to encourage customers to bring a personal cup.
And it's a win-win. Customers are rewarded with stars (lots of them, but more on that later), and less single-use paper and plastic cups end up in the landfill.
If you enjoy freebies from Starbucks then you really don't want to miss out on the reusable cup benefit.
Starbucks Reusable Cup Discount & Benefits
Everyone who brings a reusable cup to Starbucks gets a 10 cent discount off the price of their drink.
Starbucks Rewards members receive two additional benefits: 25 reward stars for bringing their own cup, as well as more stars based on the cost of the purchased drink.
That's right; stars earned for a drink purchase when the app is scanned are stacked on top of the reusable cup benefit!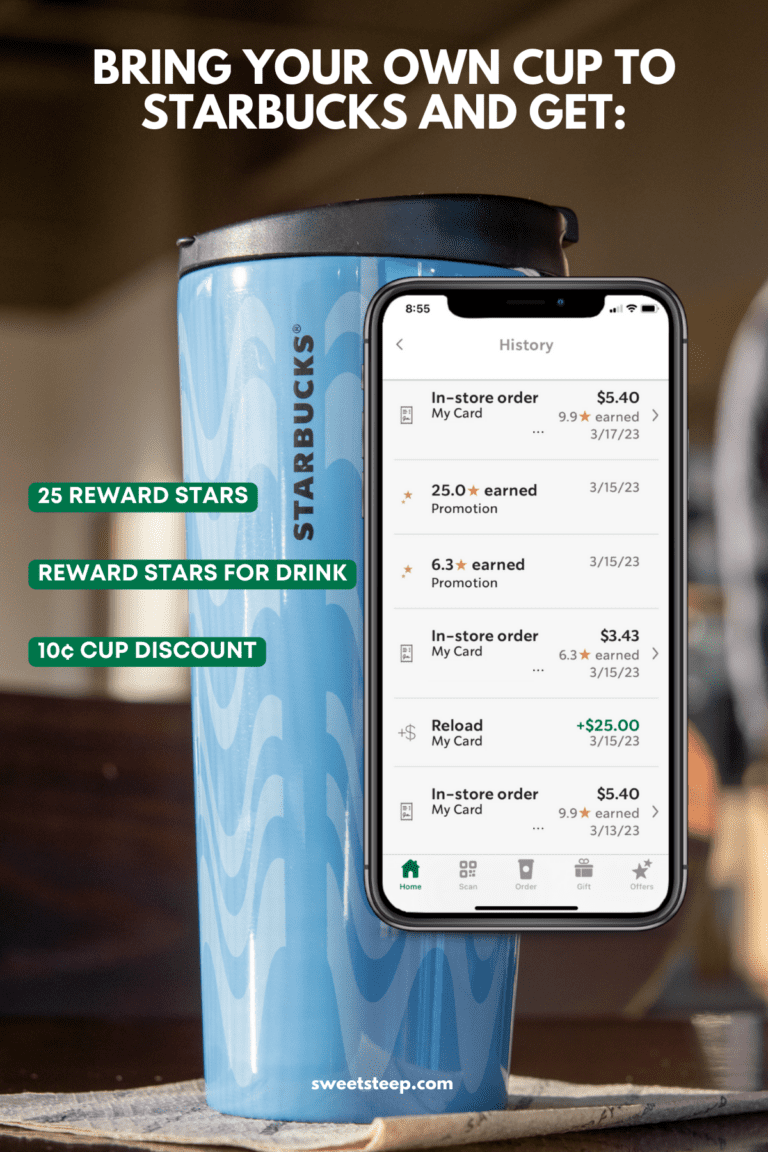 Here's an example of how it works for a Starbucks Rewards customer purchasing a drink that costs $5.25 (or $5.15 with a personal cup).
Reusable cup discount: 10 cents
Stars for bringing cup: 25 stars
Stars for drink purchased though app: 10.3
Non-members merely get the 10 cent personal cup discount.
As you can see, Starbucks Rewards members enjoy the biggest benefit by far!
Just by handing a personal cup to the barista, a Rewards member purchasing a $5.25 drink and paying with a connected card through the Starbucks app, walks away with 35+ bonus stars, a 10 cent discount, and the satisfaction that they've reduced waste.
Do this three times and you have 100+ stars. That's enough to get a free Starbucks iced coffee!
Rules for Bringing a Personal Cup to Starbucks
Recently, I contacted Starbucks to verify their personal cup policy rules.
The Starbucks customer service representative assured me that the personal cup benefit is a permanent benefit for Starbucks U.S. customers and is not promotional in nature.
If you want to bring your own cup to Starbucks, the reusable cup program has a few rules.
Bring a clean cup.
Baristas have the right to refuse a dirty cup. According to my barista-insider, some customers actually ask for their cup to be rinsed out first (yuck!).
Don't be that person that tries to hand over a germy cup.
Baristas determine the cup size.
The cost of Starbucks drinks depends on the size you order.
Since your personal cup may be a non-standard size, it's up to the barista to determine the nearest cup size.
However, you will never pay for a size larger than the cup you bring in.
For instance, a tall disposable Starbucks cup is 12 ounces and a grande is 16 ounces. If you bring in a 14 ounce cup, you will be charged for a tall drink.
The cup doesn't have to be from Starbucks.
While Starbucks has a huge variety of cups for sale, the personal cup you bring in does not have to be one from Starbucks.
However, for hot drinks, be sure to bring a cup with a lid designed for hot drinks.
Customers can receive the cup benefit three times per day.
According to the Starbucks U.S. reusable cup policy, the maximum number of reward stars a member can earn with a reusable cup per purchase is 25. And the maximum number of times per day that you can receive a cup benefit is three.
That means if you order two drinks using two personal cups in a single transaction, you will get 25 stars plus the 10 cent discount.
Over the course of a day, the reusable cup benefit can be applied to a maximum of three purchases for a total of 75 rewards stars for members (plus the cup discount).
Can you combine reusable cup rewards with other Starbucks promotions?
Yes, Starbucks will absolutely combine reward stars for bringing a personal cup on top of bonus stars earned by completing a personal challenge or offer.
And wow, the number of stars you can bank away really adds up fast.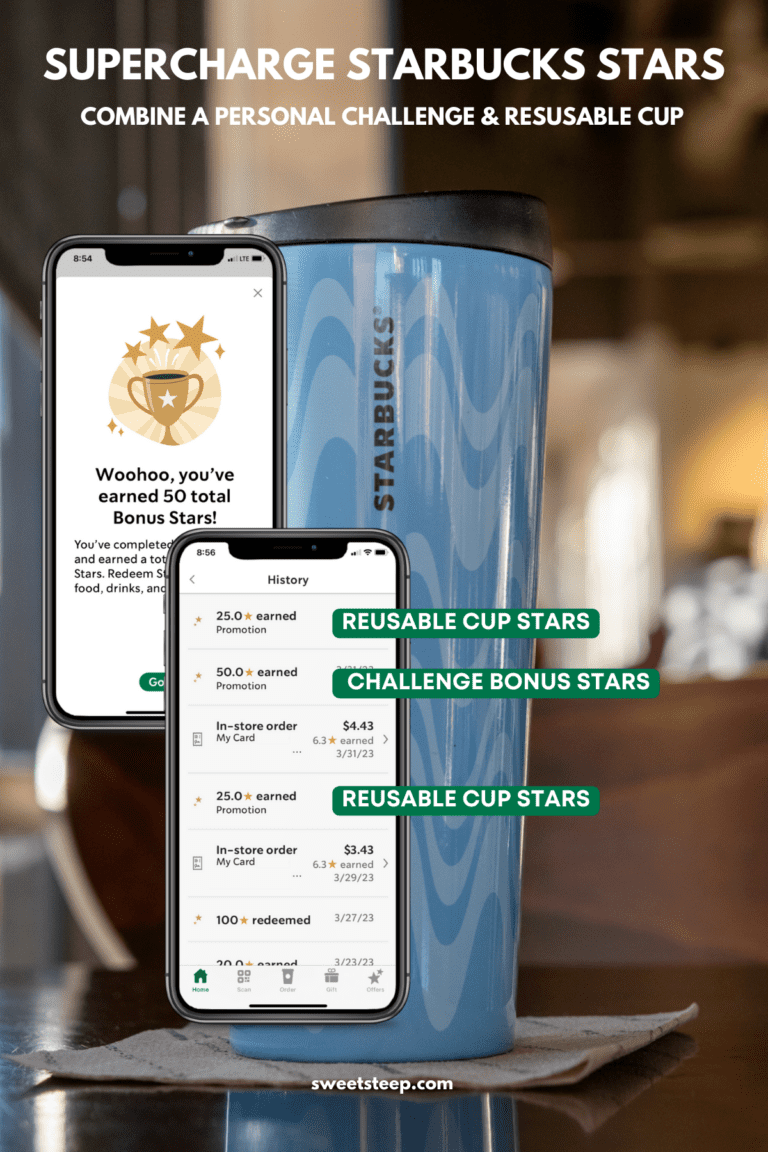 If you're not familiar with a Starbucks personal challenge, it's simply an offer to earn extra stars typically based on your past purchase history.
This is why you should always check for personal challenges and offers before buying anything from Starbucks.
On the app, click "Offers" (bottom right) or check your email. Offers must be activated, so be sure to tap the "start" button.
What you get if you complete a Starbucks bonus challenge and use a personal cup:
Let me give you an example of how I recently super-charged the number of stars I got.
I received a personal bonus challenge to get 50 bonus stars if I ordered a black tea (I've been drinking a lot of tea lately) before 11 a.m. two days in a row.
To maximize the number of stars I got, I made sure to bring my own cup, as well.
In total, I received 112 stars for the price of two drinks⁠—more than enough to get a free brewed coffee or tea another day.
Here's the breakdown.
50 Bonus stars for completing the challenge
50 Stars for bringing a reusable cup two times
12.6 Stars for drinks paid through Starbucks app
20 Cents cup discount for two drinks
2 Free refills since I had both beverages in the cafe
Can you bring a reusable cup to the drive-thru?
Currently, you cannot bring a reusable cup through the Starbucks drive-thru, although they're currently testing it out in some locations.
The dilemma is speed.
Ideally, orders placed at the drive-thru are prepared while you are waiting in line to get to the window. Bringing a reusable cup obviously throws a huge kink into this process.
Behind the scenes, every drive-thru Starbucks is tracked continuously for the number of customers served within a specified time. And this "wait time" stat is taken very seriously.
As you can imagine, bringing a personal cup to the drive-thru will not only add to your wait time, but to everyone craving their Starbucks behind you.
For now, we'll see how the test-stores fare, but I'm certain the program won't be rolled out nationwide until they figure out a way to use your cup without increasing wait time.
In the meantime, ordering at the counter with your own cup is so worth the 25 stars Starbucks gives you in return!
Related