Dunkin Donuts isn't just for donuts. Dunkin has hot and iced coffee and espresso beverages, too. You can even get free dunkin coffee through the DD Perks program. Here's a look at all the ways to get free coffee at Dunkin.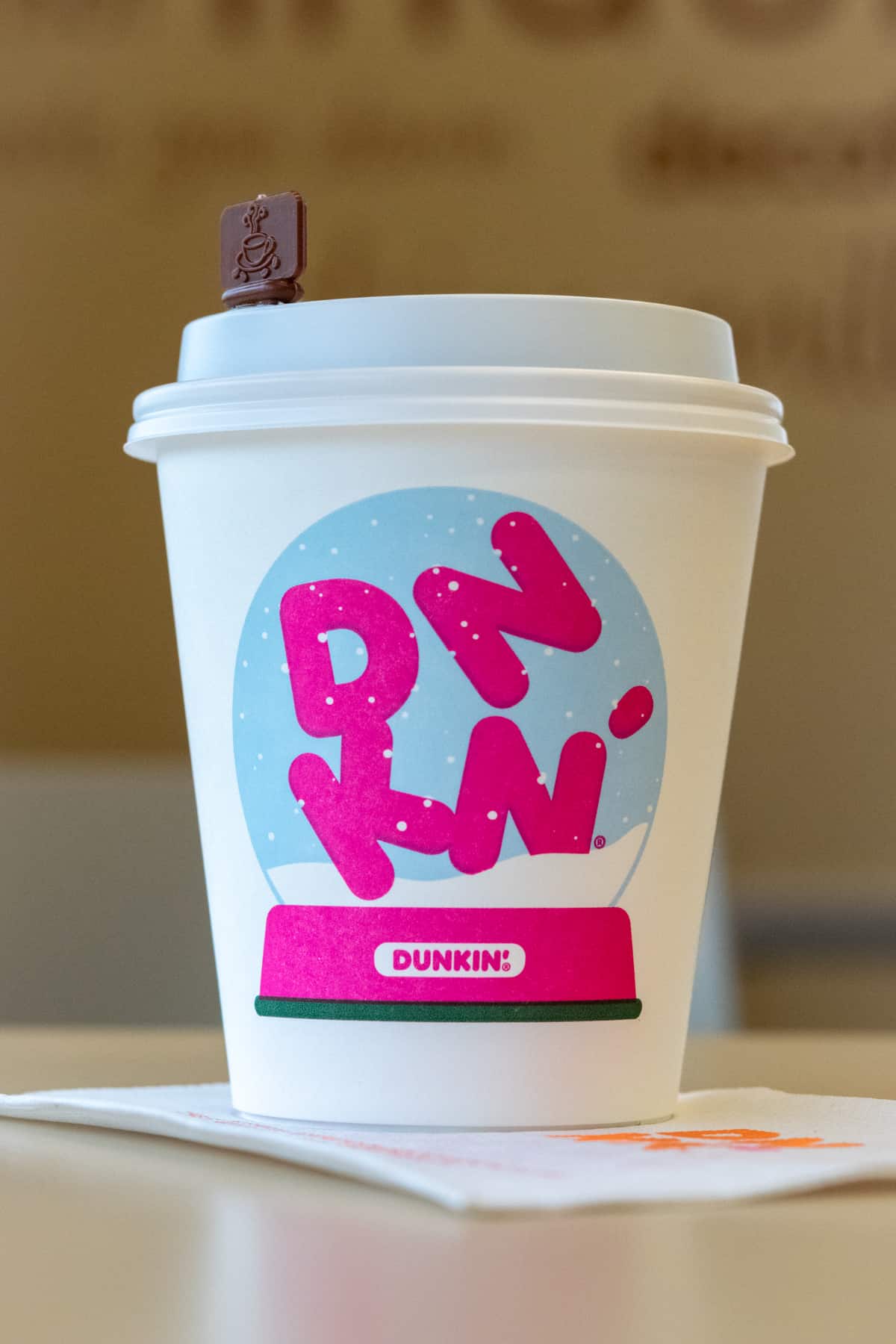 How to Get Free Dunkin' Coffee
Free Dunkin' coffee is available for all DD Perks Members. It's simple to join and the coffee and donut perks of loyalty are worth it.
Free coffees are often for a free medium hot or iced coffee. Free drink offers may include other types of beverages, as well.
With all these freebies, perks and rewards it's easy to see why America runs on Dunkin'.
Related: 10 Ways to Get Free Starbucks Drinks & Earn Rewards Faster
DD Perks Rewards Program
Dunkin' Donuts loyalty program is called DD Perks and it's easy to get the app, create an account and earn rewards.
To earn free Dunkin' coffee and drinks all you have to do is either order with the app or have them scan it when you pay.
With DD Perks you earn 5 points for every $1 you spend, and 200 points gets you a free Dunkin' coffee or beverage.
From time-to-time Dunkin' also has exclusive bonus point offers so you can earn rewards points and free coffee, faster.
And when you order ahead with the app, you can skip the wait. So many perks!
Exclusive Offers for DD Perks Members
Saving up points for free coffee is only just one part of Dunkin's loyalty program.
In addition, DD Perks members receive exclusive offers that are worth their weight in coffee and donuts.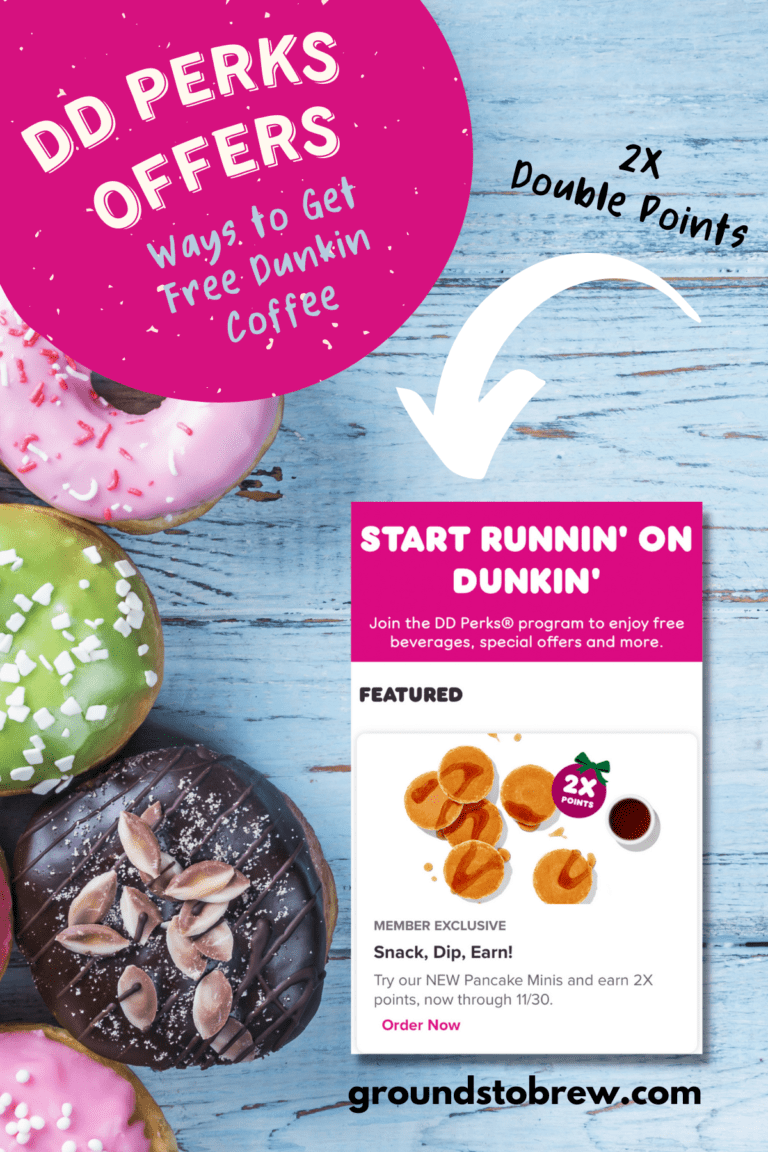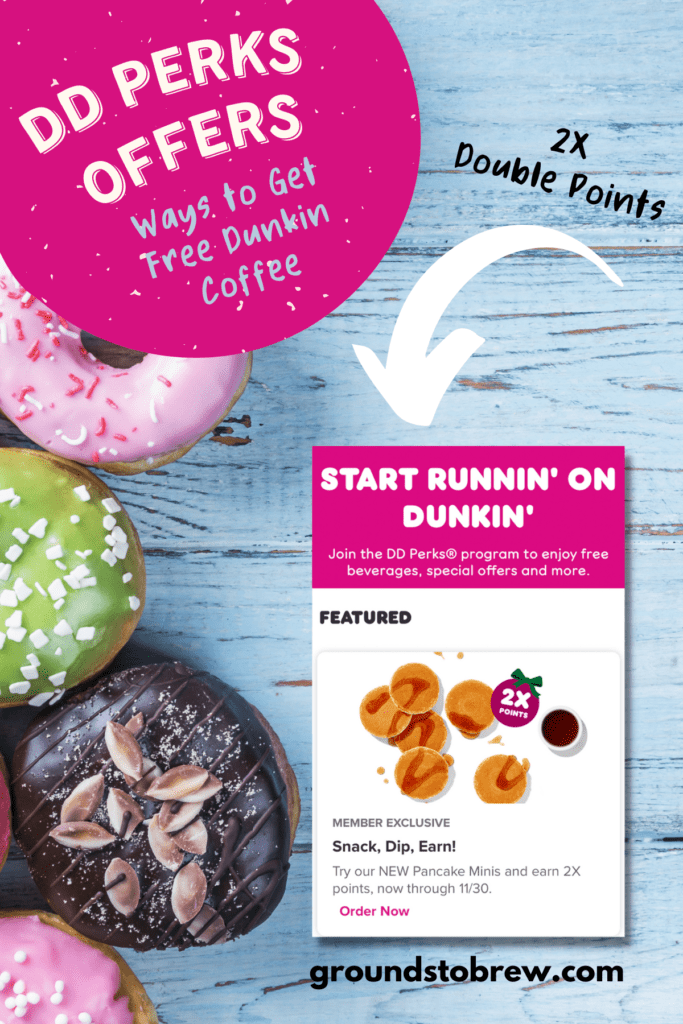 Here are a few examples of the types of bonus offers members receive and to always be on the lookout for.
Free Coffee Members-Only Mondays
Free Coffee Mondays & Free Donut Fridays
Free Coffee Teachers Tuesdays
Tax Day Dollar Coffee

Free for Fall (Earn 1 Free drink/week with 3 separate purchases)

Earn Double Point Offers
Free Dunkin' Birthday Drink
Free Coffee on National Coffee Day
Often free coffee and beverage exclusive offers require a purchase, so be sure and read all the details and make sure your Dunkin' location is participating.
Free Birthday Drink
When you join DD Perks provide them with your birthday (month and day) so you get a free drink.
Then when it's your birthday, Dunkin' adds a free birthday beverage to your account. To redeem your free coffee or drink, have Dunkin' scan the birthday offer in the app.
National Coffee Day at Dunkin'
National Coffee day is September 29 and Dunkin' wants to celebrate with you.
Every year on National Coffee Day Dunkin' has a free coffee offer. Usually it's for a free medium hot or iced coffee with purchase. But I've also seen it for buy one cup of coffee, get one free.
This I know for sure, you can get a free cup of coffee one way or another on this special day for coffee lovers.
Dunkin' Promo Codes
Another way to add points to your DD Perk account is through promo codes. If you're lucky enough to come across a code, enter it in your Dunkin' account to earn even more rewards points to use towards free coffee and drinks.
Related